The latest Car Confections Sound Level Readings all in one place! Drew and Mason check out hundreds of vehicles per year, and this is the place to see how they stack up against each other! Each article represents a different segment with all of our most recent readings. Which cars are the quietest on the road? Find out below!
*Please be patient as our readings are updated as frequently as possible*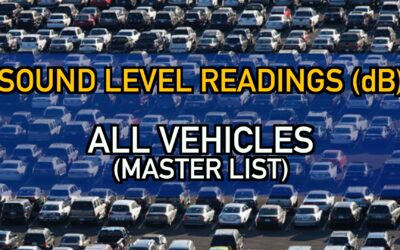 This is the BIG ONE, aka the Master List! Here are ALL the sound level readings (dB) Car Confections has ever collected throughout the years! Click to find out what vehicles are the quietest in the...
While the Toyota and Honda offerings continue to command the compact SUV market, there is a luxurious option that stands above the pack. The 2024 Mazda CX-5 continues to add luxury and value to this crowded segment, with even more for this year! This article will...
In the world of high-end SUVs, two notable contenders, the 2023 Cadillac Escalade vs. Lexus LX, step into the ring for a faceoff like no other. These luxury behemoths each bring their unique attributes to the table, catering to the tastes of discerning buyers. In this...
As we have come to learn by now, Hyundai doesn't hold back when it comes to releasing new and exciting design languages. This is no different for the redesigned 2024 Hyundai Kona! Not only does this crossover look different, it has a host of new features as well! This...
What's going on YouTube! Acura and Infiniti have been battling each other since they first entered the U.S market and that battle continues today. Both of their most important products are now 3-row crossovers, and they offer very similar space, luxury and technology....