There are a lot of vehicles in the world that claim to be luxurious, but when you experience a full-sized luxury sedan, it becomes clear what real luxury is all about. The Mercedes S-Class has long been regarded as the benchmark luxury car, with the ultimate comfort, opulence and prestige. However, BMW just released the all-new 7-Series, which is looking to take down the S-Class with a new high-tech approach to luxury. So, which of these two is the ultimate status symbol you'd want in your driveway? Keep on reading to find out! The S-Class vs. 7-Series Battle is underway!
Pricing and Equipment
Now even though money probably isn't the primary concern for those shopping in the segment, we will still start the video off by breaking down the pricing of these two quickly.
Beginning with the S-Class, we have the S500 today with around $13,000 of additional options, for a total price of $129,045.
MSRP (S500 4MATIC): $114,500 + Options ($13,395) + $1,150 destination = $129,045
Now the new 7-Series starts at a base price about $20,000 less than the S-Class, which means we can opt for the higher-output V8 version for less money. We have the 760i xDrive which starts at $113,600, which totals out to $124,195 after options.
MSRP (760i xDrive): $113,600 + Options ($9,600) + $995 destination = $124,195
This does place a $4,850 price difference between the two, which doesn't matter much at this price point. 
Exterior Design
So, the first place to begin is with the exterior design and features. Now obviously, you don't need us to tell you that these two are very different in this regard. 
The all-new 7-Series has gone bold to the extreme with large, squared-off and blacked-out kidney grilles in the front. The S-Class sticks with the elegant approach its always deployed, utilizing a chrome grille and classy Mercedes pointed star. In these comparisons, we like to keep things objective, so we won't award points for design preferences, but be sure to let us know which one you like better in the comments below!
The lighting, while visually very different, has the same advanced LED lighting technology, like adaptive abilities. The 7-Series does feature real crystals in its daytime running light and an elaborate fading turn signal, however.
Now heading to the sides, this is where you really start to get a sense of just how large and imposing these two are. The 7-Series has grown 5 inches over the previous model and is now 4 inches longer than the already-huge S-Class. 
Length: 212.2 in (7-Series) | 208.2-in (S-Class)
As far as the wheels are concerned, both are rocking 20-inch alloys with nice designs. More importantly, both also have rear wheel steering which allows them to turn more like compact sedans than the large limos they are. 
And then finishing off the designs in the back, the BMW once again goes for the unique, polarizing look while the Mercedes is subdued. Both, of course, have fully LED taillights and exposed exhausts.
Additional Features
Now heading on to some of the other features, both have loaded mirrors with heating, power-folding, auto-dimming and active blind spot monitoring plus both of them also come standard with the full-gauntlet of safety systems including, automatic emergency braking w/ pedestrian detection, lane keeping assist, adaptive cruise control and auto high beam headlights. The BMW does also feature a hands-free highway driving system at up to speeds of up to 80MPH.
Finally, when it comes to warranties, both have 4 year, 50k mile basic and powertrain warranties, but only the BMW comes with 3 years of complementary maintenance.
But the fun is just now warming up, so now let's get to the uber-luxury cabin before we take them out for spin!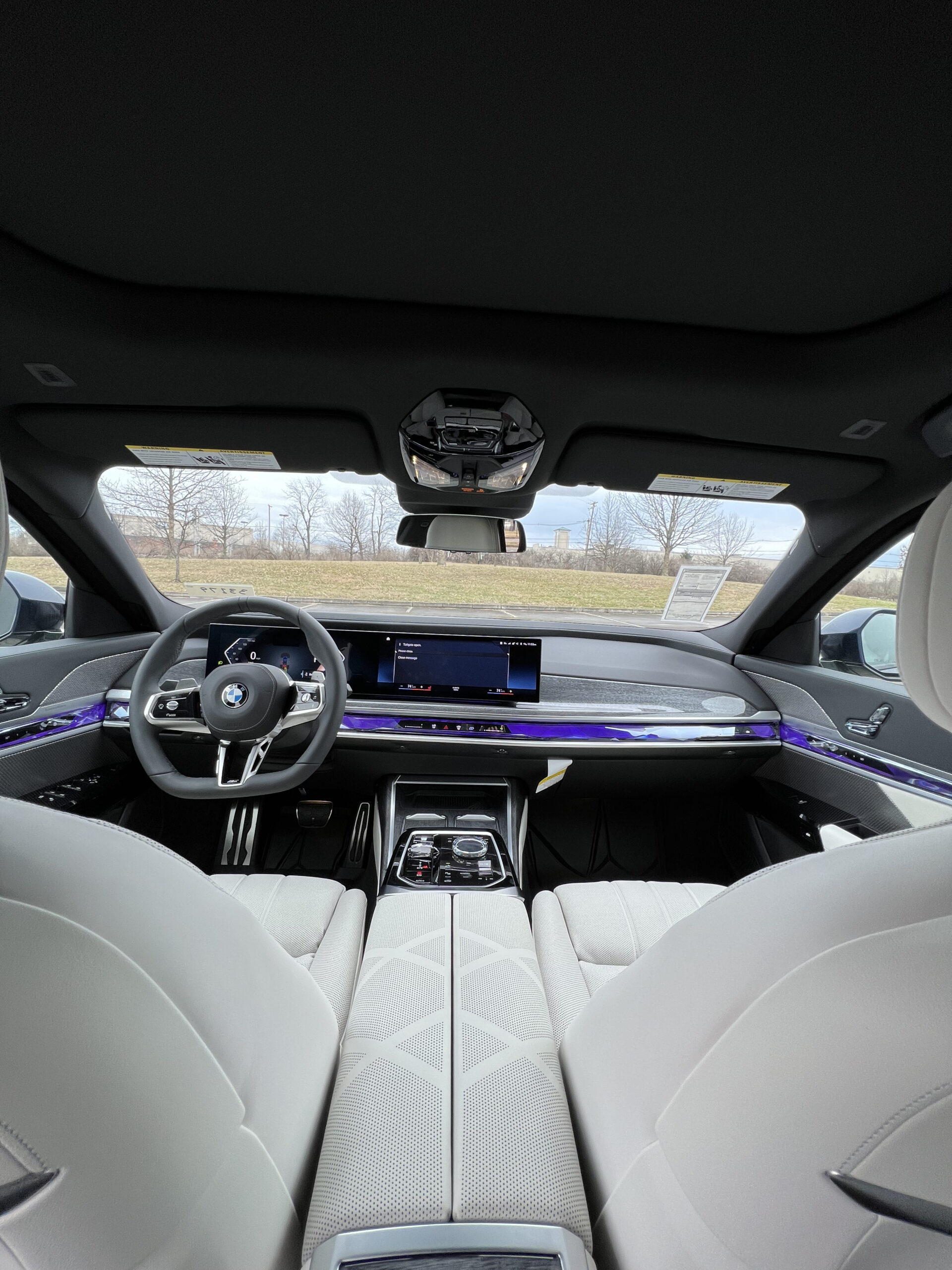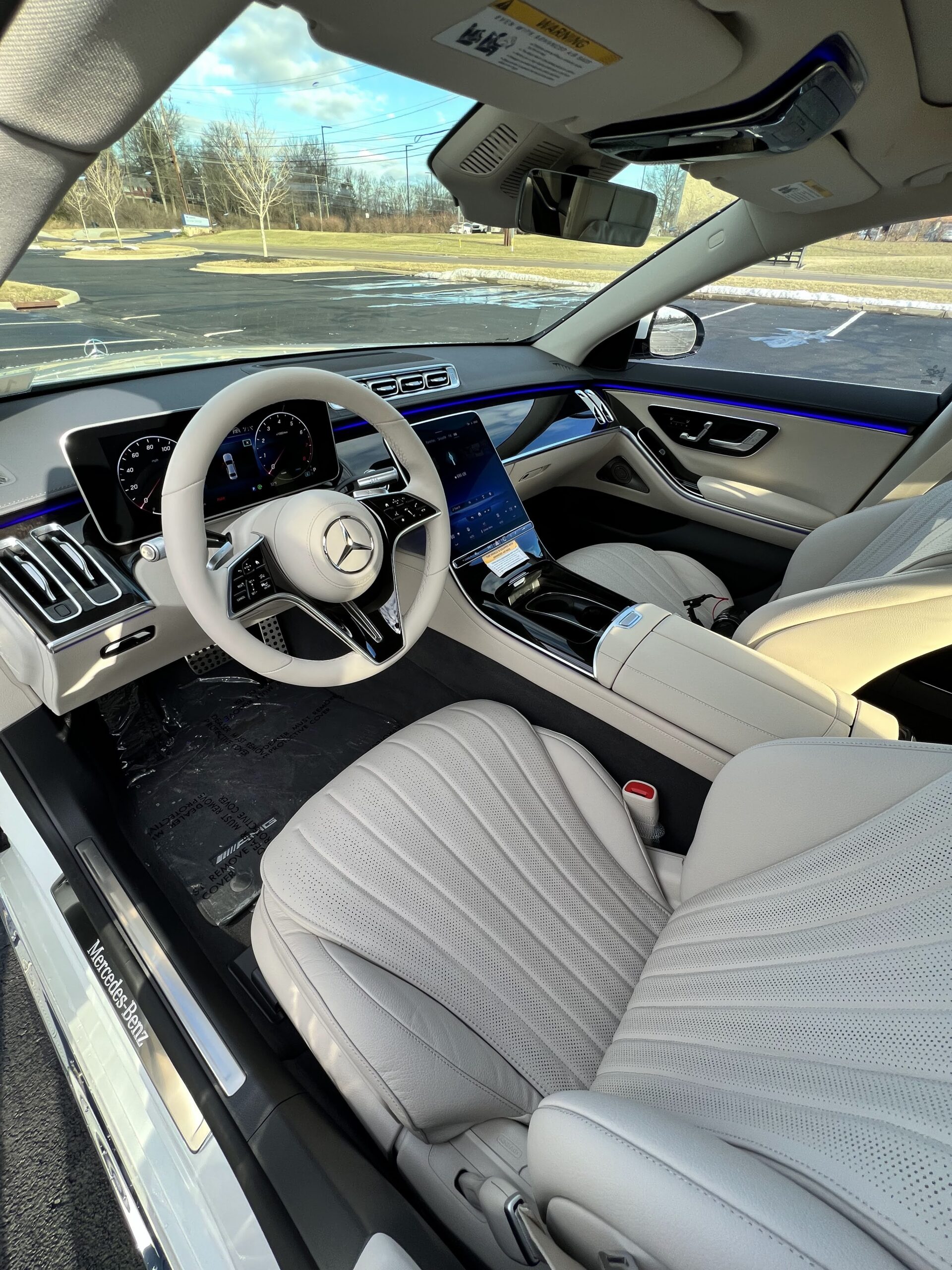 Interior Design
So, walking up to the vehicles, both of course have smart entry with some of the nicest metal key fobs money can buy. Now the Mercedes does come with automatic pop out door handles, but the BMW has it beat here. In the Bimmer's executive package, we have 4-fully automatic opening doors like the related Rolls Royce.
But anyway, once we reach the interiors, they both have a lot of wow factor, but couldn't be farther apart in terms of design. Inside the S-class we have a classic look with real macchiato leather seats and poplar wood trim. The new 7-series, however, has a tech-centric cabin with many visually interesting elements. It's finished in a more premium extended Merino leather.
And speaking of the seats, they are extremely adjustable seats with heating, cooling and even multi-stage massage. One extra boujee feature the Mercedes has are pillows in the headrests.
Once inside, we can talk about the cabin materials as a whole. Now even though the BMW has the flashier interior design, and the Mercedes is traditional, the materials are similar. Both have leather all over the upper dash and door trims, tons of real wood that runs through the middle areas and then more leather and soft plastics on the lower surfaces. There is nothing you touch that's not premium.
Both of them have interactive and very advanced ambient lighting throughout the entire cabin. They are situationally aware and respond to things like changing the temperature and speaking to the virtual assistant.
So, after starting them up we can turn our attention to the gauges. Both of them are using very similar looking, tablet style, 12.3-inch digital gauge clusters. Additionally, both offer augmented reality head-up displays.
And coming back to the steering wheels, both are fully leather wrapped, power adjusting and heated, with supplemental heated armrests as well.
Storage and Technology
Next, let's dig into the major area of interior storage. They have similar sized center consoles that even open in a similar fashion. The front bins also have similar storage, two cupholders and wireless phone chargers. One Mercedes advantage, though, is the hidden storage behind the screen.
Both use electronic shifters, the Mercedes a column mounted one, and the BMW a small glass one. When in reverse, both of them have 360-degree camera systems with very cool 3D views. 
Now let's go ahead and check out the audio systems. Both have stunning audio quality, impressive metal speaker grilles, and offer even more advanced systems for $5,000 more.
7-Series: 655-watt, 18-speaker Bowers and Wilkins
S-Class: Burmester Premium Audio
As far as climate controls, the BMW has standard 4-zone automatic ones while the Mercedes has dual-zone without a climate package. Both are adjusted via the touchscreens.
And as we come to the infotainment systems themselves, they look very dissimilar but they're a lot more similar in the feature set. The BMW has a horizontal orientation coming in at a larger 14.9 inches, compared to the Mercedes 12.8-inch vertical orientation.
Outside of the size difference, both have amazing resolution and snappy performance, plus built in navigation and wireless ACP and AA.
Finally, the last things to mention up front are the auto-dimming mirrors and large panoramic moonroofs. The BMW has cool lighting built in that matches ambient lighting colors, but only the Mercedes can actually open up.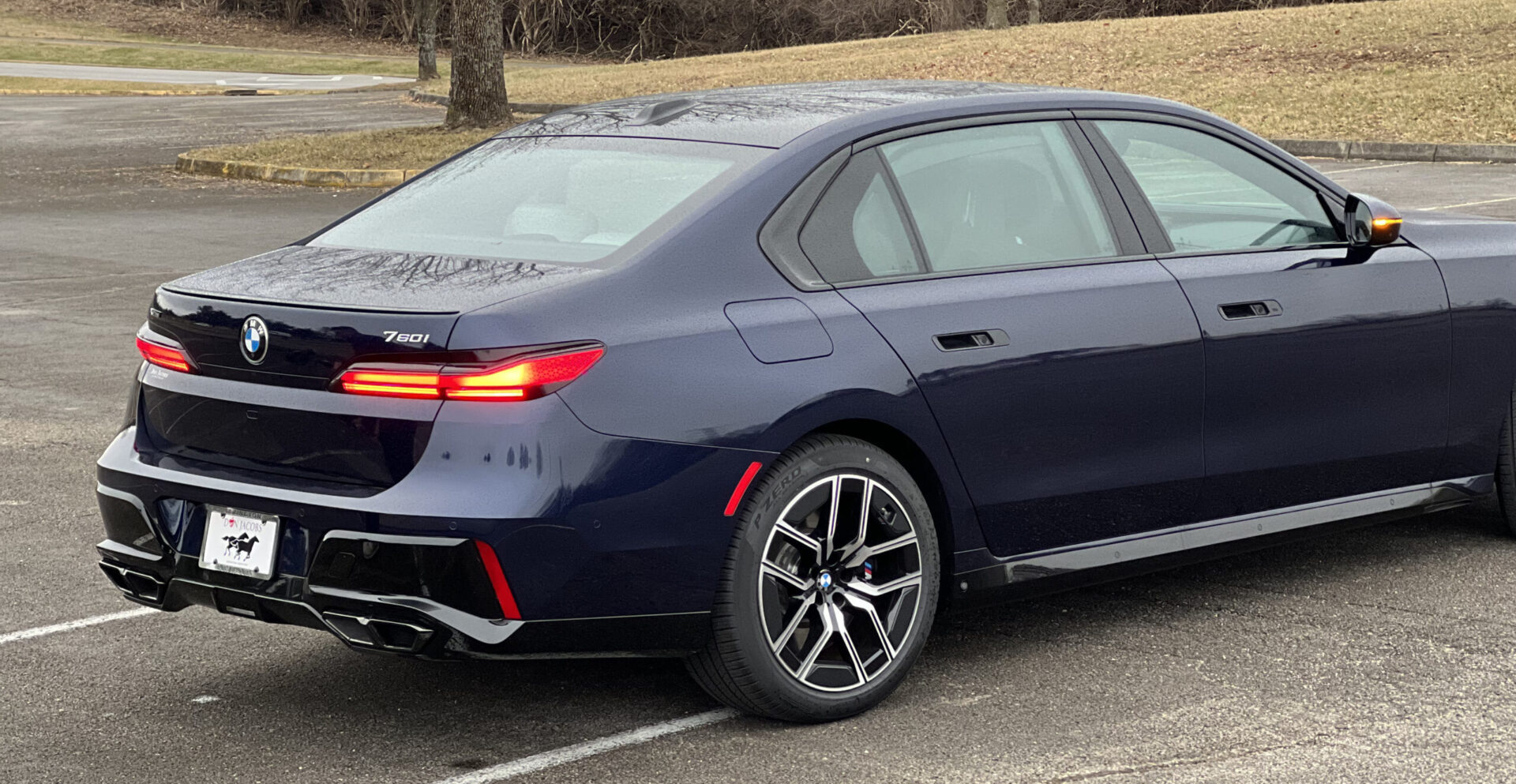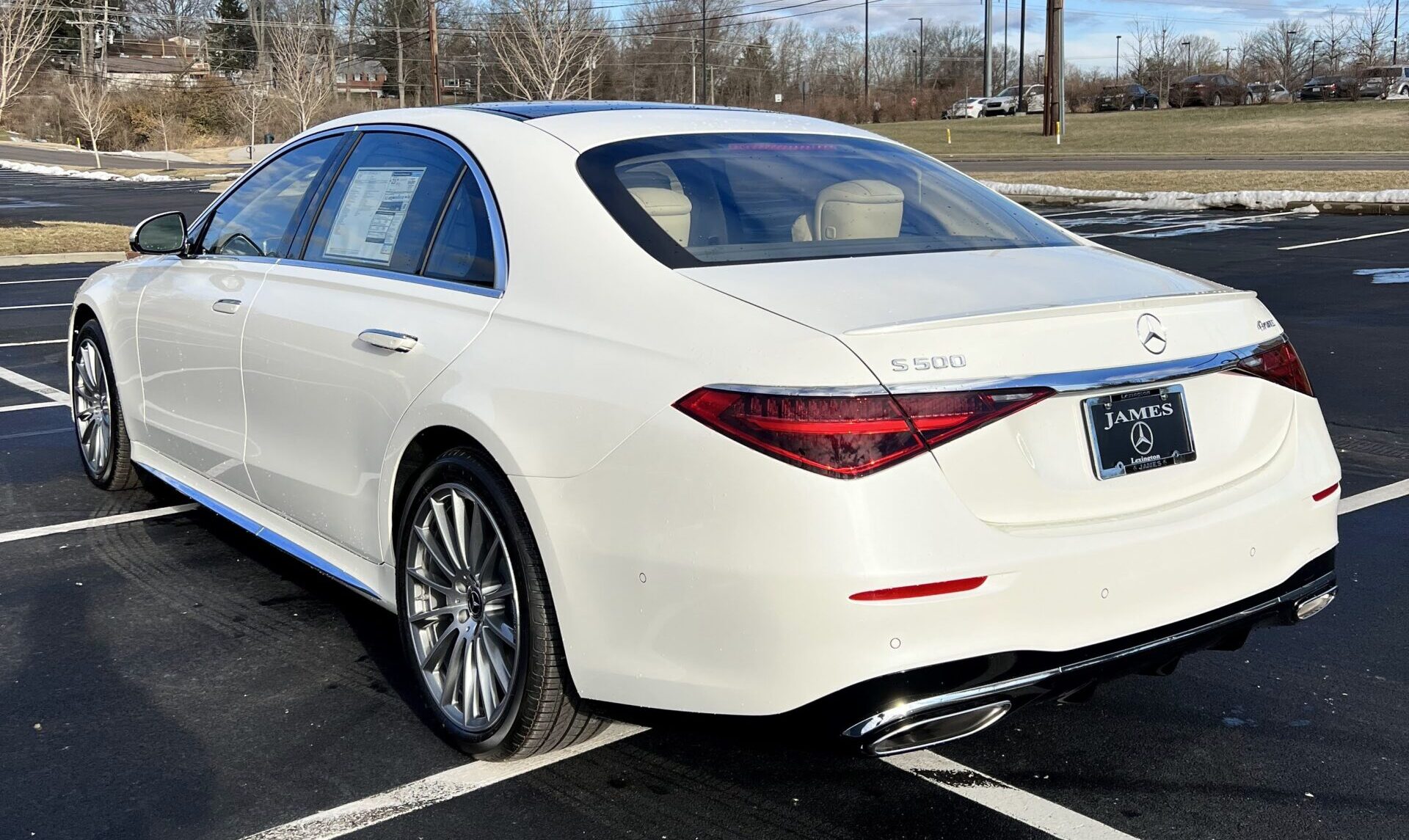 Rear Seats and Cargo
Alright but now let's move on to the rear areas, which are also very important since a lot of executives like to be in the back and have someone else drive them around. Both of these two are only sold in long wheelbase form in the U.S, so they have absolutely prodigious rear legroom and headroom measures. In this regard, they are also within 5% of each other.
S-Class: Legroom: 43.8-inches | Headroom: 39.4-inches.
7-Series: Legroom: 43.3-inches | Headroom: 38.6-inches.
Now these two can be fully kitted out to basically be limos if you have the right equipment, but the ones we have today are more modest. That's not to say there aren't still more than enough features to keep you comfortable, with things like rear vents, plugs and power sunshades. 
As I mentioned in the front, the rear doesn't have its own climate zone or controls in the S-Class, but both of them have heated rear seats. Our S-class furthermore has ventilated rear seats and power recline.
Additionally, it's worth noting that the 7-Series does have the option of getting a BMW Theater system. This 31-inch display pops down from the roof and is something Mercedes doesn't offer at this time.
Interestingly, the trunks are not nearly as cavernous as the back seats, but the 7-Series does give 6% more space than the S-Class.
S-Class: 9 cubic feet
7-Series: 13.7 cubic feet
That's it for the interior, so now let's take this tight race out on the road to see who will come out on top!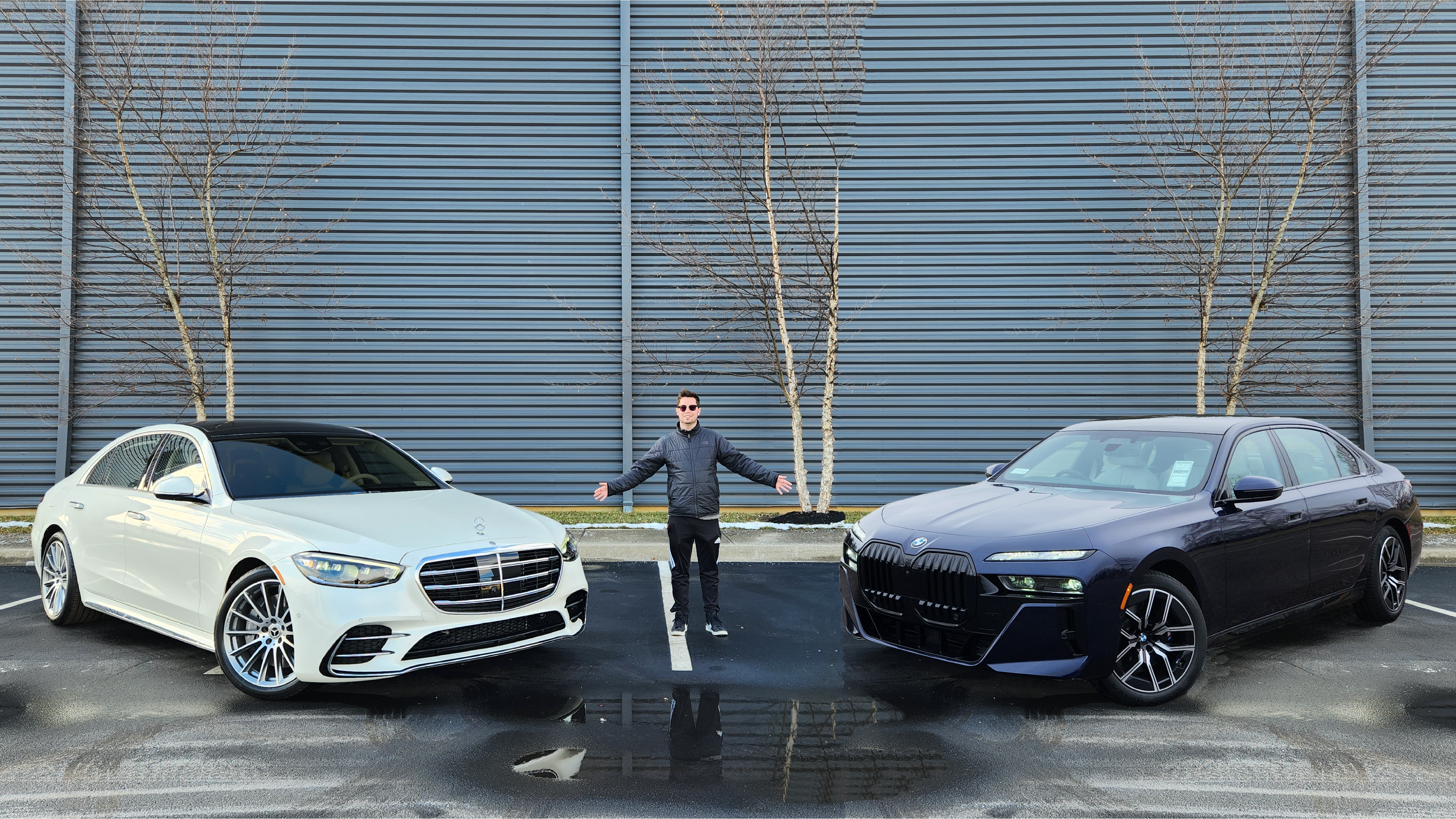 Powertrain
Under the hoods and out on the road, the differences are just as stark as everywhere else. The biggest aspect is the fact that the BMW costing so much less allows it to also have the upgraded V-8 engine while our S-Class has the standard 6-cylinder. Because of that, even though both are fast, the 760i really blows your mind with over 500 hp and a 4.1 second 0-60.
S500: 3.0L Turbo I-6 w/ EQ Boost: 429 hp | 384 lb.ft | 0-60: 4.8s
760i: Turbo V-8: 536 hp | 553 lb.ft  | 0-60: 4.1s
Driving Impressions and fuel economy
That being said, the plushness and ride quality is quite possibly the most important element of flagship sedans. Both are amazing, but the air suspension on the S-Class is impossible to beat, with the feeling of riding on a composed cloud. It's just that good.
Both models are mild hybrid this year, which helps it to have incredibly smooth auto start/stops. That being said, the Mercedes slightly edges out the BMW here as well.
But as pinnacle-luxury vehicles, they also need to be quiet, and they both deliver spectacularly low decibel readings at highway speed. These are lowest two numbers we've ever sampled on any vehicle.
S-Class: 50.7 dB @ 55 MPH
7-Series: 51.7 dB @ 55 MPH
Finally, as far as fuel economy, the smaller displacement engine and mild hybrid helps the Mercedes achieve 13% better fuel economy.
S-Class: 20/29/24 MPG
7-Series: 18/26/21 MPG
The s-Class Reign is over — for now!
After a long and hard fought battle, the new 7-Series finally manages to take down the S-Class this year. Not only does the 7 offer more value for its price, but BMW has put extra work into making the most luxurious place possible! The S-Class is still extremely elegant, but the BMW's boldness gives it the upper edge.
So, there you have it; these two heavyweight powerhouse luxury sedans battled it out extensively. The BMW is bold, high tech, and luxurious while the Mercedes offers that statelier and more traditional feel for the luxury clientele. But just like most luxury vehicles, they are really an extension of your personalities, so let us know which combination you would go for in the comments below!