What's going on YouTube! Acura and Infiniti have been battling each other since they first entered the U.S market and that battle continues today. Both of their most important products are now 3-row crossovers, and they offer very similar space, luxury and technology. But there are also important differences, which is why we wanted to know, who takes the cake in the 2024 Acura MDX vs. Infiniti QX60 battle? Be sure to watch the full video for a visual comparison linked at the bottom of this article!
Pricing and Equipment
Now as always, we'll start with pricing which is very similar for these two luxury 3-rows.
Starting with the QX60, we have it in its highest trim called Autograph. It brings all the features and luxury offered for a price tag just shy of $68,000 after destination.
MSRP (Autograph AWD): $66,100 | Options: $695 | Destination: $1,195 | Total: $67,990
Moving to the MDX, we also have the fully loaded model, outside of the performance-oriented Type S variant. The price is very similar to the QX60: all in at $65,595.
MSRP (Advance SH-AWD): $63,800 | Options: $600 | Destination: $1,195 | Total: $65,595
Now this is going to be an objective comparison. We have done our best to weigh the points awarded throughout in major and minor categories but at the end of the comparison we will sum up with our thoughts and revisit the price difference for a value assessment. With that being said, let's get into this comparison!
Exterior Design
Infiniti and Acura have been battling it out for years as Japanese luxury rivals and one of the biggest differences is in the design languages. The Infiniti has gone for a sleek and upscale look for this generation, with a big grille and chrome accenting. Meanwhile, the Acura has the sportier design theme with a sharp Pentagon grille and gigantic Acura badge.
Now as far as actual features, both have full LED lighting across the front, but the MDX has projector LED high beam's instead of reflector, and also features LED foglamps.
Fighting back, the QX60's lighting is adaptive and auto-leveling.
Checking out the sides, the MDX is a tiny bit longer than the QX60, but design wise, the Infiniti features a two-tone roof finish which is something not offered on MDX.
Length: 198.2-in (QX60) | 198.4-in (MDX)
Adding to those designs are nice looking 20-inch alloy wheels on both,  and then around back, both have exposed wipers and full LED taillights, but only the MDX has dual exposed exhaust outlets for the more premium look.
Additional Features
But let's move beyond the design and get into some important features and specs. Both model's mirrors are fully loaded with heating, power-folding, auto-dimming and blind spot monitoring. It's worth noting that only the Acura has auto-dimming on the passenger side as well.
They also feature all 4 of your main active safety systems as standard to keep all the occupants safe. 
Now as far as towing, the Infiniti comes in as one of the highest in the segment at 6,000 pounds compared to the MDX's 5,000 lbs. and the warranties also slightly differ. Infiniti features a 10,000 mile longer basic warranty,  as well as an additional year of complimentary maintenance which was added last year.
Infiniti: Warranties: Basic Warranty: 4yr/60k mi | Powertrain: 6yr/70k mi | NEW
Complimentary Maintenance: 3yrs
Acura: Warranties: Basic Warranty: 4yr/50k mi | Powertrain: 6yr/70k mi | Complimentary Maintenance: 2yr/24k mi
But families spend more time inside the vehicles, so let's check out their luxurious cabins.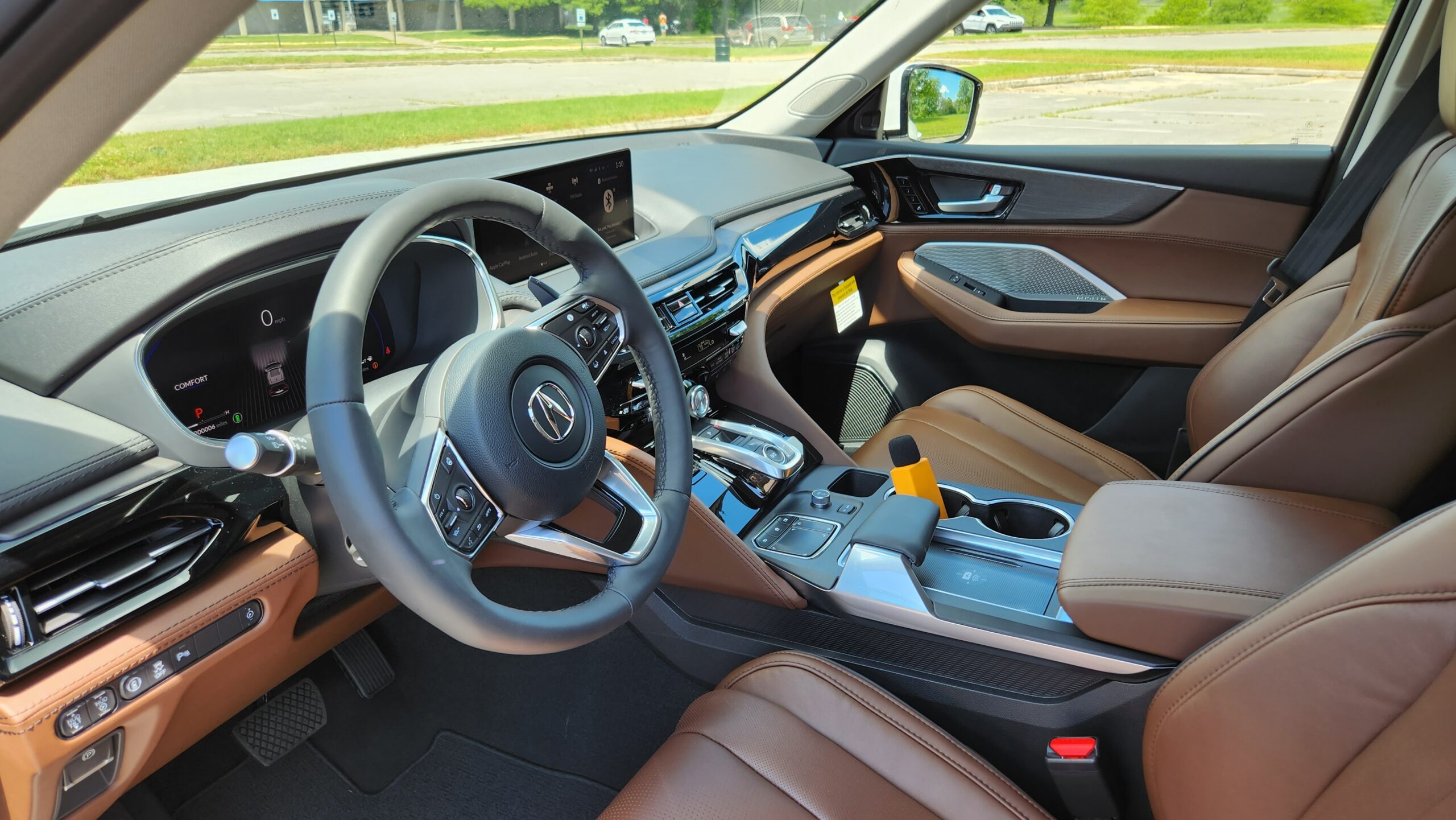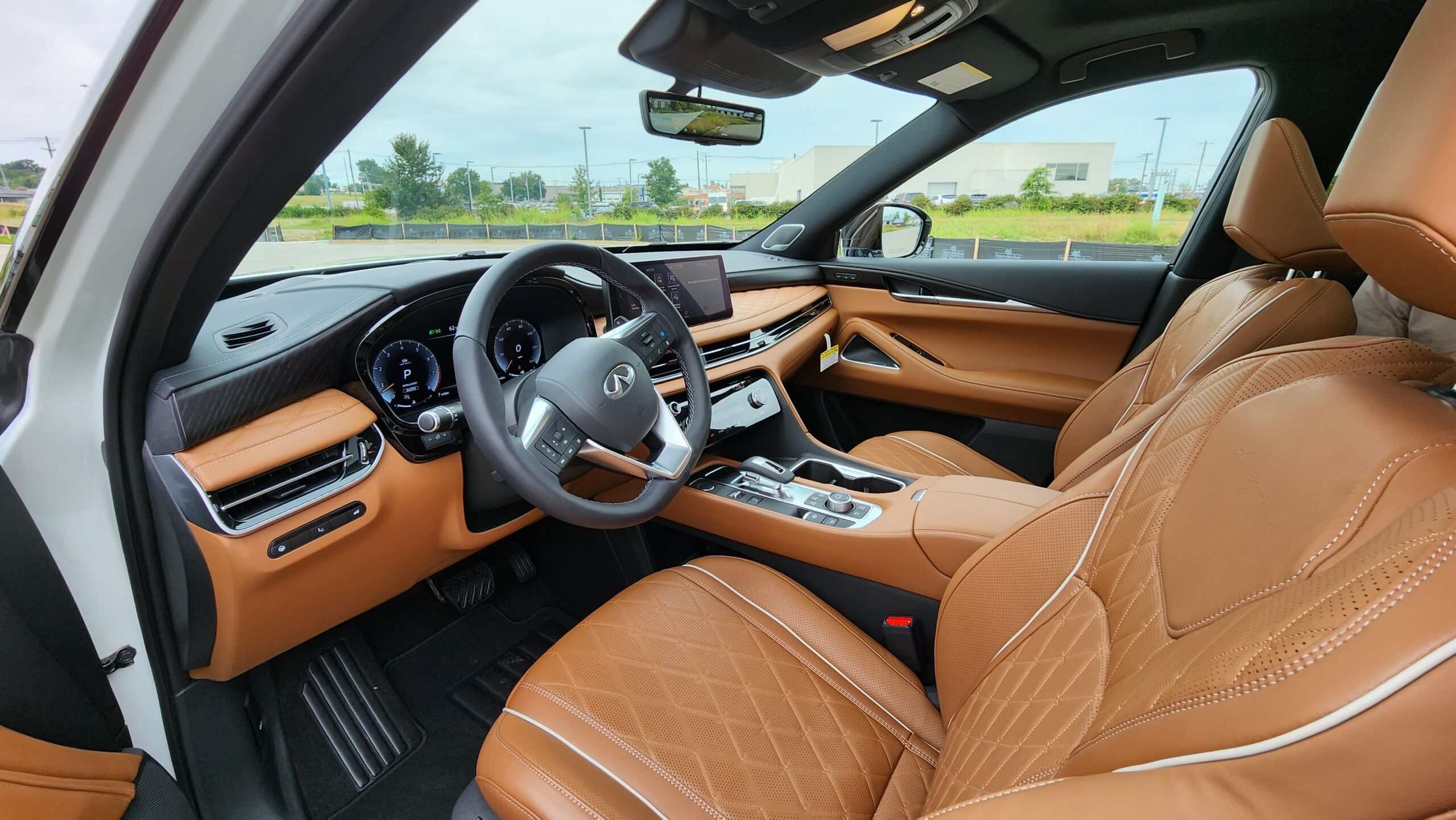 Interior Design
As we approach the vehicles, both models have the expected smart entry systems and remote start, although the Acura's key fob is made of much more premium materials than the QX60's.
Once you open up the doors and glance inside, you will see two incredibly luxurious cabins and that starts with the seats themselves.
Both these SUVs have high-end real leather; the QX60 finished in quilted semi-aniline leather, and the MDX with Milano leather. Both have elaborate piping and stitching details, but the Acura's seat is more adjustable at 16 ways instead of 12. The QX60 fights back, though, since only its front seats are power massaging at this price point. Both models also have heating, ventilation, and memory.
Now once fully inside the cabins, we can dive deep into which cabin uses more premium materials. Frankly, both models are very nicely finished with loads of leather and open-pore wood trim, but it's the Infiniti that goes a step further. It has a quilted leather portion in front of the passenger, and more extensive use of leather on the center tunnel instead of the Acura's piano black.
After startup, you'll see two customizable 12.3-inch digital gauge clusters. In addition, both have advanced Head-up Displays measuring in at 10.5 and 10.8 inches respectively.
Coming back to the steering wheels, both are leather-wrapped, heated, and power adjusting.
Storage and Technology
Next up we have the very important aspect of storage, which looks dead even at first but actually isn't. Both have similar sized center consoles and wireless phone chargers, however, only the Infiniti makes the most of its electronic shifter by allowing for a passthrough storage bin under the center tunnel.
I already mentioned the electronic shifters, and when in reverse, they both pull up 360-degree camera systems and parking sensors.
As far as climate controls, both have physical controls for 3-zone automatic systems,  and they have real volume knobs for the audio systems. Both have impressive audio quality from 16 and 17-speakers, but only the MDX has metal speaker grilles.
MDX: 16-speaker ELS 3D Studio Premium Audio
QX60: 17-speaker Bose Performance Series Audio
And now that brings us to the infotainment systems and there's something important to mention here. Both have 12.3 inch displays, but only the QX60 has a touchscreen, while the MDX requires you use the finicky touchpad.
Minus the control complications, Acura allows for wireless Android Auto or Apple CarPlay while the Infiniti leaves Android users out in the dark since it only has wireless Apple CarPlay.
Moving above the screens, both have auto-dimming rearview mirrors with HomeLink and the Infiniti further adds a rear camera functionality. They both have panoramic moonroofs as standard.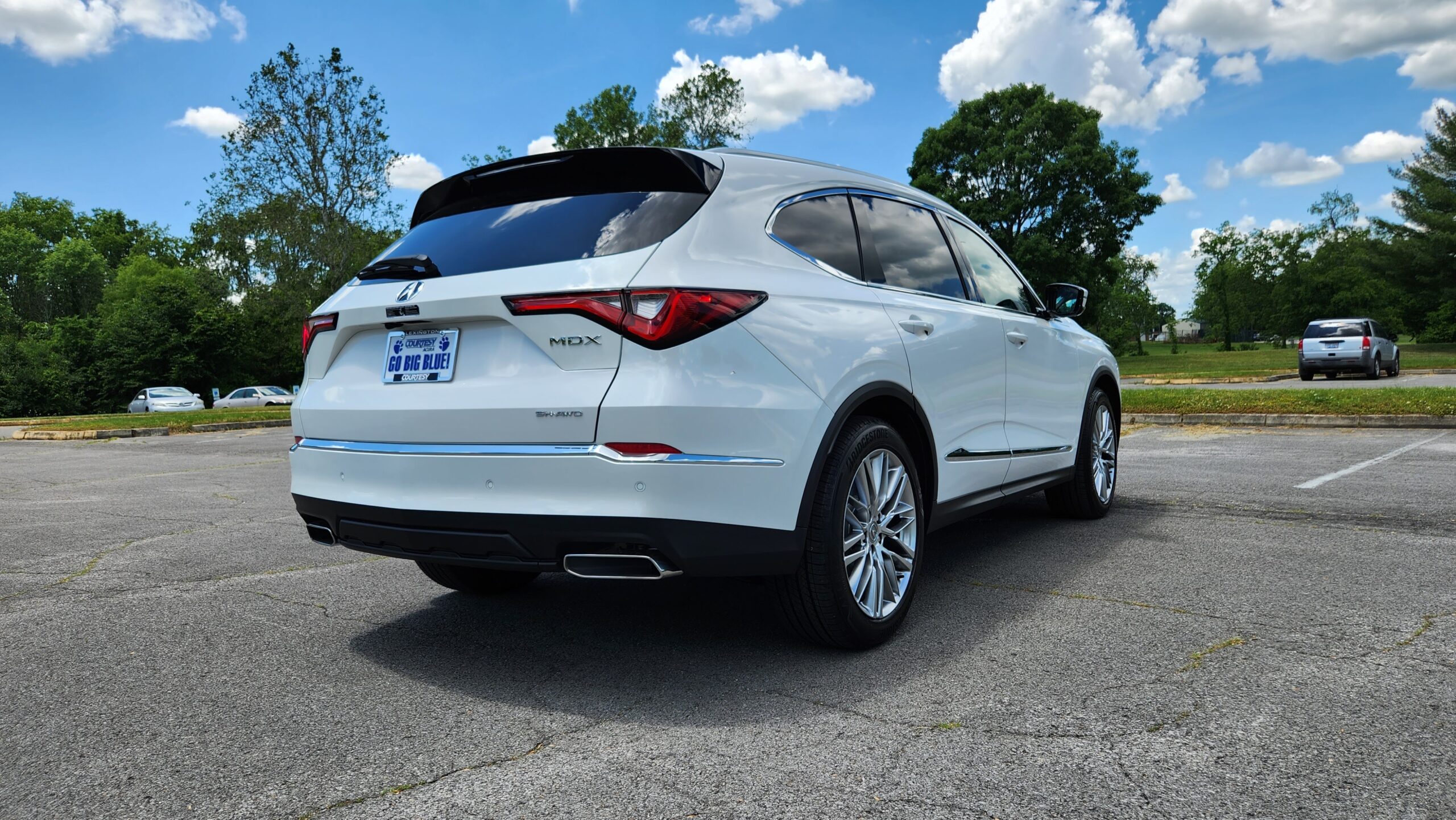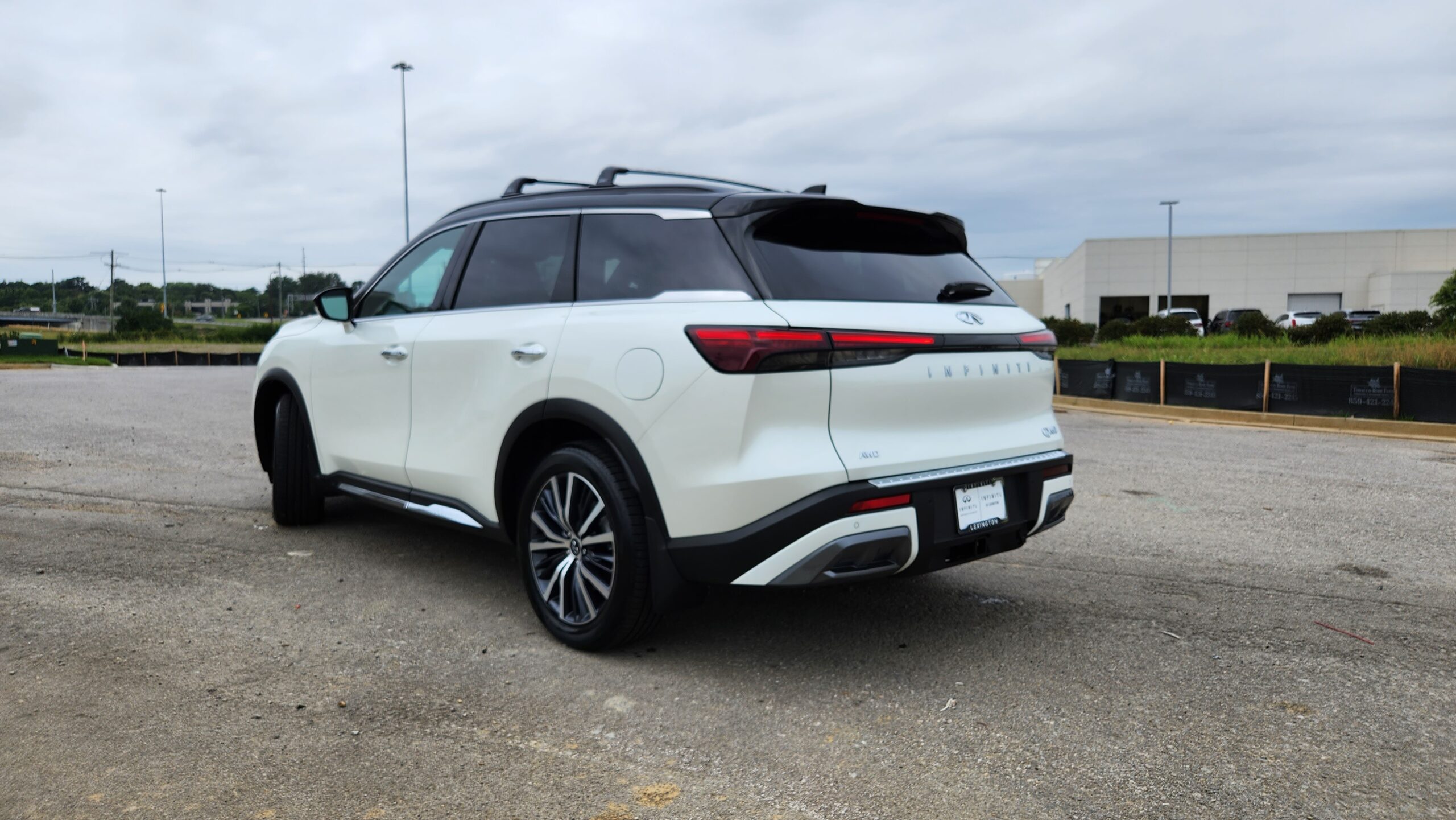 Rear Seats and Cargo
But almost certainly you will be hauling some family around in these two, so let's check out the rear space. The MDX has slightly more leg and headroom, but not outside the 5% margin required to score a point.
MDX: Legroom: 38.5-inches | Headroom: 38.1-inches
QX60: Legroom: 37.7-inches | Headroom: 37.5-inches
Next let's check the rear amenities where both are abundant. They have rear climate controls, 2 charging USB ports, a household power outlet, reclining seats, and rear sunshades. Additionally, the second rows are heated, but not ventilated.
Each brand does also have some unique features in the rear as well. The MDX features a fold down center seat that can double as an armrest, and the QX60 in its Autograph trim, has a removeable center console with storage. Both are quite nice and can be entirely removed if you don't want them, but only the MDX allows for one extra seat over the QX60 as equipped.
Moving on to the 3rd row of seats, both crossovers have a convenient one-touch folding and sliding mechanism to give you a nice pathway. 
Both models have very similar dimensions and only two seats in the third row. Once back there, you'll find decent thigh support and space, and while both have USB ports, only the QX60 features rear air vents.
MDX: ​​Legroom: 29.1-inches | Headroom: 36.2-inches
QX60: Legroom: 28-in | Headroom: 35.7-in
Now we've gone through all the creature comforts, but how much stuff can you bring along? Well, both have power hands-free tailgates, and once they open up, you'll find advantages for each model. It's the Acura who has an 11% advantage behind the third row, while the QX60 has around a 6% advantage behind both the second and first rows.
MDX: 16.3 cubic feet behind 3rd row | 39.1 cubic feet behind 2nd row | 71.4 MAX cubic feet
QX60: Behind 3rd row: 14.5 cu.ft | Behind 2nd row: 41.6 cu.ft | MAX: 75.4 cu.ft
The MDX's third row is manually folding, but the Autograph Infiniti includes a power return function.
 But now let's take this fight to the streets!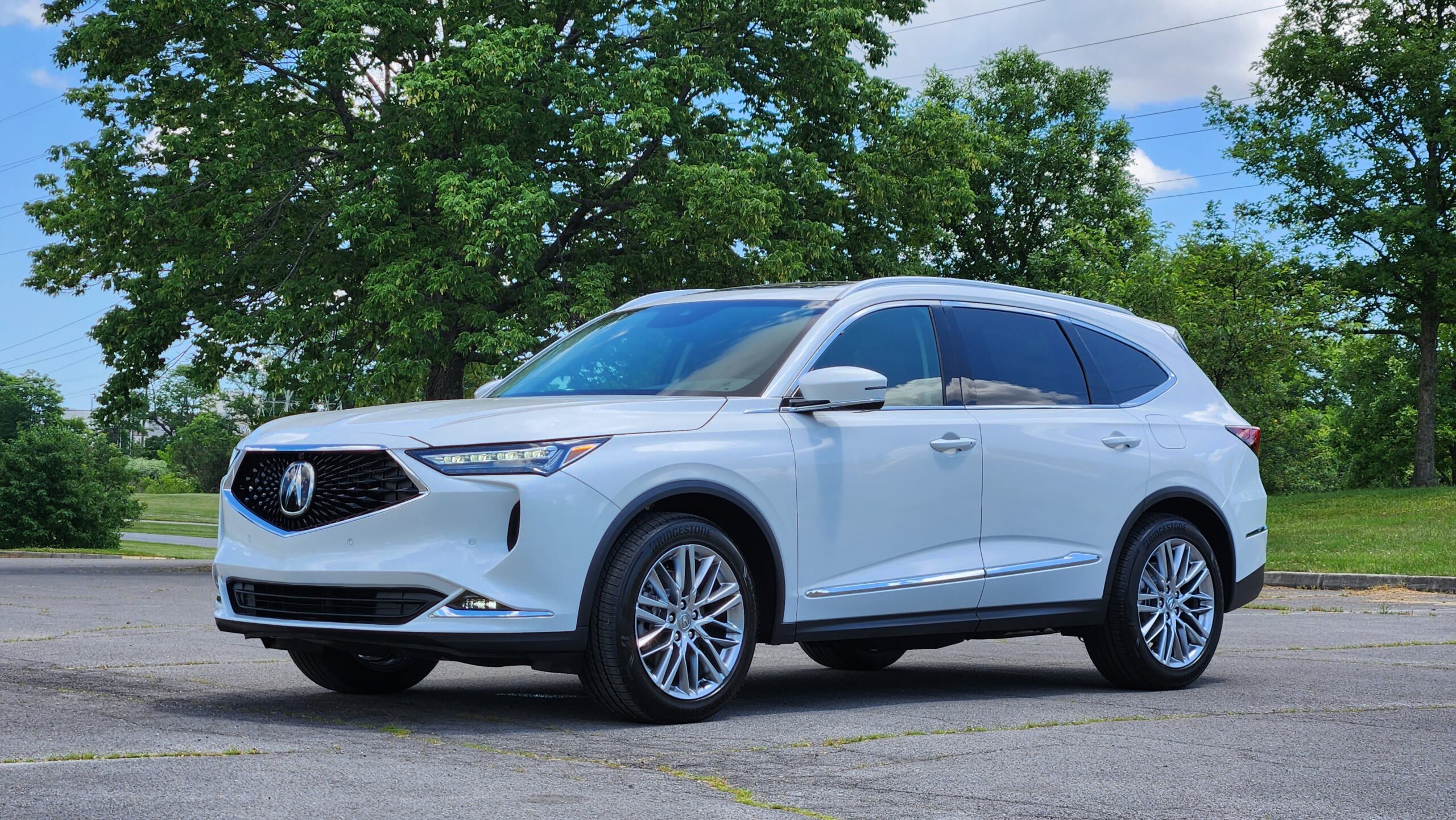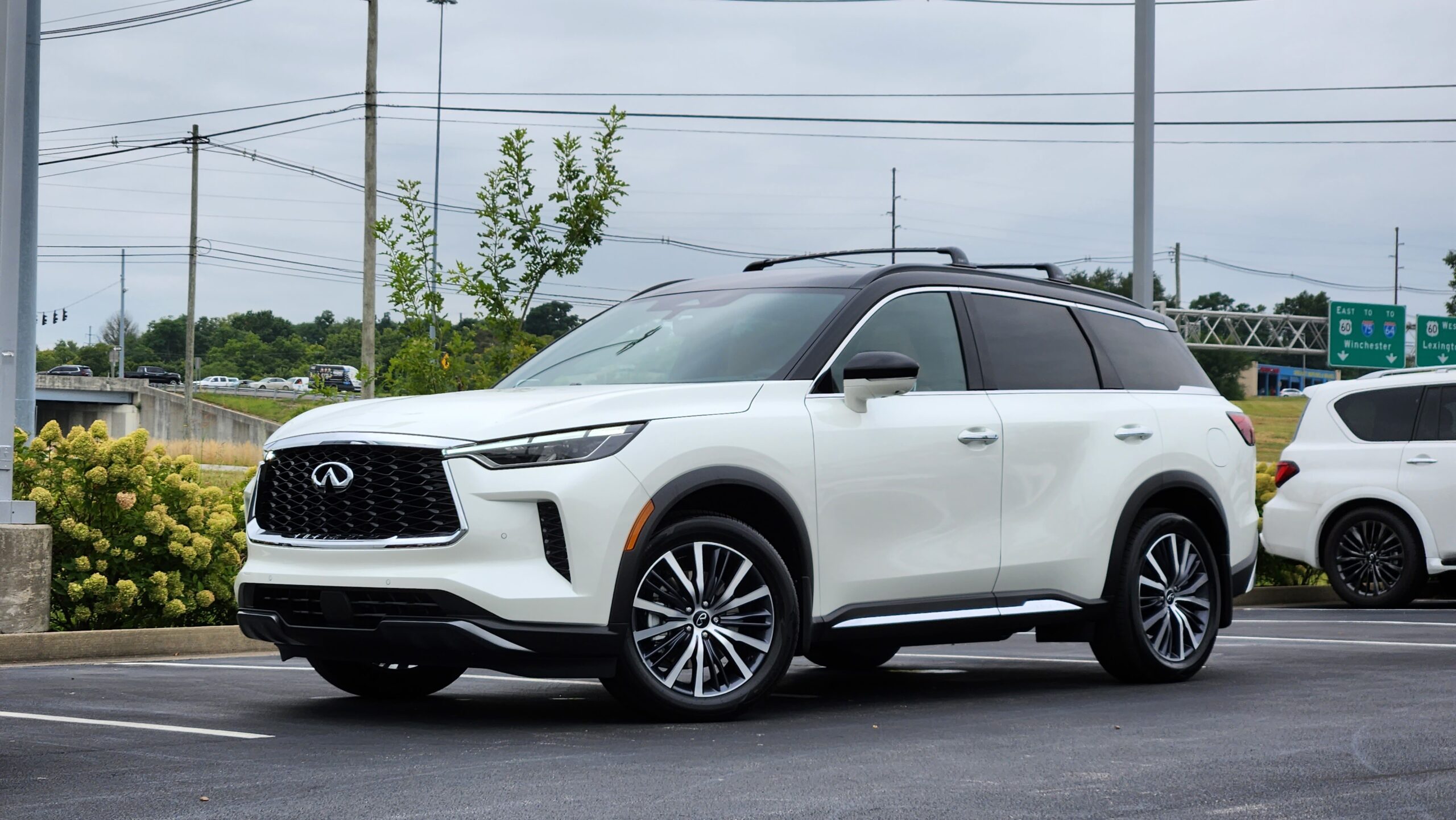 Powertrain
These two have been neck and neck the entire time, both offering very similar levels of luxury and equipment for the money. As you might expect, they both have very similar powertrains, as well. They are traditional 3.5L naturally aspirated V-6's with very similar power outputs.
MDX: 3.5L V-6: 290 hp | 267 lb.ft
QX60: 3.5L V-6: 295 hp | 270 lb.ft
Now as far as the other powertrain elements, the MDX features a smooth, Honda-developed 10-speed automatic and the QX60 a ZF-sourced 9-speed automatic. While both are smooth mostly, the Acura's transmission has an extra level of refinement. Both have AWD systems.
Driving Impressions and fuel economy
Now let's get into the ride qualities, which is important for these kinds of family SUVs. Both are extremely comfortable, and while neither have air suspensions or adaptive dampers, they remove all but the largest imperfections from penetrating the cabin. 
Another aspect of comfort is sound insulation, so let's look at the dB readings. Both were tested on smooth Kentucky roads at 55mph and in this regard the QX60 barely came out ahead, but not in a meaningful way. 
MDX: 53.9 dB @ 55 MPH
QX60: 53.8 dB @ 55 MPH
Lastly, for fuel economy, the QX60 and MDX are within 5% of each other at 22 and 21 mpg combined. 
QX60: 20/25/22 MPG
MDX: 19/25/21 MPG
The Underdog infiniti takes the win!
So, there you have it; these two are incredibly close, but who is "your" winner? Well, the MDX should be your winner if you value the most,  
MDX: 
Premium lighting
Extra seat in second row (7 passenger seating)
Better 10-speed automatic
And the QX60 should be your winner if you value,
QX60: 
More luxury inside of cabin (massaging seats, materials)
Better storage solutions (pass through console)
More cargo space and higher tow rating
Be sure to watch the video below for a visual comparison of the design breakdown. Thank you for joining us for another Car Confections comparison!