With gas prices the way they are right now, it takes a brave person to be driving a full-size SUV with a big engine. However, if you are one of those brave souls, the GMC Yukon has long been one of the top options to buy. GMC has elevated the Yukon even more for 2023 by adding the all-new range topping "Denali Ultimate" trim, as well as some other new features as well. So, is this 2023 GMC Yukon the best SUV for you and your family? Keep on reading to find out!
What's New for 2023
New Denali Ultimate Trim with available Super Cruise and std Advanced Park Assist
New colors and wheels available
Trim Structure
SLE -> SLT -> AT4  (4WD Only) -> Denali -> Denali Ultimate (4WD Only)
Exterior Design
Front
The 2023 GMC Yukon doesn't undergo any exterior changes this year, which is welcome on this handsome and rugged design. The focal point of this vehicle is the signature GMC grille, which will come in a barred or honeycomb design finished in black, chrome, or "Vader" dark chrome.  The Denali Ultimate we tested wore the high-end honeycomb finish in Vader chrome. The AT4 trim is the only version that will see a different lower fascia, which is meant to be more rugged. LED headlights will be standard on all Yukon trims with LED fog lamps as well.
Side and Rear
Heading to the side of the Yukon, you will find each trim level with a different set of wheels for 2023, ranging from various 18–22-inch alloy options. The braking specs are as follows:
Brakes: Front: NA
Up to the mirrors, you will find only heating and power adjusting as standard, with Blind Spot Monitoring on the SLT and above, and power-folding on the AT4 and Denalis. The side retains the boxy look of the Yukon family, measuring in at 210.0-inches long or a whopping 225.2-inches on the XL. Despite the colossal size of the Yukon, there's not too much to look at on the side, except for chrome door handles on the SLT and Denali models.
Heading to the rear, LED taillights will be standard for the Yukon. The only differences between trims on the Yukon will be the more rugged styling on the AT4 lower fascia and additional chrome accents on the Denalis. If you opt for the beefy V8, you will have quad exposed exhausts. Towing is rated at 8,400lbs as a maximum for the Yukon.
Safety and Warranty
The Yukon will be equipped with GMC's 3-year, 36,000-mile basic warranty and a 5-year, 60,000-mile powertrain warranty. Additionally, the first maintenance visit will be free. The Yukon for 2023 will come standard with most of GMC's basic safety systems, including:
Automatic forward emergency braking with pedestrian detection, auto high beams
SLT adds: lane keeping and change assist, rear traffic alert as standard
Denali adds: Adaptive Cruise Control as an option
Ultimate: available Super Cruise
Next, we'll head to the interior, where GMC has continued to throw plenty of features.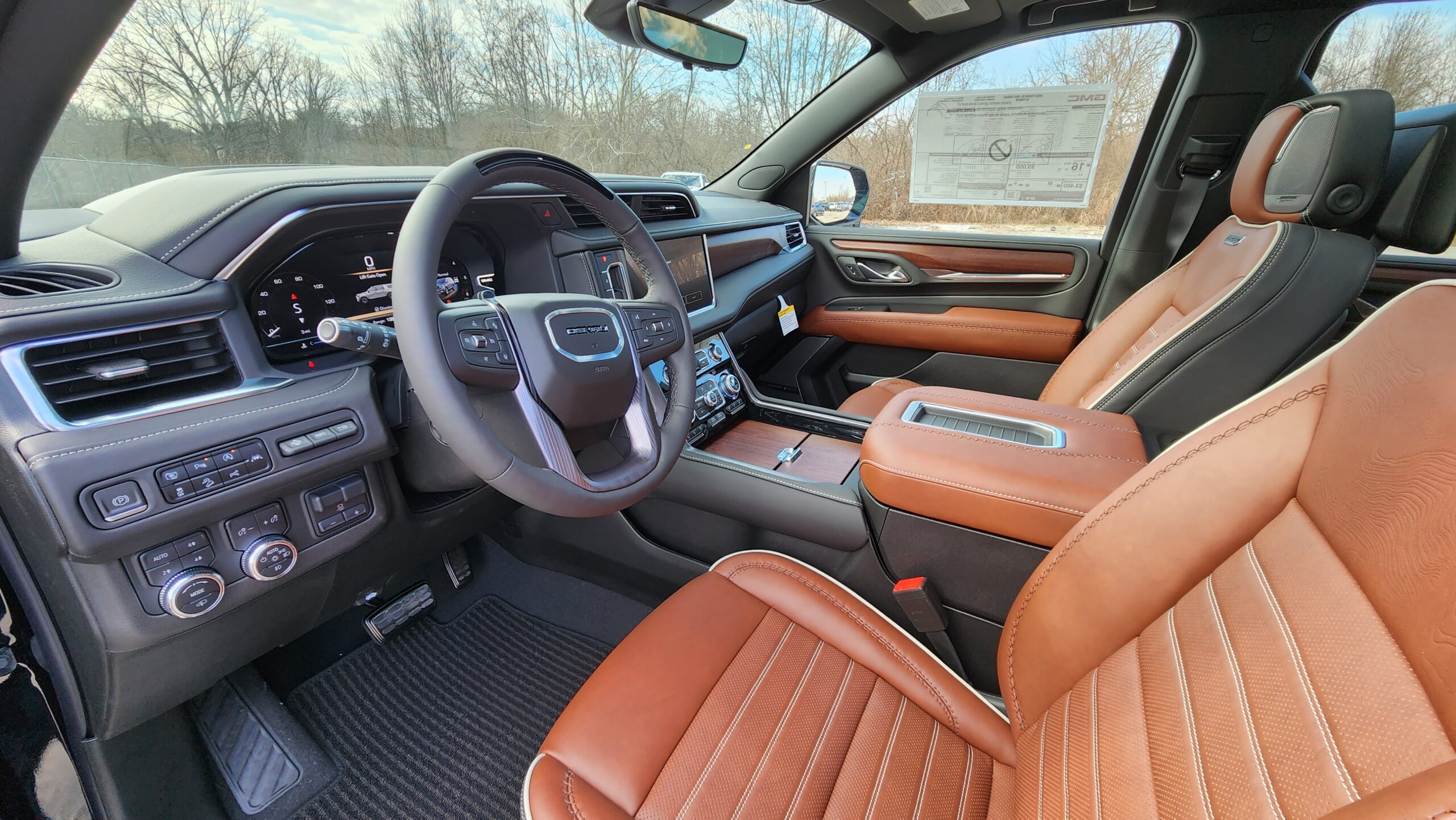 Interior Design
Materials and Basic Features
To get inside the 2023 GMC Yukon, smart entry and push button start will be standard on all models. Additionally, remote start is standard as well. When it comes to interior materials, there is a full range of cloth, real leather, and full-grain leather, dependent on trim. The Denali Ultimate we tested comes with exclusive Alpine Umber Full-grain leather with contrast elements. The seats will be 10 or 12 way power on most trims, with 16-way with massage reserved for the Denali Ultimate. Memory will come standard on the AT4 and above. For the Yukon Denali and Ultimate, we also want to mention the incredible leather and open-pore wood finishes on the cabins.
Specs: Legroom: 44.5-inches | Headroom: 42.3-inches
All Yukon models will have a standard 12-inch digital gauge cluster, with the addition of a heads-up display on the Denali models. Sitting in front of the gauges will be a steering wheel that is power adjusting and heated on the AT4 and above. The Yukon will come with an electronic push button shifter and rain sensing wipers as well.
2023 GMC Yukon Tech and Luxury
Technology will be plentiful within the GMC Yukon's cabin, starting out with standard three-zone automatic climate, heated seats, ventilated seats, and wireless charging on the SLT and up. Only the base SLE will have a non-branded have a six-speaker sound system, while the other trims will have Bose audio in 9, 14, and 18 speaker configurations. At the center of the Yukon's cabin is a 10.2-inch digital display on all trims. The more premium Denali trims will have this screen inset into the trim. A backup camera is standard, and a 360 Camera only on the Denalis. Wireless Apple CarPlay and Android Auto will be standard as well as Google software built in, with navigation on the AT4 and above. An auto-dimming mirror is standard on the SLT trim with a camera mirror optional for the Denali only. A panoramic moonroof is on option starting on the SLT trim and above. As an honorable mention for this category, the Denali as comes standard with a POWER sliding center console, perfect for stashing snacks.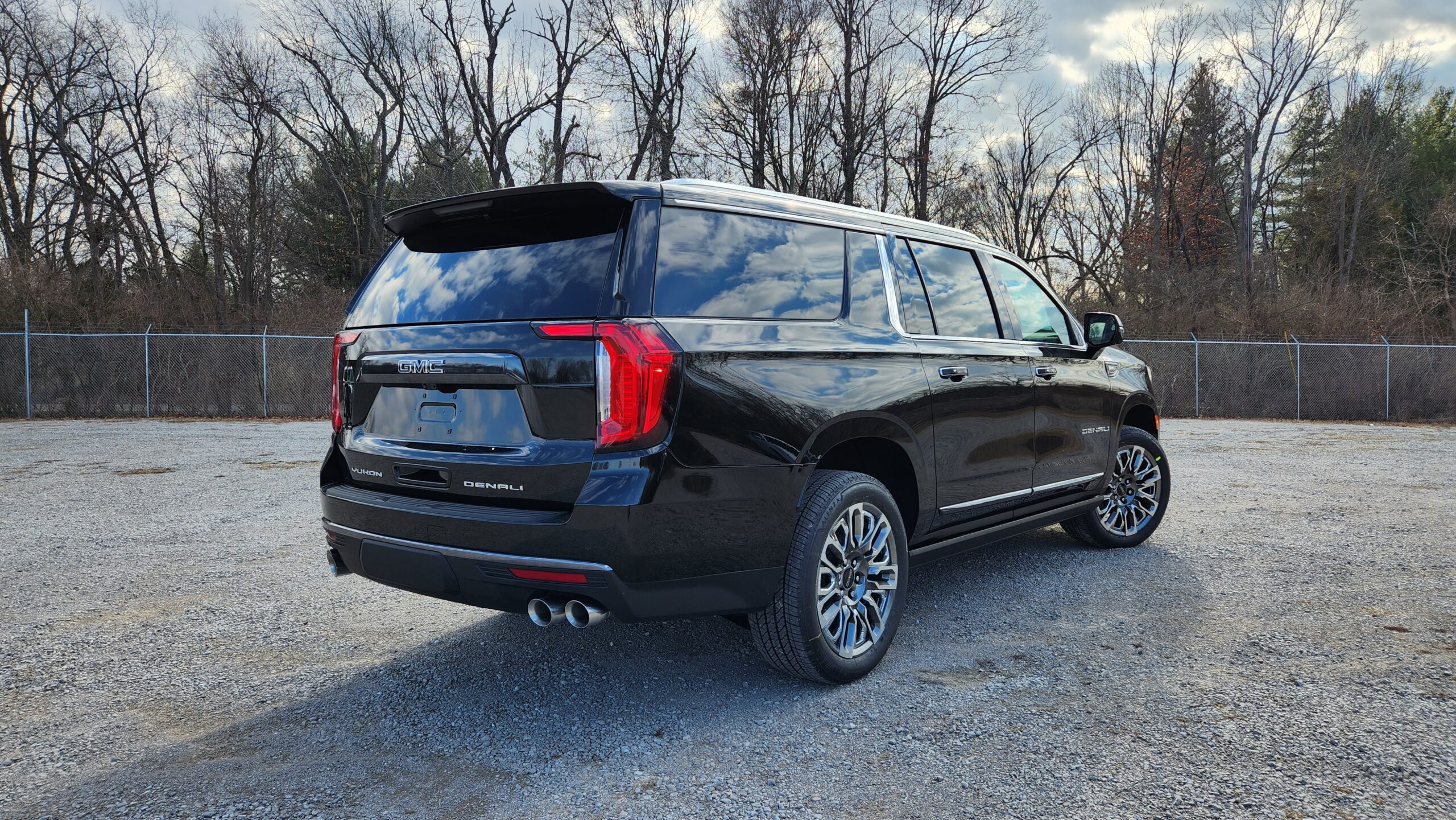 Rear Spaces
The rear seats will continue to capitalize on the Yukon's design, with the specs as follows:
Legroom: 42.0-inches
Headroom: 38.9-inches
Bench seating will be standard on all trims of the Yukon except for the Denali trims. All trims will have the luxury of rear climate controls, vents, and USB ports. Heated rear seats are also standard on the AT4 and up. A dual 12.6-in rear entertainment system is also available for the rear seats. For the standard third row, passengers will be pleased with the following specs:
Legroom: 34.9-inches
Headroom: 38.2-inches
For easy folding, a power folding third row does come as standard. The tailgate will be hands free power opening on all but the base SLE, including rear opening glass. For cargo, the Yukon offers an impressive 25.5 cubic feet behind the 3rd row, 72.6 cubic feet behind the 2nd row, and 122.9 cubic feet as a maximum.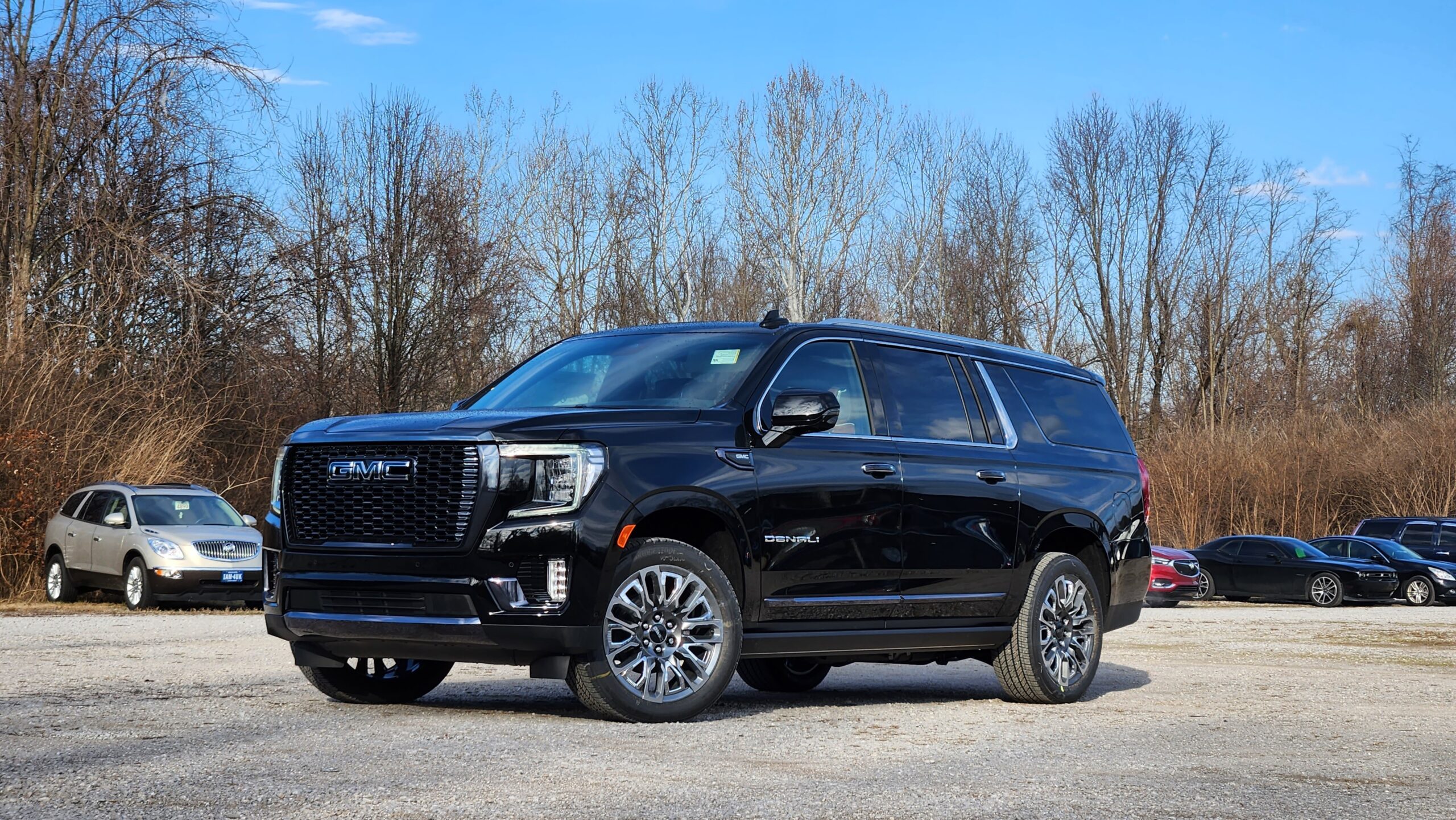 Powertrain & Driving Impressions
GMC has no major changes here in the engine department for the Yukon. However, there are multiple options for almost every trim level. The specs are as follows:
SLE and SLT: 5.3L V8 or 3.0L Duramax Turbo Diesel
AT4: 5.3L V8 or 6.2L V8
Denali and Ultimate: 3.0L Duramax Turbo Diesel or 6.2L V8
All of these engines will be paired with a very smooth and responsive 10-speed automatic transmission.
The AT4 and Denali Ultimate come standard with 4WD for 2023, with 4×2 being standard for all other trims. The majority of Yukons will consume fuel at the following figures:
5.3L V-8          
15 city / 20 hwy (2WD)
15 city / 20 hwy (4WD)
6.2L V-8
14 city / 20 hwy (2WD)
14 city / 18 hwy (4WD)
3.0L Turbo-Diesel
21 city / 27 hwy (2WD)
20 city / 26 hwy (4WD)
Behind the wheel of the Yukon Denali Ultimate, we found the driving dynamics to be quite comfortable and impressive. The V-8 puts out a great sound, which contrasts well with the Magnetic Ride Control and Air Suspension that comes standard on the AT4 and above. To get an in-depth perspective on our full driving impressions and more, watch our full review down below!
2023 GMC Yukon Pricing
Prices have risen for this Yukon in 2023. All prices are for 4×2 unless stated otherwise:
SLE: $59,195
SLT: $65,895
AT4 (4WD): $72,500
Denali: $74,600
Denali Ultimate (4WD): $95,295
Overall, this 2023 GMC Yukon continues to impress when it comes to size and luxury, continuing to stand as a strong competitor in this busy SUV market. With the addition of the Denali Ultimate trim, GMC is starting to work its way into Escalade territory when it comes to features and price! Compared to the competition, the GMC Yukon sure seems like a winner to us!