Over the last several years, Nissan has released a flurry of new models, and one of the most anticipated was the Nissan Pathfinder. Fully redesigned last year, it brought the model to a whole new level, and also brought back a little of the off-road prowess from the Pathfinders of the early 90's. Now for 2023, Nissan is doubling down on that with the new Rock Creek addition, as well as a few general enhancements across the lineup. So, is this 2023 Nissan Pathfinder one of the best choices in the competitive segment? Keep on reading to find out!
What's New for 2023
Rock Creek edition: features off-road-tuned suspension and a 5/8-inch suspension lift, 18-inch bead lock-style wheels with all-terrain tires, a tubular roof rack with a 220-pound capacity, a tow hitch receiver and harness with 6,000-pound maximum towing capability, LED fog lights, Around View Monitor with Off-Road Mode, orange interior stitching and second-row captain's chairs. Rock Creek has standard 4WD and its 3.5-liter V6 engine is enhanced to deliver increased available horsepower and torque
SL adds std wireless phone charger
Platinum has new captain's chair package
SL and Platinum add power passenger seat
Trim Structure
S -> SV -> Rock Creek (NEW) -> SL -> Platinum
Exterior Design
Front
The 2023 Nissan Pathfinder doesn't undergo any exterior changes this year, as it was fully redesigned last year. The focal point of this vehicle is the signature V-motion grille, which will be finished with chrome in most cases unless you opt for the rugged matte black finish on the Rock Creek. Each trim will also have a slightly different lower fascia, with the top trims featuring more silver accents. Once again, the Rock Creek will feature a different and more rugged look, as well as more functionality to offer higher ground clearance. LED headlights will be standard on all Pathfinder trims, however; LED fog lamps will only be on the Rock Creek as standard for 2023.
Side and Rear
Heading to the side of the Pathfinder, you will find each trim level with a different set of wheels for 2023, ranging from various 18–20-inch alloy options. The braking specs are as follows:
Brakes: Front: 13.8-in vented disk | Rear: 13.0-in vented disk
Up to the mirrors, you will find only Blind Spot Monitoring and power adjusting as standard, with heating on the SV and above, and power-folding only on the Platinum. The side retains the boxy look of the Pathfinder family, measuring in at 197.7-inches long. The roof has a unique floating feature and can be two-tone on the top trims, a rare treat for this segment. Roof rails will be standard on all but the base model, with the Rock Creek sporting some beefy tubular rails. All trims will come with black cladding on the lower areas to offer a more rugged appearance.
Heading to the rear, LED taillights will be standard for the Pathfinder. The only differences between trims on the Pathfinder will be the more rugged styling on the Rock Creek lower fascia and some silver accents on the SL and Platinum. No Pathfinder will offer exposed exhaust outlets. Towing is rated at 6,000lbs, which is more than most rivals.
Safety and Warranty
The Pathfinder will be equipped with Nissan's long-lasting 3-year, 36,000-mile basic warranty and a 5-year, 60,000-mile powertrain warranty. The Pathfinder for 2023 will come standard with most of Nissan's basic safety systems, including:
Forward emergency braking with pedestrian detection
Rear Automatic Braking
Auto high beam headlights
Going for the SV trim and above will add in:
ProPilot Assist w/ full speed adaptive cruise control
Lane Keeping Assist
Blind Spot Intervention
Next, we'll head to the interior, where Nissan has continued to throw in some more updates.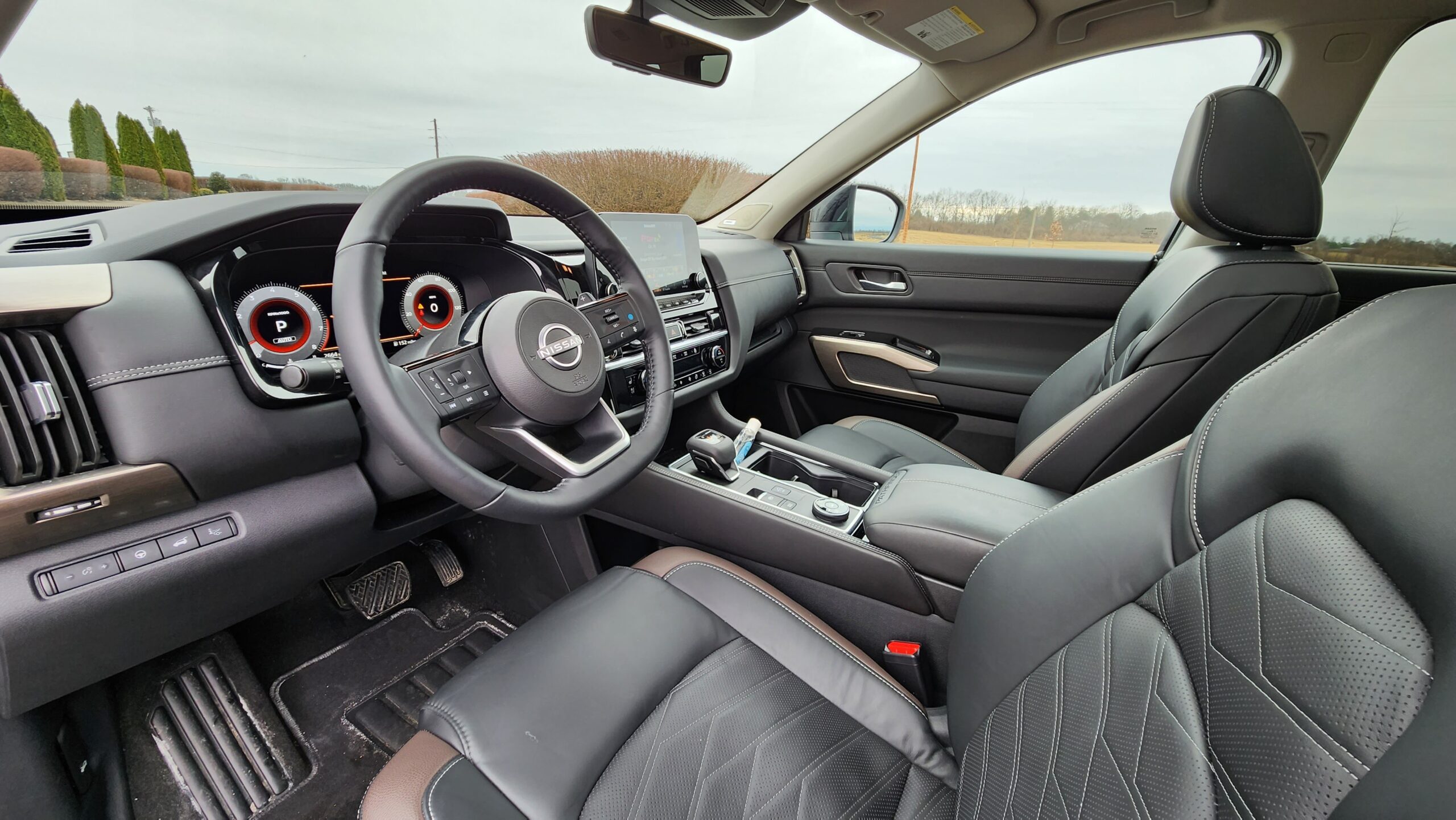 Interior Design
Materials and Basic Features
To get inside the 2023 Nissan Pathfinder, intelligent entry and push button start will be standard on all models. However, remote start is on the SV and up. When it comes to interior materials, there is a full range of cloth, leatherette, and real leather, and quilted semi-analine leather, dependent on trim. The seats will be manual adjusting for the S, 10-way power on the SV and above, and memory reserved for the Platinum only.
Specs: Legroom: 44.3-inches | Headroom: 42.3-inches
Most Pathfinder models will have 7-inch digital display with analog gauges, however; the Platinum will feature the fully digital 12.3-inch display. Sitting in front of the gauges will be a leather wrapped steering wheel on the SV and above, heated on the SL and Platinum, and power adjusting on the Platinum only. The Pathfinder will come with an electronic shifter and paddle shifters as well.
Tech and Luxury
Technology will be plentiful within the Nissan Pathfinder's cabin, starting out with standard three-zone automatic climate, heated seats on the SV and up, and wireless charging offered on the SL and Platinum. Ventilated seats will be reserved for the top Platinum trim. Most Pathfinder trims should expect to have a six-speaker sound system, while the top Platinum will have a 13-speaker Bose Premium audio system. At the center of the Pathfinder's cabin is an 8-inch digital display on the lower trims. On the SL and Platinum, you get upgraded by a SUBSTANTIAL amount: 1-inch. A backup camera is standard with rear parking sensors, and a 360 Camera on the Rock Creek and up. Apple CarPlay and Android Auto will be standard, with wireless capability and navigation on the larger display. An auto-dimming mirror is available on some of the trim levels. A panoramic moonroof is only standard on the Platinum.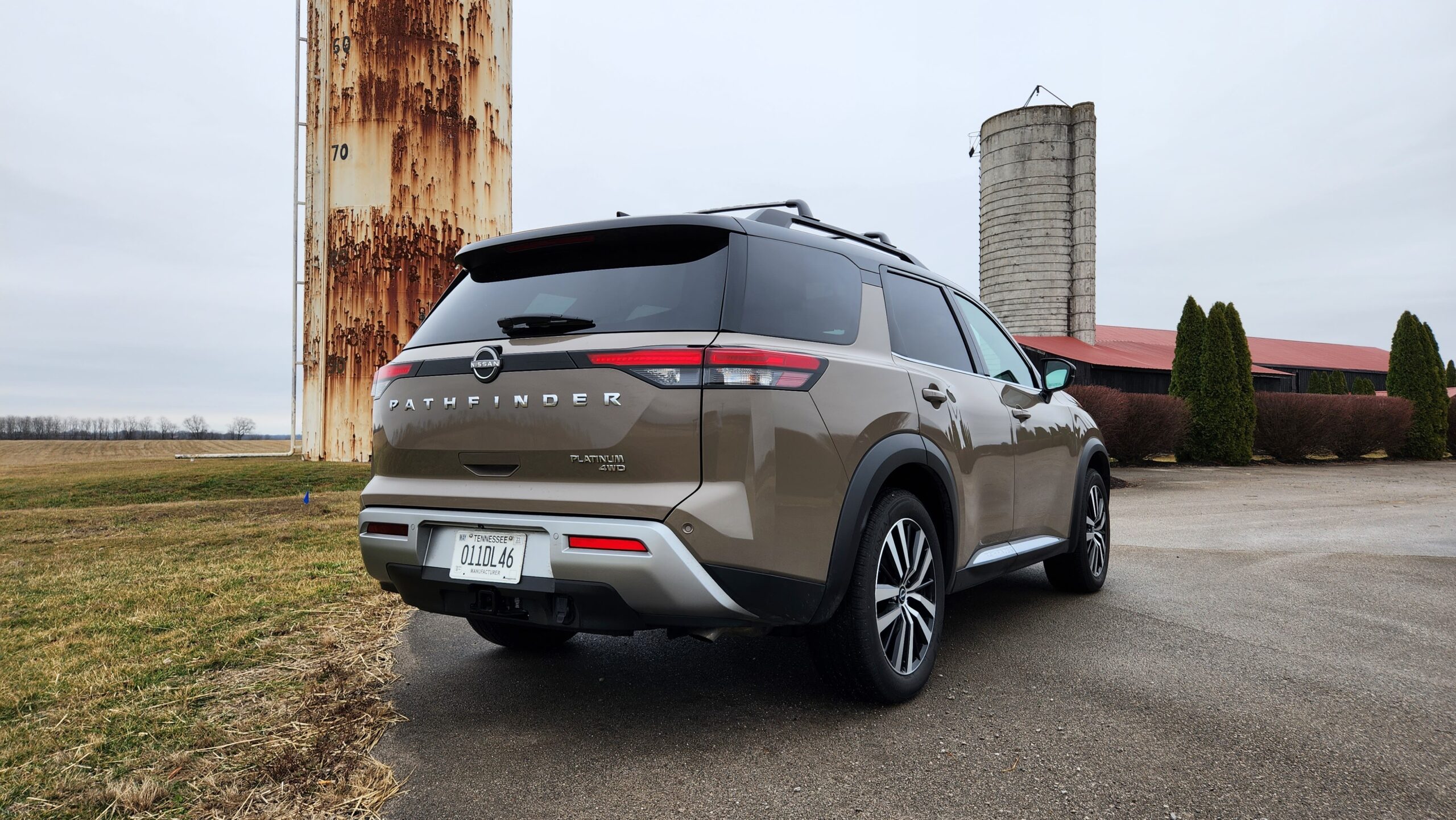 Rear Spaces
The rear seats will continue to capitalize on the Pathfinder's design, with the specs as follows:
Legroom: 41.7-inches
Headroom: 39.1-inches
Bench seating will be standard on all trims of the Pathfinder for 2023. Captain's chairs with a removable center console will be an option on the SV, SL, and Platinum grades. All trims will have the luxury of rear climate controls and USB ports. Heated rear seats are also standard on the Platinum. For the standard third row, passengers will be pleased with the following specs:
Legroom: 28.0-inches
Headroom: 37.8-inches
The third row will only offer USB ports on the SL and Platinum models. The tailgate will be power opening on the SL and hands free on the Platinum as standard, with 16.6 cubic feet behind the 3rd row, 45 cubic feet behind the 2nd row, and 80.5 cubic feet as a maximum.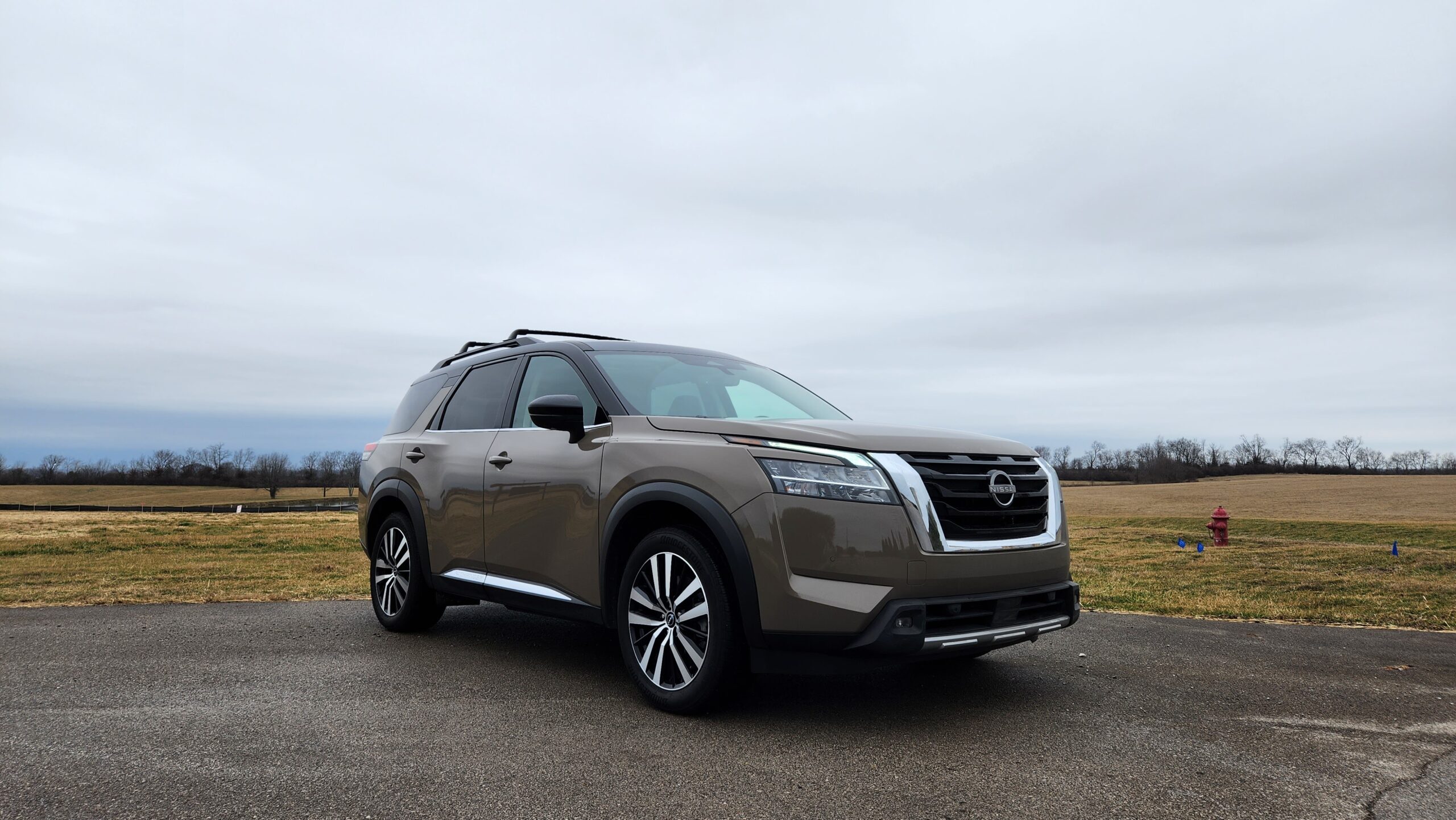 Powertrain & Driving Impressions
Nissan has no major changes here in the engine department for the Pathfinder. However, there are now two tiers for the powertrain with the addition of the Rock Creek. The specs are as follows:
Standard:
3.5L VQ-Series V-6: 284 hp | 259 lb.ft
 Rock Creek:
3.5L VQ-Series V-6: 295 hp | 270 lb.ft
The transmission paired with this V-6 is a reason for celebration over the old generation's CVT automatic. Now standard is a 2nd generation ZF 9-speed automatic.
The Rock Creek is standard with 4WD for 2023, with FWD being standard for all other trims. The majority of Pathfinders will consume fuel at the following figures:
FWD: 20/27/23 MPG
AWD: 21/27/23 MPG (20/25/22 for SL/Platinum)
Rock Creek AWD: 20/23/21 MPG (premium fuel)
Behind the wheel of the Pathfinder Platinum, we found the driving dynamics to be pretty good for the large size of this vehicle. The V-6 does manage to put out a good sound as well! The automatic transmission is a welcome addition to this Pathfinder and provides a much more enjoyable experience. To get an in-depth perspective on our full driving impressions and more, watch our full review down below!
2023 Nissan Pathfinder Pricing
Prices have slightly risen with this Pathfinder. All prices are for FWD unless stated otherwise:
S: $35,000
SV: $37,820
Rock Creek (AWD): $42,820
SL: $41,220
Platinum: $47,970
Overall, this 2023 Nissan Pathfinder continues to impress when it comes to size and luxury, giving this new design a lot of support. With the addition of the Rock Creek trim, Nissan has once again expanded its customer range to include those who enjoy the occasional off-road experience with the entire family on board! Compared to the competition, the Nissan Pathfinder sure seems like a winner to us!
What do you think of this 2023 Pathfinder? Comment your thoughts down below!