So, Honda, of course, has a number of very popular and well-known vehicles, but none of those models are quite as important as the Honda CR-V. Not only is this the brands best-seller, but it's also competing in the compact crossover class, which is one of the hottest and fastest growing segments. Because of all this, you know Honda was going to take a redesign very seriously, and we recently had the chance to take a first look at this all-new 6th generation model, which has been totally redone from the ground up. So, has this improved the formula of this family favorite? Keep on scrolling to find out! 
All-New for 2023
● Completely revamped exterior design
● Redesigned interior with new tech
● Revised trim structure
Trim Structure
For 2023, Honda is revamping the trim structure for the CR-V, simplifying the powertrain and option availability. The gas only models will be the lower trims levels, being the EX and EX-L offerings. The top two trim levels will be hybrid exclusive as the Sport and Sport Hybrid. This change isn't too surprising as we see more manufacturers taking additional steps towards full electrification.
New Design, Same DNA 
The exterior design has been completely overhauled for the 2023 CR-V, yet still possesses some of that classic CR-V semblance. The design is definitely more rugged as compared to the outgoing generation. The entirety of the grille will be gloss black, taking some design cues from the Honda Passport. The Sport and Sport Touring models will see gloss black surrounds, while the lower trims will have chrome. Full LED headlights with an LED daytime running light will be standard; however, it appears that fog lights will no longer be offered. The side mirrors will be body-colored and will come standard with Blind Spot Monitoring for 2023. For the wheels, 18-inch alloys will be standard on all trims except for the Sport Touring trim, which bumps you up to 19-inch alloys. 
The side design of the CR-V has also seen some updates, with the A-Pillars being pushed back to make for a more aggressive stance. Overall, the CR-V comes in at 184.8 inches, about 2.7 inches longer than the outgoing generation. The changes continue around to the rear of the vehicle, where Honda has updated the signature vertical partial-LED taillights for the CR-V. To our surprise, the hybrid trim offerings come standard with exposed exhaust outlets, while the gas trims offer none. The upper trims will also be set apart by some nicer finishes to the trim pieces and "Hybrid" badging. Hybrid buyers will also be pleased to hear that the CR-V can now tow up to 1,000 lbs.
Per usual, Honda offers pretty much every safety system as standard, such as forward emergency braking with pedestrian detection, lane keeping assist, auto high beams, adaptive cruise control and Traffic Jam Assist, which combines adaptive cruise control, lane keeping assist, and lane centering for natural-feeling assistance on highway driving. Paired with these safety features will be a 3-year, 36,000 mile basic warranty and a 5-year, 60,000 mile powertrain warranty.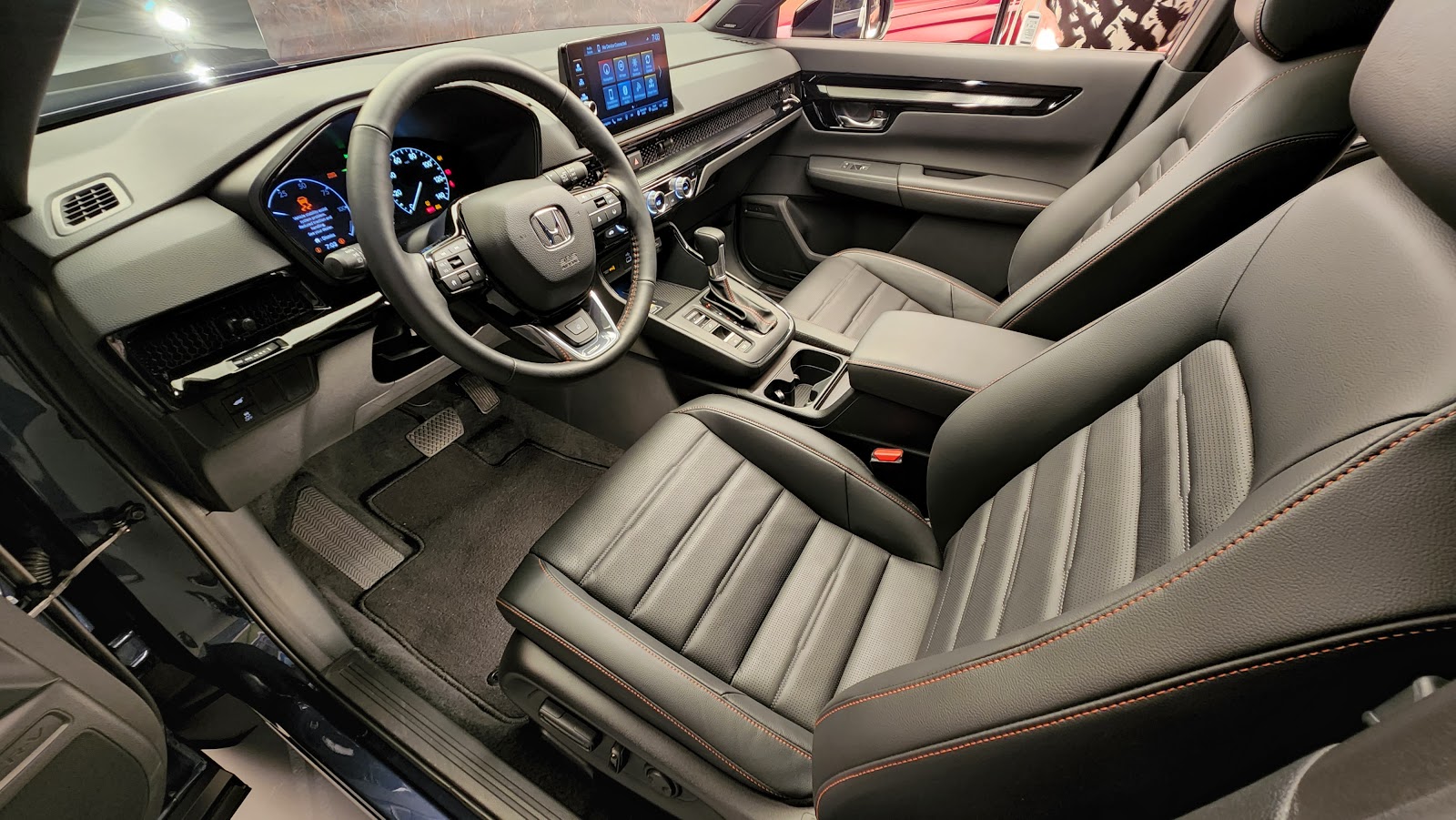 The changes don't stop once you get to the interior of this all-new CR-V. As seen in many of the recently unveiled Honda products, there is a new and classy interior design to replace that of the outgoing generation. To get into that interior, buyers will find keyless entry to be standard, and we assume remote start will also be a standard feature to most, if not all, of the new CR-V trims. When it comes to interior materials, we will see the trims levels split down the middle, with the EX and Sport Hybrid being cloth and the EX-L and Sport Touring in leather. Memory seating should be available to some extent, although are unsure of full availability in this first preview.  New for 2023 is a standard 8-way power driver's seat that has been redesigned for more comfort than the outgoing model. 
Heading away from the seats, you will find a standard push button starter, positioned near the new standard 7-inch digital gauge cluster for every CR-V model. Unfortunately, there is no heads-up display offered at all, a disappointment as compared to other competitors. In the Sport Hybrid model we had access to, there was a leather-wrapped steering wheel that was heated, although we are unsure on full availability for the other trims yet. In addition to the standard digital gauges, we will also find that the CR-V comes standard with a 7 (EX/Sport) or 9-inch (EX-L/Sport Touring) display. These are the same screens that we have seen in the new HR-V and Civic, and we aren't complaining when it comes to that. The smaller screen will be equipped with wired Android Auto/CarPlay, while the larger one will be wireless. A back-up camera is standard, with front and rear parking sensors on the EX-L and above. 
Below all of this new tech, we will continue to run into some new changes for the CR-V. Say "So long" to the long-lasting center-dash mounted CR-V shifter, because Honda has decided to place it where every other manufacturer has been doing so for years: in the center console! There is no space lost here, however; as Honda has maintained massive center console storage, as well as offering wireless charging as standard on the EX-L and Sport Touring trims. Just above this redesigned center console are some much appreciated physical climate controls, with dual zone automatic available in the EX-L and above. Heated seats should be standard on some, if not most, of the new CR-V models, however; ventilated seats remain a mystery. 
To round off the interior, the Sport Touring is equipped with a branded sound system for the first time ever, offering a 12-speaker Bose audio system. The availability of an auto-dimming rearview mirror and sunroof are currently unknown, however the Sport Touring we viewed was equipped with both, even though the sunroof was small and underwhelming.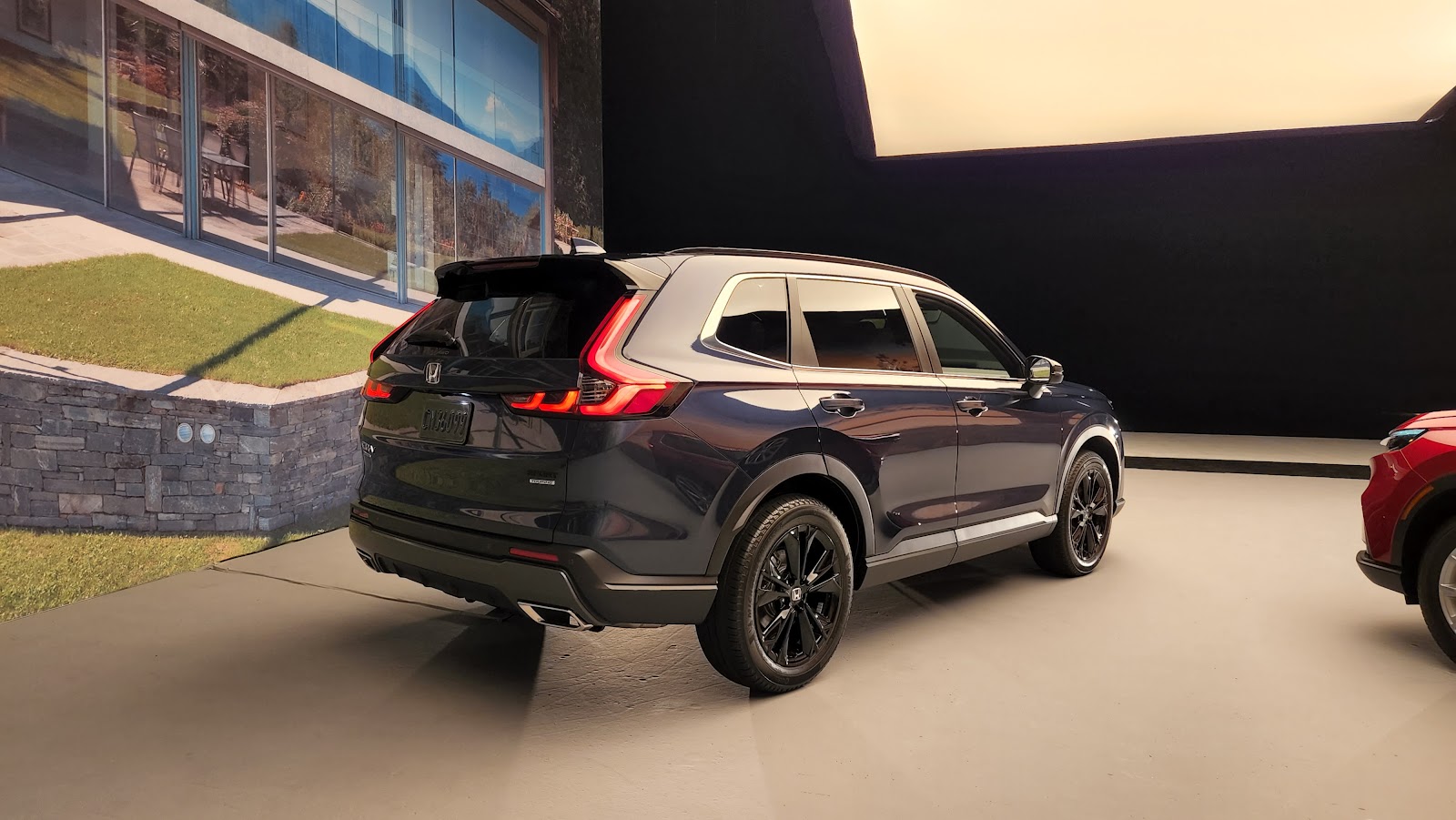 Rear Spaces
The CR-V has always been the king when it comes to treating its rear passengers well, and this new generation intends to improve upon that reputation. Honda is claiming that the new CR-V boasts more legroom than ever, with new seats that have 8 reclining positions. In this first look, we aren't aware of the availability of rear amenities at the moment; however, we can expect to see a scattering of standard USBs and rear vents across the trim levels.
Jumping into another class leading feature of all CR-Vs is the cargo space, and this new model does not disappoint. With the seat up, the new CR-V offers 39.3 cu. ft in the gas model and 36.3 cu. ft in the hybrid, a whopping amount of space. Seats down, you can get up to 76.5 cu. ft of space, squashing all of the competition. This makes the new CR-V the largest ever!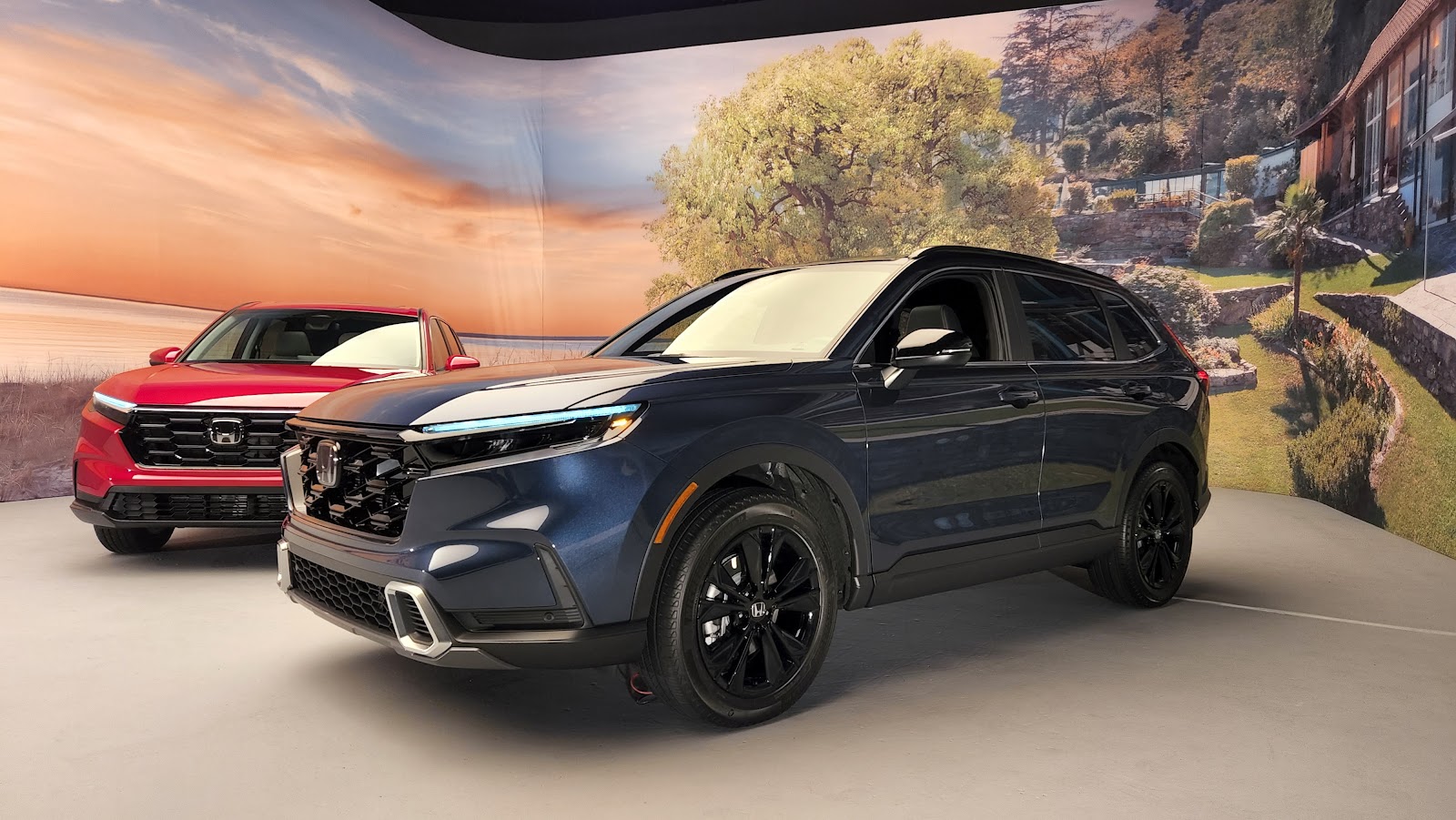 Powertrain & Driving Impressions
As outlined above, Honda is splitting the CR-V lineup in half when it comes to powertrain availability, with two hybrids and two gas models. The EX and EX-L gas models will come standard with a 1.5L Turbo I-4 engine putting out 190 hp and 174 lb. ft of torque. Despite the power figures being unchanged for 2023, Honda says they have refined the engine to create a better overall driving experience. The Sport and Sport Touring hybrid trims will come with a new 2 motor hybrid system paired to a 1.4L Turbo I-4 engine and lithium-ion battery putting out 204 hp and 247 lb. ft of torque. This new setup is down on power from the last CR-V Hybrid but up on torque. A CVT transmission will be standard (eCVT for Hybrid) for all trims and all models will be standard FWD, with optional AWD, although the Sport Touring is exclusively AWD.
As for fuel economy and a test drive, we have yet to have full access to these numbers and an actual model to drive. But stay tuned to the Car Confections YouTube channel and website for our driving impressions!
Pricing
Honda has yet to release the full pricing for the 2023 CR-V, although we expect it to be relatively unchanged and affordable for consumers. With the exclusion of a base LX model, the base price may rise, but with the offering of more standard features.
If you want to get your hands on the new CR-V, the gas models will be going on sale this summer, with the hybrid models to follow later this year. We have been quite impressed with this all-new 2023 Honda CR-V and are excited to get our hands on one as soon as possible to give it a full-review. Is it worthy to keep its top spot as the premier family crossover though? That remains to be seen.