Toyota killed of the iconic Land Cruiser name 3 years ago for the US market and to much disdain among its many fans. But it's BACK and better than ever before with a new mid-$50k price tag, a 2.4L Turbo Hybrid engine to replace the V8 under the hood for 2024! This article is a breakdown of all the info we know about this new Land Cruiser right now but if you would like to see a full design walkaround, make sure to check out our video review below at Car Confections on YouTube!
HIGHLIGHTS
All New Exterior and Interior Designs
1958 and Land Cruiser trims
NEW iForce Max 2.4L Turbo I-4 making 465 lb. ft. of torque
Latest Technology and Luxury Features available
Trims and pricing
The 2024 Toyota Land Cruiser will be offered in 3 distinct trim levels. Full model line pricing will be announced closer to when it goes on sale Spring 2024 in the United States. Toyota has announced that the Land Cruiser will start in the mid-$50K range and Car Confections estimates pricing will fall between $55,000 and $65,000.
 1958 -> Land Cruiser -> First Edition (Limited to 5,000 units)
Design and Features
As mentioned above, please watch the video linked below for a full in-depth exploration of the exterior design and differences. The Land Cruiser has a very distinct design from the other Toyota SUV's, such as the 2024 Toyota Grand Highlander, Toyota Highlander and 4Runner. On the inside things look more traditional, except that the squared-off design elements from the outside continue into the cabin as well.
Here is the full breakdown of what we currently know about the feature availability:
Feature

Availability

Exterior

LED Headlights/Fog Lamps

Standard — circle design for 1958/First Edition; square on Land Cruiser trim

Skid Plates

available

Wheels

18 inch alloys (20 inch available on Land Cruiser)

Mirrors

BSM

Length

193.7-inches (1.2 inches shorter than previous generation)

LED Taillights

Standard

Towing Capacity

Up to 6,000 lbs

Forward Emergency Braking

Standard on all Land Cruiser models (Toyota Safety Sense 3.0)

Lane Keep Assist

Auto High Beams

Adaptive Cruise Control
When it comes to the Interior, the 2024 Toyota Land Cruiser will also be well-equipped, but the 1958 will be more basic.
Interior

Smart Entry and Digital Key

Standard

Seat Materials

Cloth seating on 1958

Soft-tex leatherette on Land Cruiser with available real leather (Premium Package) 

Seat Adjustment

Manual adjustment on 1958

10+ ways of Power Adjustment (Massage available)

Push Button Start

Standard

Gauge Cluster

Partial digital on 1958

12.3-in full digital cluster on Land Cruiser

Head-up Display

Not offered

Steering Wheel

1958 — Heating, Leather-Wrapped

Land Cruiser adds power adjustment

Wireless Charging

Available

360 Degree Camera

Available

3-Zone Climate Controls

Available

Heated and Ventilated Seats

Land Cruiser adds Heated and Ventilated Front Seats

1958 has standard heating

Mark Levinson Premium Audio w/ 21 Speakers

1958: 6-speaker audio
Land Cruiser: 10-speaker audio
Optional: 14-speaker JBL premium audio

Screen (14-inches)

1958: 8-inch display
Land Cruiser: 12.3-inch touchscreen

New Toyota Interface w/ Wireless CarPlay and Android Auto

Standard

Moonroof (regular size)

Land Cruiser and First Edition
The rear of the 2024 Land Cruiser is also well-equipped, especially compared to its smaller siblings.
Rear Amenities

Seat Configurations

5 Passenger Seating only

3rd Row Seating

Not offered

Heated Rear Seats

Not offered

Ventilated Rear Seats

Not offered

Other Amenities

USB Ports, 12v Outlet, vents

Tailgate

1958: Manual

Land Cruiser+: Power w/ Opening Glass

Cargo Capacities

Not Yet Announced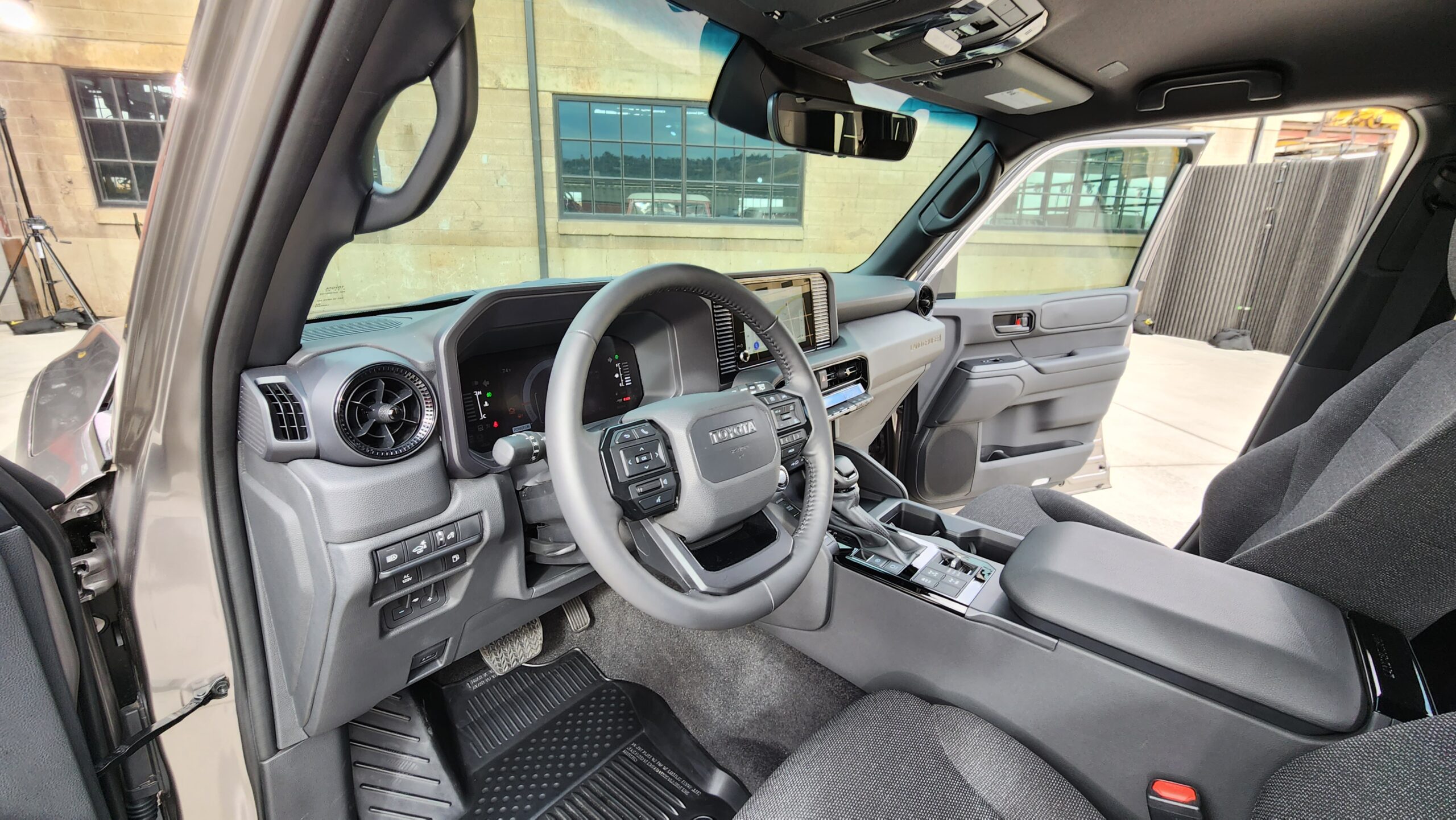 What's Under the Hood?
At launch the 2024 Toyota Land Cruiser will be offered with just one new powertrain which is half the cylinders of the previous Land Cruiser. Specs for the Land Cruiser are below:
Land Cruiser:
2.4L Turbo I-4 + elec
326 hp and 465 lb.ft
Full-Time 4×4 w/ center and rear-locking diff
8-speed automatic
No fuel economy at this time
We hope you have found this overview of the 2024 Toyota Land Cruiser helpful! For a more detailed first look of the Land Cruiser, please watch our video below! What do you think of the new Land Cruiser? Let us know in the comments!