Images Courtesy of Kia Media
Kia struck gold when it introduced the Telluride a few years ago, and now the brand is hoping to do the same thing during the transition to EV. This is the all-new Kia EV9, the brand's next electric model and a 3-row SUV, one of the very first in the industry. So, is this 2024 Kia EV9 an electric Telluride worth buying? Keep on reading to figure out!
Trims
Not yet Released
Exterior Design and Features
The exterior design for the EV9 is another product that has been touched by Kia's recent "opposites united" design language. That being said, it is a handsome look with modern lines. The EV9 still possesses classic Kia elements, including an EV styled rendition of the Tiger Nose Grille. There will be a GT-Line model that utilizes sportier styling and makes the design less "smooth." Full LED headlights should be standard with LED Daytime running lights. The mirrors should come well-equipped, and Kia does mention Blind Spot Monitoring being included. For the wheels, there will be a range of 19-21-inch options available.
The side design of the EV9 is really where you get to see its shared DNA with the Telluride. The boxy EV9 comes in at 197.2-inches, just about the same as the Internal Combustion Telluride. The rear design continues to draw on sleek, modern lines, with LED taillights that look almost like a web. There will be no exhaust outlets of course, but a tow rating of 5,000lbs.
When it comes to battery capacity, the EV9 will come with two Lithium-Ion options:
Std: 76.1 kWh
Long-Range/AWD: 99.8 kWh
These batteries will be able to charge from 10-80% in under 25 minutes using fast charging. Additionally, the EV9 will have a Vehicle-to-Load (V2L) Adapter, which can use battery energy to power items during tailgates or power outages.
Safety and Warranty
We expect the EV9 will come equipped with all standard safety features from Kia, but here is what we know is confirmed:
Lane keeping assist
Highway Drive Assist
Smart Parking Abilities
As a big update, Kia has mentioned that Conditional Level III Autonomous Driving will be available on the EV9 at some point. Paired with these safety features should be Kia's Basic Warranty of 5 years and 60,000 miles, a 10 year and 100,000 mile Powertrain and Battery warranty.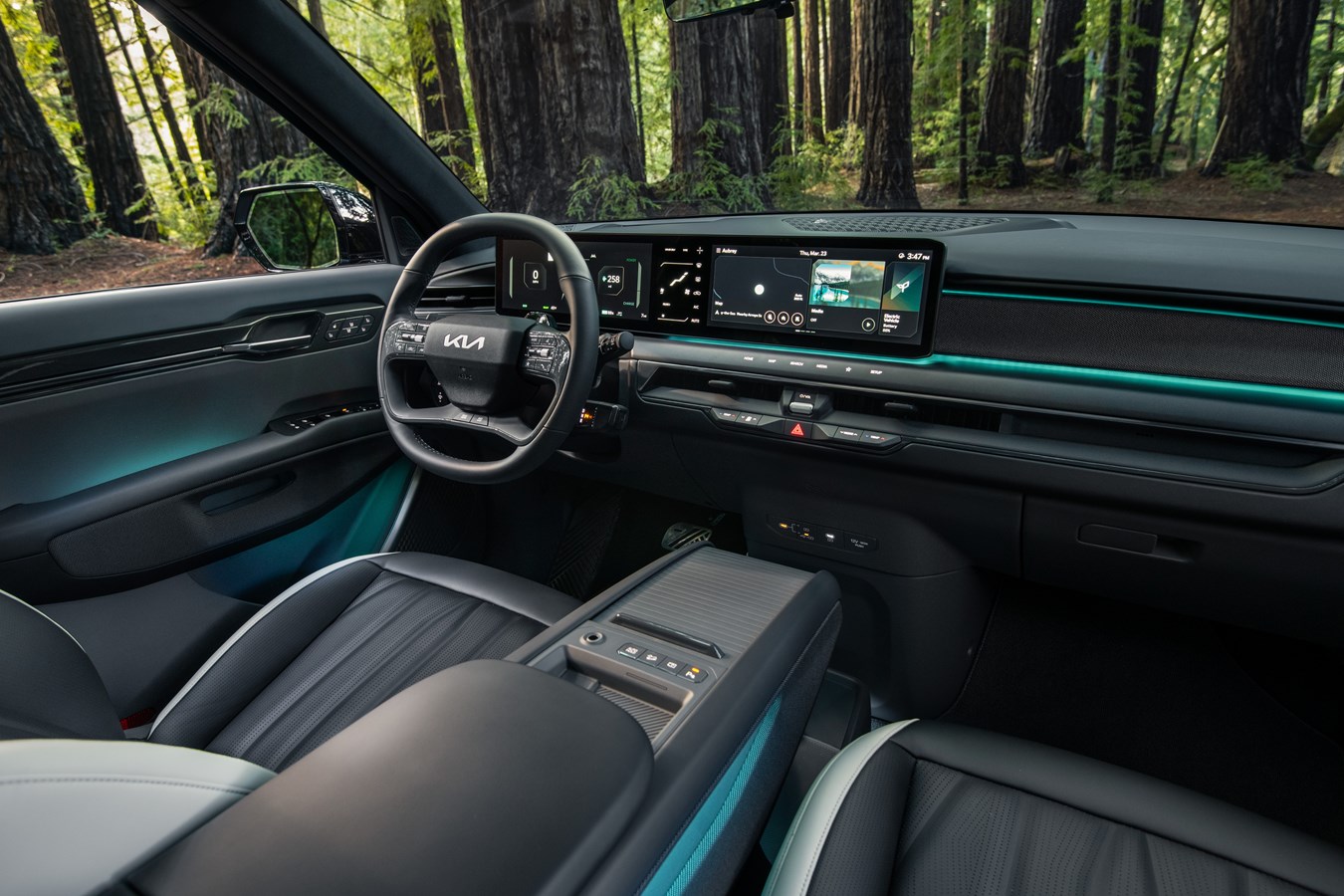 Interior Design and Features
The modern design doesn't stop once you get to the interior of this all-new EV9. As seen in many of the recent Kia, there is a new tech-focused interior design. Smart entry, push button start, and digital entry should be standard on all of the trims. When it comes to interior materials, leather is actually the last thing you will be seeing. The EV9 is the first Kia model to incorporate non-leather materials to better preserve the environment. There will be 6 color combinations in total to choose from.
Now, we don't completely know the full details of the EV9 interior yet, but it will be well-equipped! The focal point of the cabin will be dual 12.3-inch displays that we have seen in almost every other Kia product now. You will also find climate controls incorporated into the trim piece just below the screen. Storage will be plentiful in a car that has no transmission blocking the way, all of which will be lit by premium ambient lighting.
Standard luxury features on the EV9 3-zone automatic climate control, digital camera mirror, and over-the-air updates for the infotainment system. There will also be an available 14-speaker Meridian Audio system available. Unfortunately, it does not look like the EV9 will be getting wireless Android Auto or CarPlay with the dual 12.3 inch displays.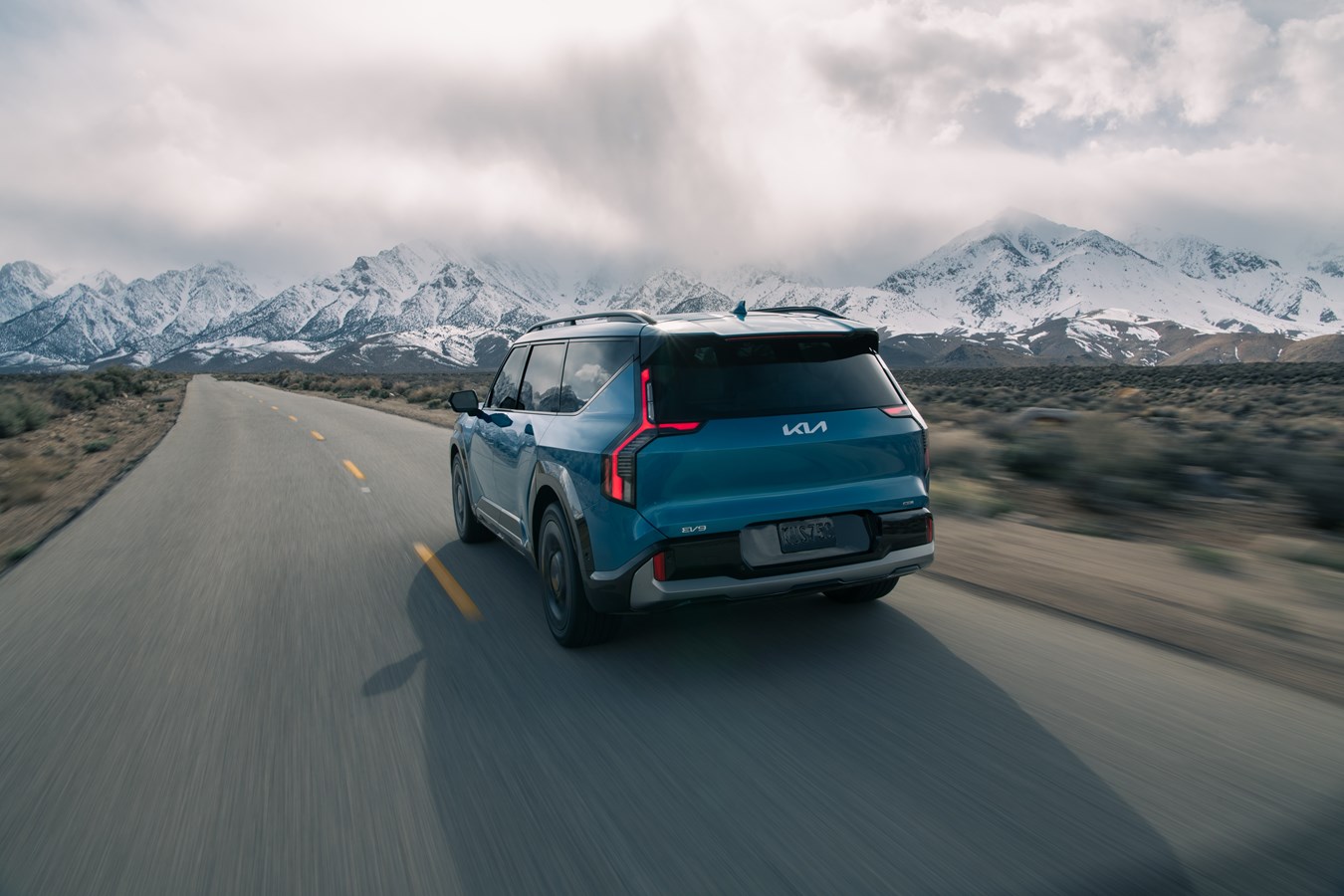 Rear spaces
Now, the technology actually continues to get better as we move to the rear seats. Depending on what you choose for the second row, the EV9 can come equipped for 6 or 7 passenger seating. If you opt for 6 passenger seating, you can also add on the party feature of Relaxation or possibly Swivel captain's chairs! Now that's one way to make your kids happy in the back seat! As far as other features, we expect the second row to be quite spacious and offer rear heated and ventilated seats in some trims. For the third row, the two seats back there seem to have a decent amount of space considering the size of the vehicle.
We aren't sure about the liftgate options but assume a power one should come as standard. When it comes to cargo space, Kia says there is about 81.9 cubic feet maximum and 20.2 cubic feet when the seats aren't folded.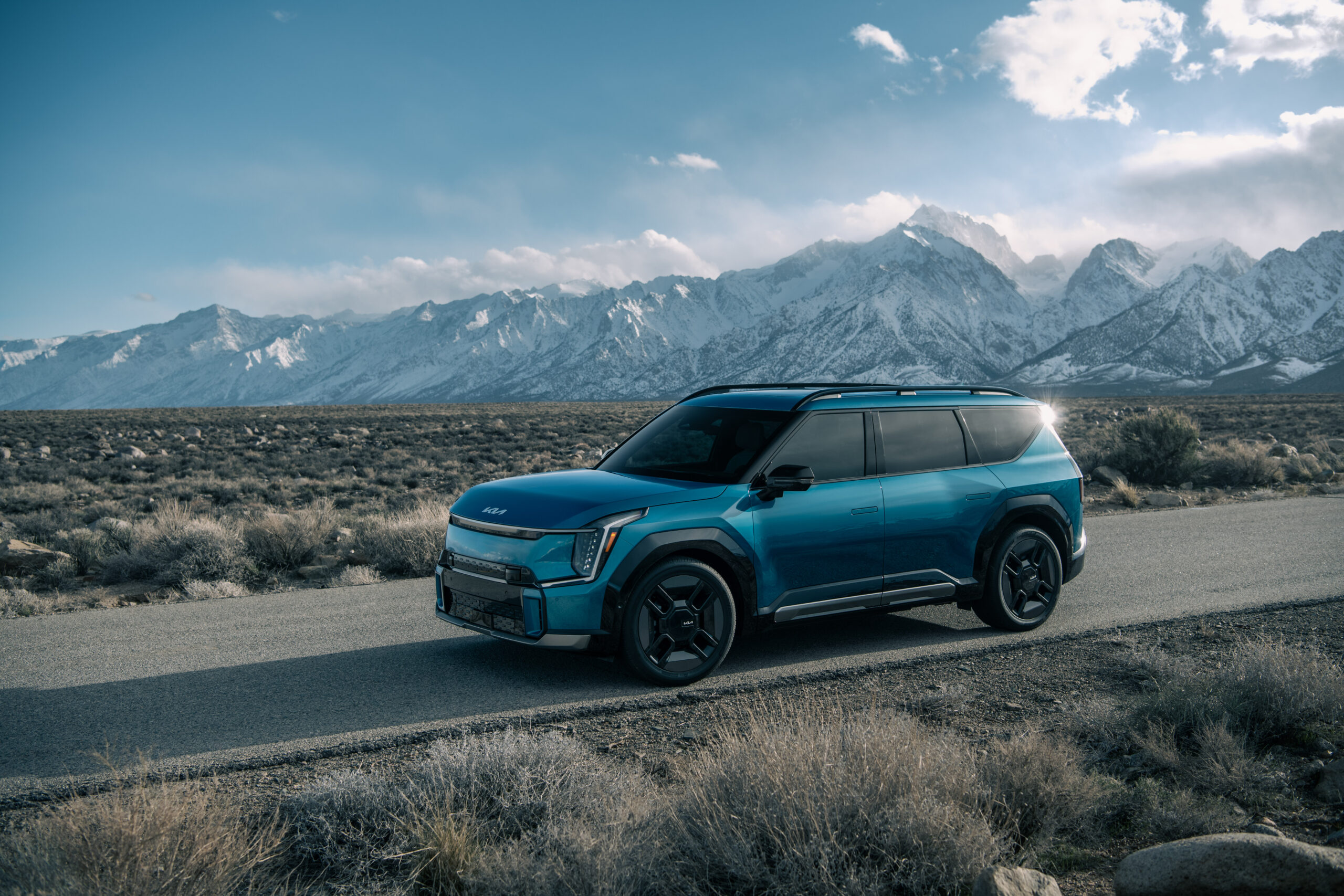 Powertrain and Driving Impressions
The EV9 has three different electric motor options, with the initial specs as follows:
Standard RWD:
215 hp | 258 lb.ft
Range: —
0-60: 8.2s
Long-range RWD:
201 hp | 258 lb.ft
Range: US target of 300 miles
0-60: 9.4s
AWD:
379 hp | 516 lb.ft
Range: —
0-60: 5.0s
As we get close to the production of the EV9, we will learn more about the official range figures.
As for a test drive, we have yet to have full access to an actual model to drive. But stay tuned to the Car Confections YouTube channel and website for our driving impressions!
New EV9 Pricing
Kia has not yet released the pricing of the EV9, but we can gather that the price range will roughly start at $56,000 and go all the way up to $73,000. A little expensive for a Kia, but if the EV9 is all it stacks up to be, it could be worth it! Also worth noting is that the EV9 will eventually be made in Georgia, meaning there could be some tax credits in store!
The new EV9 is planned to be available Q4 of 2023, and we are excited to get our hands on one. Especially the high-performance EV9 GT that has just been announced. If it is anything like the EV6, then the Kia EV9 is looking to be quite the SUV!
Would you consider the 2024 EV9 over a Telluride? Let us know in the comments below.