It's no secret that Volvo has been moving towards electrification for years, as all of their existing lineup utilizes some sort of Hybrid Technology. But now, Volvo is taking its next big step in the journey, with the surprisingly compact 2025 Volvo EX30. With a truly affordable price and luxury cues, has this EX30 cracked the code for a quality electric vehicle? This article will cover all the details about what we currently know about the EX30!
 What's New for 2025?
New product from the ground up by Volvo
Trims and Pricing
Extensive Pricing Information will be Released Later in 2023
Single Motor Extended Range (ER)
Twin-Motor Performance
Cross Country model will be coming next year
The Volvo EX30 puts itself as one of the most affordable luxury EVs yet, with the RWD model starting at $34,950. This model is made in China and will likely not qualify for a tax credit.
Design and Features
As seen in the all-new EX90 flagship, Volvo's design is taking a new direction for their dedicated EV models. The EX30 takes many design cues from its bigger brother, offering a very exclusive design for the price. However, one look at the EX30 and the classic Volvo heritage will be easy to spot. For in depth design details, watch the video soon to be linked at the bottom of this article!
As for the features, we are not sure the full trim breakdown of all of the features, but here is a breakdown of what we do know will be on the 2025 Volvo EX30:
Feature

Availability

Exterior

LED Headlights

Standard, new rendition of the "Thor's Hammer" design

Ground Clearance

6.5-inches | Will be higher on the Cross Country model

Wheels

20-inch alloys with covers | 18/19-inch options on Cross Country

Roof Options

Black two-tone roof standard

LED Taillights

Should be standard on all trims

Towing

Available

Forward Emergency Braking

Standard or available on all EX30 models. Trim breakdown to be released.

Lane Keep Assist

Auto High Beams

Adaptive Cruise Control

Interior

Smart Entry

Standard

Digital Key

Available

Interior Materials

Multiple design themes that utilize recycled materials

Wireless Charging

Dual Wireless Charger

Steering Wheel

Heating available

360 Degree Camera

Available with 3D view

Heated and Ventilated Seats

Heated Available | Ventilated not offered

Audio

Available 9-Speaker Harmon Kardon with Sound Bar in the Dashboard

Ambient Lighting

Available with multiple colors

Display

12.3-inch vertical display that serves as infotainment and gauge cluster

Roof

Fixed Panoramic Glass Roof with no sunshade

Rear Amenities

Liftgate

Hands-free Power Available

Cargo Capacities

Behind 2nd Row: 14.2 cu ft | Max: 31.9 cu ft

Frunk

Small one standard, enough to fit a charger
For in depth details on the 2025 EX30, watch our full first look review linked at the bottom of this article.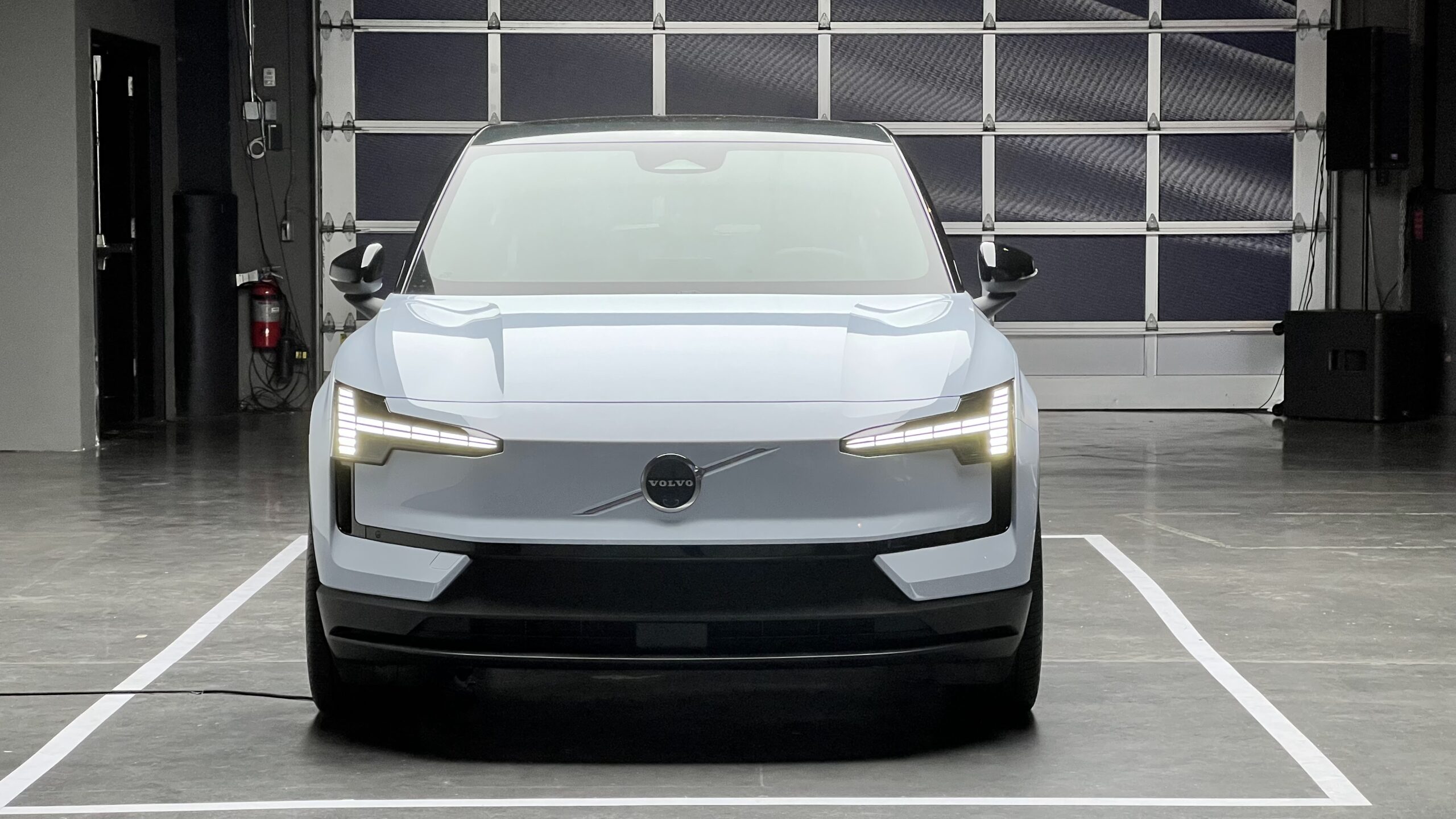 What's Under the Hood?
As seen in the trim section, there are currently two different motor configurations that are available for the EX30:
Both: 69 kWh lithium ion battery
Useable capacity approximately 65 kWh
Performance and Range (RWD or Dual-Motor AWD):
RWD:
Single Motor
268 hp | 268 lb.ft
Range -> 275 miles (Volvo estimated)
0-60: 5.1s
Peformance Dual-Motor AWD:
422 hp | 400 lb.ft
Range -> 265 miles (Volvo estimated)
0-60: 3.4s – quickest accelerating Volvo
When it comes to charging, the specs are as follows:
Charging:
Rear driver side
69 kWh Li-Ion battery pack
Max charging speed: 153 kW
Level 2 charging (0-100%):6.5 hours
DC Fast Charging (10-80%): 26.5 min (68 miles in 5 mins)
As for availability on the EX30, preorders are open now, with deliveries planned to start summer of next year. Stay tuned for our upcoming drive impressions on the new EX30 later this year!
We hope you have found this overview of the 2025 Volvo EX30 helpful! For a more detailed first look of the EX30, please watch our video below! What do you think of the new EX30? Let us know in the comments!