The last couple years have been extremely busy for Honda, with almost their entire lineup replaced recently. That includes their most popular and important models, such as the all-new Civic and all-new Accord. But this also brings up the age-old question again: should you buy a fully loaded Civic or the bigger Accord at a lower trim level? Keep on reading to get to the answer!
Pricing and Equipment
Beginning with the Civic, we have the full-loaded model, called Touring. Honda doesn't really options, expect for paint, so that means the final price tag rings in at $31,140.
MSRP (Civic Touring): $29,650 | Options: $395 | Destination: $1,095 | Total: $31,140
Now for the all-new Accord, similar money is going to get you the mid-level Sport trim. That model has an as-tested price tag of $33,445, after optional paint and the destination charge.
MSRP (Accord Sport): $31,895 | Options: $455 | Destination: $1,095 | Total: $33,445
With that being said, let's get into this comparison!
Exterior Design
The Civic kicked off a new design direction for Honda, where things have been moving towards more mature and subdued designs. You can see that same philosophy in the new Accord; however, it still has a sportier look than the Civic, with its larger black mesh grille. 
Both of these models are pretty inexpensive, especially compared to most new cars these days, but thankfully Honda doesn't make you sacrifice premium features, such as full-LED lighting on both. However, the Civic has LED fog lamps as well, which is something no longer offered on any version of the new Accord.
Honda must think that size does matter because as we head to the sides, both models have grown over their previous generations. The Accord is about 10-inches longer overall than the Civic, which will factor in once we get into the interiors. Design-wise, they both have good proportions, but the Accord will give you larger wheels, at 19 vs. 18 inches.
Length: 184.0-in (Civic) | 195.7-in (Accord)
In the back, the designs are the most similar, but as far as feature differences, the Accord has full-LED taillights, while the Civic has incandescent turn signals and reverse lights.
Additional Features
Finally, both models have heated mirrors with blind spot monitoring, and all Honda's come standard with the 4 main active safety systems as well. 
Warranties (both): Basic: 3yr/36k mi | Powertrain: 5yr/60k mi | Comp. Maintenance: 2yrs
But now it's time to check out the more-important cabins before we compare them out on the road!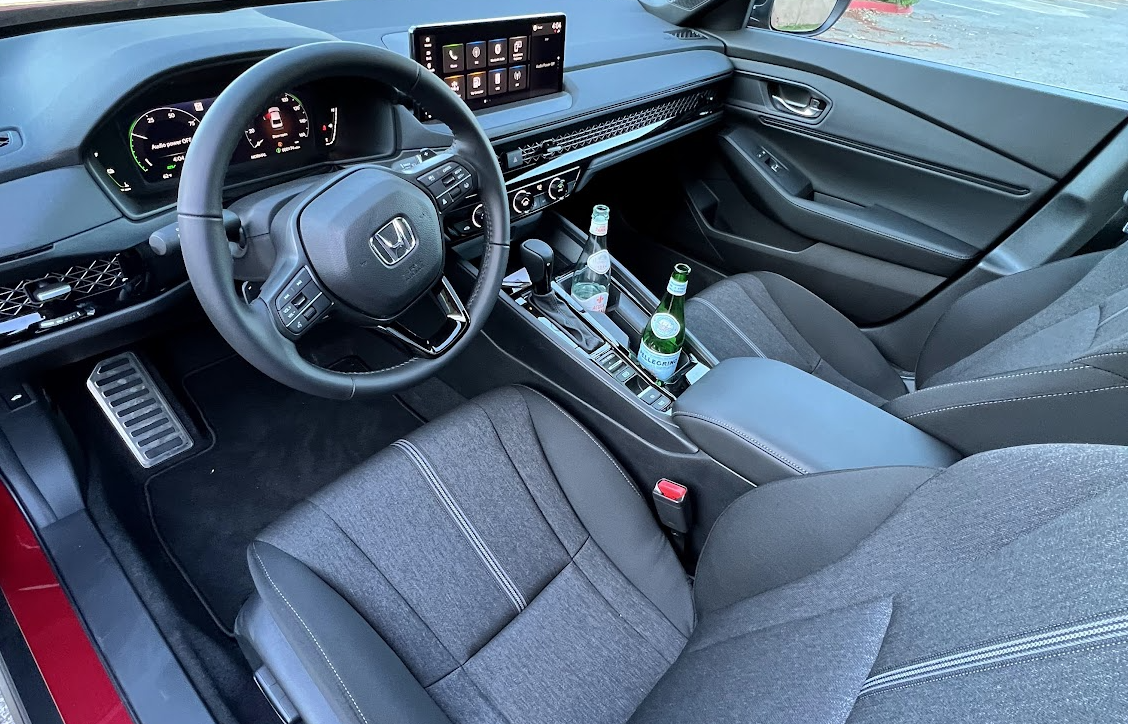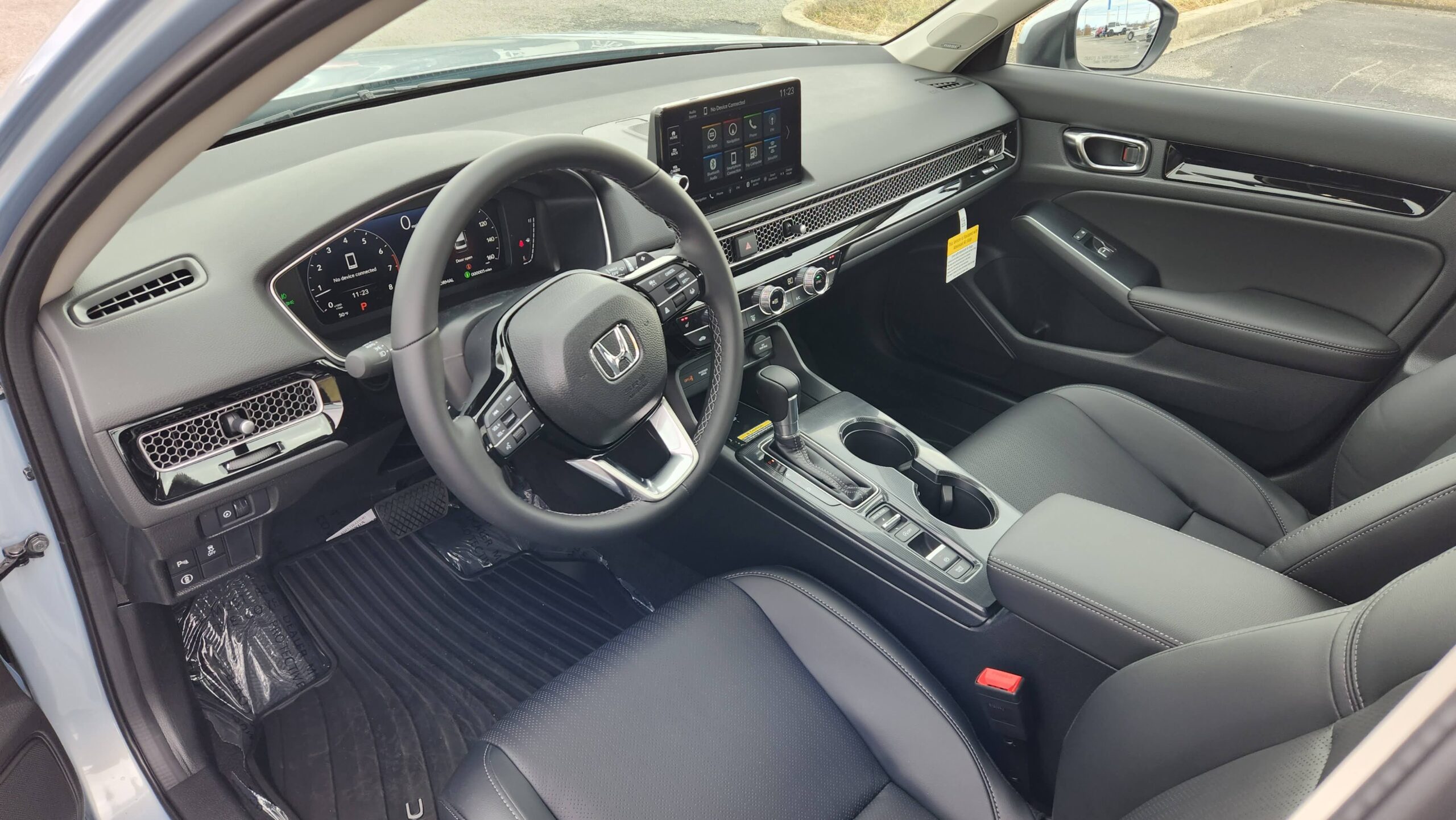 Interior Design
First walking up to the cars, both include Smart Entry systems with built-in remote start. And once we open up the doors, I think you'll be shocked at just how similar these two look. 
But before we dig into all the similarities and differences, let's first talk seating. First off, the top Civic will have leather seats, while the Accord Sport comes with full cloth seats. However, it's the Accord that has more adjustability since it has 2-way lumbar support in addition to the 8-ways of power movement in the Civic. Finally, the Accord Sport does not include heated seats, which the Civic does.
Once inside, we can talk about the cabin materials. Not only do they look similar, but they also feel similar. Honda is using a mixture of leatherette, soft-touch plastics and excellent build quality in both.
After starting up the vehicles, both sedans have Honda's new 10-inch digital gauge cluster, and coming back to the steering wheels, they are both leather-wrapped and manual adjusting. The Civic also has rain-sensing wipers.
Storage and Technology
Next, it's time to talk about is interior storage. Interestingly, the smaller Civic has almost identical storage bins, including the center console. One difference though, is that the Civic has a wireless phone charging pad.
Heading to the shifters, we have the same traditional kind, and when in reverse, we have backup cameras with guidelines, with additional parking sensors on the Civic.
The next stop are the climate controls, where both sedans have dual-zone automatic functionality.
The new Accord is also available with a Bose premium sound system but only on the top trim level, which is the same arrangement that the Civic uses. This branded sound system certainly sounds better.
Civic: 12-speaker Bose Premium sound system
Accord: 8-speaker sound system
And now that brings us to the displays and infotainment. The top screen size in the Civic is 9-inches, while even the mid-level Accord comes with a new 12.3-inch display.
This trim of Accord does not have new infotainment software with Google apps built in, but both Accord and Civic still have wireless Android Auto and Apple CarPlay.
Wrapping up the front of the cabin, the Civic Touring comes with HomeLink universal remotes and an auto-dimming mirror, and both of them have regular-sized sunroofs.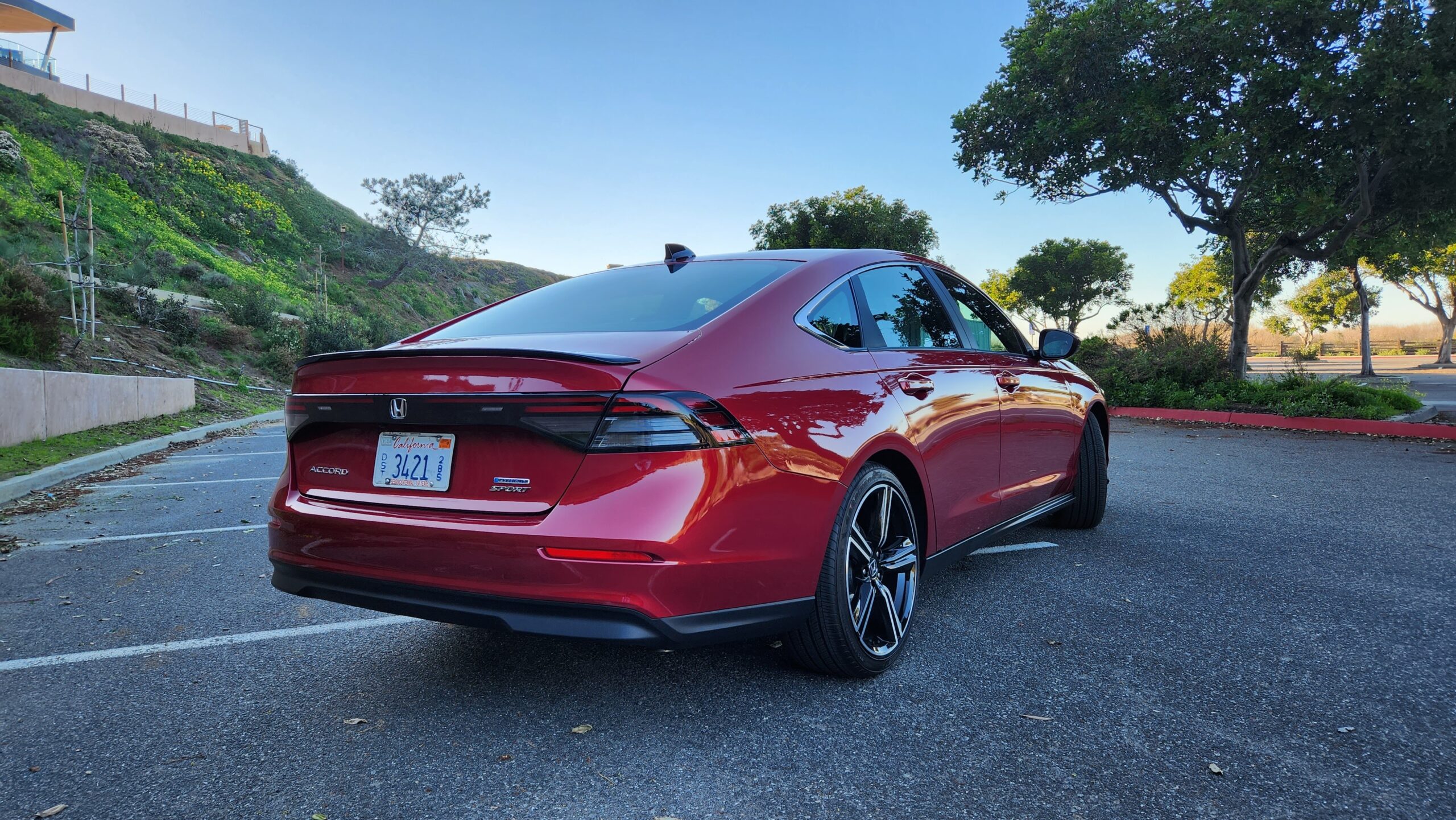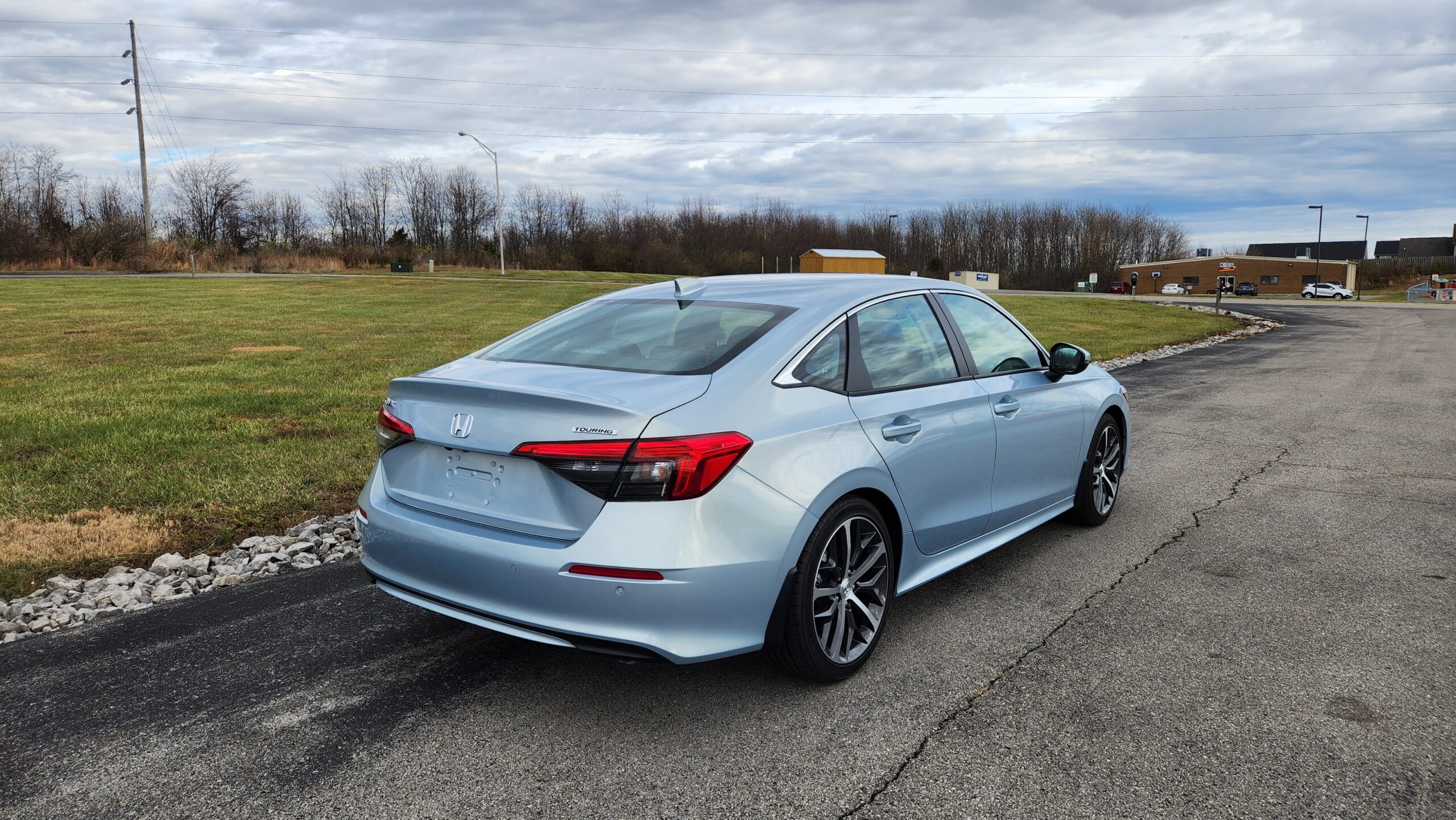 Rear Seats and Cargo
Now, let's head to the rear areas which is where you're going to start seeing meaningful differences between them. 
Let's start with space. Both sedans are very large for their respective classes, but as you'd expect the Accord is bigger between them. It offers about 8% more legroom, although headroom is almost exactly the same.
Civic: Legroom: 37.4-inches | Headroom: 37.1-inches
Accord: Legroom: 40.8-inches | Headroom: 37.3-inches
Once in the back, we have some feature differences as well. Neither have vents but we do have USB ports on the Civic. Accord also offers USB ports and even heated rear seats, but they require moving up the trim ladder.
Just like the rear seats, Accord's extra size pays off in the trunk. It has 16.7 Cu.ft vs 14.4 cu.ft in the Civic, which is nearly 15% more space for those of you with a lot of stuff you need to haul around.
Civic: 14.4-cu.ft
Accord: 16.7-cubic feet
Just be aware that only the Civic includes a spare tire.
That is it for the interiors, so now let's see if one of them has a big advantage out on the road!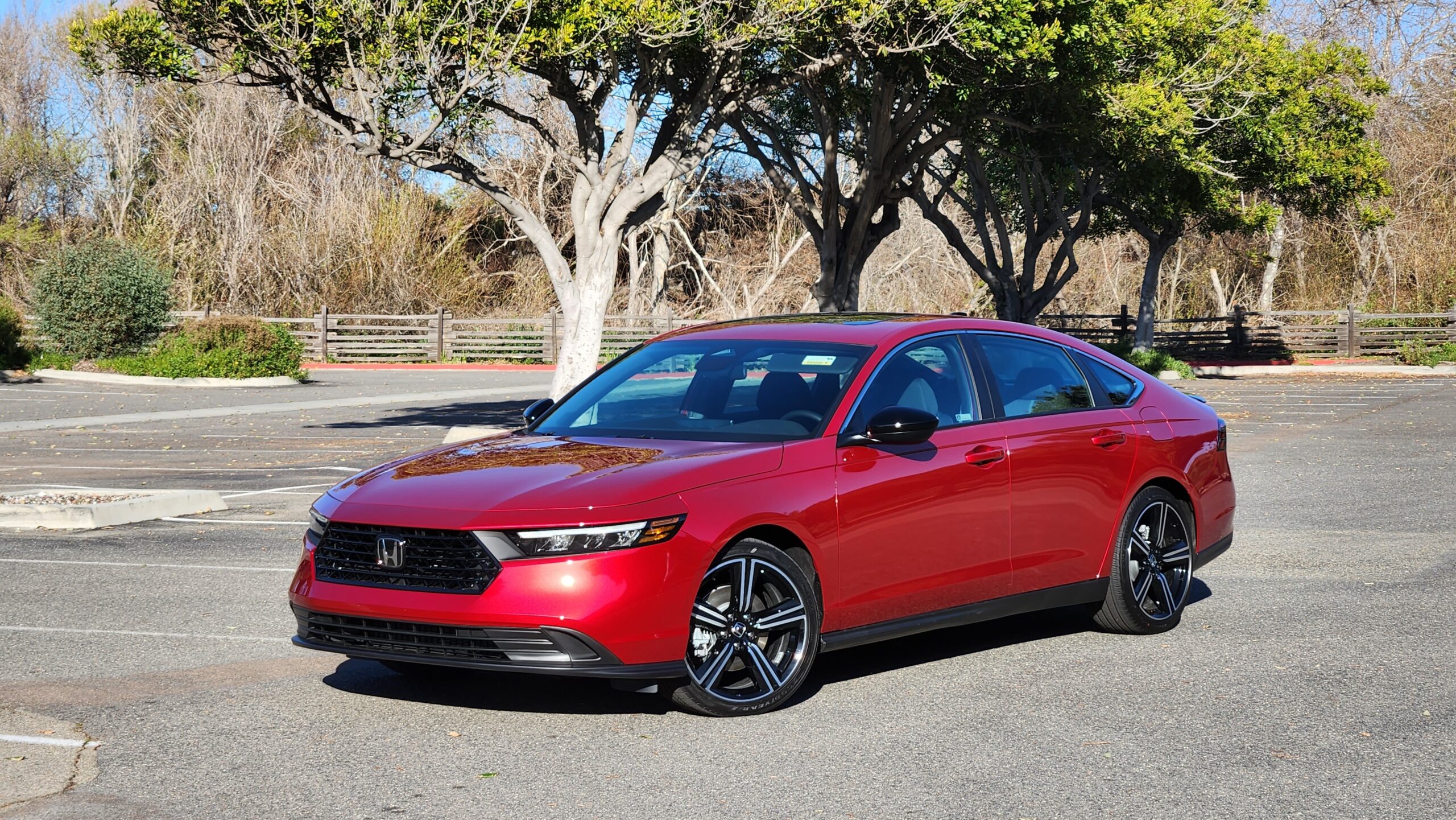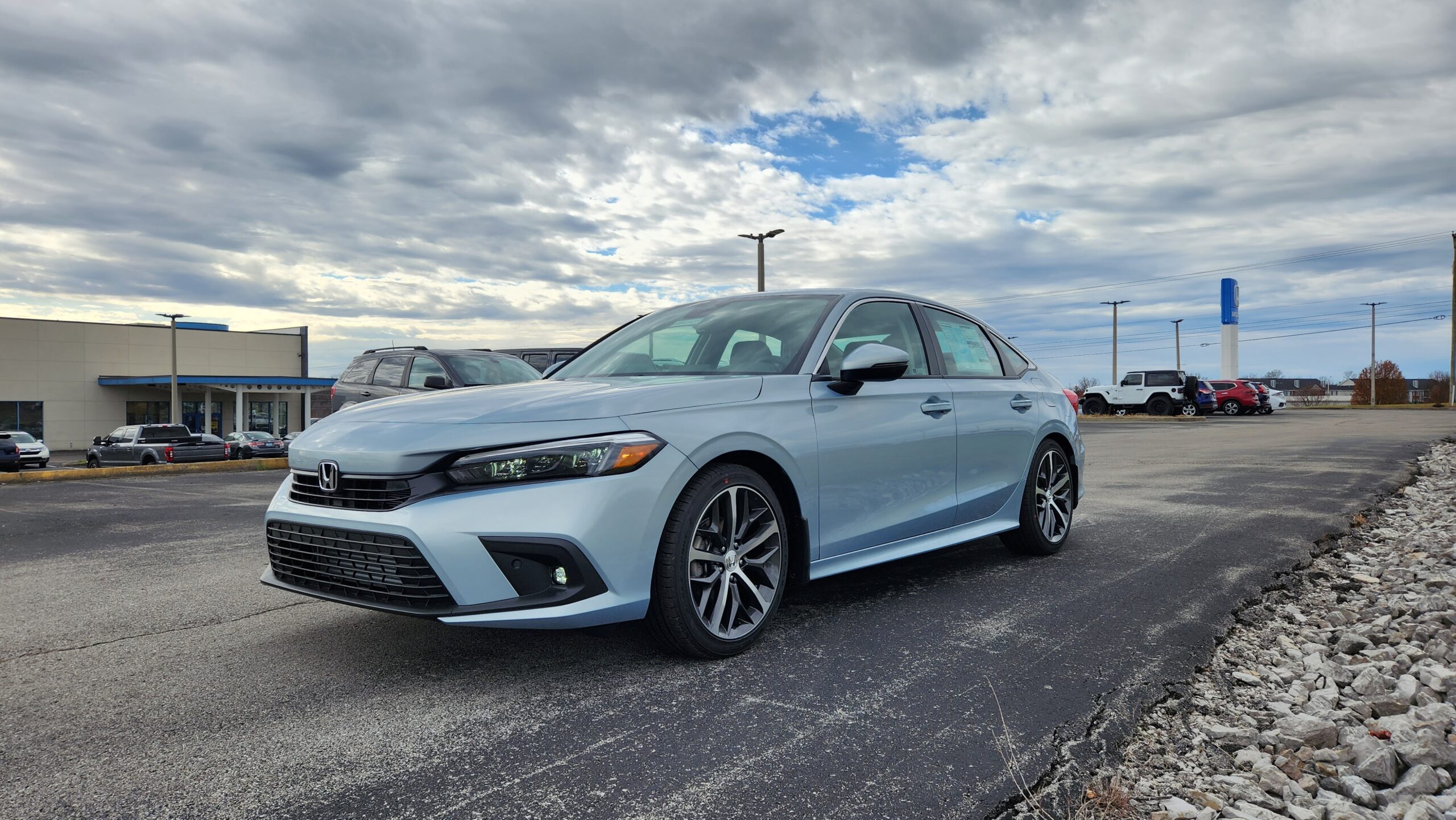 Powertrain
For two siblings with a ton of similarities, all that dries up when we get out on the road. The reason why? Most trims of the new Accord, including this Sport model, are available as a hybrid only. Currently, the Civic is not available in hybrid form in the U.S., although it is coming. This means our Touring Civic has 1.5L Turbo I-4, making 180 hp, while the Accord uses a 2.0L 4-cylinder paired with 2 electric motors to make 204 hp and 247 lb.ft of torque. As you would expect, that means the Accord is quite a bit faster and the extra torque is especially felt.
Civic: 1.5L Turbo I-4: 180 hp | 177 lb.ft
Accord: 2.0L I-4 + dual electric motors: 204 hp | 247 hp 
Now the other aspect of the powertrain is the transmission. We have CVT in the Civic and a eCVT in the Accord Hybrid. Mechanically, these are not the same, but overall operation feels similar in practice. Both of them use shift simulation to avoid drone, and neither of them are offered with AWD.
Driving Impressions and fuel economy
One of the best things about Honda's in general is that they still prioritize having nice driving dynamics even in their ordinary cars. We are happy to report that both sedans excel here, with agile chassis, balanced handling, and quick steering. 
Ride quality wise, they are both comfortable, although they are on the stiffer side of each respective segment.
Finally, as far as fuel economy, the hybrid Accord has a big advantage. Its gets 10 MPG better combined, which translates to a lot of savings over the time you own it.
Civic 1.5T: 31/38/34 MPG
Accord Hybrid: 46/41/44 MPG
Little Brother Takes the Victory!
So, there you have it; the objective winner is the Civic, but who is "your" winner? Well, the Accord should be your winner if you value: 
Maximum rear seat space
Maximum cargo capacity
Hybrid power and excellent fuel economy
And the Civic should be your winner if you value:
Affordable price tag
More premium features for the money
Don't like Hybrids
We want to know your opinions so make sure to head to the comment section and let us know which one you would pick!