.
Introduction
When it comes to large body-on-frame SUV's, there is one model that has consistently stood above the rest, especially in terms of sales and market share. That, of course, is the Chevy Tahoe, which was also just fully redesigned last year. But there are always new rivals knocking at the door, and today we have the newest one: the 2023 Toyota Sequoia. Finally redesigned after a very long-lived previous generation, this next-gen Sequoia is coming out swinging with a standard hybrid powertrain and high-end Capstone model. But is it enough to take down the king of the segment? Let's go ahead and find out!
Pricing and Equipment
Now before we get into it, let's discuss the pricing and equipment levels.
In this comparison we are using the fully-loaded examples of each, which means the High Country model for the Tahoe. With 4WD, the Premium package, destination and the general price increase for 2022, the total price comes in at $81,900.
MSRP (High Country 4×4): $75,600 | Options: $4,605 | Destination: $1,795 | Total: $81,900
Moving to the Toyota, we have the new Capstone model which takes Sequoia to a level of luxury and price it's never seen before. Since there are no additional options to add after selecting the top model, the price is still less than the Tahoe at $79,795 after destination.
MSRP (Capstone 4×4): $78,300 | Options: $0 | Destination: $1,495 | Total: $79,795
We will account for the small difference in prices later in the video but for now let's get into the meat and potatoes of this video with the exteriors.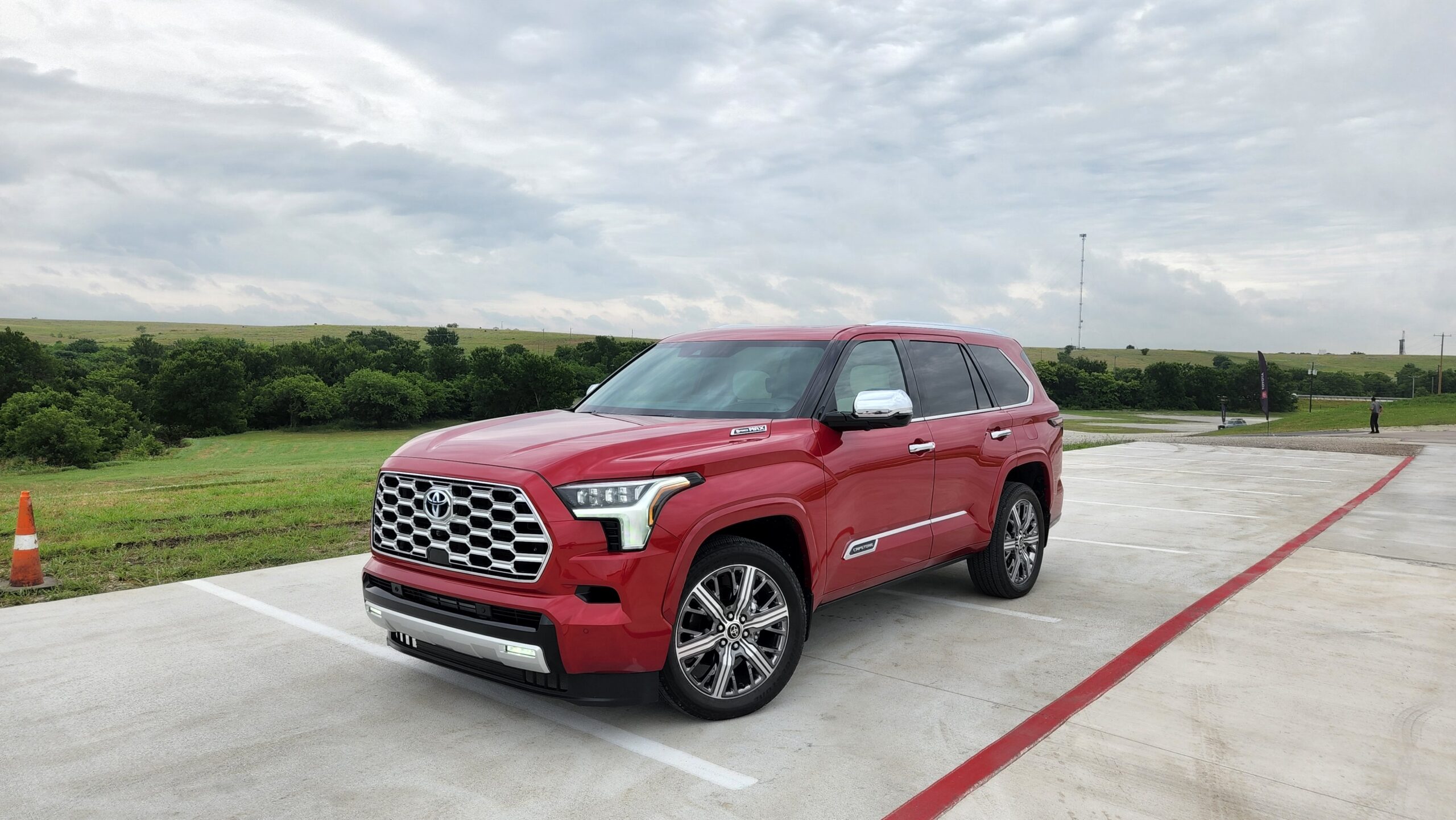 Exterior Design and Features
Big SUV's tend to have big and bold designs and that's certainly the case for these two. The new Tahoe continued its signature look, with a large barred grille and lots of chrome when you pick the High Country. The new Sequoia doesn't bear hardly any resemblance to its predecessor, but it does build off of the new design language started by the Tundra pickup. For Capstone duty, it too has a large chrome grille, except with a mesh design.
Both grilles are punctuated by full LED headlights, however, only the Toyota has premium sequential turn signals and also LED fog lights. 
Heading on around, both will throw in large 22-inch alloys, which look nice against the large and boxy side profiles.
Lengths: Sequoia: 208.1-inches | Tahoe: 210.7-inches
The rear designs are also boxy and tough looking but there is a lot to set them apart when it comes to the details. The Tahoe has stacked taillights that are mostly incandescent, as opposed to the Toyota which uses horizontal rear lighting that is entirely LED (HALF). But on the flip side, the Chevy's hidden rear wiper is a premium element and the quad exhaust tips stand out vs the hidden ones on the Sequoia. 
Other Features
Now moving past the design choices, both SUV's are loaded with features, like mirrors that heat, fold, automatically dim and include blind spot monitoring.
And as far as all the other safety features, Toyota gives you every system as standard equipment on all trims, which is something the Tahoe does not do. However, once you get to this top end model with the optional Premium package, they both have everything including adaptive cruise control.
Next, we have the warranties, where they have the same coverage besides for Toyota including longer complimentary maintenance. HALF
TAH: Warranty: Basic Warranty: 3yr/36k mi | Powertrain: 5yr/60k mi | Comp Main: 1 visit
SEQ: Warranty: Basic Warranty: 3yr/36k mi | Powertrain: 5yr/60k mi | Comp Main: 2yrs/24k
Finally, towing is very important for SUV's like these, and the Sequoia can actually tow about 10% more, at just under 9,000 lbs as equipped. 
TAHOE (6.2L 4×4, Max tow pkge): 8,100 lbs
SEQUOIA (iForceMax 4×4): 8,980 lbs
Anyway, that's the end of the exterior comparison, so now let's get to the super-luxurious interiors before we take them out for a drive.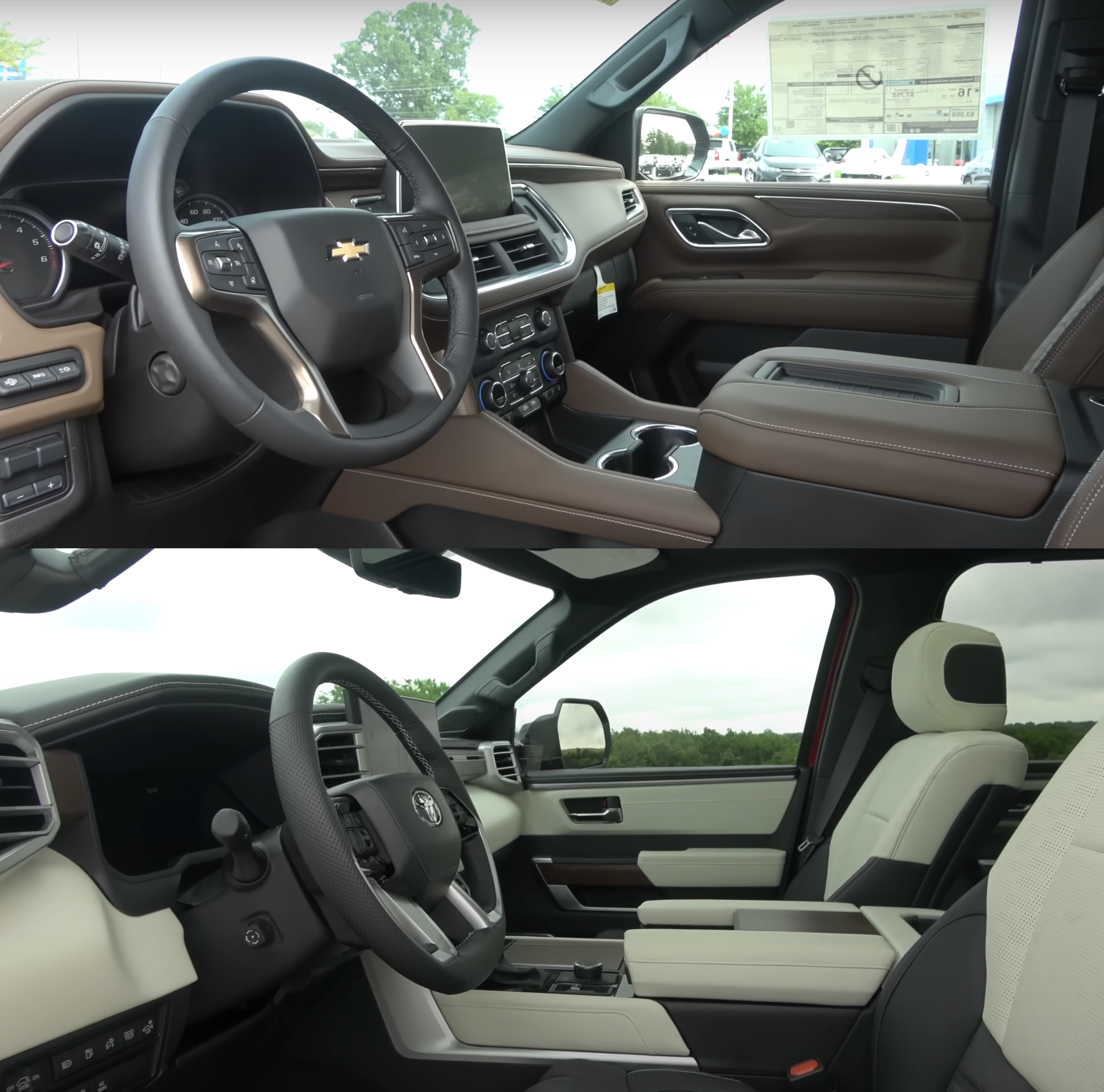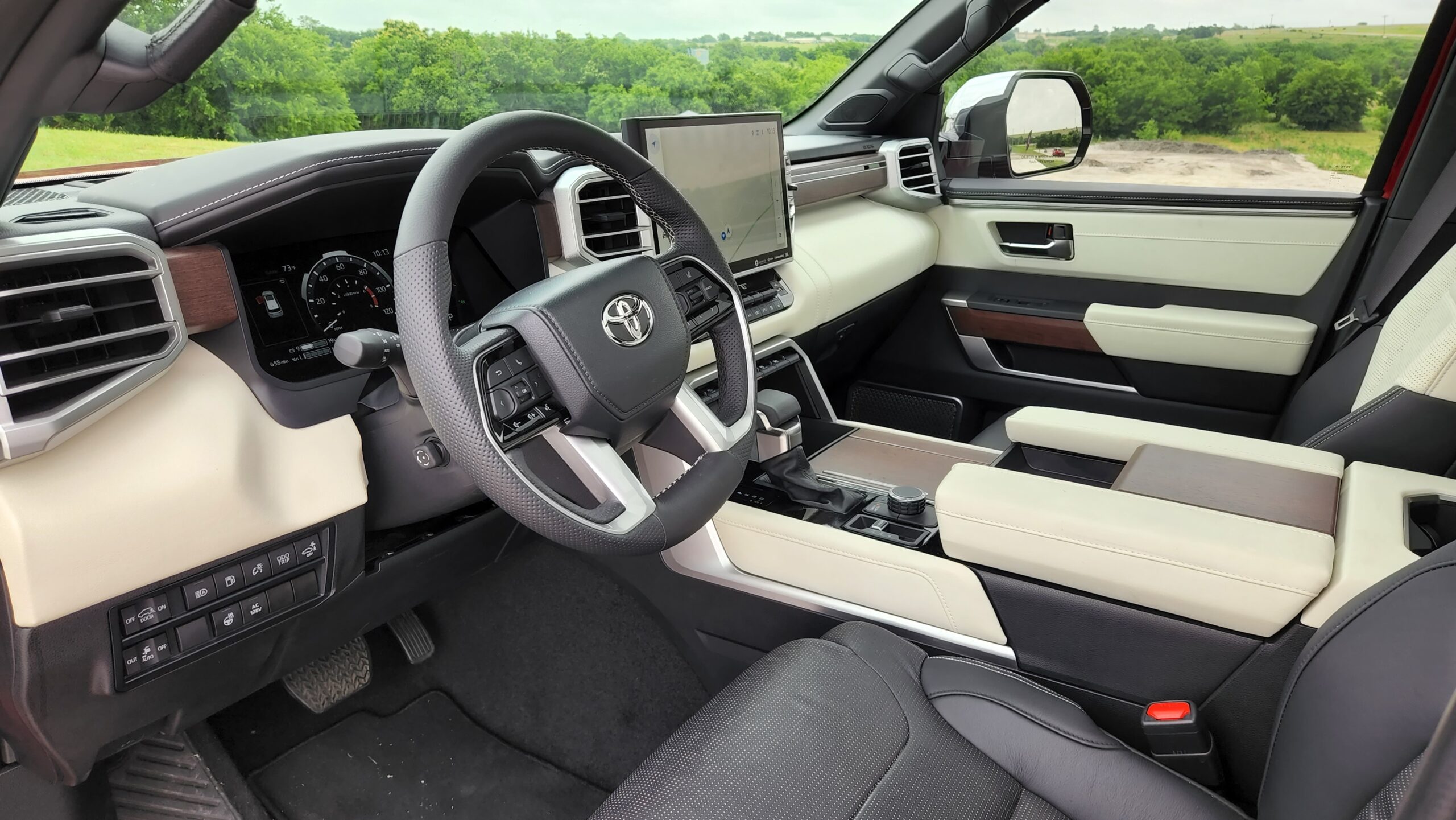 Interior Design and Features
So walking up the vehicles, both are obviously going to have smart entry systems with the ability to remote start, however the Sequoia does require a Remote Services subscription to keep remote start after the trial period expires. 
On the flip side, it's the Tahoe that does not have sensors behind the door handle to unlock but both of them have power deploying running boards.
Now checking out the interiors themselves, they have radically different design themes. The Tahoe's Mocha leather cabin has an upscale kind of country design to it, while the Sequoia's black and white leather cabin has more of an urban chic design. 
As far as the seats themselves, they are both heated and ventilated with memory functions but otherwise they are quite different. The Sequoia has more adjustments since it includes power thy extension and it also has higher end semi-aniline leather, which is basically straight off a Lexus. 
Now as far as the broader interior materials, both dress to impress and have appointments more common to luxury nameplates. Across both upper and middle dashboards you'll find leather coverings, along with wood accents and stitching patterns that break up the space. Overall, they seem pretty much equivalent. 
Now after startup, you will find full digital gauge clusters on both, thanks to a 2022 update on Tahoe. Both are vivid, crisp and customizable, plus they have head up displays if you don't want to look at them. 
Of course, it pretty much goes without saying that both have heated, leather wrapped steering wheels with power adjustment.
Now the next major area to evaluate is interior storage, where both of them are very large. However, Tahoe seems to maximize the space best because its center console and front storage areas are both larger. 
The reason for that is probably that the Tahoe has a push button shifter mounted out of the way, while Toyota kept a traditional one. Regardless of how you may feel about that, both display multi-view 360-degree camera systems when in reverse.
Both have 3-zone automatic climate control.
Alrighty, that brings us to the audio systems, so let's sample them. Both are nice sounding systems, but, for whatever reason, the Bose system seems to have the more robust sound. 
TAH: 10-speaker Bose Centerpointe Premium audio
SEQ: 14-speaker JBL Premium audio
Now moving on to the screens, these are obviously center points of the interiors, especially in the Toyota's case since its 14-inches large. That's about 4 inches larger than the Chevy's for those of you keeping track.
Both of them are also running brand new software for 2022, Android-based in the Tahoe and Toyota in-house designed for Sequoia. Overall, both the performance and graphic quality are better in the Toyota though both of them have wireless AA and ACP.
Finally, ending the front areas, both have rear camera mirror systems and large power pano moonroofs.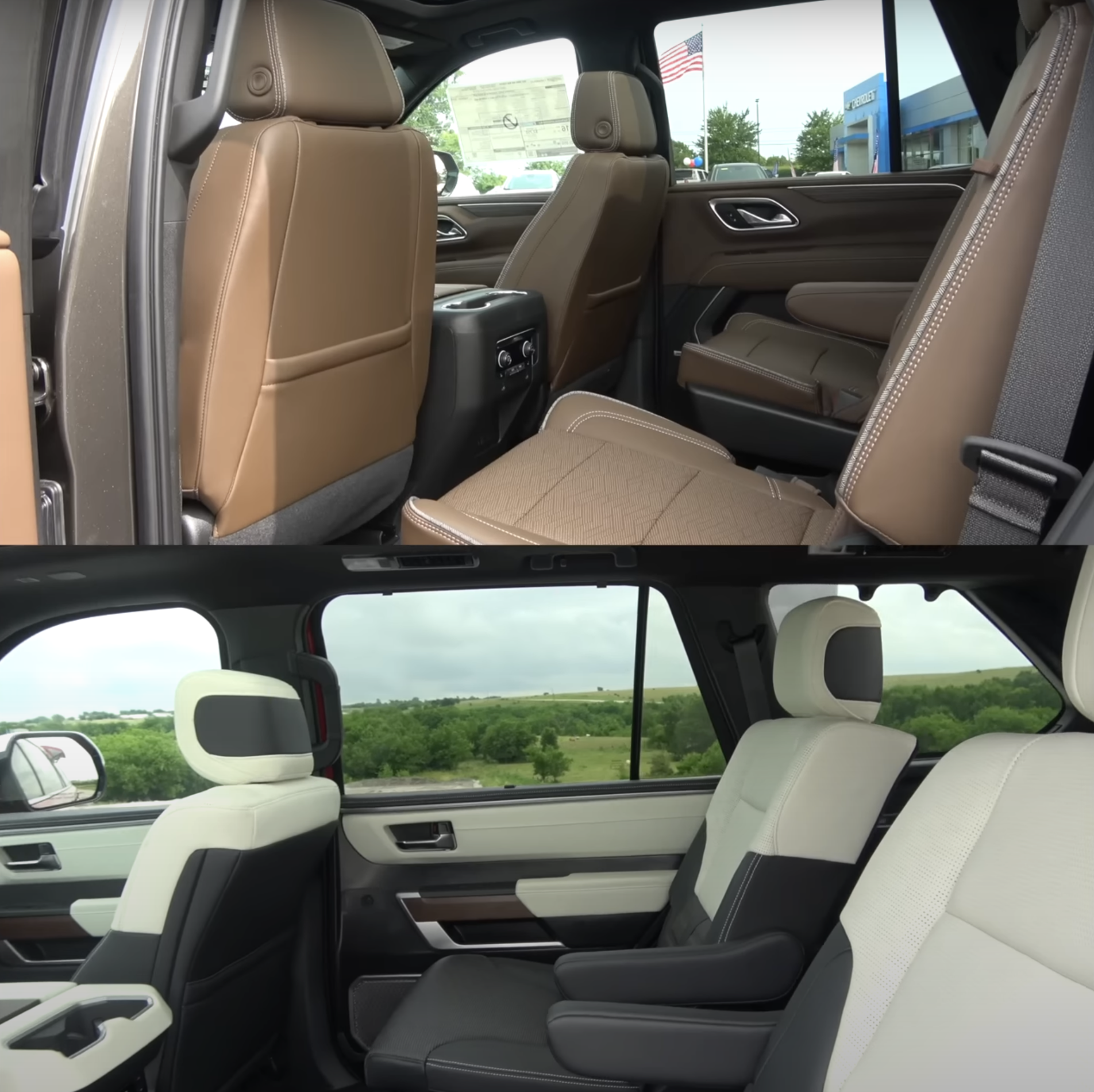 Rear Seats and Cargo
But since these are giant 3-row SUV's, there is still a lot to talk about in the rear areas of the cabin. Even with new packaging, the Tahoe continue to offer a legroom advantage even though headroom is basically the same.
TAH: 42.0-inches of legroom | 38.9-inches of headroom
ESP: 39.2-inches of legroom | 38.4-inches of headroom
The features are also largely the same, both having their own climate controls, heated rear seats and tons of connections for devices. However, the Capstone includes a feature even the Cadillac Escalade doesn't have, and that's ventilated rear seats.
The Sequoia also has rear window sunshades but only the Tahoe's seats can slide.
Moving on to the next row of seats, we see more significant differences. Crucially, the Tahoe rides on an independent rear suspension, which is something the Sequoia does not. That means, even though the legroom number is competitive with the 3rd row seats slid all the way back, the reality is Sequoia feels a lot more cramped. The higher floor reduces thy support and headroom.
TAH: 34.9 inches of legroom | 38.2 inches of headroom
SEQ: Legroom: 28.1-33.7 inches | Headroom: 35.6-inches
The same situation plays out in the rear, after opening their foot activated tailgates. The independent rear suspension and lack of battery packs allows the Tahoe to deliver more space across all 3 seating configurations.
TAH: Behind 3rd row: 25.5 cubic feet | Behind 2nd row: 72.6 cubic feet | Max: 122.9 cubic feet
SEQ: Behind the 3rd row: 22.3 cu.ft | 2nd row: 49.0 cu.ft | Max: 86.9 cu.ft
But it's still a very tight race, so now let's take them out on the road!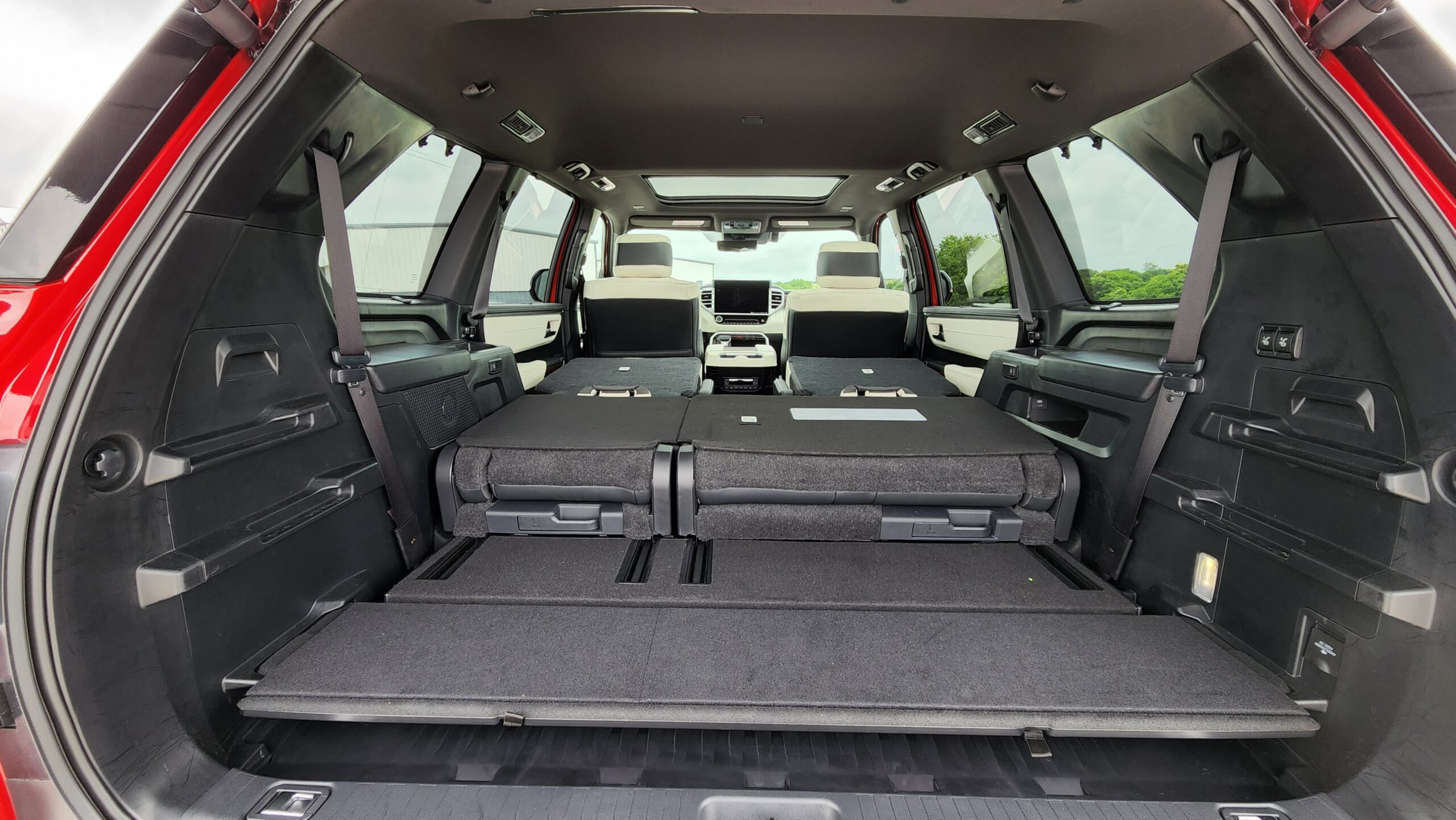 POWERTRAIN AND TEST DRIVE
Now these two have been very different throughout this video, so it shouldn't be surprising that it applies even more so out on the road. For engines, the Tahoe stays with the tried and true 6.2L NA V-8, making 420 hp, 460 lb.ft of torque. The Toyota, on the other hand, goes with a twin-turbo V-6 hybrid system, the first in its class. It delivers stellar numbers that exceed the Tahoe, 437 hp and 583 lb.ft of torque.
Without any official measurements, 0-60 times feel roughly equal to each other. As far as the transmissions are concerned, both have 10 speed automatic transmissions that are nice and responsive. 
But perhaps as important as power, is ride quality. Our Sequoia uses adaptive dampers and a rear air suspension, while our Tahoe has GM's excellent magnetic ride control. We don't have the optional full air suspension, but even so the Tahoe holds the slight edge for comfort and body control. 
And as far as sound isolation, we tested both of them on decently smooth roads at 55 MPH, and they returned nearly identical numbers. Of course, get on the gas hard and the Tahoe returns a wonderful V-8 growl and the Sequoia a convincing V-8 imitation. Other times, at low speeds, the engine will be completely off in the Toyota, and the transitions are very smooth when that happens. 
TAH: 57.2 dB @ 55 MPH
SEQ: 57.9 dB @ 55 MPH
Finally, when it comes to fuel economy, the Hybrid Sequoia has not yet been officially rated. However, our real-world highway drive returned an average of 25 MPG, which make me feel comfortable saying that the Toyota will beat the Chevy in this area. HALF
TAH 4×4: 14/19/16 MPG
SEQ 4×4: not officially rated
Value
NEW scale for price differences
AVG MSRP under $20,000: 2 PPM
$20,001-35,000: 1 PPM
$35,001-$69,999: 0.5 PPM
$70,000-$99,999: 0.25 PPM
$100,000+: N/A
And last but not least, we have to revisit the pricing and discuss value. Now our Tahoe was $2,105 more expensive than the Sequoia, so we will award a quarter point per thousand dollars of difference, or a half point to the Toyota. 
Conclusion
Well guys, that's where we are going to wrap up this comparison video. Obviously, these are both excellent giant SUV's and each one has its specific set of strong areas. Make sure to let us know which one you'd pick in the comments below, [p] and thanks for joining us for another Car Confections Comparison! Be sure to subscribe for more Comparisons, lots more content about the new GM SUV's, Expedition and everything auto related. Thanks for watching and stay safe out there!