Introduction
What's going on YouTube! It's safe to say that Tesla truly changed the game when it comes to electric vehicles. And they have continued to innovate over the years, with their expertise culminating in this Tesla Model S Plaid, the world's fastest sedan. But there is a newcomer on the block which is hoping to follow in Tesla's footsteps, the Lucid Air. Its also extremely fast, but its promising to deliver loads of luxury and tech as well, to exceed what Tesla is offering. So which vehicle is the ultimate all-arounder for someone who wants the absolute best? Let's go ahead and find out!
Pricing and Equipment
Okay, so before we really dig into the details, let's quickly talk about the prices of these luxury performance beasts. Now both brands change the prices frequently, so keep in mind that this is true at the time this video was produced. First up is the Lucid Air, which is in the Grand Touring trim level today. It is very expensive, but we have no additional options, so the total price is $155,500
Air Grand Touring: $154,000 | Options: +$0 | Destination: $1,500 | Total: $155,500
Moving to the Tesla, despite the lower starting price, our Model S Plaid actually cost slightly MORE than the Lucid since it has quite a number of options. Its total price is also eye-watering at $156,490.
Model S Plaid: $135,990 | Options: +$19,300 | Destination: $1,200 | Total: $156,490
At those prices owners likely won't care, but Tesla no longer qualifies for the $7,500 federal tax rebate which Lucid does. But if you want the best, you have to pay-to-play as they say, so let's see who's created the ultimate machine!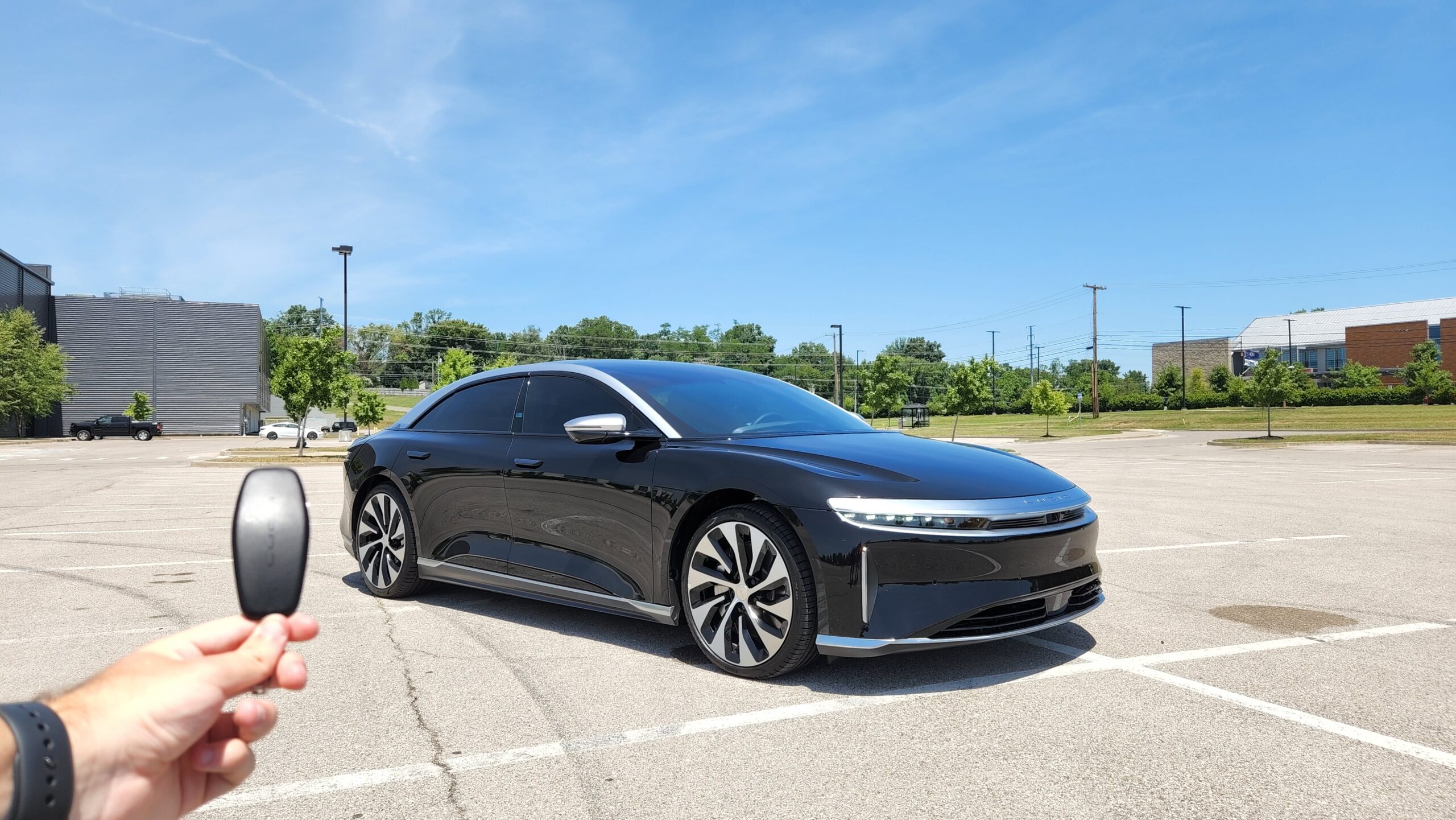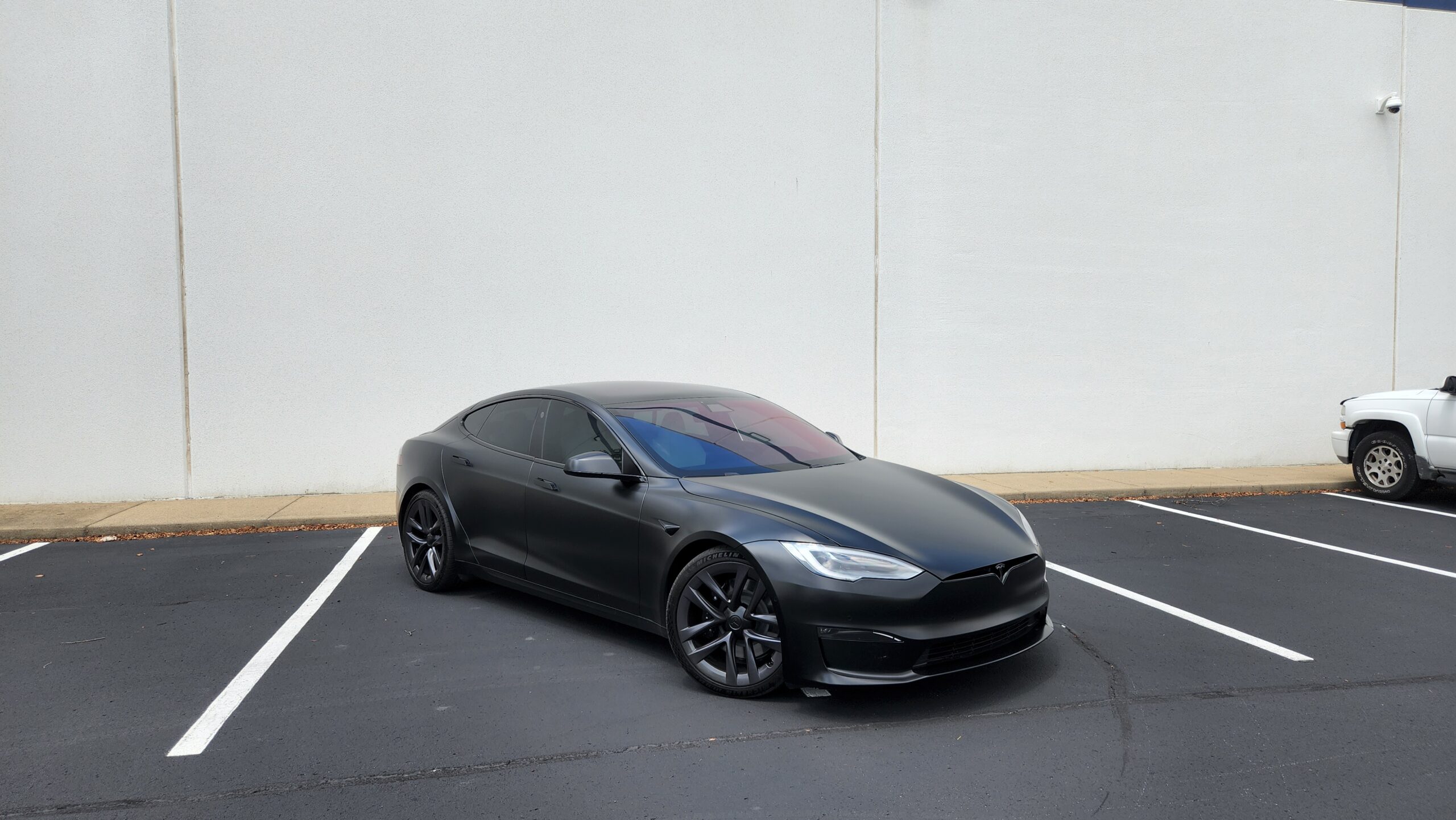 Exterior Design and Features
Now some EV's beat you over the head with futuristic and crazy-looking design elements, but I'm happy to report that neither of these two do that. They both have a confident and strong presence, with the Lucid in particular letting aerodynamics influence its design choices. Up front you'll notice a smooth facia, which is part of what allows it to achieve the lowest coefficient of drag of any production vehicle. The Model S is more traditional looking, but for 2022 it did receive a mild visual update. The full-LED headlights are also new this year, and only the Tesla has fog lamps. That being said, only the Lucid's lighting plays cool animations when you approach and leave the vehicle. Heading around to the sides, they are both long and low, with the Model S actually being slightly longer despite the opposite appearance. The thing that really sets off the designs though are both of their large 21-inch alloy wheels, which look amazing.
Length: 195.8-inches (Lucid) | 197.7-inches (Tesla)
For these comparisons, we don't award points for our personal preferences in design, but the rear is where things get more controversial. The Air has a very unique clamshell trunk design and silver roof design, whereas the Model S has a relatively normal design. Both have LED taillights.
Other Features
Now checking out some of the individual features, both of their mirrors have heating, power folding, and auto-dimming but only Lucid has blind spot monitoring built in. As you'd pretty much expect, these high-tech machines more than have you covered when it comes to all the other active safety features. Among them are forward emergency braking with pedestrian detection, adaptive cruise control w/ stop and go, lane keeping assist, auto high beams and highway assist. The big distinction is that Lucid's hands-free highway-only semi-autonomous driving system has not been fully developed yet, even though the cars have the necessary parts for it. Tesla's Full Self Driving package, while still in Beta, does allow you to drive hands-free on all roads.
Lucid Air: Basic: 4yrs/50k mi | Powertrain & Battery: 8yrs/100k mi
Model S: Basic: 4yrs/50k mi | Drivetrain & Battery: 8yrs/120k mi
Okay so that's it for the exteriors, but now let's get to the more exciting stuff inside their high-tech cabins, before we put them to the test out on the road!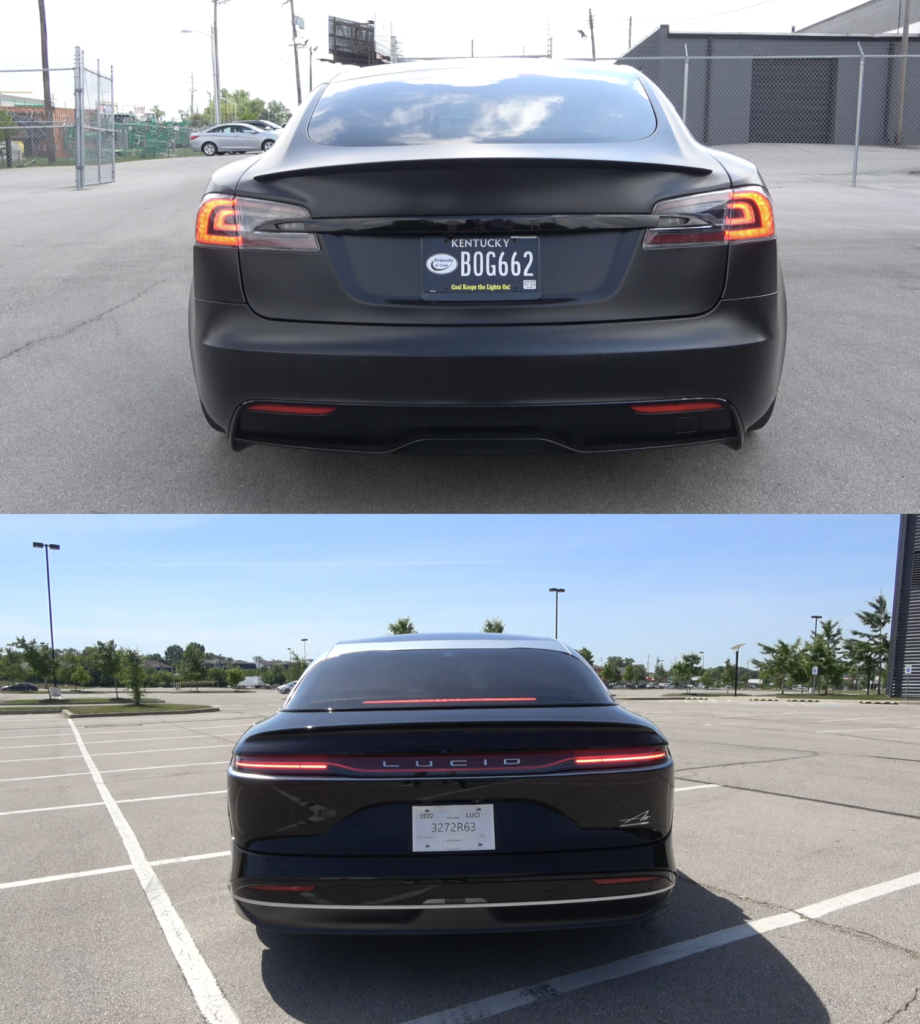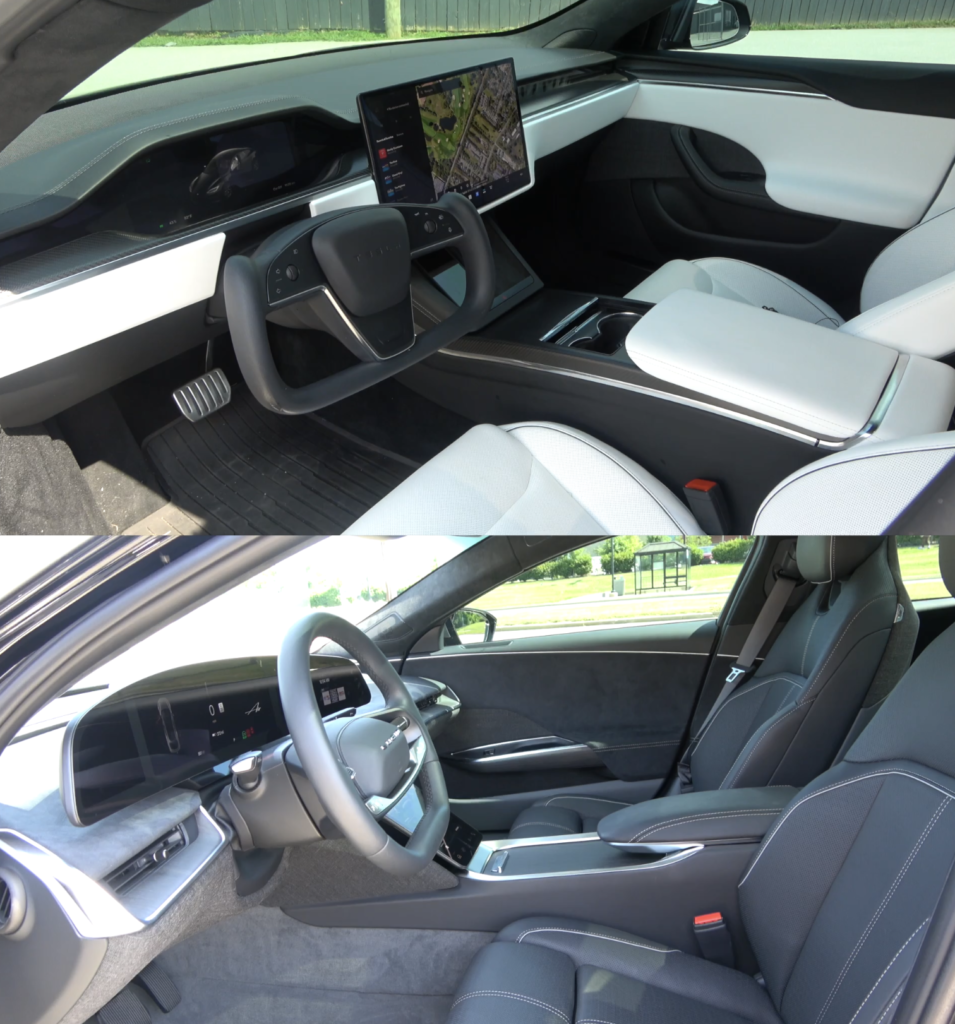 Interior Design and Features
So walking up to the vehicles, you immediately get the sense that these are tech-forward machines. Both of them have car-shaped key fobs with no buttons on them, but the primary method of entry is using phone-as-key. When you approach, they also unfold the mirrors, pop out the flush door handles, and the Lucid has soft-close doors as well. Once you actually open the doors up, you will be greeted by cabins that are positively space-age. But before we get into all the tech and cool features, let's talk seats. Of course, both of them have many ways of adjustment, memory, heating and cooling, however the Lucid has a couple advantages. It uses beautiful Nappa leather instead of a faux leather on the Plaid, and only the Air gives you massaging abilities as well.  
 Once fully inside the cabins, we can begin to inspect the material quality. Now as you may know, this has been an area Tesla has long struggled with and I'm happy to report that the refreshed Model S is a huge step up compared to the old model. It uses leatherette, soft plastics, and carbon fiber throughout, plus everything feels much more solid. That being said, however, the Air has an impeccable cabin with amazing execution in everything. From the wide variety of diverse materials, to the fit and finish, to the general solidity and design, this is a world-class cabin.
To start them up just put your foot on the brake. Displays are important parts of these vehicles and, unsurprisingly, they greet you right away with digital gauge clusters. On the Lucid, they are part of a larger 34-inch system, which also has a blind spot camera system built in. Both of them have stellar graphics and neither of them have HUD's. Coming back to the steering wheels, we definitely have some things to talk about because both are weird, frankly. The Model S's is not even a wheel since they have switched to a Yoke, and the Air's is 2-spokes. Neither have many buttons, but they are power adjusting and heated. 
But now let's start to dig into the important aspect of interior storage, where both are very impressive. Being EV's, the simpler powertrain allows for tons of console space, and especially in the Tesla, it is extremely deep and could fit just about anything. The Lucid has one trick up it sleeve, though. If you swipe up on the display, it will actually fold out of the way and reveal a bit more hidden space. Both have wireless phone chargers.
Of course, the lack of console mounted shifters allow for this kind of versatility. The Air mounts the shifter to the steering column, while the Model S actually deletes the shifter entirely. It instead guesses which direction you want to do drive automatically, and if it is wrong you can override it on the screen. In practice it does work mostly, even if it's entirely unnecessary. Once in reverse, only the Lucid has a full 360-degree camera, and the graphics are some of the most advanced I have ever seen.
But now let's jump into the elephant of the interiors, which are the displays. In the Tesla, that's one giant 17-inch screen and in the Lucid it's part of the 34-inch curved display as well as a separate display down below. The first stop inside the displays are the climate controls, where both have 3-zone automatic adjustments. While the Air has some physical controls you can use if you prefer, the S makes you use the screen for everything, even pointing the hidden vents. And let's talk about the audio systems. Both eschew traditional branded sound systems but they are ultimately very impressive.
Air: Surreal Sound: 21 speaker integrated Dolby Atmos 3D sound
Model S: Immersive Premium sound: 960-watt, 22-speakers and subwoofer
But now let's start to delve into the main infotainment systems themselves. First of all, neither of them have AA or ACP, so you will have to interact with the software as you see it here. While the Lucid does some neat tricks, like the ability to pass info from the top screen to the lower one, Tesla's experience shines through here. It is a lot more responsive and stable in general and it also have the most detailed satellite maps of any automaker.
And finally, to wrap up front of the interiors, giant glass sunroofs, which do not open.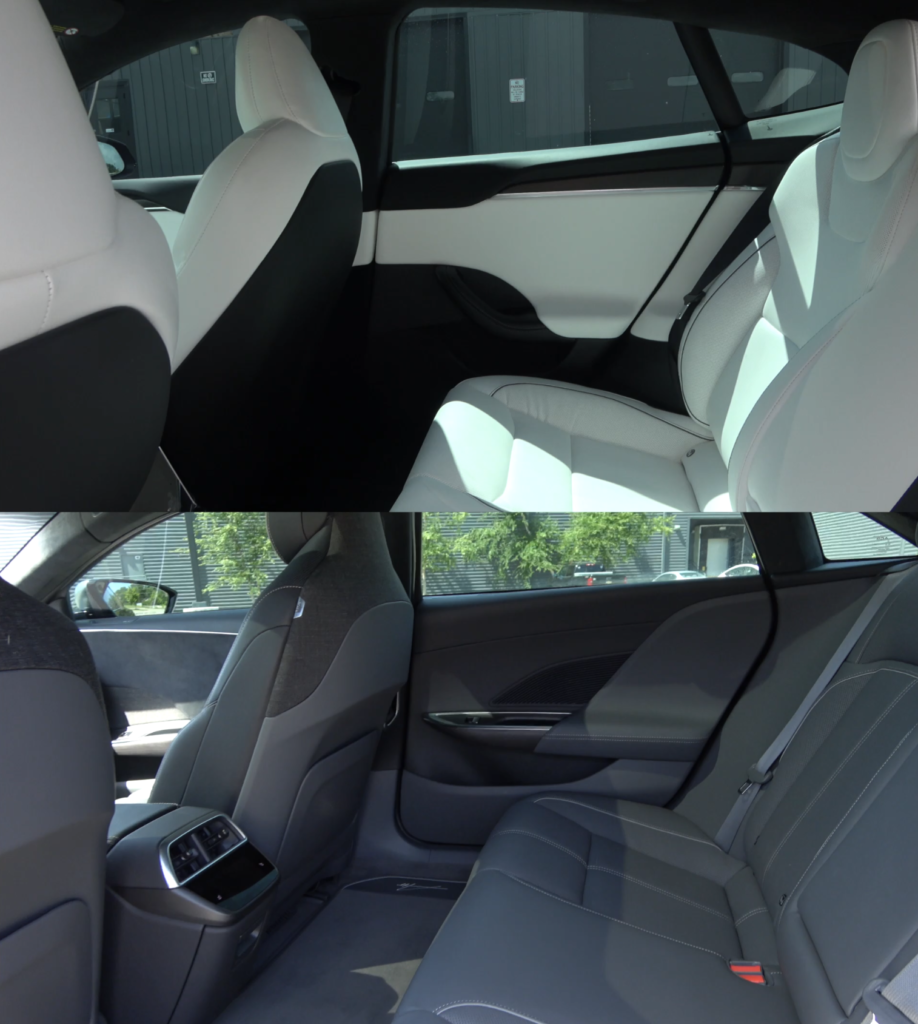 Rear Seats and Cargo
Now heading around to the rear seats, this will be very important for those using them as family vehicles. Speaking dimensionally first, both have plenty of headroom, but the Air is the leader in terms of legroom.
Lucid: Legroom: 37.4-inches | Headroom: 38.3-inches
Tesla Legroom: 35.5-inches | Headroom: 38.1-inches
Moving next to the features, both offer plenty of options like USB ports and heated rear seats. That being said, there are also lots of feature differences, with the Air having an extra climate zone with extra pillar vents, and rear window sunshades. The Tesla fights back, though, with a really neat rear screen system that you can stream TV and play video games on. Plus, if you fold down the arm rest, you have a wireless phone charger built in.
Heading to the cargo areas, they have power opening trunks, but once they open up you will find very different spaces. The Tesla is actually a sportback, meaning that it has crossover-like storage that far outstrips the traditional trunk in the Air.
Lucid: Trunk: 16.1-cu.ft | Frunk: 7.1 cu.ft
Model S: Seats in place: 29.7-cu.ft | Seats folded: 59.7-cu.ft | Frunk: 3.1 cu.ft
So as you can see, these two are very different products in many ways, but now let's get them out on the street to see who's going to come out on top!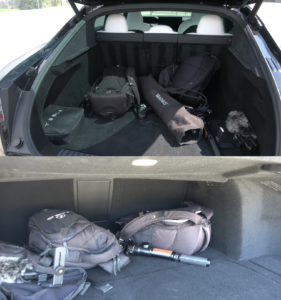 Test Drive & EV Range
Speed is of course a luxury, and the first thing I want to talk about is that. Tesla and Lucid have a bit of a horsepower war going on, and the result is both of them have insane numbers. The Air Grand Touring has 816 hp from a dual motor AWD system, and believe it or not, the Plaid actually has over 200 more hp than that, at 1020 hp via a tri-motor AWD system. That's what makes the Model S Plaid the fastest sedan in the entire world, with a ridiculous 0-60 time of 2 seconds.
Now even though the Tesla gets to claim the acceleration crown, it's the Lucid that gets the crown for the longest range EV in the world. This version comes in at nearly 520 miles of range with the standard wheels, which handily passes up the previous leader, at just under 400 miles maximum.
Lucid: 516 miles (469 mi, as equipped)
Tesla: 396 miles (348 mi, as equipped)
 Even though the Lucid produces insane power figures, when you drive normally around town, you get the sense that the overall mission is more luxury-oriented than the Model S. Its adaptive dampers provide a comfortable ride and pretty good body control, but the Tesla adaptive air suspension adjusts to the situations better. It can be quite firm in the Plaid mode and also very compliant when in comfort.
Its hard to even evaluate and compare the handling, mainly because the yoke steering wheel in the Tesla is so silly. They didn't bother to adjust the steering ratio to compensate, so you are consistently left awkwardly trying to figure out where to place your hands. The Lucid stays exceptionally flat for a car of this size, and its round wheel is much more confidence inspiring. I also want to mention the sound level readings of these two on the highway. The readings are almost identical at 55 MPH and are appropriately quiet for 6-figure luxury sedans.
Lucid: 56.4 dB @ 55 MPH
Tesla: 56.5 dB @ 55 MPH
 And instead of fuel economy, let's wrap things up with charging. As expected, both utilize DC fast charging, but the main difference is the charging infrastructure. Tesla has spent years building up its Supercharger network, which not only has more locations but is also far more reliable than the public chargers that Lucid has to rely on.
Peak charging rates:
 Tesla: 250 kW
 Lucid: 300 kW
Value
NEW scale for price differences
AVG MSRP under $20,000: 2 PPM
$20,001-35,000: 1 PPM
$35,001-$69,999: 0.5 PPM
$70,000-$99,999: 0.25 PPM
$100,000+: N/A
 The only thing worth noting here is that the Lucid does indeed qualify for the $7,500 federal tax rebate.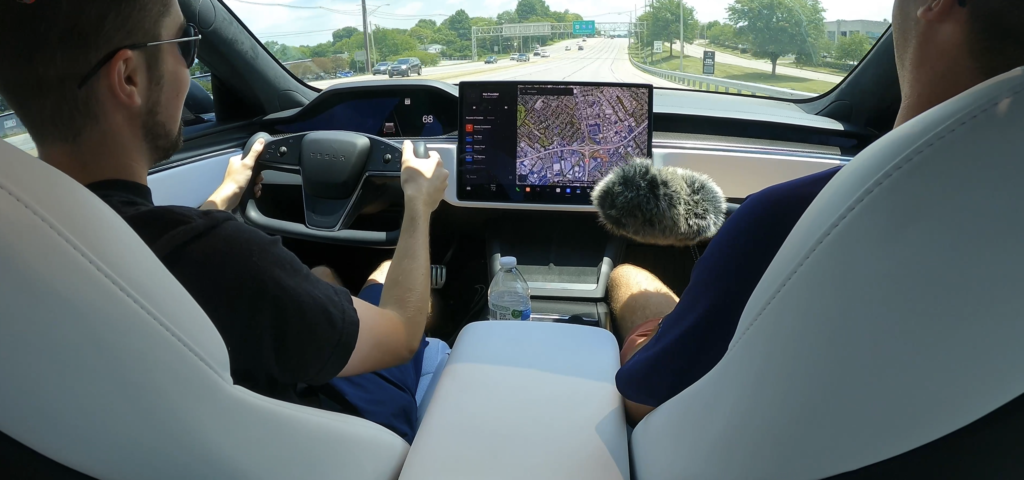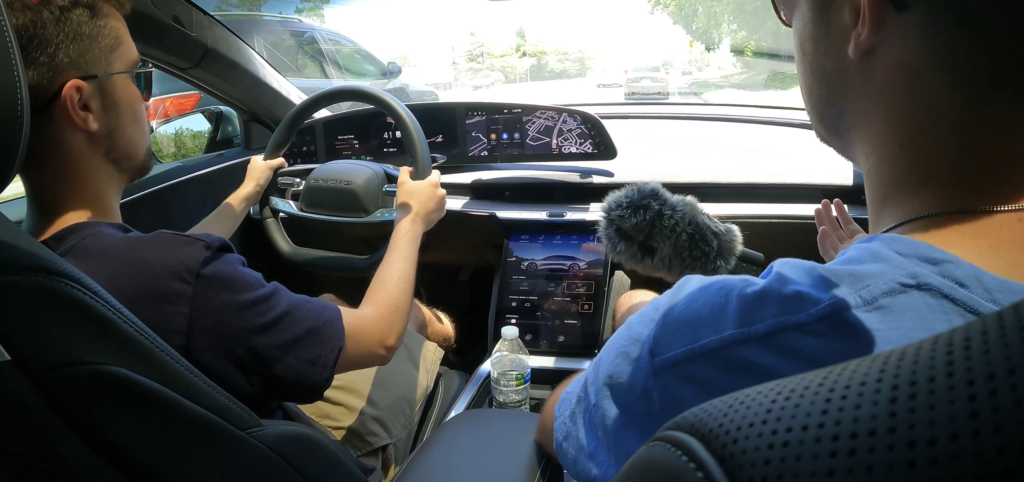 And that's it for this comparison! Its honestly amazing that 2 new brands have pushed electric vehicles from slow and lame transportation, to amazing sedans that can both coddle you in luxury and then accelerate so fast you wet your pants. If you have this kind of money, you will not be disappointed in either. Let us know in the comments below which one you'd choose, as well as your opinions on some of the controversial elements in each. If you enjoyed or were helped by this video, we'd really appreciate if you'd subscribe to the channel and help us continue to make more comparisons and be given access to awesome cars like these. Take care and stay safe out there!