In times where sedans seem to be losing their appeal, there are still a lot of people, including myself, that really appreciate a solid luxury sedan! The G70 is the smallest (and sportiest) of the Genesis line-up, and gives its fellow German competitors a run
for their money (literally). So, let's go ahead and take a deep dive into this 2023 Genesis G70 and see what it's all about! Car Confections Reviews
What's New for 2023
● No official changes this year have been posted by Genesis
● Price increase of around $2,000 on each trim level from 2022
Trim Structure
2.0T Standard -> 2.0T Sport Prestige -> 3.3T Standard -> 3.3T Sport Advanced -> 3.3T Sport Prestige
Detailed Exterior Review 
The 2023 Genesis G70 doesn't see any exterior design changes this year as it's fresh off of a 2022 refresh. That said, the design is absolutely gorgeous. As far as finishes are concerned, the grille will be chrome on the standard model while the Sport models will have a dark finish. 
The headlights are beautiful Genesis design with full LED components on every single model. That includes the high beams as well as the LED turn signal indicators. The wheels really set off the design of the G70 since they are 19-inch gray finish alloys on the Sport and Sport Prestige models. The standard model also has 19-inchers (not to be outdone) but they will be a silver finish instead that also looks quite nice. Sport Prestige 3.3L models also get red finished Brembo brakes.
All models have really nicely finished mirrors as long as you get the 2.0L Sport Prestige model or higher. That means most G70's have heating, auto-dimming, blind-spot monitoring, and power folding. The G70's overall length is 184.4 inches making it a decent size for the segment. Although, most will be longer and more spacious like the BMW 3-Series and Mercedes C-Class. Smoked chrome surrounds the windows for a sportier look on Sport models.
The rear design is also beautiful in typical Genesis design. The refresh really boosted the overall look to rival those German offerings and every s ingle model will have quad-beam LED taillamps to accent the premium look. LED reverse lights are also standard, and the exhaust will be dual tipped on the right side for the 2.0T models and dual-tipped oval shaped for 3.3TT models.
For safety systems, Genesis offers a lot more value than the Germans would. Forward emergency braking w/ pedestrian detection, Lane keeping assist, auto high beam headlights, and Adaptive cruise control w/ stop and go round off the standard feature list. The warranty also beats all the competition with a 5 yr/60k mile basic warranty, 10 yr/100k mile powertrain warranty and 3 years and 36k miles of complimentary maintenance.
Let's check out the luxurious interior before moving on to the driving dynamics!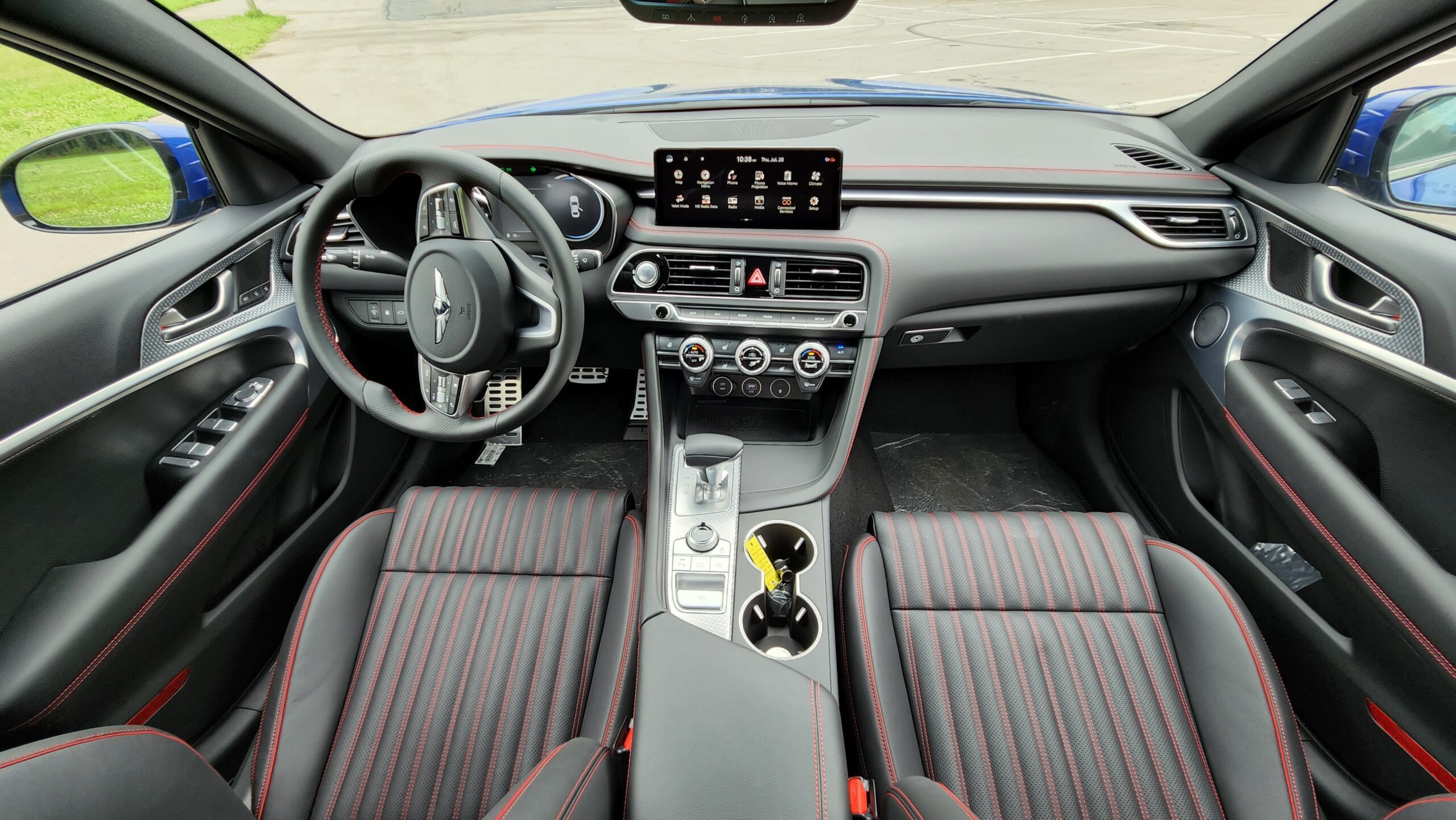 Heading into the interior, the G70 will impress but unfortunately it is not as nice as some of the newest Genesis products like the GV70. Smart entry is standard and you get the digital key system on Sport Advanced and higher. 
For materials, leatherette is standard, Sport Prestige 2.0L will gain real leather and Sport Prestige 3.3L gets the fanciest quilted nappa leather. Memory seats are standard on all V6 models and optional on the 2.0L models. All G70's have a 12-way power adjusting seat with 4-way power lumbar support besides for Sport 3.3Ts which get a 16 way power seat. 
Push button start is standard on every model as well. The gauges are the partially digital setup that we see on some other Genesis products but full digital gauges are not offered unfortunately. Additionally, Sport Prestige 3.3L gets a head up display and Genesis' blind view camera monitoring system. 
The steering wheel is finished nicely and is standard power adjusting on Sport Prestige 2.0L and up. Leather wrapping is standard and AWD versions will also have standard heating. Rain sensing wipers are on SP 2.0L models and up as well. 
For storage, you're looking at a decent amount for the segment but not overwhelmingly large. A wireless phone charger is standard on some G70s. finishing off this area, you have an electronic shifter standard and a 360 camera is included on only the top G70 model. 
Climate is dual-zone automatic on all models and heated seats are standard on 3.3T models. Ventilated seats are also offered on Sport Prestige 2.0L and Sport Advanced 3.3L and higher.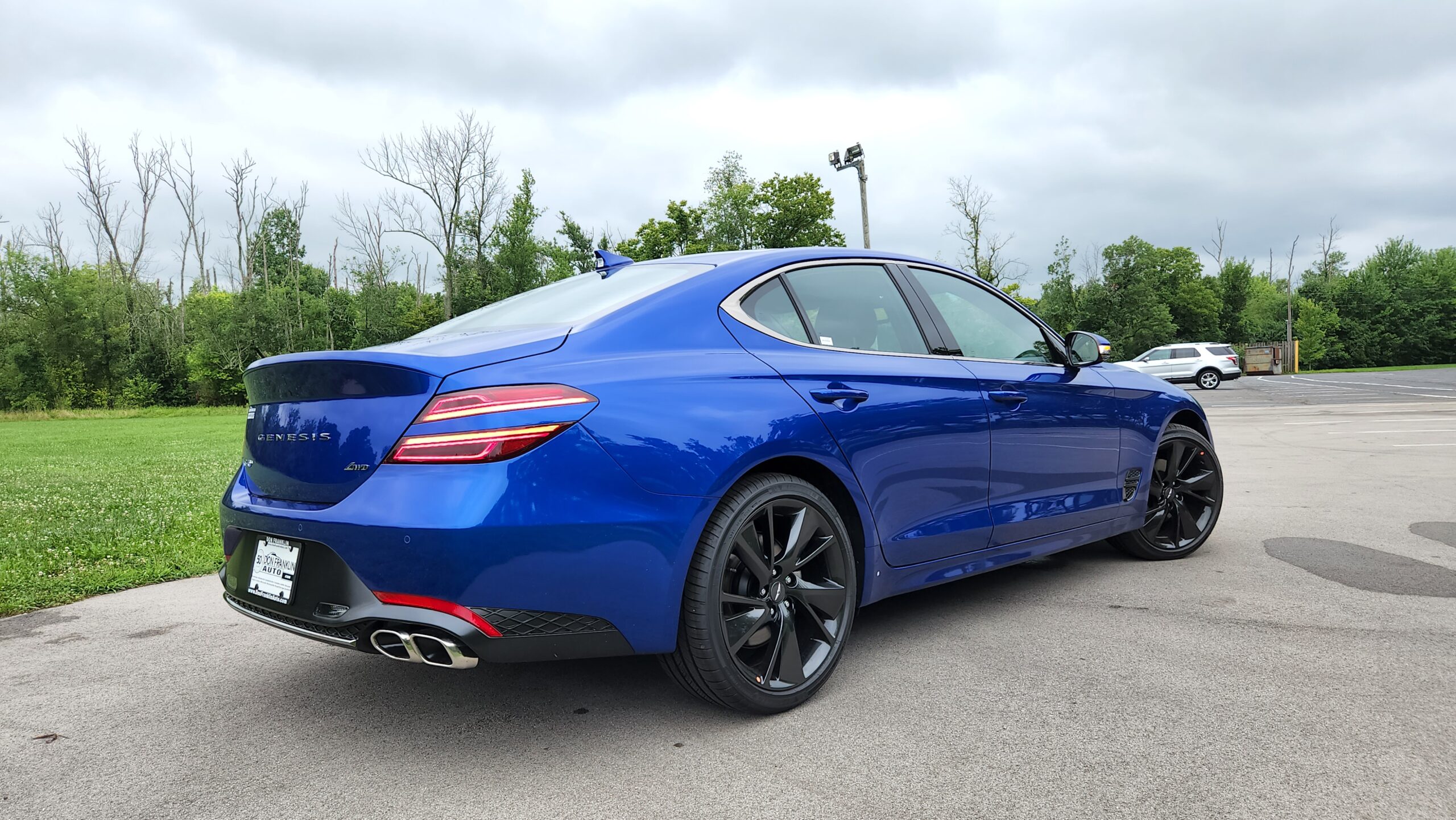 Rear Spaces
For the rear, the G70 is quite a bit smaller than its chief competition. It comes in at 34.8 inches of legroom and 36.9 inches of headroom. Heated rear seats aren't offered and there is one standard USB plug and vents on every single model. That said, climate controls are not offered. Even at 5'9" tall my head scrapes the roof, so adults over 6 foot will be uncomfortable in this model. 
Legroom: 34.8-inches | Headroom: 36.9-inches
For cargo, you're looking at 10.5 cubic feet of capacity. Luckily the seats do fold, but that does make this smaller than most of its competitive set. The passenger seat is standard power adjusting and higher end models get a few more adjustments to 12-way power.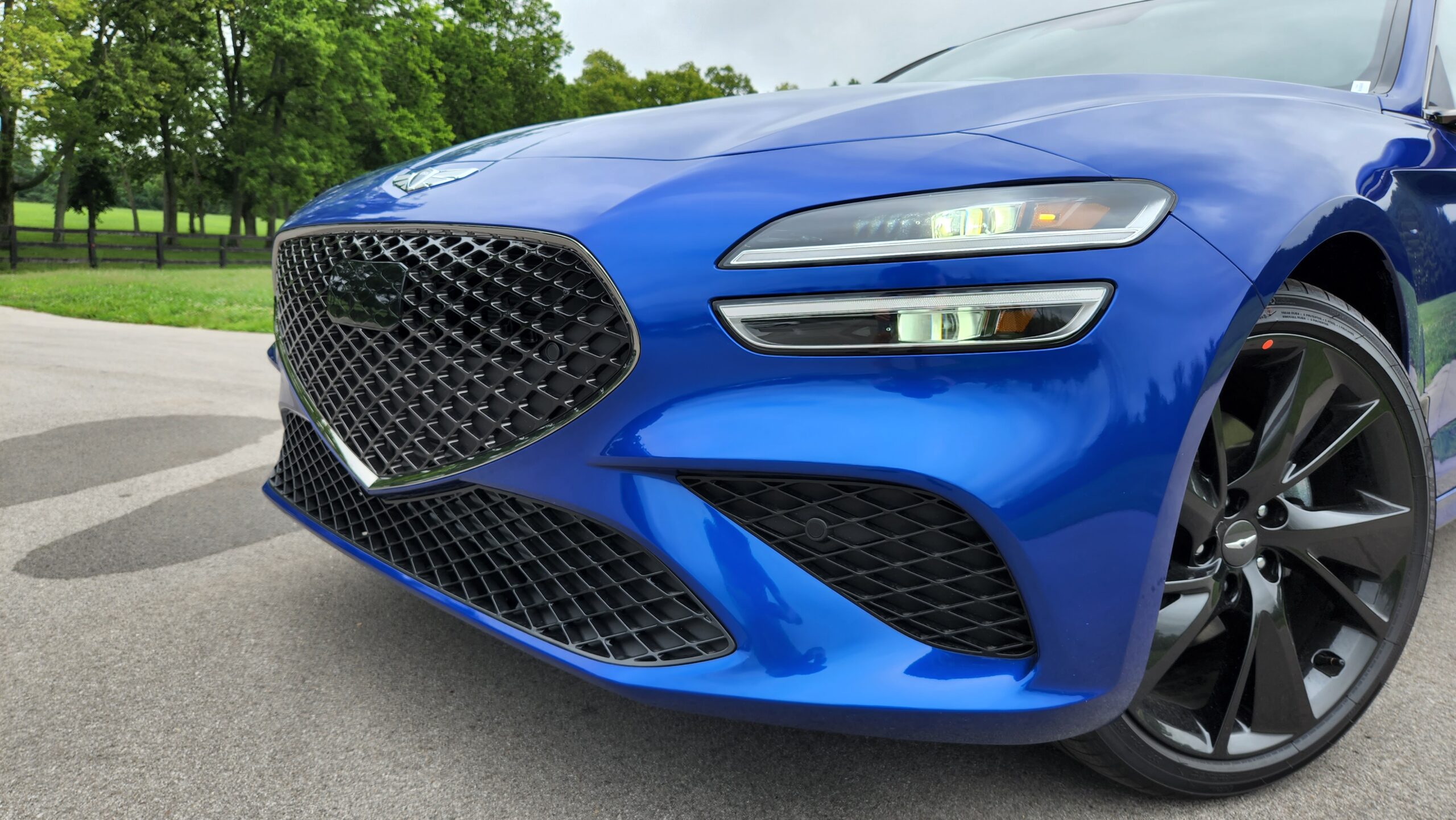 Powertrain & Test Drive
For the powertrains, Genesis offers two different options. We have the standard 2.0L Turbo I-4 making 252 horsepower and 260 lb. ft. of torque. Delivery seems smooth and refined (more so than we were expecting) however, power junkies will want the 3.3L Twin-Turbo V-6 making 365 horsepower. 
The transmission is always an 8-speed automatic and you can pick between RWD or AWD. Dynamically, this vehicle shines and honestly might show up many of its german rivals.
2.0L Turbo I-4: 252 hp | 260 lb.ft of torque
3.3L Twin-Turbo V-6: 365 hp | 376 lb.ft of torque
Transmission: 8-speed automatic
REAR or AWD available across the lineup
Fuel Economy (2023)
2.0L RWD: 21/31/25 MPG
2.0L AWD: 20/28/23 MPG
3.3L RWD: 18/27/21 MPG
3.3L AWD: 17/26/20 MPG
Pricing
MSRP for RWD (add $2,100 for AWD)
2.0T Standard: $39,150
2.0T Sport Prestige: 43,350
3.3T Standard: $44,650
3.3T Sport Advanced: $48,950
3.3T Sport Prestige: $53,350