In the world of high-end SUVs, two notable contenders, the 2023 Cadillac Escalade vs. Lexus LX, step into the ring for a faceoff like no other. These luxury behemoths each bring their unique attributes to the table, catering to the tastes of discerning buyers. In this comprehensive comparison, we'll delve into their pricing, design, features, interior luxury, and powertrains to help you determine which one reigns supreme in your book.
Pricing and Equipment
While both the Cadillac Escalade Sport Platinum and the Lexus LX 600 Ultra Luxury boast eye-watering price tags exceeding six figures, we'll still take a quick look at the numbers.
Cadillac Escalade Sport Platinum (4WD): MSRP $108,595 | Options $7,575 | Destination $1,895 | Total $119,565
Lexus LX 600 Ultra Luxury (4WD): MSRP $130,905 | Options $735 | Destination $1,350 | Total $132,990
Despite the stratospheric price tags, we aim for an objective comparison, evaluating major and minor categories to determine the ultimate winner. Let's dive into this head-to-head showdown!
Exterior Design
Approaching these titans is like donning haute couture; they exude opulence and style. Their distinct front-end designs set them apart, with the Lexus LX featuring a substantial chrome grille and the Cadillac Escalade embracing a sporty, blacked-out look as part of its Sport Platinum package.
Expect full-LED projector headlights on both models, with the Escalade adding entry and exit animations and the LX including LED fog lamps. The significant difference lies in their dimensions, with the LX being notably shorter, contributing to its off-road prowess. The Escalade and LX both roll on large 22-inch alloy wheels and feature bold, fully-LED taillights. The Escalade's rear hides the wiper for a sleeker appearance and boasts exposed exhaust outlets.
In terms of towing capacity, the Escalade slightly outshines the LX, pulling 8,200 pounds compared to the Lexus's 8,000 pounds, though neither meets the 5% threshold for scoring.
Additional Features
Both SUVs come equipped with fully-loaded mirrors and a comprehensive set of standard active safety systems in their top-tier trims. The Escalade, however, takes it up a notch with its optional SuperCruise system, allowing for hands-free highway driving on most U.S. highways.
Warranty-wise, both brands offer robust coverage, with Lexus including an extra complimentary maintenance visit:
Lexus: Basic Warranty 4yr/50k mi | Powertrain 6yr/70k mi | Complimentary Maintenance 2 visits
Cadillac: Basic Warranty 4yr/50k mi | Powertrain 6yr/70k mi | Complimentary Maintenance 1 visit
Now, let's explore the interiors of these luxurious vehicles.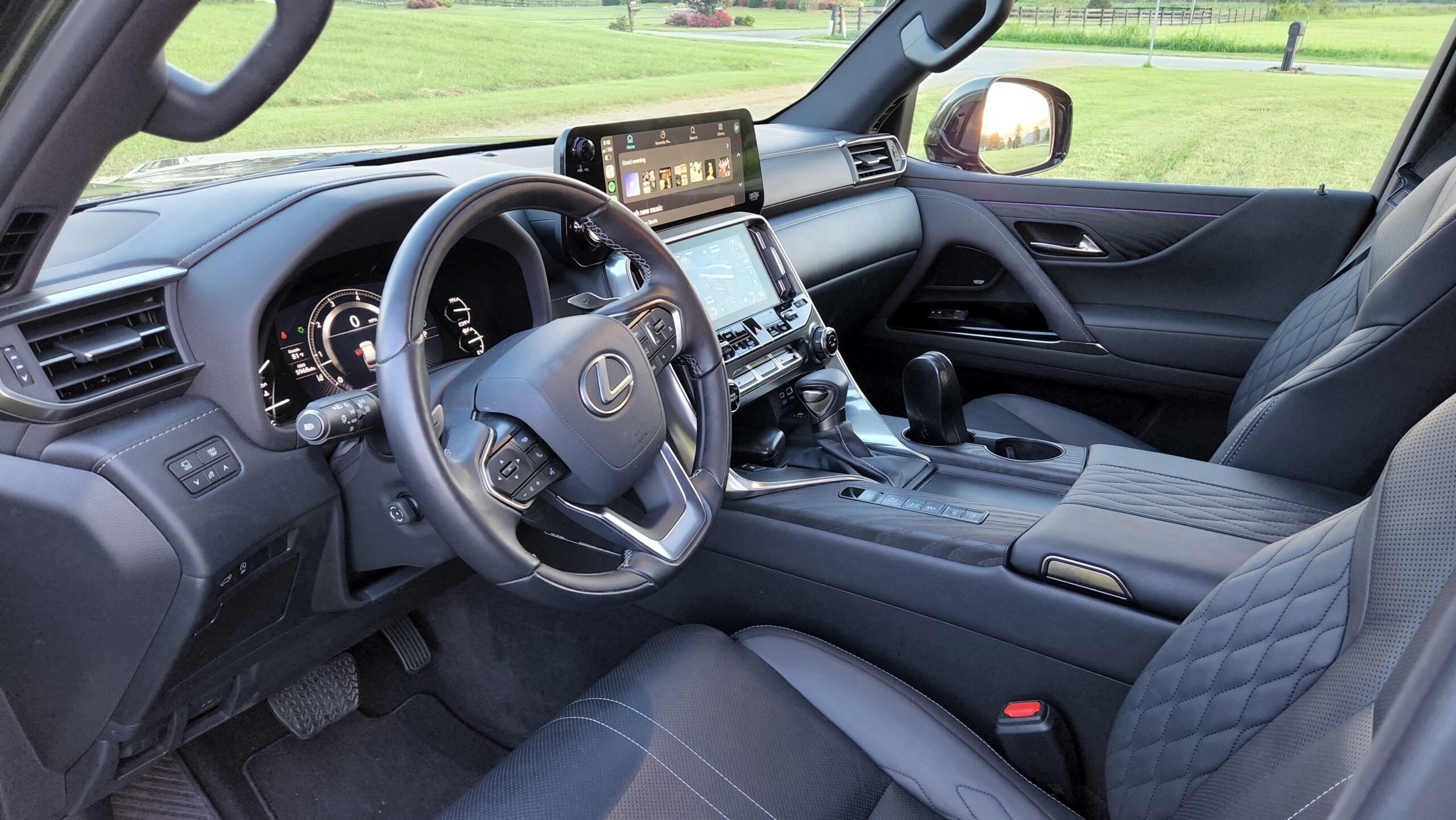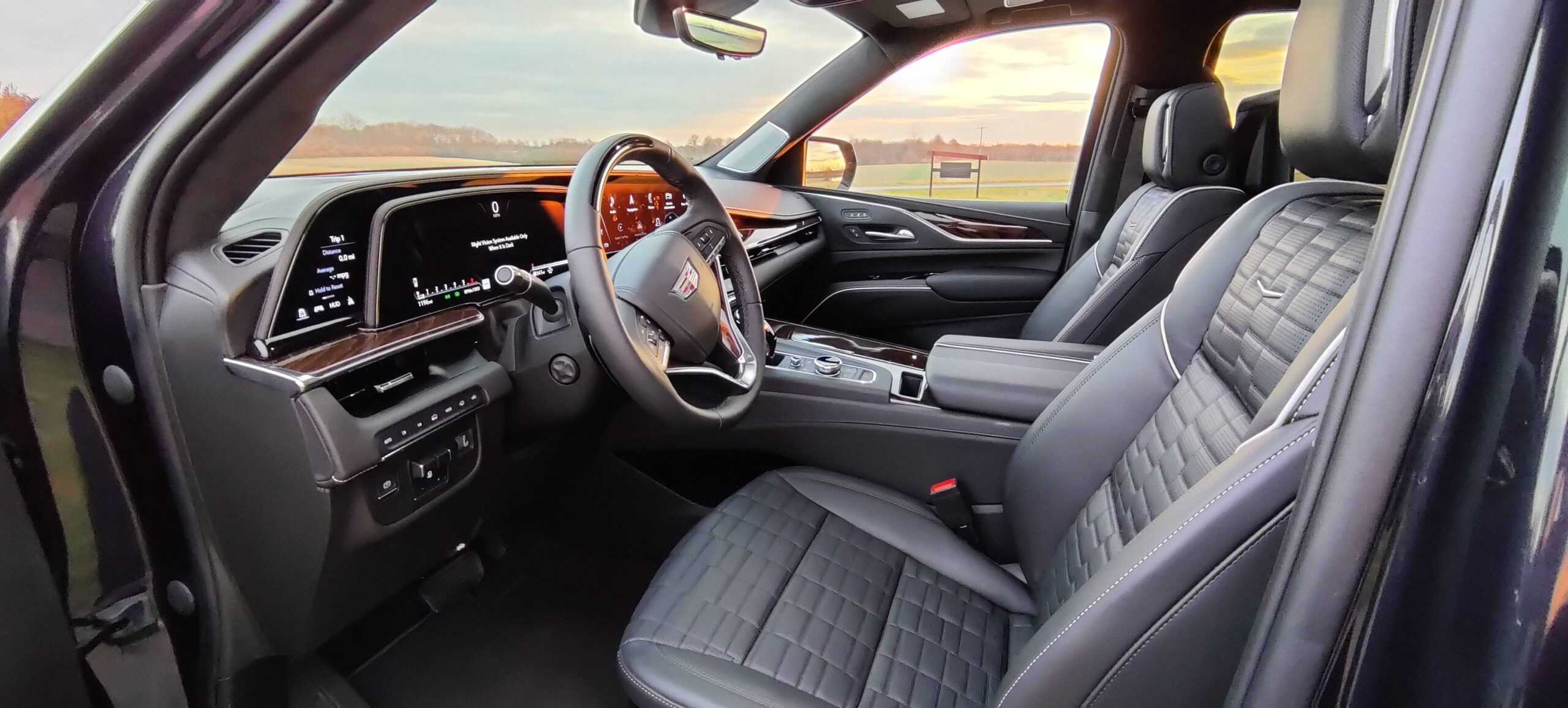 Interior Design
Approaching these vehicles, you'll find smart entry systems, with the Escalade offering the convenience of power running boards for easier entry and exit due to its width.
Inside, you'll discover distinct design themes: the LX embraces a traditional aesthetic, while the Escalade exudes a tech-centric ambiance. Both cabins are swathed in lavish quilted semi-aniline leather seats, heated, ventilated, memory-equipped, and highly adjustable. The Escalade boasts 16-way adjustments compared to the Lexus's 14, with the former adding power massage functions, a feature the latter reserves for its rear seats.
In terms of material quality, both SUVs impress with extensive use of leather, real wood trim, and metal accents. However, the Platinum Escalade takes it a step further with a leather-covered dashboard and a suede headliner, setting it apart.
When it comes to tech, the Escalade steals the show with its cutting-edge 38-inch curved OLED display, AR camera, night vision, and large head-up displays. Both SUVs feature heated, leather-wrapped steering wheels, but only the Escalade includes a leather airbag cover.
Storage and Technology
In terms of storage, both excel, offering ample space and even console refrigerators. The Escalade gains an edge with a pass-through center storage and a wireless phone charger. Both feature easy-to-operate shifters and 360-degree cameras in reverse. The LX boasts an additional climate zone, totaling four, and a climate concierge system. Music lovers will revel in both SUVs' phenomenal audio systems, with the Escalade's AKG sound system taking the lead.
In the infotainment department, the Lexus pairs a 12.3-inch upper screen with a 7-inch lower display, while the Escalade showcases its 38-inch OLED display, offering 31% more screen real estate. Both support integrated navigation and wireless Apple CarPlay and Android Auto.
Additionally, the Escalade enjoys the advantage of a panoramic moonroof, a feature absent in the LX 600.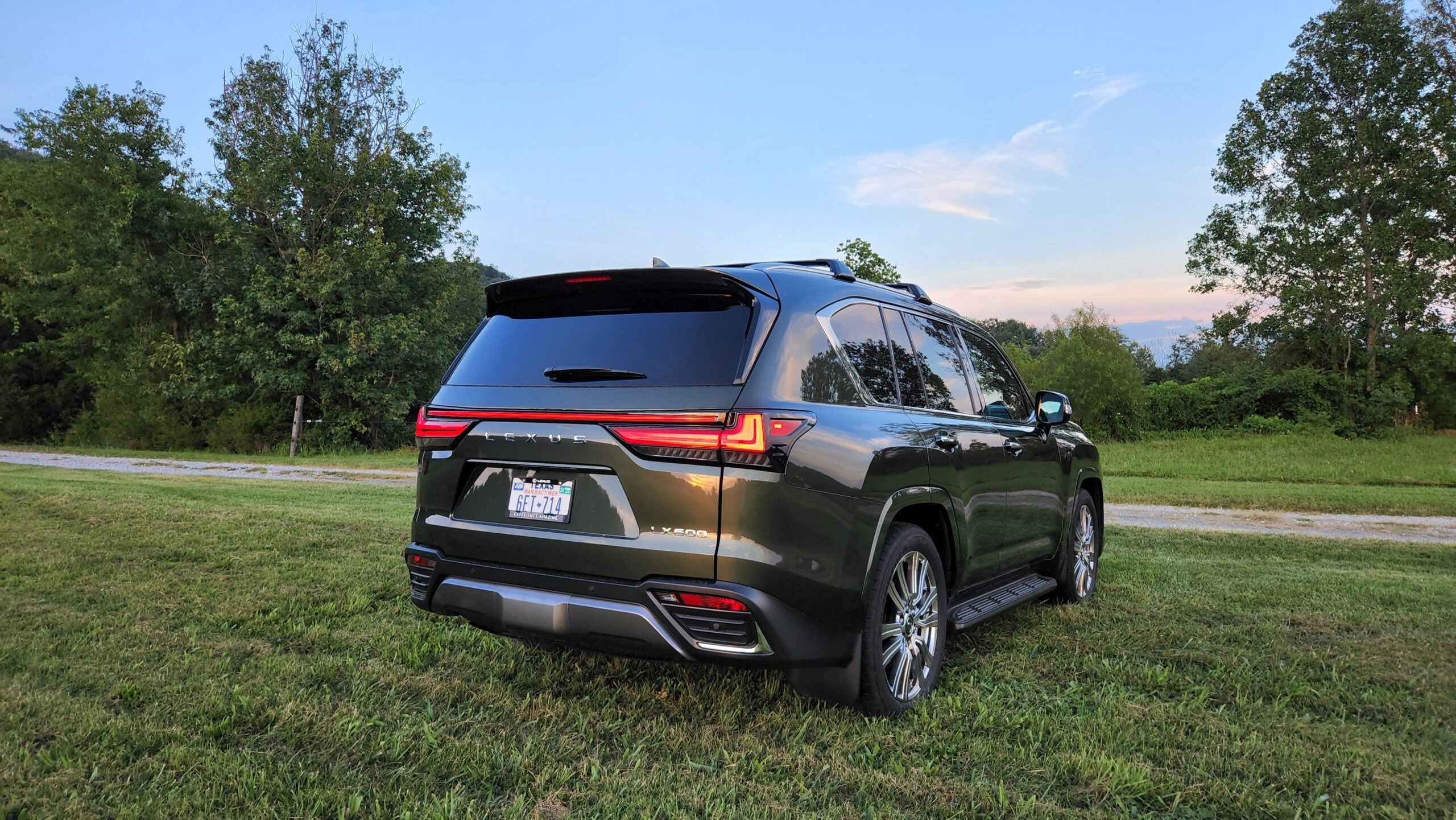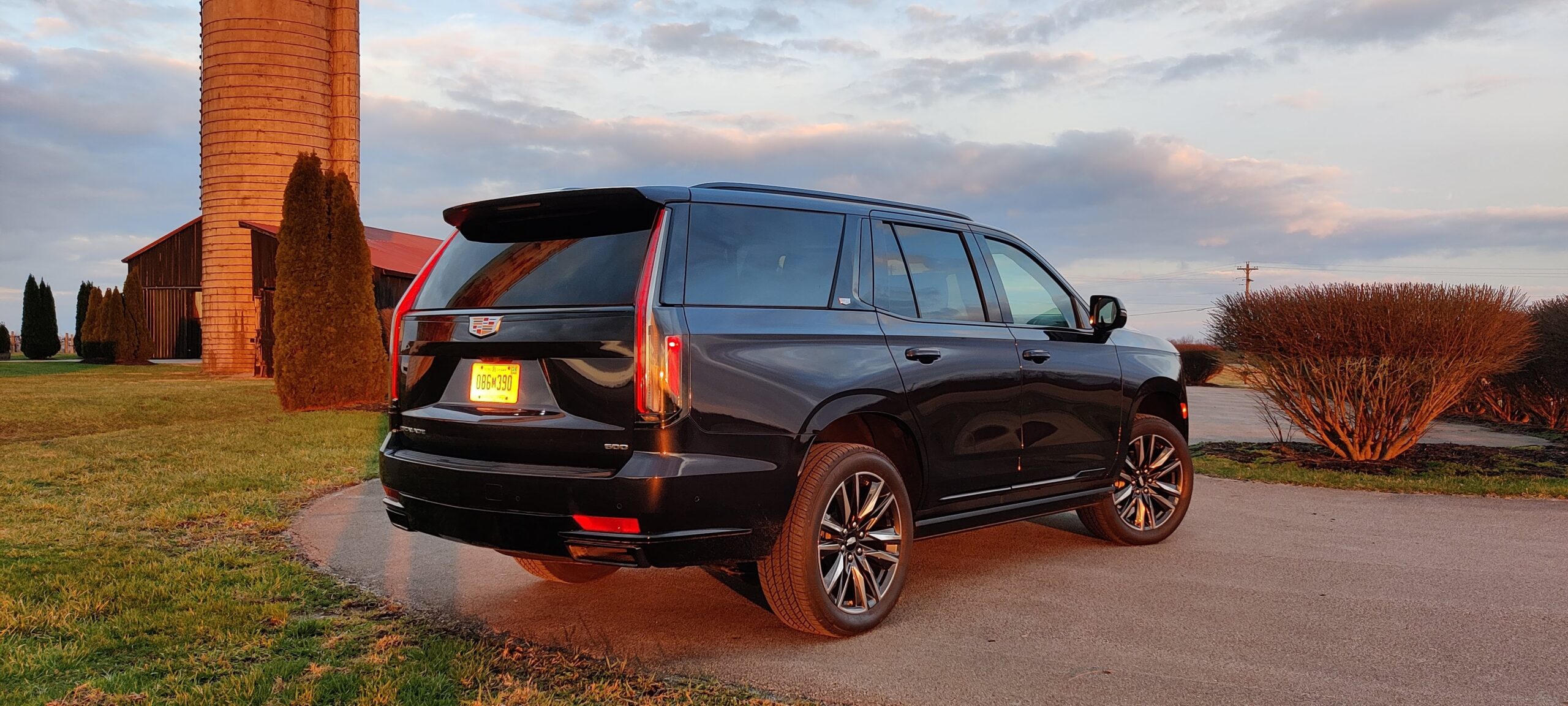 Rear Seats and Cargo
Stepping into the rear seats, the Lexus LX 600 Ultra Luxury takes center stage with executive rear seating, a feature not available in the Escalade. The LX's executive rear seating offers power recliners, a storage console, and a tablet for controlling infotainment and audio systems.
Both models offer rear entertainment screens, with the Lexus including a rear wireless phone charging pad. The LX goes the extra mile with rear sunshades and rear seats that are not only heated but also ventilated, and they even offer massage functions.
However, the LX sacrifices legroom for its opulent rear seating, falling significantly short of the Escalade in this regard.
Lexus LX 600: 33.8 inches of legroom | 38.9 inches of headroom
Cadillac Escalade: 41.7 inches of legroom | 38.9 inches of headroom
The Ultra Luxury LX completely omits the third row, giving the Escalade an edge in this category. Moving to cargo, both models feature hands-free power tailgates, but only the Escalade allows for independent opening of the rear glass. The Escalade's longer dimensions result in significantly larger maximum cargo capacity.
Lexus LX 600: Behind 2nd Row: 46 cu.ft | Max: 71 cu.ft
Cadillac Escalade: 3rd row: 25.5 cu.ft / Behind 2nd row: 63.0 cu.ft / Max: 109.1 cu.ft
Now, let's shift our focus to their on-road performance.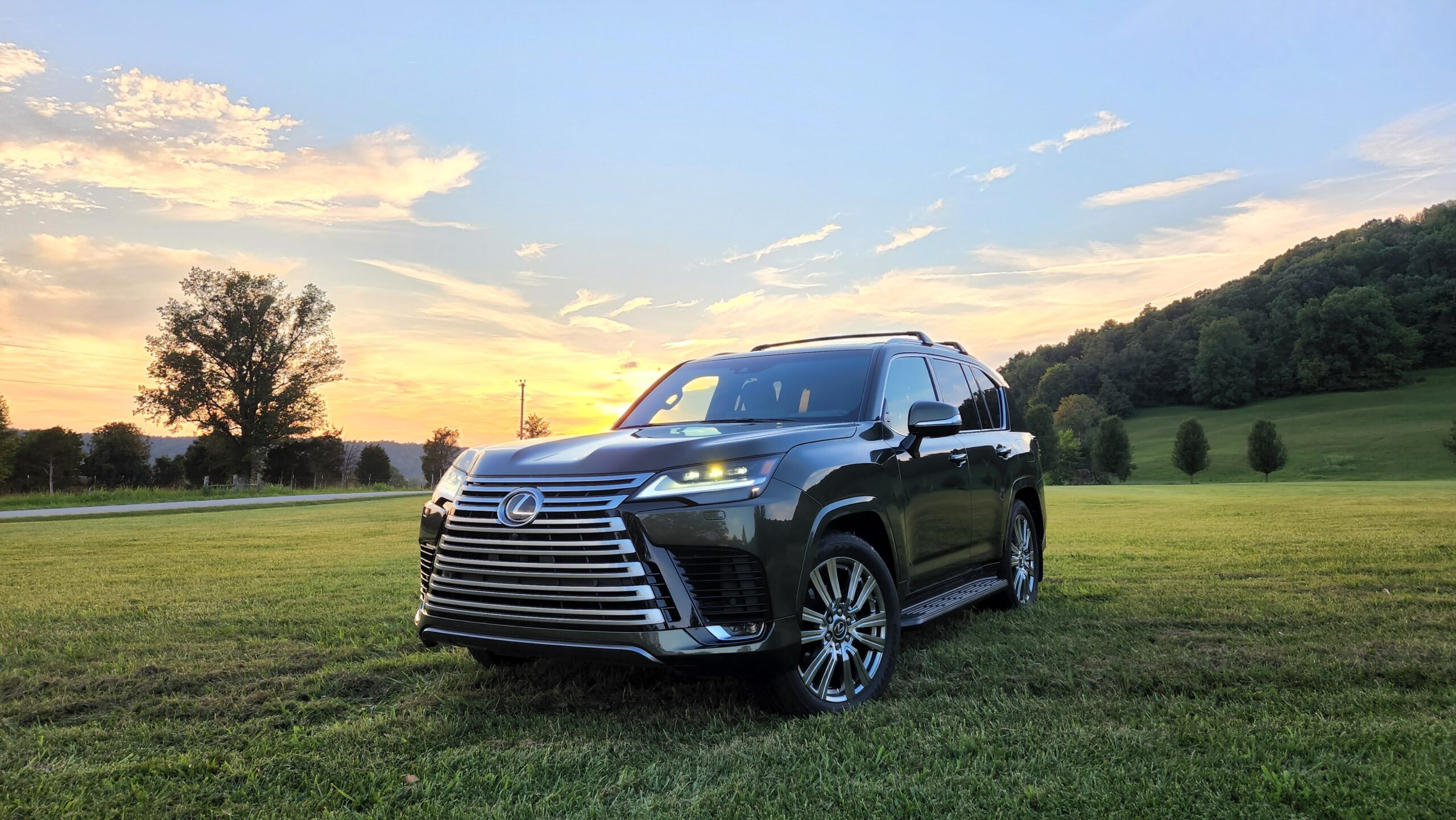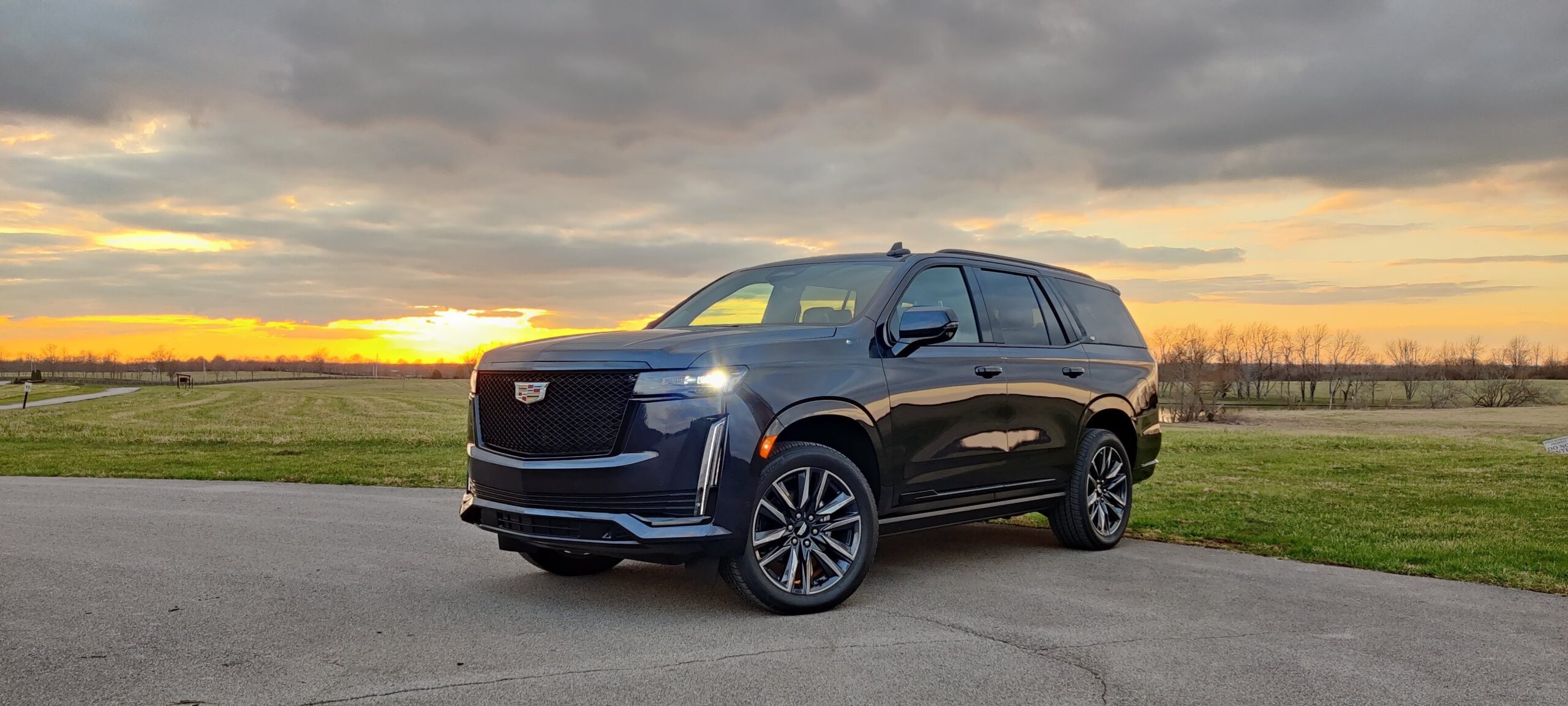 Powertrain
Under the hood, the Cadillac Escalade houses a traditional 6.2L V-8 engine generating 420 hp, while the Lexus LX 600 adopts a 3.5L Twin-Turbo V-6 with 409 hp. Although the Lexus trails slightly in horsepower and torque, the difference is negligible, with acceleration proving nearly identical.
Lexus LX 600: 3.5L Twin-turbo V-6: 409 hp | 479 lb.ft of torque | 0-60: 6.1s
Cadillac Escalade: 6.2L V-8: 420 hp and 460 lb.ft | 0-60: 6.1s
Both SUVs feature responsive 10-speed automatic transmissions and robust 4WD systems, with the LX showcasing superior off-road capabilities.
Driving Impressions and fuel economy
When it comes to street ride quality, the Escalade holds the upper hand with its magnetic ride control system and air suspension, delivering an isolating and controlled experience. In contrast, the LX's adaptive dampers result in a more truck-like ride, transmitting more road imperfections into the cabin.
In terms of cabin noise, the Escalade exhibits a quieter demeanor, boasting a slightly lower decibel reading during testing.
Lexus LX 600: 56.2 dB @ 55 MPH
Cadillac Escalade: 55.4 dB @ 55 MPH
Lastly, fuel economy favors the LX due to its smaller engine, offering a 17% improvement over the Escalade.
Lexus LX 600 3.5TT 4×4: 17/22/19 MPG
Cadillac Escalade 6.2L 4×4: 14/18/16 MPG
Escalade remains the king!
While the objective winner in this comparison is the Cadillac Escalade, the ultimate victor depends on your preferences.
Cadillac Escalade Offers:
More premium cabin finishes
An exceptional AKG audio system
Third-row seats, if equipped
Lexus LX 600 Excels With:
Genuine off-road capabilities
Executive seating and advanced rear-seat features
Reassuring Lexus reliability
Now, we want to hear your thoughts. Head to the comment section and let us know which one you'd choose!
Be sure to watch the video below for a visual comparison of the design breakdown. Thank you for joining us for another Car Confections comparison!