While the F-150 gets all the fanfare for being the best-selling pickup in the U.S, what a lot of people don't realize is that when you combine sales of the Chevy Silverado and GMC Sierra, General Motors sells MORE trucks than the blue oval some years. But, if you're one of the approximately 800,000 people that know you want a new GM truck this year, which one is the best choice for YOU? We will be putting the 2024 Chevy Silverado vs. GMC Sierra in this comparison!
Pricing and Equipment
Now before we really start to dig in, let's talk pricing and equipment levels. We picked the highest trim levels of each, which gives you all the capability and luxury each has to offer. 
Starting with the Silverado 1500, we have the High Country, which already comes loaded with features, but we've optioned for even more. After checking off about $5,000 of boxes, we come to a total of $73,225.
MSRP (High Country 4WD): $66,200 | Options: $5,130 | Destination: $1,895 | Total: $73,225
Expensive, yes, but the Sierra Denali Ultimate goes quite a bit further. It starts out far more expensive than the Silverado High Country but includes everything. The total ends up just under $85,000.
MSRP (Denali Ultimate 4×4): $82,100 | Options: $495 | Destination: $1,895 | Total: $84,490
Now this is going to be an objective comparison. We have done our best to weigh the points awarded throughout in major and minor categories, but at the end of the comparison we will sum up with our thoughts and revisit the large price difference for a value assessment. With that being said, let's get into this comparison!
Exterior Design
Alright, so let get going here first with the exterior designs and features. Especially after the refresh last year, both trucks have flashy designs that certainly scream you're probably the boss at the construction site. The High Country has opted for a full chrome finish on our tester, meanwhile, the GMC smoked out the Vader chrome for a unique premium look. While we will not be scoring subjectively based on design, keep in mind Silverado does have a new Midnight package for High Country this year if you prefer the darker look.
For lighting, both have advanced LED headlights and foglamps. They also both have entry and exit animations, but only the Silverado has the dynamic turn signal.
At the side, both are only offered in the crew cab configuration for the top trim levels and we have the short 5.5-foot beds as equipped. Additionally, they both feature flashy 22-inch chrome alloy wheels with elaborate designs.
Rear end wise, both feature signature truck design elements including branding in the tailgate, exposed trapezoidal exhaust outlets, and slender LED taillights flanking the sides. Each taillight has its own distinctive look, but only the GMC includes LED reverse lighting.
Additional Features
Now it's time to get some work done. Both of these models are quite innovative in this tailgate department featuring the same Multi-Pro (or should we say Multi-Flex) tailgate solution. This allows for 6 different modes, to make the most of any situation.
There are some differences, though. The Sierra has a backwards moving power running board for side access, whereas that requires an additional $1,100 option on the Silverado.
Plus, it also has a neat feature of a Kicker audio system built into the tailgate to make tailgating a blast, which is not available on Silverado.
Moving past that, both models have fully loaded mirrors with heating, power-folding, auto-diming and blind spot monitoring.
And as far as all the other safety features, both trucks have all four active features as standard in these high trim levels for 2024. Both also have the option of getting GM's Supercruise system for an additional charge.
GMC: Warranty: Basic Warranty: 3yr/36k mi | Powertrain: 5yr/60k mi | Compl. 1 Service Visit
Chevy: Warranty: Basic Warranty: 3yr/36k mi | Powertrain: 5yr/60k mi | Compl. 1 Service Visit
Finally, towing is still important even for luxury trucks, and both can handle as much as 12,900 lbs. 
Chevy (Diesel 4×4): 12,900 lbs
GMC (Diesel 4×4): 12,900 lbs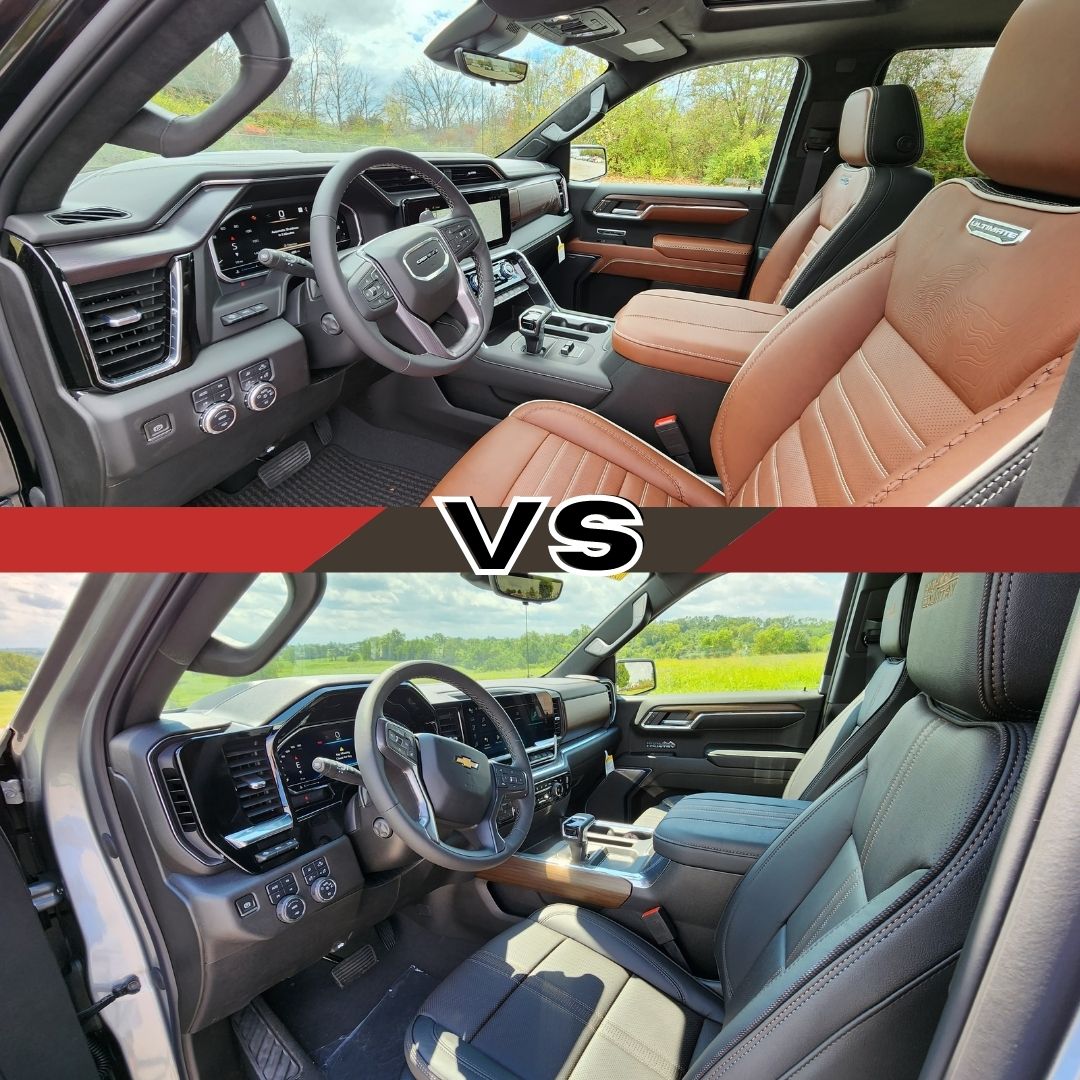 Interior Design
Now, walking up the vehicles, both have smart entry systems with integrated remote start, and they have running boards to make getting in quite easy.
But open up those doors and take in the Mercedes-like interiors. They are elaborately appointed spaces from top to bottom. In the Chevy, we have a more modest Jet Black real leather with brown stitching, and in the Denali GMC, we have a fancy Alpine Umber leather with piping and badging. Both seats are heated and ventilated, however the Sierra has more ways of adjustment and massaging abilities.
But let's get inside and evaluate the overall materials. While both trucks feature incredibly nice cabins, it's the GMC who goes a step above. Both models have open pore wood trim, leather across the dash and even metal speaker grilles, but only the GMC gets special laser-engravings, fancier leather, and a suede headliner making it feel like the Escalade of trucks.
Now after startup, both trucks have the same 12.3-inch digital gauge cluster with slightly different graphics and both also have impressive 15-inch head up displays. 
Of course, it pretty much goes without saying that both steering wheels are heated, leather wrapped, and power adjusting. It's worth noting, neither have power pedals.
Storage and Technology
Now for interior storage, both are enormous and pretty much identical to each other. They have wireless phone chargers, hidden storage compartments and big cupholders.
Moving to the shifters, both are an electronic variety, and when in reverse both give you 360-degree camera systems with high resolution cameras and multi-views. 
Now that brings us to the audio systems, where both have Bose systems. The Denali Ultimate does take it a step up over the Silverado with 12 speakers instead of 7 in the Chevy.
Silverado: 7-speaker Bose Premium audio system
GMC: 12-speaker Bose Premium sound system
And next let's go ahead and check out the screens. Ever since their refresh last year, both the Silverado and Sierra are rocking an impressive 13.4-inch infotainment display. Software wise, they both have wireless AA and ACP, and built-in Google navigation.
Finally, ending the front areas, the luxury trucks have rear camera mirrors and standard size sunroofs.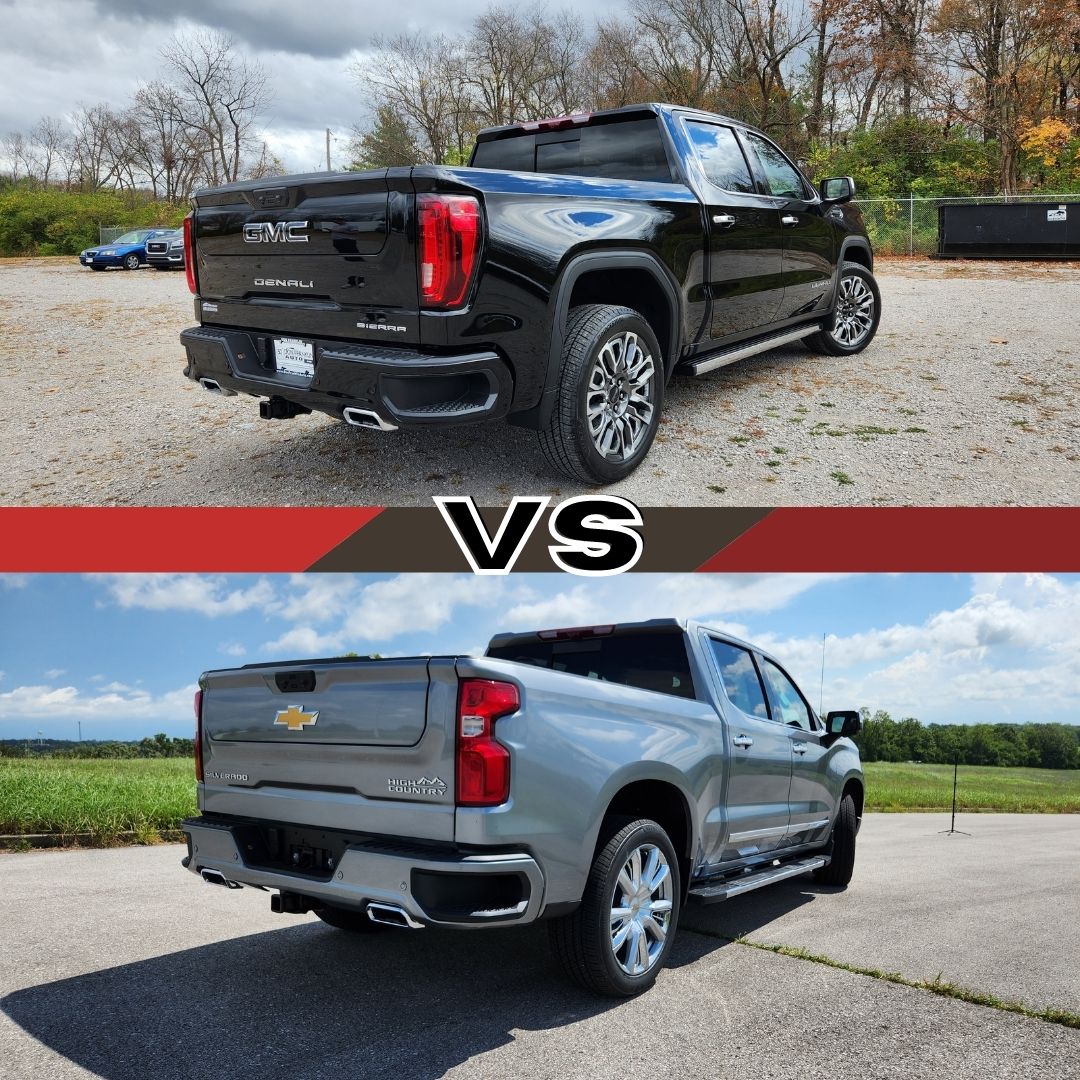 Rear Seats and Cargo
But the luxury does not stop in the front, especially with these crew cab examples. They both offer cavernous accommodations, with limo-like head and legroom dimensions that are identical.
Silverado: Legroom: 43.4-inches | Headroom: 40.1 inches
GMC: Legroom: 43.4-inches | Headroom: 40.1 inches 
Materials from the front follow through to the back, and they are loaded with amenities such as rear vents, USB ports and a household power outlet. Both of their seats are heated and feature cool cubbies in the seatbacks.
So, this is still a close race, so now let's see who can pull off the win out on the streets!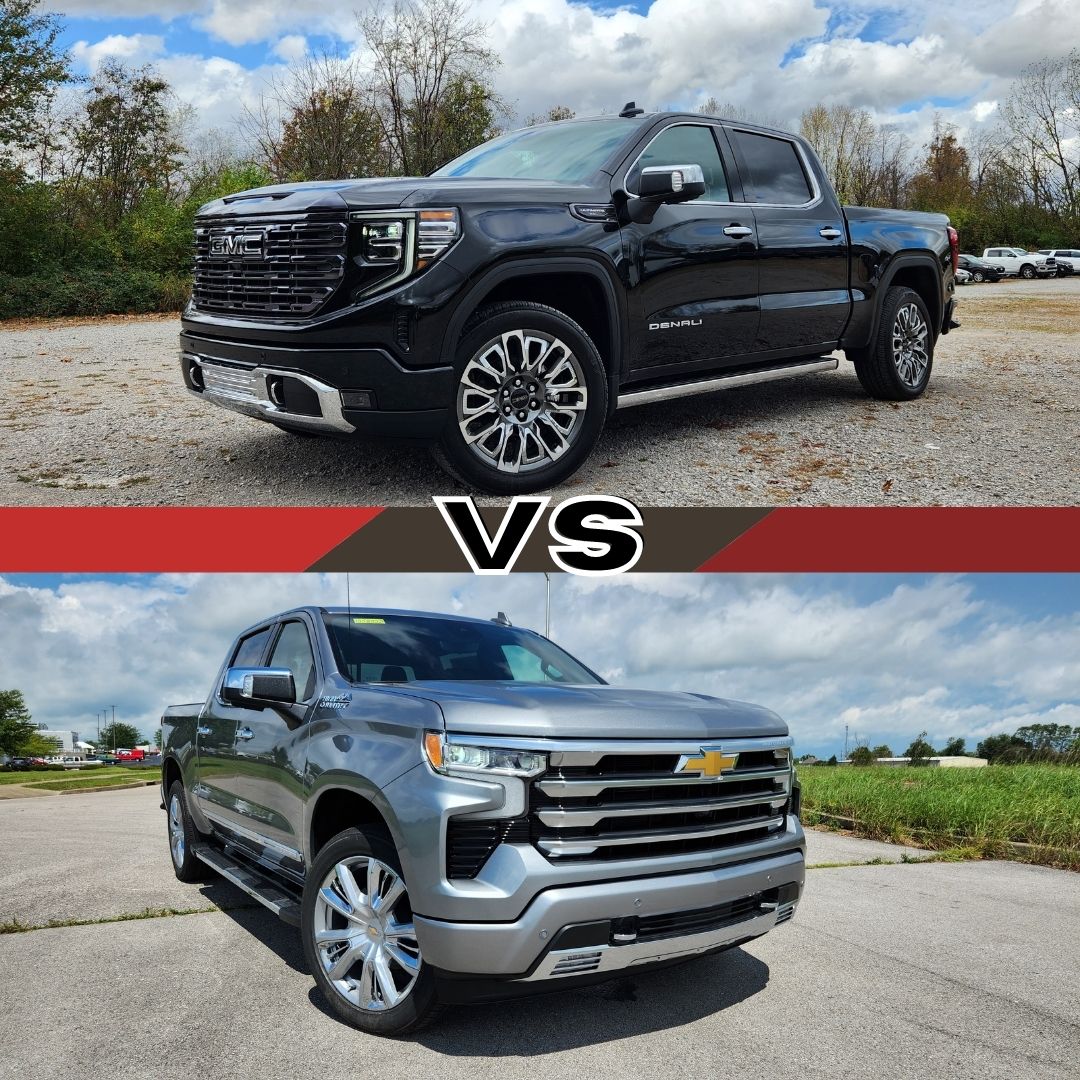 Powertrain
Now these two have been very similar throughout this video, and under the hood is where they start to differ. Our Sierra has the Turbo Diesel replacing the V8 which makes 22% more torque than the Silverado's 5.3L V8. That being said, the Silverado has 16% more horsepower as equipped.
Sierra: 3.0L Turbo-Diesel: 305 hp | 495 lb.ft
Silverado: 5.3L V-8: 355 hp | 383 lb.ft
As far as the transmissions are concerned, both are the same well-calibrated 10 speed automatic with 4WD.
Driving Impressions and fuel economy
But perhaps more important than the power, is ride quality. Both trucks ride fantastic since they have adaptive dampers as equipped. This does a great job of smoothing out most road imperfections.
And as far as sound isolation, we tested both of them on Kentucky roads at 55 MPH, and surprisingly the Silverado High Country came out ahead in this regard, at 53 dB vs 55 dB.
Chevy: 53.8 dB @ 55 MPH
GMC: 55.6 dB @ 55 MPH
Now for fuel economy, as you would expect, the V8 in the Silverado is quite a bit thirstier than the Sierra's Diesel coming in at 17 combined as compared to 24 combined.
Silverado 5.3L V8 4×4: 15/19/17 MPG
Sierra Denali Diesel 4×4: 23/27/24 MPG
Does nicer really equal better?
There you have it; the objective winner is the GMC Sierra, but who is "your" winner? Well, the Sierra should be your winner if you…
Sierra:
The MOST luxury and having the most possible features like massaging seats and nicer materials
Prefer the darker look of the Denali Ultimate
And the Silverado should be your winner if you value…
Silverado:
More bang for your buck (most of the features at $11k less)
Dynamic turn signals
Thanks for joining us for another Car Confections comparison! Be sure to check out the full video below for a visual comparison on YouTube!