The original Toyota Prius was the car that really put hybrids on the radar, and it's been leading the pack for the roughly 20 years since its debut. But Toyota wants to continue to innovate in this space, which is why this new All-New Toyota Prius is promising to address the most common criticisms: power, design, and even more efficiency. So, has Toyota created a Prius that everyone can be happy with? Keep reading and find out!
What's New for 2023
Completely new exterior design
Redesigned Interior with new technology and features
Even more power paired with more efficiency as well
Trim Structure
LE -> XLE -> Limited
Exterior Design
Front
The most obvious changes to this All-new Toyota Prius can be found by looking at the exterior of the vehicle. The Prius has finally been brought into the 21st century with a brand-new face. To start out, the grill has been made more modern and slimmer as compared to the old generation. Additionally, the grille offers form and function with active grille shutters that adjust as needed. The lower fascia has also been modernized and offers a sporty and aggressive look. Newly designed LED headlights will be standard on all Prius trims now, including a new design and no available fog lamps.
Side and Rear
Heading to the side of the Prius, you will find two wheel options: 17-inch alloys with aero-covers for the LE trim and 19-inch alloys for the top trims. These wheels will be hiding some new larger brakes with specs as follows:
Brakes: Front: 11.1-12.0-inch vented disk | Rear: 11.0-in solid disk
Then, heading up to the mirrors, you will find blind-spot monitoring and heating as standard. The side is the only part of the car that looks somewhat similar to the previous Prius, but even Toyota has taken measures to modernize this sleek design. The Prius measures in at 181.1-inches and features sporty gloss black accents throughout the side of the vehicle. The rear of the car has also seen a complete redesign, with a much more aggressive stance that features a lower roofline by two inches and is wider by one. The new full-length taillights are full LED and add another dimension to this handsome design. Finally, for the first time ever, Toyota has marked this All-new Toyota Prius with "bZ" branding.
Safety and Warranty
The Prius will be equipped with Toyota's long-lasting 3-year, 36,000-mile basic warranty and a 5-year, 60,000-mile powertrain warranty. Additionally Toyota will a 10-year, 150,000 mile warranty for battery components and complimentary maintenance 2-years, 24,000 miles. The Prius for 2023 will come standard with all of Toyota's SafetySense 3.0 systems, including:
Forward emergency braking with pedestrian detection, lane keeping assist, full-speed adaptive cruise control and auto high beams.
If you would like the Traffic Jam Assist feature with lane-change assist, then you will have to get your hands on the Toyota Prius Prime.
Next, we'll head to the interior, where Toyota has continued this complete redesign.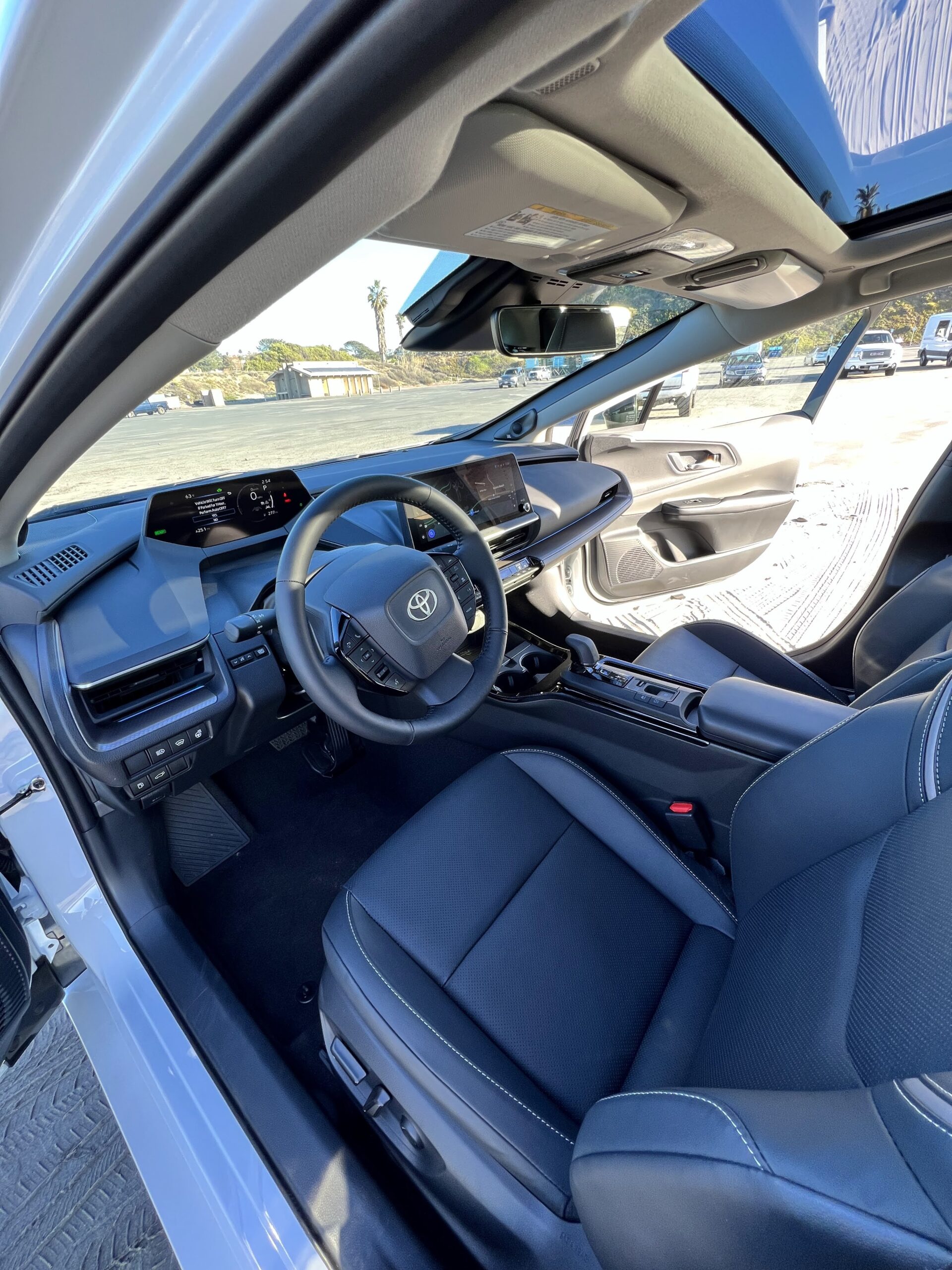 Interior Design
Materials and Basic Features
To get inside this All-new 2023 Toyota Prius, smart entry and push button start will be standard on the top two trims. The interior materials are as follows:
LE: Fabric | Black or Gray
XLE/Limited: SoftTex Leatherette| Black or gray
The seats will be 6-way manual adjusting for the LE and 8-way power on the other trims, with memory exclusively on the Limited.
Specs: Legroom: 43.2-inches | Headroom: 38.0-inches
The 2023 Prius will have an actual gauge cluster for this new generation. It will consist of a seven-inch driver display, similar to the Toyota bZ4X. Sitting in front of the gauges will be a leather wrapped steering wheel with heating on the Limited. The Prius will come with an electronic shifter, and rain-sensing wipers will be standard on the XLE and Limited.
Tech and Luxury
Technology will be plentiful within the Toyota Prius' cabin, starting out with dual-zone auto climate control. Heated seats will be on the XLE and the Limited will add Ventilation. Most Prius trims should expect to have a six-speaker sound system, while the Limited will be equipped with an 8-speaker JBL Premium Audio with Subwoofer. At the center of the Prius' cabin is an 8-inch display as standard. However, the Limited (and available on the XLE) comes equipped with a large 12.3-inch digital display with dynamic navigation. Both displays will have standard wireless CarPlay and Android Auto, a Wi-Fi hotspot, and a backup camera with front and rear parking sensors. Other standard features on the XLE and Limited trims include Qi Wireless Charging and an auto-dimming rear view mirror. A 360 camera with advanced parking, ambient lighting, and rear camera mirror are all optional on the All-new Toyota Prius. A fixed glass panoramic moonroof is standard on the Limited and optional on the XLE.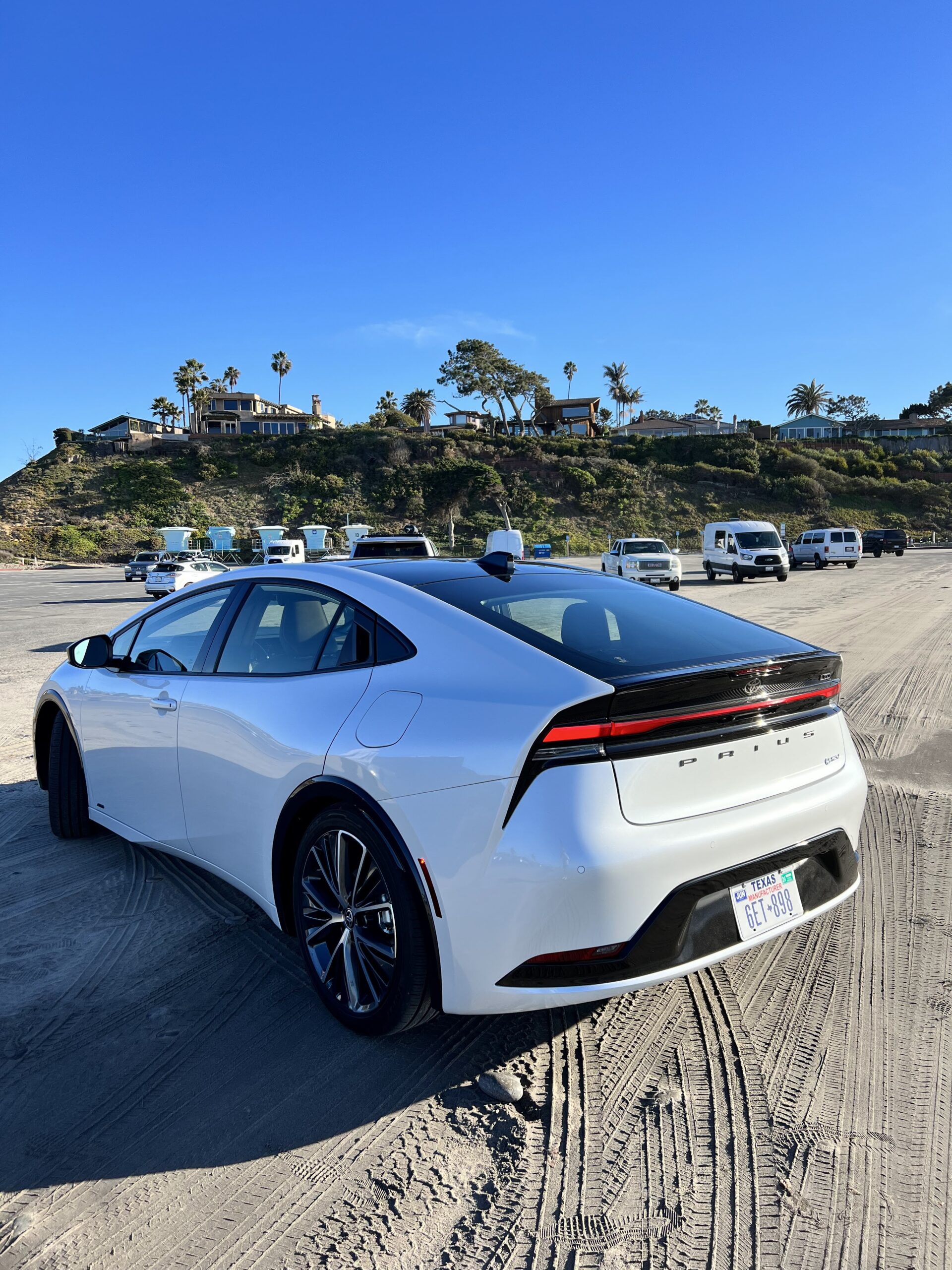 Rear Spaces
The rear seats will continue to capitalize on the Prius' design, with 34.8-inches of legroom and 36.4-inches of headroom. The lowered roof line does sacrifice about one inch of headroom, however; we don't think most passengers will notice this loss. Other rear amenities will include some USB ports and optional heated seats on the Limited trim. There is a power tailgate on the Limited trim level that opens up to 20.3 cubic feet of space, almost 7 less from the previous generation. We don't have a figure for when the rear seats are folded down, but we can assume that it would be less than the previous gen's 50 cubic feet.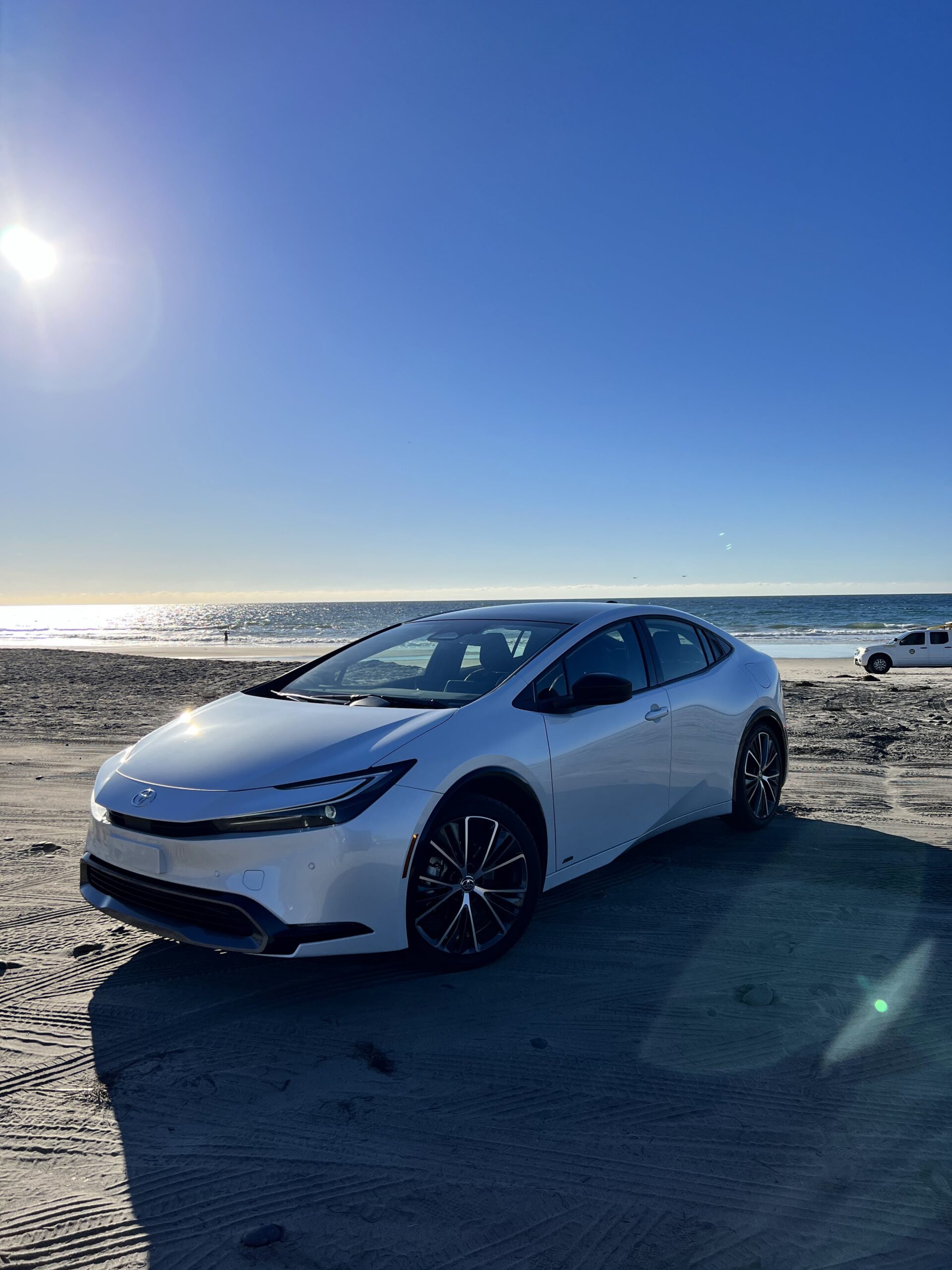 Powertrain & Driving Impressions
The Prius is faster than ever for this All-new model, with an updated powertrain that slightly differs its output depending on if FWD or AWD is chosen. The specs are as follows:
Hybrid FWD:
2.0L 4-cylinder engine + elec
194 hp
0-60 FWD: 7.2s (26% faster than last gen (9.8s)
Hybrid AWD:
2.0L 4-cylinder + elec (with a dedicated motor for the rear axle)
196 hp
0-60 AWD: 7.0s
These powertrains will be paired with a CVT transmission. The Prius will consume fuel at the following figures, making it the most efficient Prius ever:
LE FWD: 57/56/57 MPG
LE AWD: 53/54/54 MPG
XLE/Limited FWD: 52/52/52 MPG
XLE/Limited AWD: 49/50/49 MPG
Finally, behind the wheel of the Prius we tested, we were quite impressed with its sporty nature as compared to the older generation. It's no race car, but this Prius still manages to outrun the old Toyota GT 86! The more rigid platform and lower center of gravity also give the Prius a sportier feel than before. As for hybrid driving, you can choose between normal and regenerative braking modes, as well as travel in EV mode for short distances in the standard Prius. To get an in-depth perspective on our full driving impressions and more, watch our full review down below!
Pricing
The Prius should be making its way to dealers very soon, with prices very similar to the previous generation:
LE: $27,450
XLE: $30,895
Limited: $34,495
AWD can be added to any trim for $1,400.
Overall, this All-new Toyota Prius is so much easier on the eyes than before and isn't just a pretty face when it comes to performance and efficiency. A vehicle that has long been a joke throughout the automotive world now has the potential to become "cool," which is a day I never thought I'd live to see. Compared to the competition, the Toyota Prius sure seems like a winner to us!
What do you think? Comment your thoughts down below!