Toyota is a brand that has an extremely extensive lineup, and that's especially true when we are talking about hybrids. The Corolla hybrid has recently been refreshed and added a lot of new trims, and the Toyota Prius has certainly transformed for this new generation! We had both of these models to test out for a week and it made us think, with the size overlap, is the Corolla Hybrid a more affordable alternative? Let's see who pulls out among the 2023 Toyota Prius vs. Toyota Corolla Hybrid!
Pricing and Equipment
Like always, let's quickly talk about how the pricing stacks up for these affordable sedans. 
Starting with the new Prius, we have the top spec model called the Limited. We have no additional options, so after destination, the total price is $35,560.
Prius (Limited FWD): $34,495 | Options: +$0 | Destination: $1,095 | Total: $35,560
Keeping things equivalent, we also have the loaded version of the Corolla; the new Hybrid XLE. The price difference will be about $5,000 from the loaded Prius, at $29,291 all in.
Corolla Hybrid (XLE FWD): $26,600 | Options: +$1,536 | Destination: $1,095 | Total: $29,291
Now this is going to be an objective comparison. We have done our best to weigh the points awarded throughout in major and minor categories, but at the end of the comparison we will sum up with our thoughts and revisit the price difference for a value assessment. With that being said, let's get into this comparison!
Exterior Design
If you haven't been following the auto news closely, you might have missed that the Prius is now sexy, thanks to a complete 180 that it has made for this new generation. What was previously a shape that only a mother could love is now very sleek, especially when compared directly to the traditional and subdued Corolla. We're not going to grade subjective matters such as style preferences but the both of them have full LED lighting, with an extra LED accent at the bottom in the Prius.
Continuing to the sides, the Prius looks longer thanks to its extremely aerodynamic shaped exterior, even though it's actually a tiny bit shorter than the Corolla overall.  
Length: 182.3-inches (Corolla) | 181.1-inches (Prius)
The bigger difference is the wheels sizing. The XLE Corolla still only comes with 16-inch alloy wheels, while the Prius has 19-inch alloys.
Finally, in the back, we have full LED taillights on the Prius and only partial accents on the Corolla. That is the only difference, that is besides for the obvious big design differences between a hatch and a sedan. This will be an important difference as we head to the interiors later in this comparison.
Additional Features
Now checking out a few other odd and end features, both mirrors are heated and have blind spot monitoring built in, and both have Toyota's entire safety suite included as standard equipment. 
Warranties are obviously the same since they're from the same brand, but the interiors are definitely not the same, so let's get into that.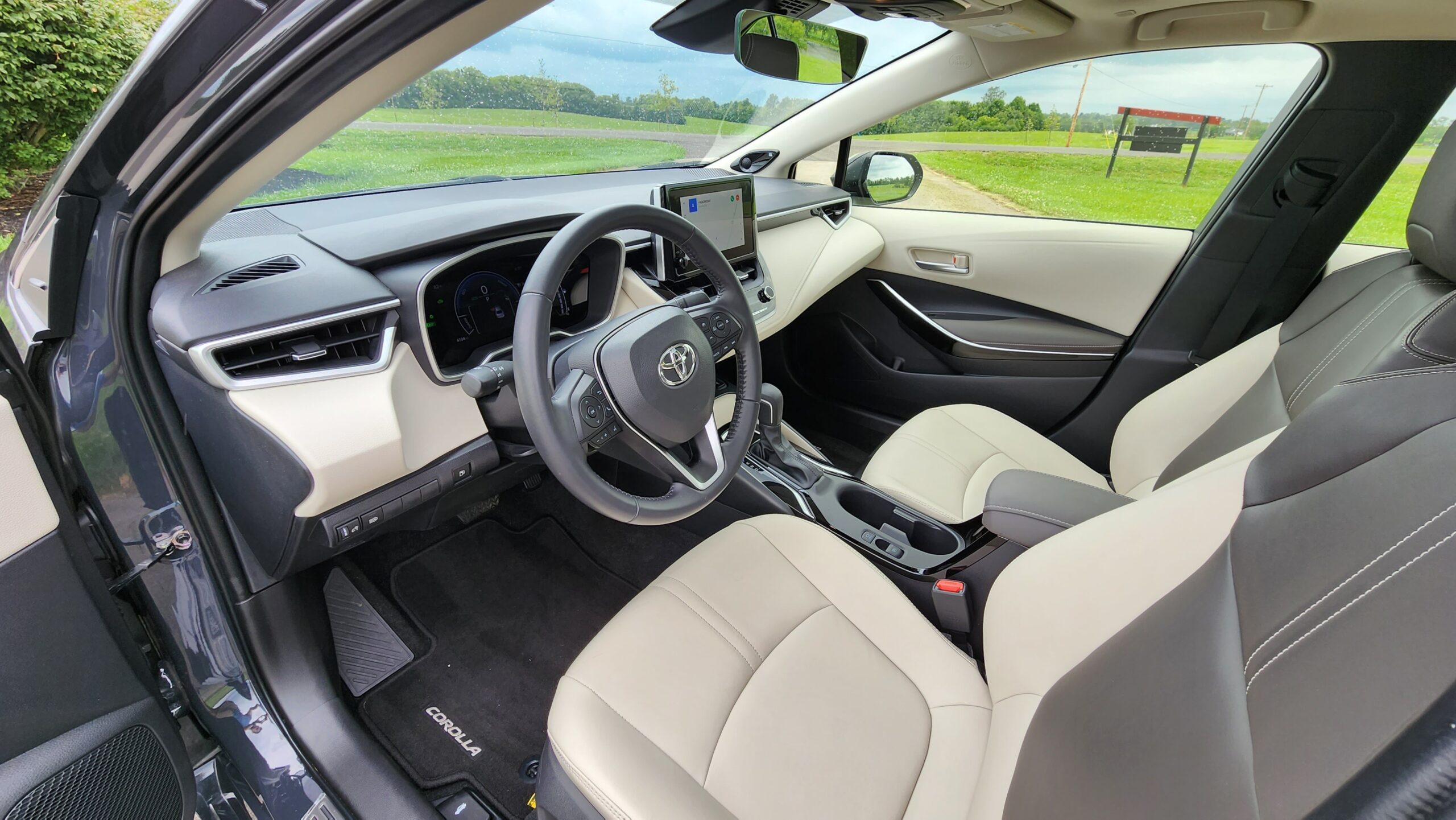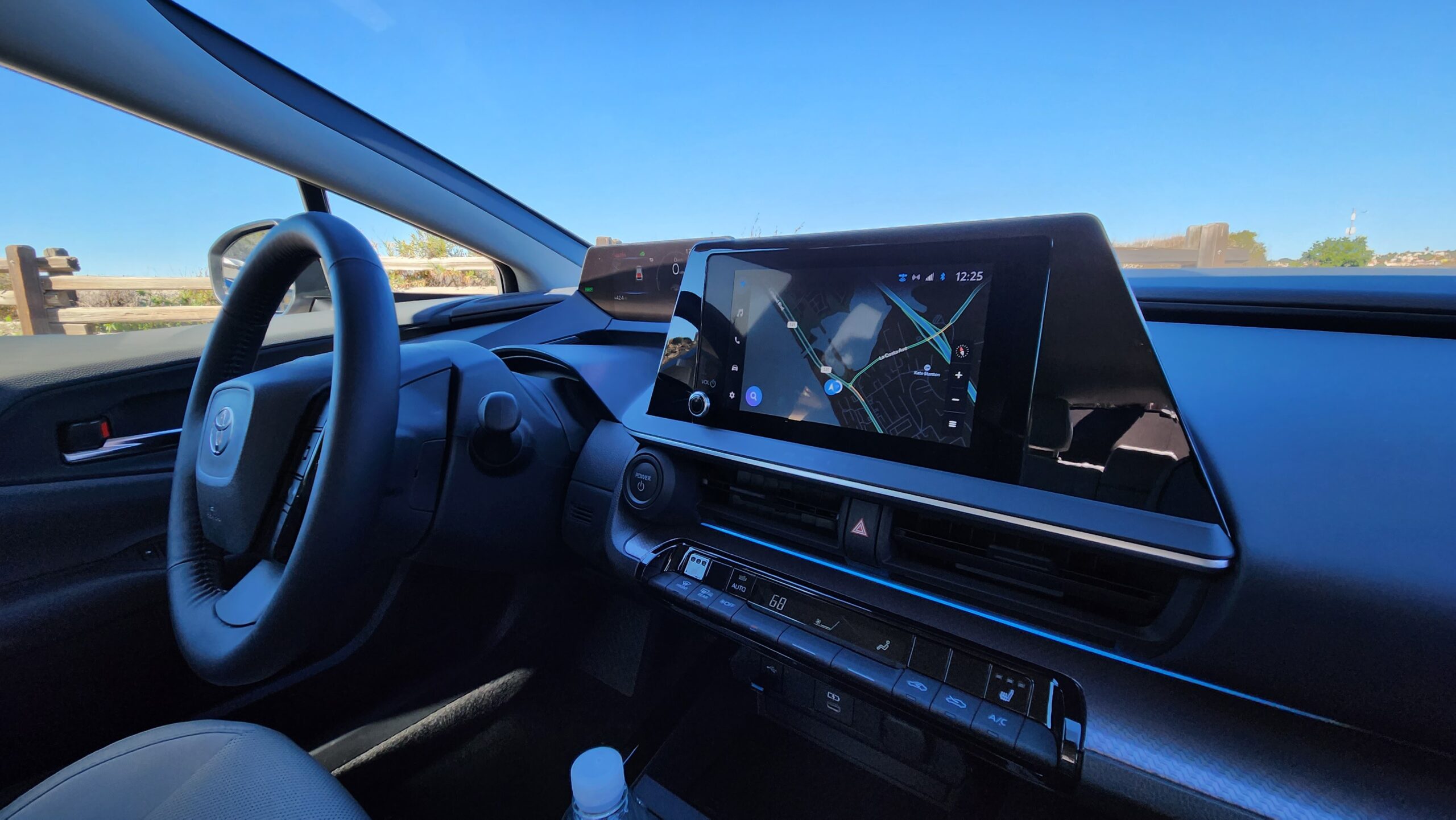 Interior Design
So, approaching the Toyota's, you will find smart entry systems and the same key fob for both models. But like I said, the interiors themselves will not look alike. The Prius has a design heavily inspired by Toyota's full-electric bZ4X and the Corolla has a more conventional look. 
Starting by talking about the seats themselves, both have Sof-Tex faux leather with 8-way power adjustment and heating. The Prius also has ventilation which is not offered on the Corolla.
Low end Corollas have pretty basic cabins, but when it comes to this top trim model, it matches the Prius pretty well. Both use soft-touch plastic, leatherette and a few piano black elements to class up the cabins.
It's after startup when you look at the gauges that major differences start to appear. The Prius is using a strange display that is trying to combine a gauge cluster and a head up display. The problem is that it's not great for either since its positioning is largely blocked by the steering wheel. That's not just me, but also with Mason, Josh and many other auto journalists preferred driving positions. The Corolla traditional setup wins here.
Coming back to the steering wheels, both are leather wrapped and manual adjusting, even if they look different. Only the Prius includes heating.
Storage and Technology
But moving on to the important aspect of interior storage, the Prius packages things more efficiently. The center console has the advantage over the Corolla, as well as the slot-style wireless phone charging pad and front storage bin which has a secret hidden lower layer.
Taking a look at the shifters next, again we have the conflict between traditional and new school. In this case old-school beats the fiddly, always-bump-to-the-left, electronic shifter, and once in reverse both have regular backup cameras. A 360 option is offered on the Prius if you add an extra package. 
For the climate controls, we have a single zone automatic setup on both, and beyond that, volume knobs for the audio systems. Let's take a sample.
Prius: 8-speaker JBL Premium audio
Corolla: 9-speaker JBL Premium audio
As you might expect from the same brand audio systems, they sound pretty much identical.
Everyone wants high-tech displays in their new cars these days, and while the software and features are identical, the Prius does give you more sheer size, at 12.3-inches vs. 8-inches.
Both have standard wireless Apple CarPlay and Android Auto, and both have HomeLink remotes despite the Corolla's mirror not being auto-dimming.
The last major difference in the front of the cabins the roofs. The Prius has a panoramic setup vs a traditional size in the Corolla, however, it is fixed glass, so if you like to open it up, the Corolla is actually going to be the better choice.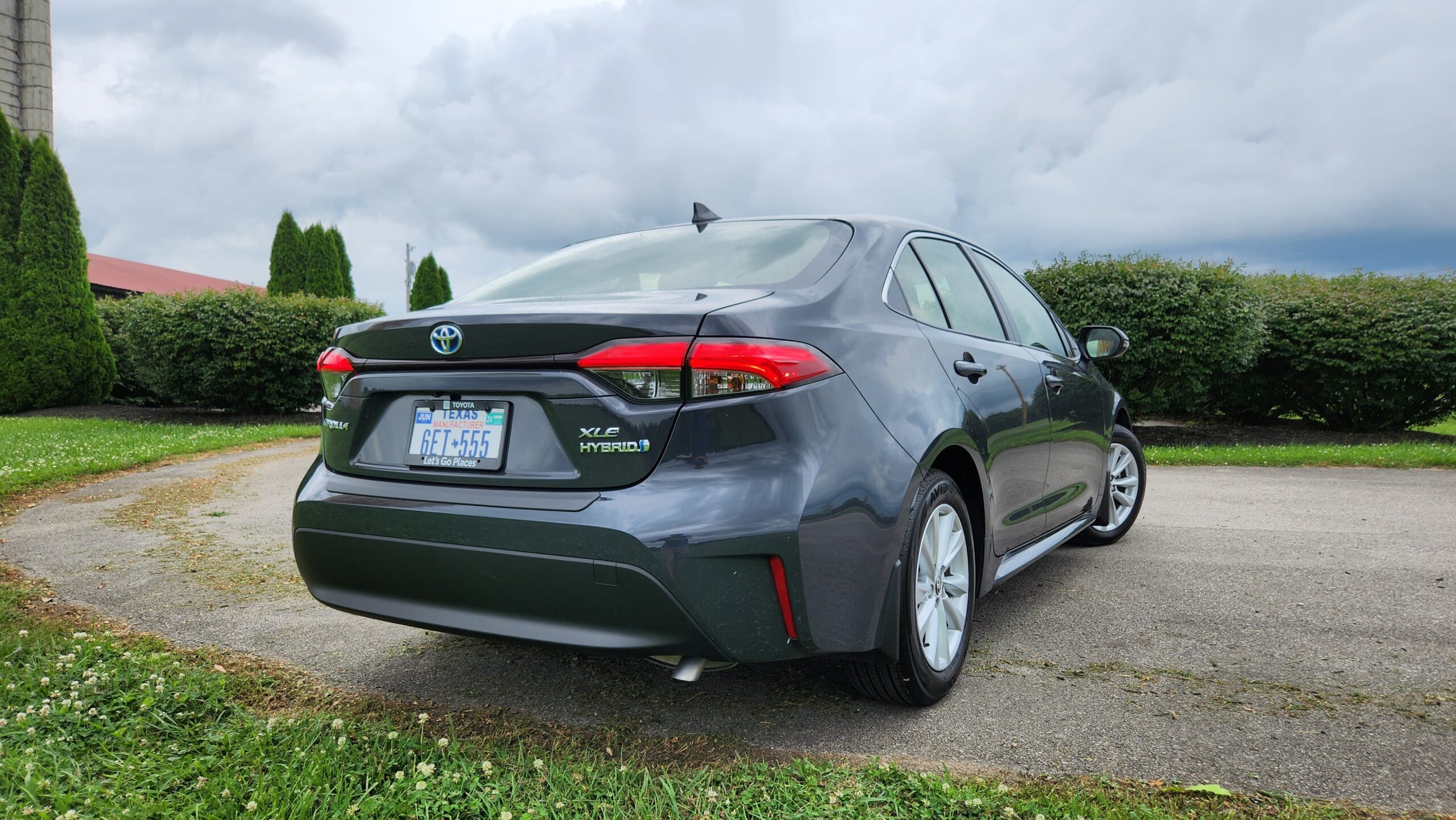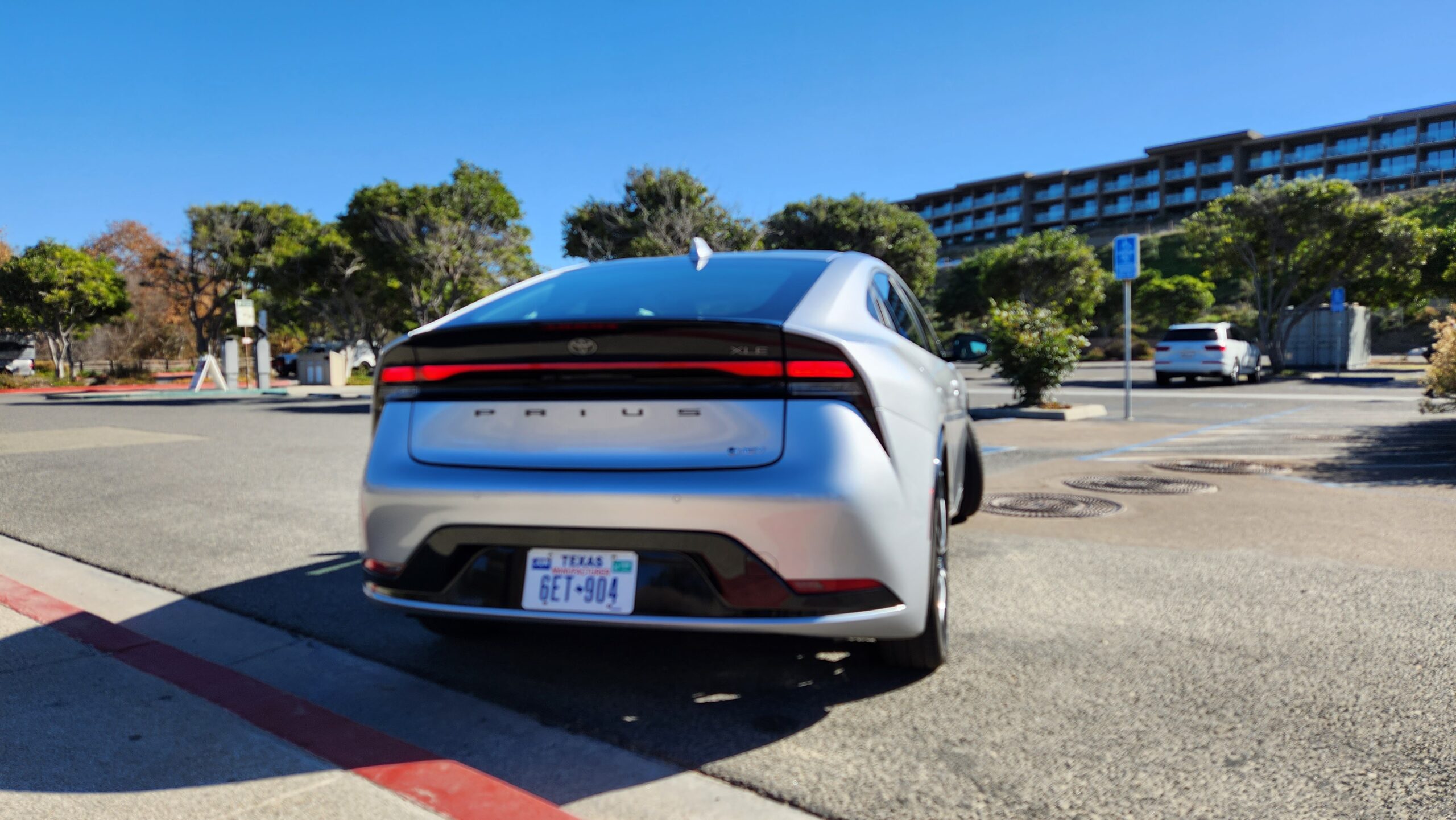 Rear Seats and Cargo
Now heading around to the rear, the space figures confirm just how similar these two are in reality. Both are rocking identical 34.8-inch measurements for legroom, and headroom measurements are only 1.9% apart. Sitting in the back, both of them will feel nice and spacious for most adults, although the Prius might cramp really tall adult's headroom a bit.
Prius: 34.8-inches of legroom | 36.4 inches of headroom
Corolla: Legroom: 34.8-inches | 37.1 inches of headroom 
As far as the features back here, neither have vents but both have two USB-C ports for charging. We have fold down arm rests and mostly hard touch door trims with bottle storage at the bottom. 
But now we get to the fun part: the trunk vs hatch battle. Hatchbacks always provide more utility, and this is no exception with 43% more cargo space. And that's with the seats upright, so it would be even more in the Prius with the seats folded down.
Prius: 20.3 cu.ft. (there is no total number)
Corolla: 13.1 cu.ft.
Alright, we're done with the interiors now, which means it's time to take this fight to the streets!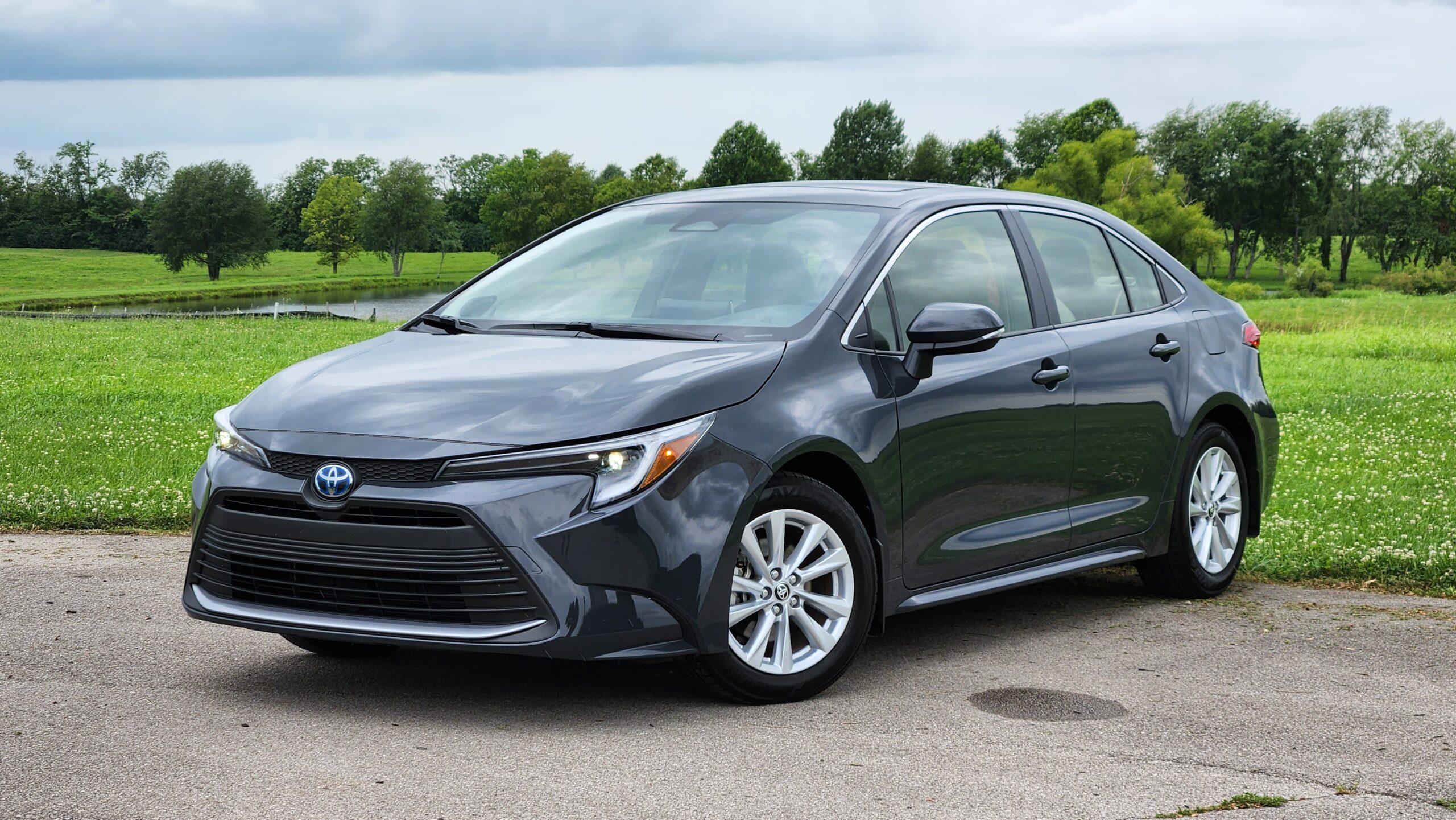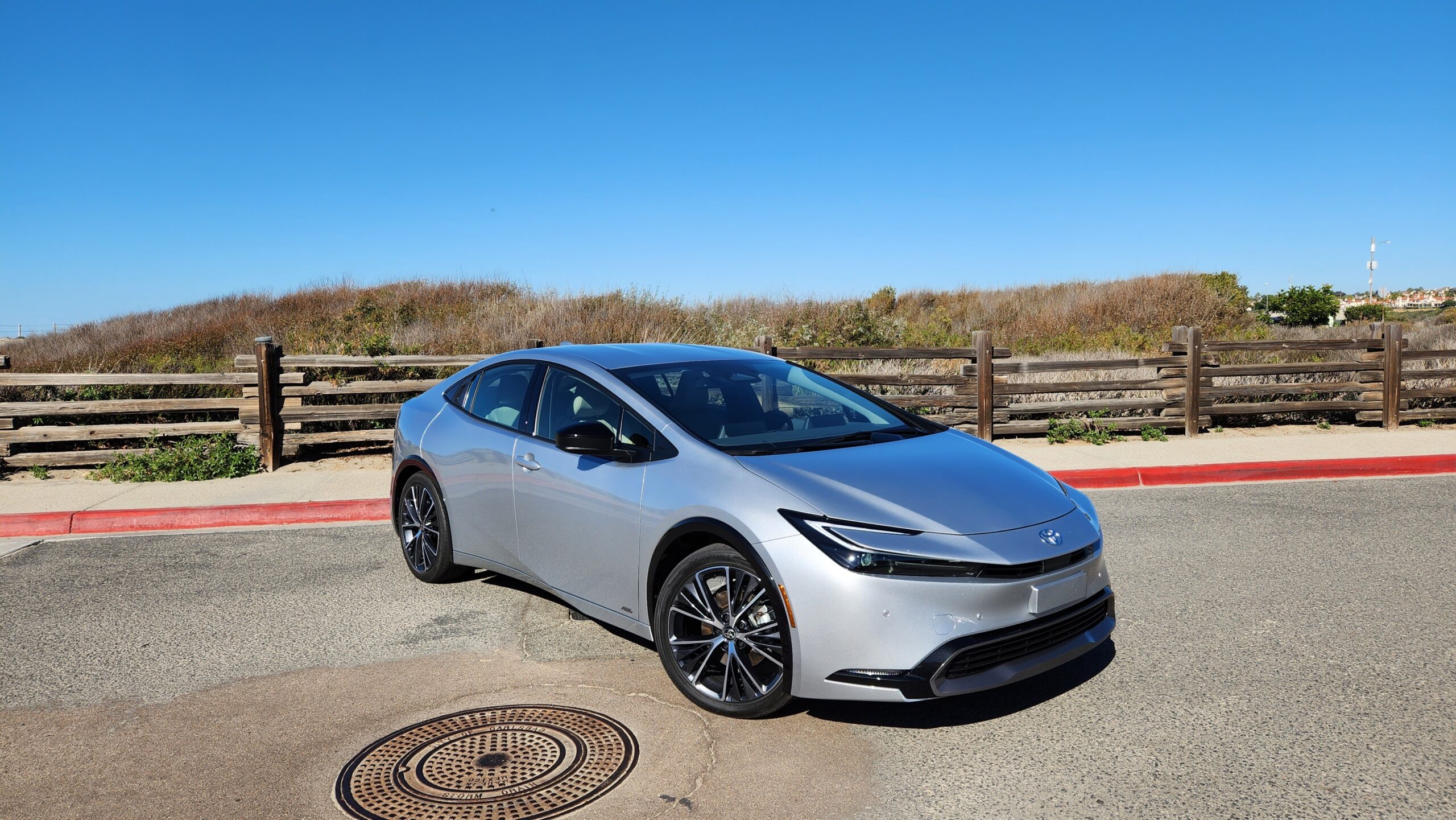 Powertrain
Now, you probably know by this point in the comparison that both of these models are hybrids but they are not the using the same kind of hybrid setup. The new Prius has the latest 5th gen hybrid system with a larger 2.0L 4-cylinder engine and electric motor, so it makes 194 hp compared to 134 hp in the Corolla with a 1.8L. Predictably, that means the Prius will accelerate quite a bit faster.
Prius: 2.0L I-4 + Electric: 194 hp
Corolla: 1.8L I-4 + Electric: 134 hp
As we accelerated in both of them, you probably noticed they have eCVT's. That's not surprising because that's how most Toyota hybrid systems are set up. 
Driving Impressions and fuel economy
Both of them have a somewhat strained kind of sound to them as they get up to speed, but once they settle in at highway speeds, they quiet down. How quiet you may ask? At 55 MPH the Corolla registers a little over 57 dB and the Prius a little over 55 dB.
Corolla: 57.1 dB @ 55 MPH
Prius: 55.1 dB @ 55 MPH
Now as far as other driving characteristics, the Prius has really elevated its sportiness for the new generation. While not a sports car, it feels pretty buttoned down and the steering is quick and responsive.
Lastly, let's talk fuel economy. Even though Prius has the legendary reputation of being the most efficient vehicle out there, it actually beats the Corolla Hybrid by just 3.9%, which is not enough to score a point. 
Prius FWD: 52/52/52 MPG
Corolla FWD: 53/46/50 MPG
The looker takes it all!
So, there you have it; in the end it was a pretty tight race, but the Prius pulls ahead! But let's figure out who "your" winner should be. Well, the Corolla should be your winner if you…
Corolla: 
Prefer the traditional sedan design and interior layout
More affordable price
And the Prius should be your winner if you value…
Prius: 
Sexy new design
Faster 0-60 with better handling
The maximum best fuel economy
Anyway, thanks for joining us for another Car Confections Comparison, and be sure to watch the video below and let us know which one you'd pick. Anyways, we will catch you next time as we sample the latest automotive delicacies!