What's going on YouTube! Back when luxury crossovers were barely more than a novel idea, the Lexus RX and BMW X5 were already fighting it out. Now today, these are two of the best-selling luxury vehicles on the market, and they continue to fight for the hearts of luxury buyers all over. So, with a brand-new RX on the market and a heavily updated X5 just launching as well, who will when you put 2024 BMW X5 vs. 2024 Lexus RX? Let's go ahead and find out!
Pricing and Equipment
Now even though these two are sized very similarly, the pricing structures are very different, so let's start with that quickly.
Beginning with refreshed BMW X5, we have the xDrive40i model, which is the mainstream version most people pick. As typical for this kind of vehicle, we have a lot of options to add, $9,930 to be exact. That takes us to a total price of $78,425.
MSRP (X5 xDrive40i): $67,500 | Options: $9,930 | Destination: $995 | Total: $78,425
Moving to the new RX, it is priced in a much more affordable way than its German rival. For the about the same price as the X5, we can choose the fully loaded RX 500h and add basically all the features as well. After we do that, the total price is pretty similar at just under $73 grand. 
MSRP (RX 500h FSP AWD): $62,450 | Options: $9,175 | Destination: $1,350 | Total: $72,975
Now this is going to be an objective comparison. We have done our best to weigh the points awarded throughout in major and minor categories, but at the end of the comparison we will sum up with our thoughts and compensate for the price discrepancy. With that being said, let's get into the meat and potatoes!
Exterior Design
Now, these two have been around since the late 90's but it's safe to say that the designs have changed a lot since then. While the X5 can be made to look more aggressive, as equipped today it looks a lot calmer and reserved vs. the Lexus. The RX has aggression dialed up to 10 with a large black mesh spindle grille and unique copper crest color option. Off to the sides of the faces, we have upgraded full-LED projector headlights on both with cornering illumination. Only the Lexus has LED fog lamps below and only the BMW has premium fading turn signals.
Despite the FWD and RWD platforms, overall side proportions and design are similar. The RX is a couple inches shorter, and both of them have 21-inch alloy wheels. 
Length: 194.2 in (X5) | 192.5-in (RX)
Despite the recent changes, neither the X5 nor RX look very different in the rear. There are some differences though, like the premium hidden rear wiper on the Lexus and the integrated exhaust tips on the BMW. Tow ratings are in the X5's favor by a substantial margin.
X5: 7,200 lbs | RX: 3,500 lbs
Additional Features
Now heading on to some of the other features, both of them have heated, power-folding, auto-dimming mirrors with blind spot monitoring,  and both of them also come equipped with the all the latest safety systems including, automatic emergency braking, lane keeping assist, adaptive cruise control and auto high beam headlights. They also have systems that allow for limited hands-free driving on highways.
Finally, when it comes to warranties, the Lexus does have a longer powertrain warranty, but the BMW includes more complementary maintenance.
Lexus: Basic: 4yr/50k mi | Powertrain: 6yr/70k mi | Complimentary 1st and 2nd Maintenance
BMW: Basic & Powertrain: 4yr/50k mi | Comp. Maintenance: 3yr/36k mi
We're just warming up here, so now it's time to head to the more important interiors!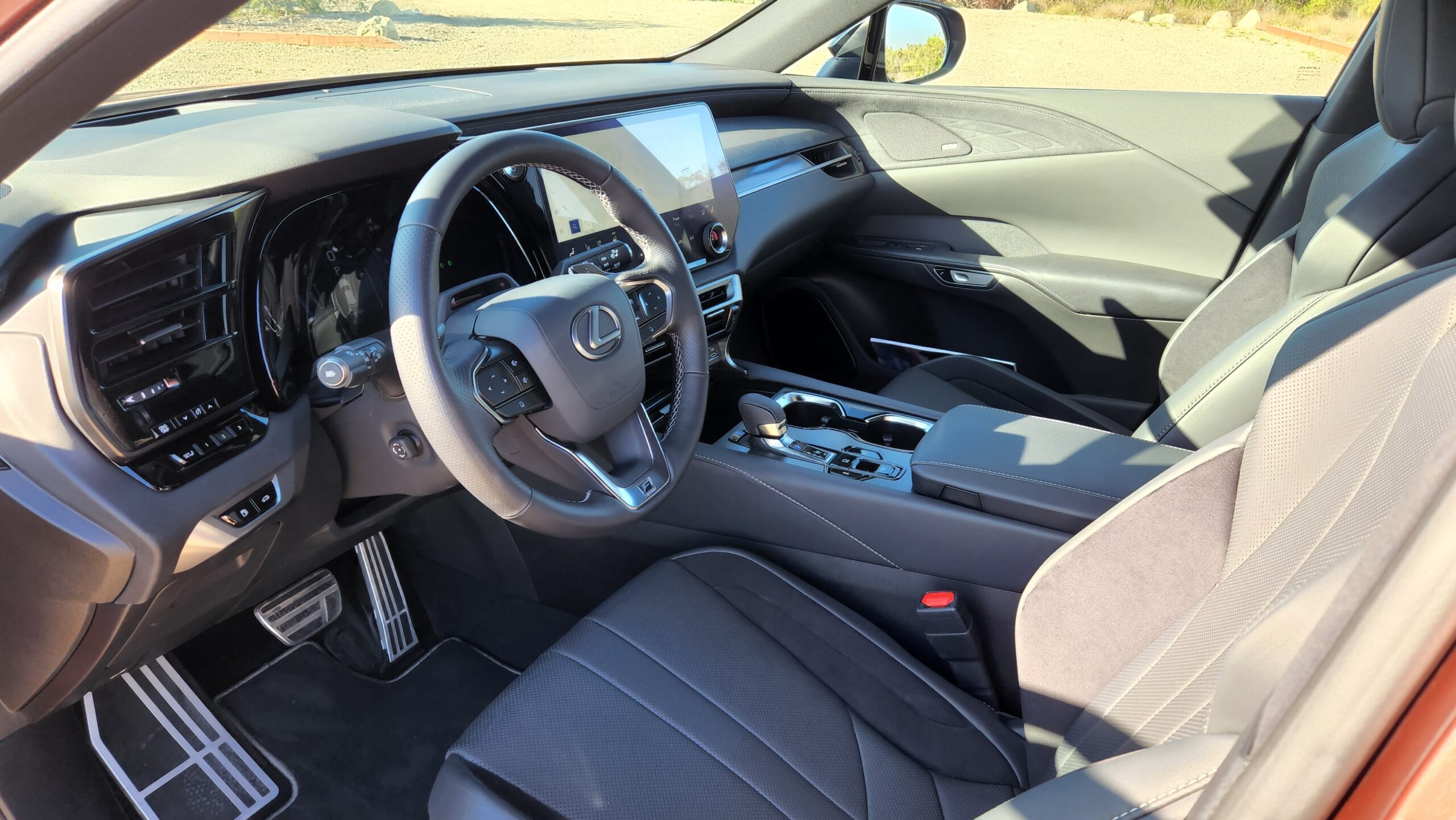 Interior Design
First approaching the vehicles, both of course have smart entry systems, and they have digital keys to enter as well.
After we actually open up the doors and view the interiors, we have very different designs in just about every way. That starts with our seats where the BMW has relaxed seats covered in Sensafin quilted faux leather, and the Lexus has aggressive sport bucket seats made with a suede and leather combination. They are both heated and ventilated. 
As far as adjustments are concerned, the X5 already comes standard with more, but its available multi-contour package bumps it to 20-ways, and also adds massaging abilities, something RX doesn't offer.
Now that we've climbed inside, we can discuss the major point of cabin materials. The RX uses a mixture of soft-touch plastic, leatherette, suede and real aluminum throughout,  but the X5 pulls ahead here by covering nearly every surface top-to-bottom in leatherette, generous open-pore wood and it even has glass for many of the buttons.
After startup, you will see digital gauge clusters on both, but the RX's is only partial. Most important than that are the very customizable head-up displays that both models have. 
And coming back to the steering wheels, both are power adjusting and heated, although the BMW has a leather air bag cover as well as heated arm rests.
Storage and Technology
Okay, so next up, let's dig into the major area of interior storage. The RX is going to pull ahead here with more efficient packaging, including a larger center console, front cubby and wireless charging pad.
I already mentioned the lovely glass shifter in the BMW and the RX also has an electronic one. When in reverse, both are equipped with 360-degree camera systems, the Lexus with a transparent view and the BMW with a 3D view.
Now let's go ahead and check out the audio systems. Overall, both sound great but the Mark Levinson in the Lexus packs more punch.
X5: 464-watt, 16-speaker Harmon Kardon Premium Audio
RX: 1,800-watt, 21-speaker Mark Levinson Pure Play Audio
Both models have physical volume knobs, but the same can't be said for the climate controls. Both utilize part of the main screens for most of the controls, however the RX has the advantage of still having physical knobs to adjust the temperature,  which is easier to use when driving.
Another weird observation is that the RX retains normal vents which are easier to get the airflow pointed at you, vs. the futuristic mostly-sealed-off look in the BMW.
Now we're already at the large screens so let's talk about them. In the Lexus it measures in at 14-inches and in the X5 14.9-inches. That's about 6% more screen real estate so it does qualify for a point.
Both are upgraded to the latest versions of iDrive and Lexus Touch Response, respectively,  and overall performance and graphics are top notch. Navigation systems, voice assistants and wireless Android Auto and Apple CarPlay are all on board. 
The BMW also has much more elaborate ambient lighting, including a lighted emblem across the dash that responses to voice commands.
Finally, the last things to mention up front are the auto-dimming mirrors, which the RX also has a digital camera system,  and the panoramic sunroofs, which the BMW also has integrated LED lighting inside at night.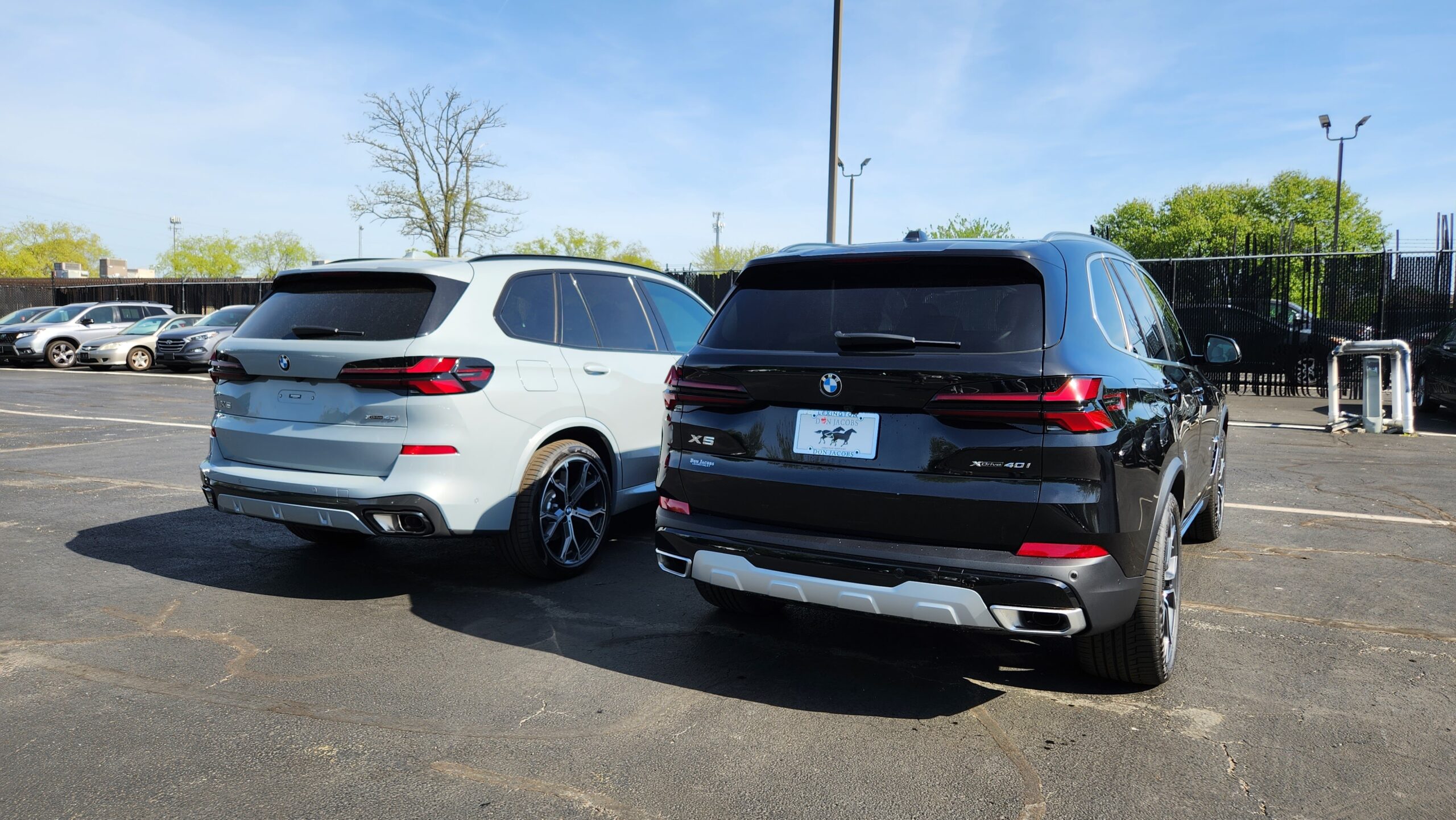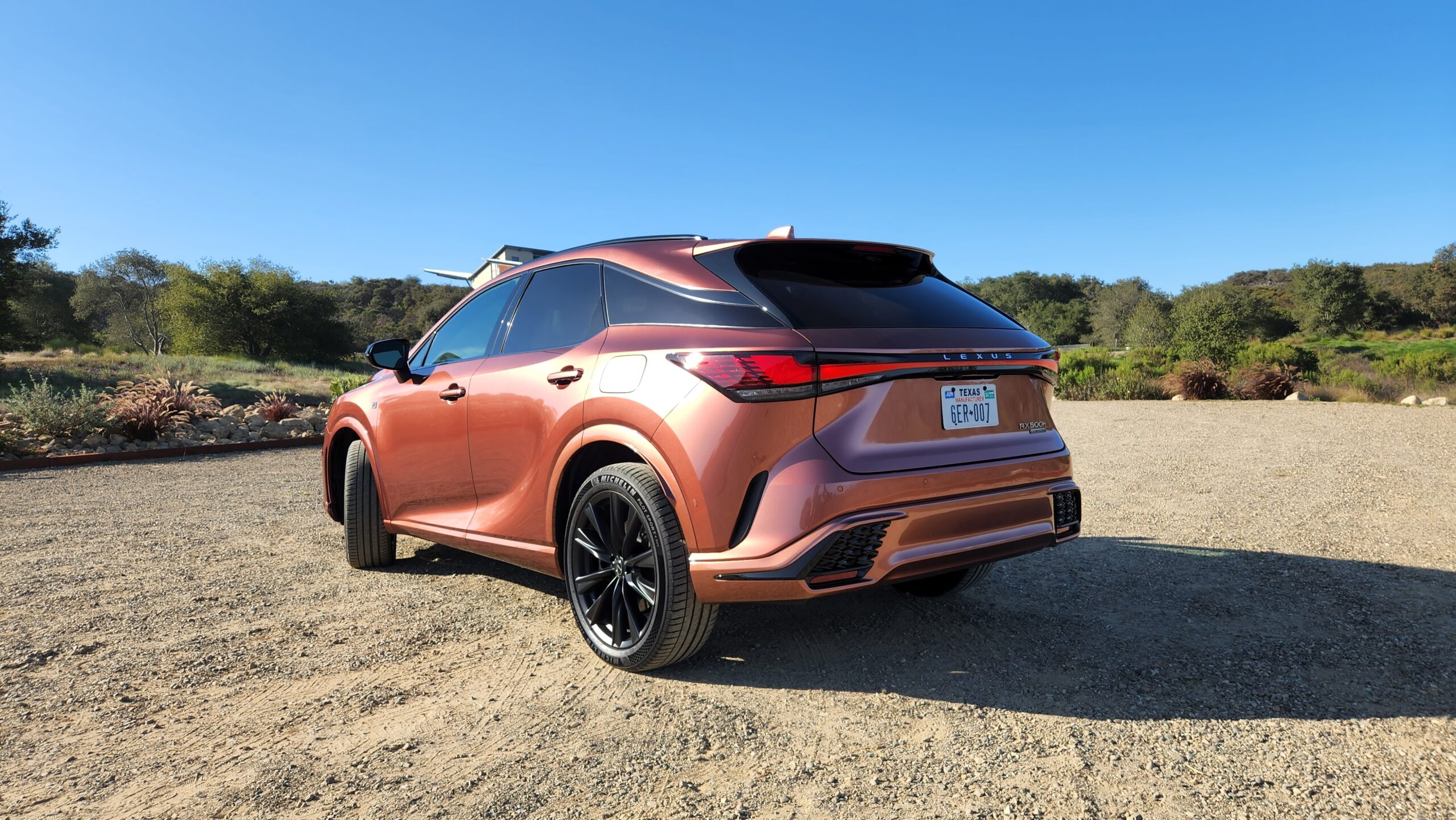 Rear Seats and Cargo
Now it's time to head for the back and check out what we have back there. 
The first criteria is space, where the RX has exactly the same legroom, but the BMW has nearly 3-inches more headroom.
X5: Legroom: 37.4-inches | Headroom: 40.8-inches
RX: Legroom: 37.4-inches | Headroom: 37.0-inches
Now for luxury features, we have rear climate and vents on both but the X5 has an extra zone of adjustability.
The BMW also has heated rear seats, while the RX can also get them but only when adding an additional package with power adjustment and ventilation as well.
Lastly, the BMW has manual sunshades.
Next let's check out the cargo areas. After using the hands-free power opening tailgates, you'll find that the sloping roofline in the RX eats into its cargo capacity. The X5 has 44% more maximum space, although some of that space difference was eaten up by the spare tire in the RX.
X5: Behind 2rd row: 33.9 cu.ft | 72.3 cu.ft seats all seats folded MAX
RX: Behind 2nd Row: 29.6-cu.ft | Max: 46.2-cu.ft
But now it's time to take this fight to the streets!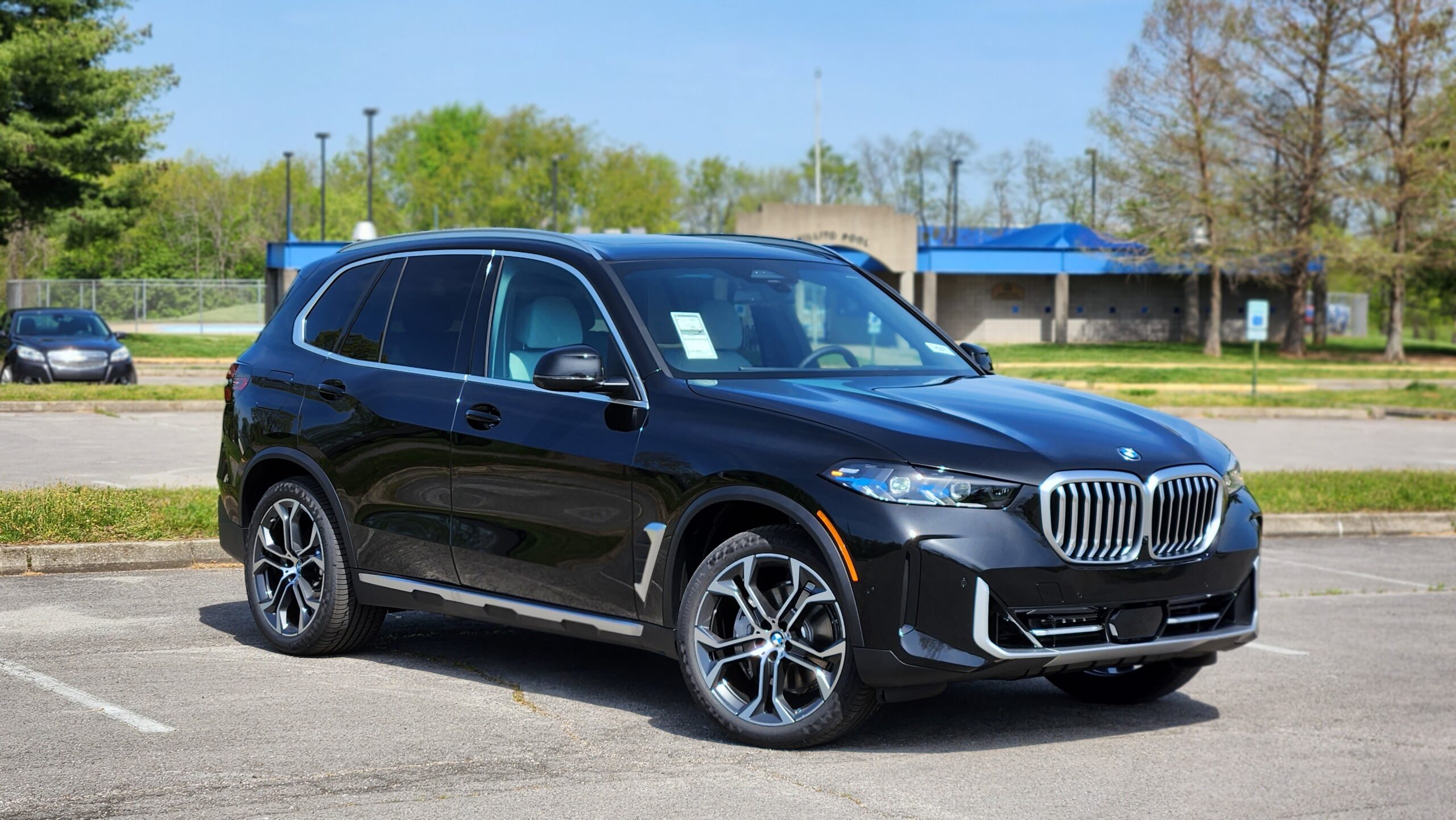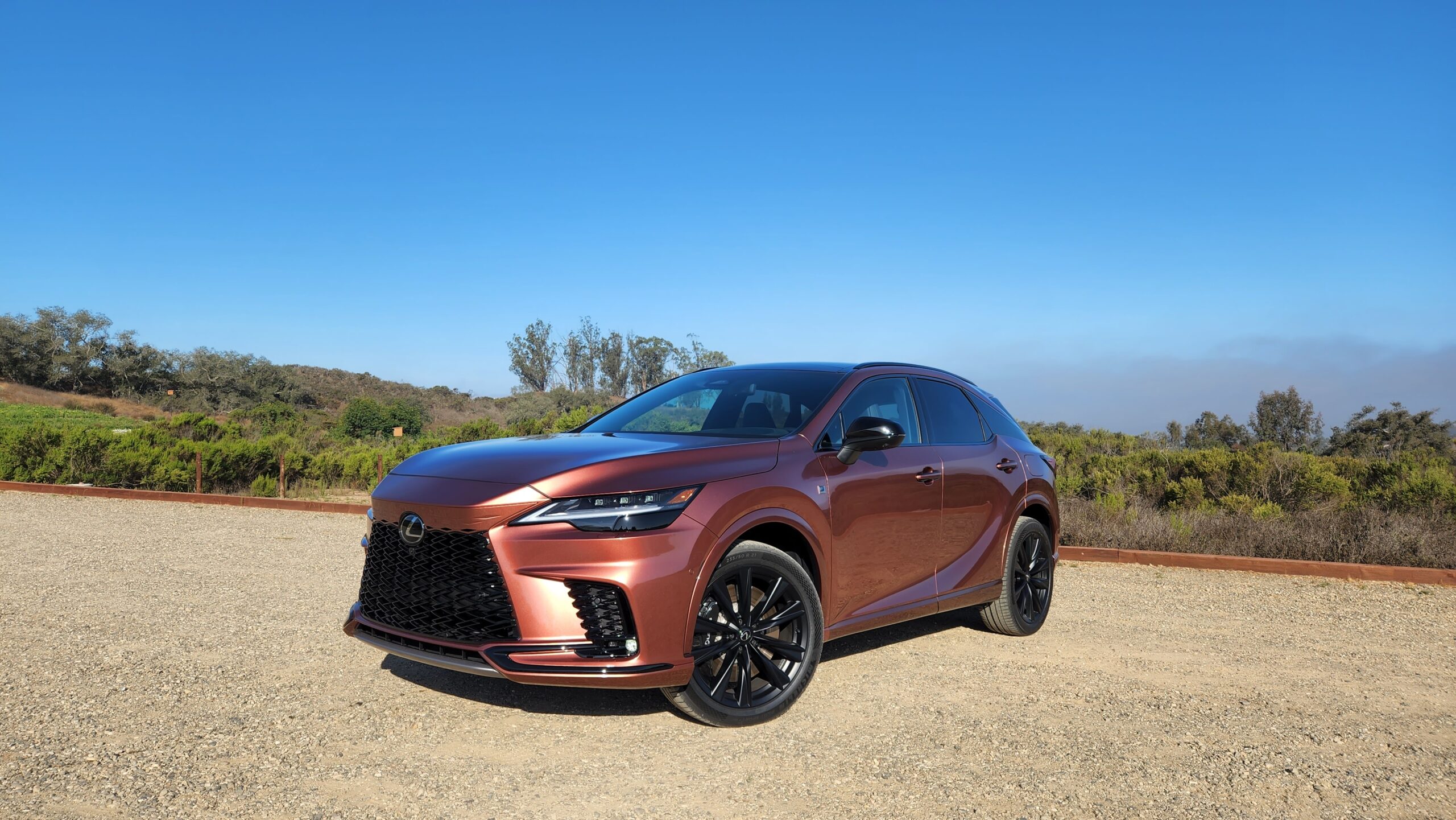 Powertrain
German and Japanese automaker have totally different ways of going about things, as you've seen throughout this comparison,  so you shouldn't be surprised that the same is also true under the hoods. The BMW has the more classic approach, with a turbocharged inline-6, although it does also have a mild hybrid system as well. The Lexus is a full hybrid, using a 2.4L turbocharged 4-cylinder with 2 electric motors. These wildly different powertrains produce similar results; 366 hp vs. 375 hp, and 406 lb.ft of torque vs. 383. In the end, it's the 0-60 that tells you how effective the systems are, and the BMW is about 12% faster according to independent MotorTrend testing.
RX 500h: 2.4L Turbo 4-cyl + Hybrid System: 366 HP | 406 lb.ft. | 0-60: 5.9s
X5 40i: 3.0L Turbo I-6 w/ Mild Hybrid: 375 hp | 383 lb.ft | 0-60: 5.2s
Both models have AWD, but the transmissions are very different again. The BMW uses an 8-speed automatic, while the RX's hybrid system has to be paired to a 6-speed automatic for packaging reasons. While the 6-speed is nice and smooth, it shifts slower and is generally less responsive than the 8-speed.
Driving Impressions and fuel economy
Let's also talk about ride quality. There really is nothing bad to say about either model, as they have earned reputations for being some of the most comfortable SUV's on the road. 
At the same time, neither of them feels sloppy because they have adaptive dampers. This allows them to change ride characteristics from pure comfort to a tighter and sportier ride when in sport mode.
Now I already touched on the adaptive suspension systems, but as far as other driving dynamics both do a good job. They are not hard-edged sporty vehicles, even the RX with F-Sport Performance in its name. But steering in both are nicely weighted and body control is well maintained. 
Luxury crossovers are always expected to be quiet and indeed both really deliver. 53 dB at 55 MPH is impressive but under 52 dB in the X5 is really impressive. That beats many full-electric luxury SUVs and is a testament to the amount of sound deadening on board.
X5: 51.6 dB @ 55 MPH
RX: 53.5 db @ 55 MPH
Finally, as you would expect, the hybrid RX does get better fuel economy. In this case it's about 8% better overall.
RX: 27/28/27 MPG
X5: 23/27/25 MPG
The German Luxury Pulls ahead!
So that's it! The BMW X5 is the objective winner but now it's time to declare "your" winner because that varies person-to-person.
X5: 
Smooth and refined I-6 engine
More cargo space
More luxurious interior 
Larger infotainment screen
And the RX should be your winner if you value,
RX: 
More traditional interior layout with extra climate buttons
More affordable price tag
Efficient hybrid powertrain
Reputation for long term reliability 
Anyway, thanks for joining us for another Car Confections Comparison, and be sure to watch the full video below for a visual comparison of these two vehicles!