What's going on YouTube! While the S-Class and 7-Series flagship luxury sedans still grab a lot of headlines, for many people, especially here in the U.S, it's the SUV alternatives that have much more appeal. The BMW X7 and Mercedes GLS are those models, and both of them have recently been refreshed with updated styling, luxury and features. About a year ago, we first faced these two off and now it's time for the rematch! So, buckle up as we find out who takes it all in the 2024 X7 vs 2024 GLS Battle!
Pricing and Equipment
Now even though money probably isn't a big consideration for those shopping in the segment, we will still quickly establish things with a breakdown.
Beginning with 2024 BMW X7, we have the xDrive40i model, which is the non-performance version most people pick. As German automakers are known for, there are still tons of a la carte options you can pick, so that makes for an additional $20,580, bringing the total to just over $103,000.
MSRP (X7 xDrive40i): $81,900 | Options: $20,580 | Destination: $995 | Total: $103,475
Like the X7, the refreshed GLS has also increased its base price for 2024. With that price adjustment and $18,670 of options, we have a total price of $106,820.
MSRP (GLS 450 4Matic): $87,000 | Options: $18,670 | Destination: $1,150 | Total: $106,820
Now this is going to be an objective comparison. We have done our best to weigh the points awarded throughout in major and minor categories, but at the end of the comparison we will sum up with our thoughts and account for that price difference. With that being said, let's get into the meat and potatoes!
Exterior Design
You will know these two are flagship SUV's as soon you walk up to them. They have commanding designs, with the GLS taking a such step is this way for 2024. Its more modest grille has been substituted out for 4 large smoked chrome bars, which is even bolder than the large kidney grille on the BMW. 
As far as lighting, both are functionally the same adaptive full-LED's, even if the designs are very different.
Now heading to the sides, you can immediately see that both of them are quite large, and their overall designs play into that. And large designs also mean proportionally large wheels, which is why both of them have 22's with 23's available. 
Length: 203.3 in (X7) | 205.0-in (GLS)
The BMW has a more dynamic look, with a strong body line that carries from the side into the rear. The taillights are, of course, fully LED, but the BMW uses a fading turn signal animation in the rear as well as the front. They also have exposed wipers, and dual exhaust outlets.
Additional Features
Now heading on to some of the other features, both of them have heated, power-folding, auto-dimming mirrors with blind spot monitoring, and both of them also come equipped with the all the latest safety systems including, automatic emergency braking w/ pedestrian detection, lane keeping assist, adaptive cruise control, auto high beam headlights and highway driving assistants.
Tow ratings are 7,500 and 7,700 lbs respectively, which is less than the 5% difference required for a point.
X7: 7,500 lbs | GLS: 7,700 lbs
Finally, when it comes to warranties, both have 4 year, 50k mile basic and powertrain warranties, but only the BMW comes with 3 years of complementary maintenance.
So far, they are very similar, however, the interior is the much more important so let's jump inside.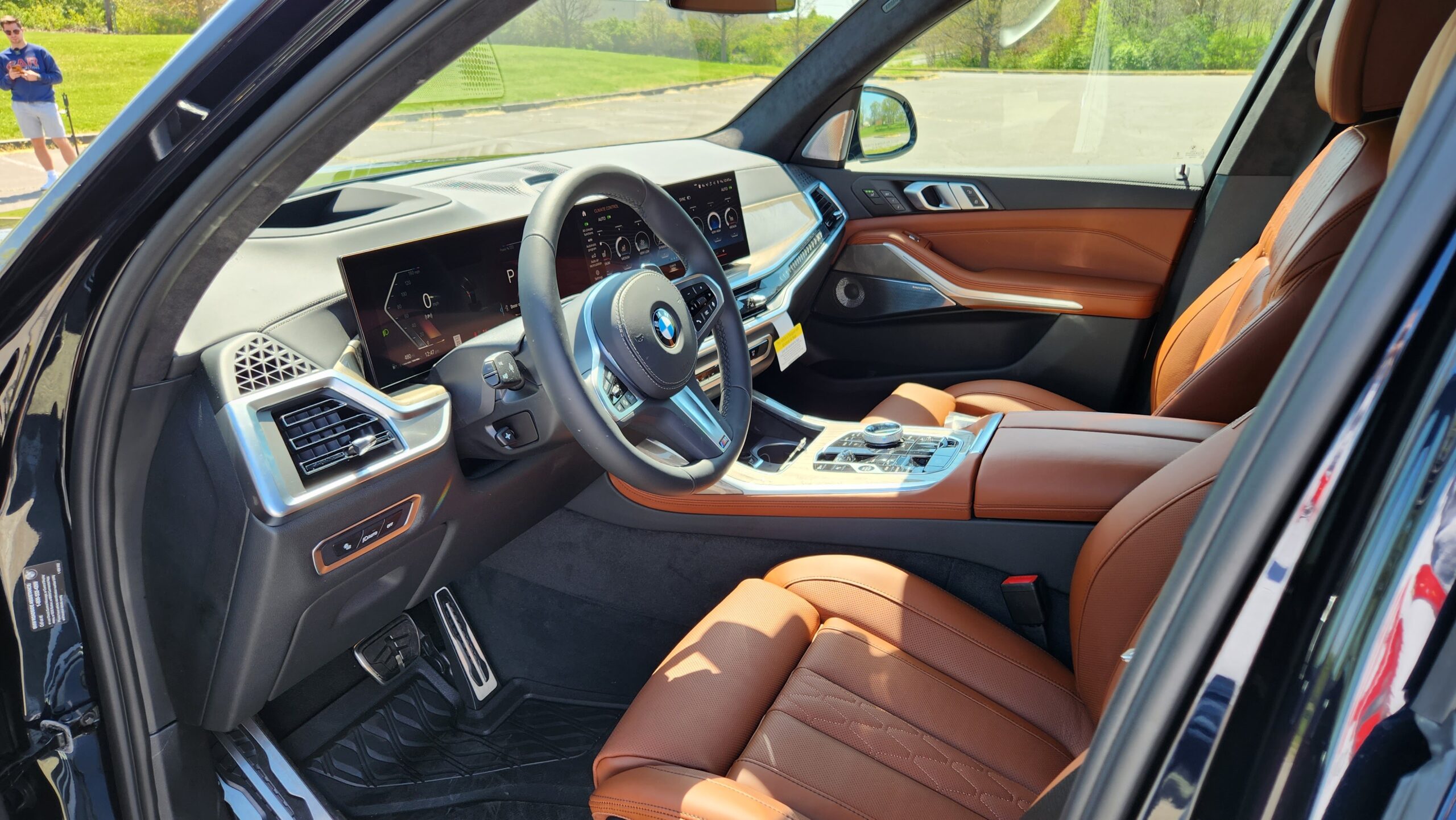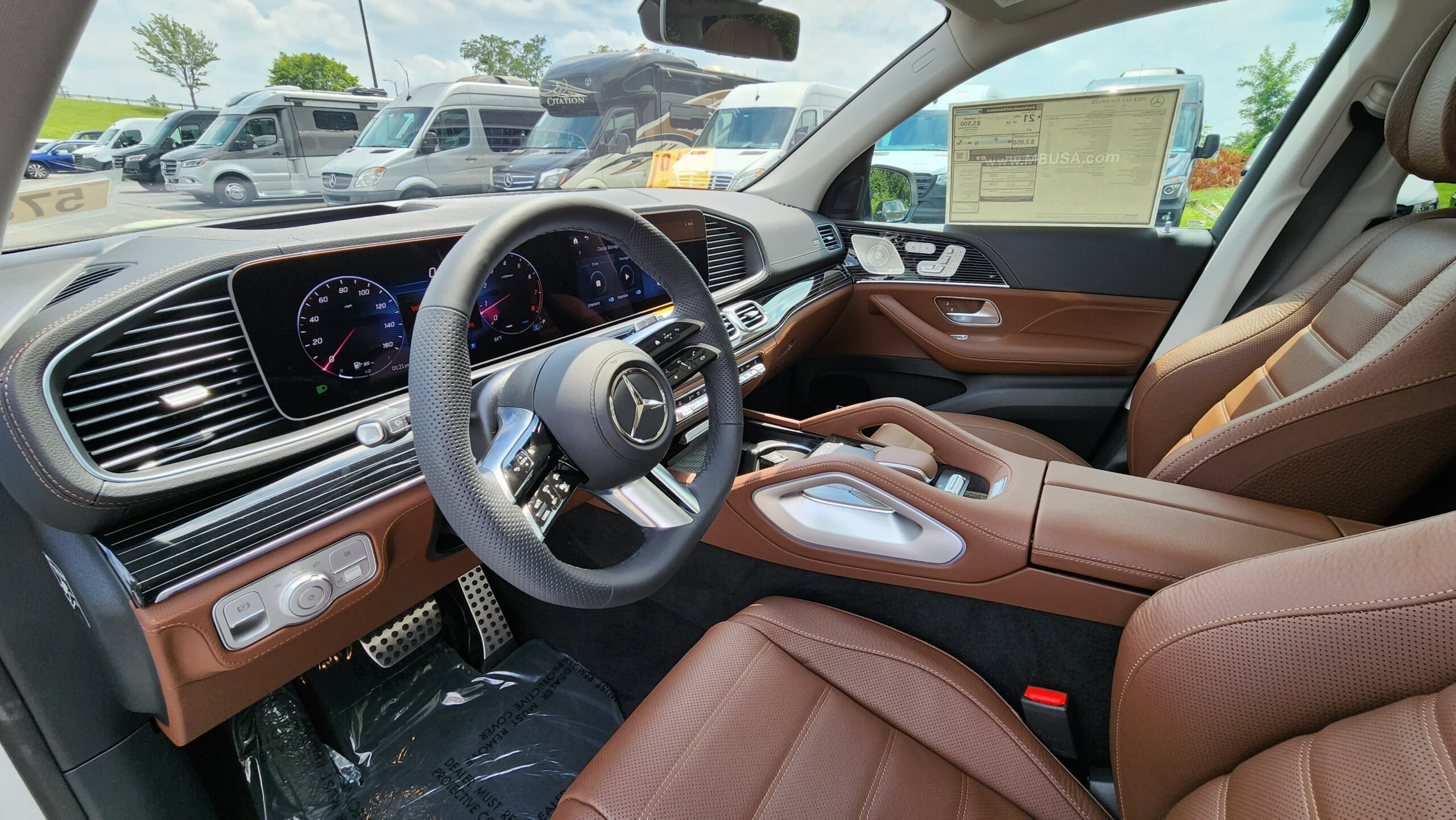 Interior Design
Now, walking up to the vehicles, both of course have smart entry and high-quality key fobs. BMW has begun putting remote start on the fob itself while Mercedes relies on an app and subscription service.
Once we actually open the doors and view the interiors, they both with wow you. Besides the placement of the screens, the designs are quite different, with the BMW having Tartufo leather seating and the Mercedes the new Bahia Brown leather seats.
Both seats themselves have more ways of adjustment than one would know what to do with, plus memory, heating and ventilation. They even have massaging, and from personal experience, they both are quite enjoyable.
Once inside, we can talk about the cabin materials as a whole. Unsurprisingly, both these two use top-notch selections throughout, including leather over pretty much anything you touch, genuine wood trims, a new one borrowed from Maybach in the case of the GLS, and real aluminum elements pretty much everywhere else. The Mercedes' beautifully detailed metal speaker grilles and BMW's glass knobs, in particular stand out.
After starting them, we are first greeted by 12.3-inch digital gauge clusters. Both are bright, have good graphics and tons of customization, plus head up displays. 
Pulling back, we have a new steering wheel on the Mercedes, which is upgraded to include things like the leather-covered air bag cover BMW already had. Both are heated and power adjusting, plus the arm rests are also heated. 
Storage and Technology
Okay, so next up, let's dig into the major area of interior storage. Both have good sized consoles, and front bins with wireless phone chargers. They even have heated and ventilated cupholders, so there are no advantages here. 
Initially, you might not even notice where the shifters are in these SUV's because they're pretty discreet. But once you do find them, both models have 360-degree rear camera systems, auto parking systems and the GLS adds a 3D view for 2024 to match the BMW.
Now let's go ahead and check out the audio systems. While the GLS's system sounds great, the ultra-upgraded Bowers and Wilkins system on the still-less-expensive BMW is spectacular.
X7: 1,500-watt, 20-speaker Bowers and Wilkins Premium Audio
GLS: 590-watt, 13-speaker Burmester Premium Audio
Before we get into the pretty similar display systems, let's talk about climate controls which are not similar. Not in the number of zones, which are an exceptional 5 in each, but the fact that the X7 has its controls in the touchscreen exclusively. The physical buttons in the GLS are easier to use without taking your eyes off the road.
But focusing in on the infotainment systems themselves, we have a 12.3-inch display in the Benz and 14.9-inch display in the Bimmer. That computes to almost 20% more screen real-estate and both have wireless AA and ACP.
Above, we have auto-dimming mirrors and large panoramic sunroofs. The BMW's roof is covered in luxurious Alcantara.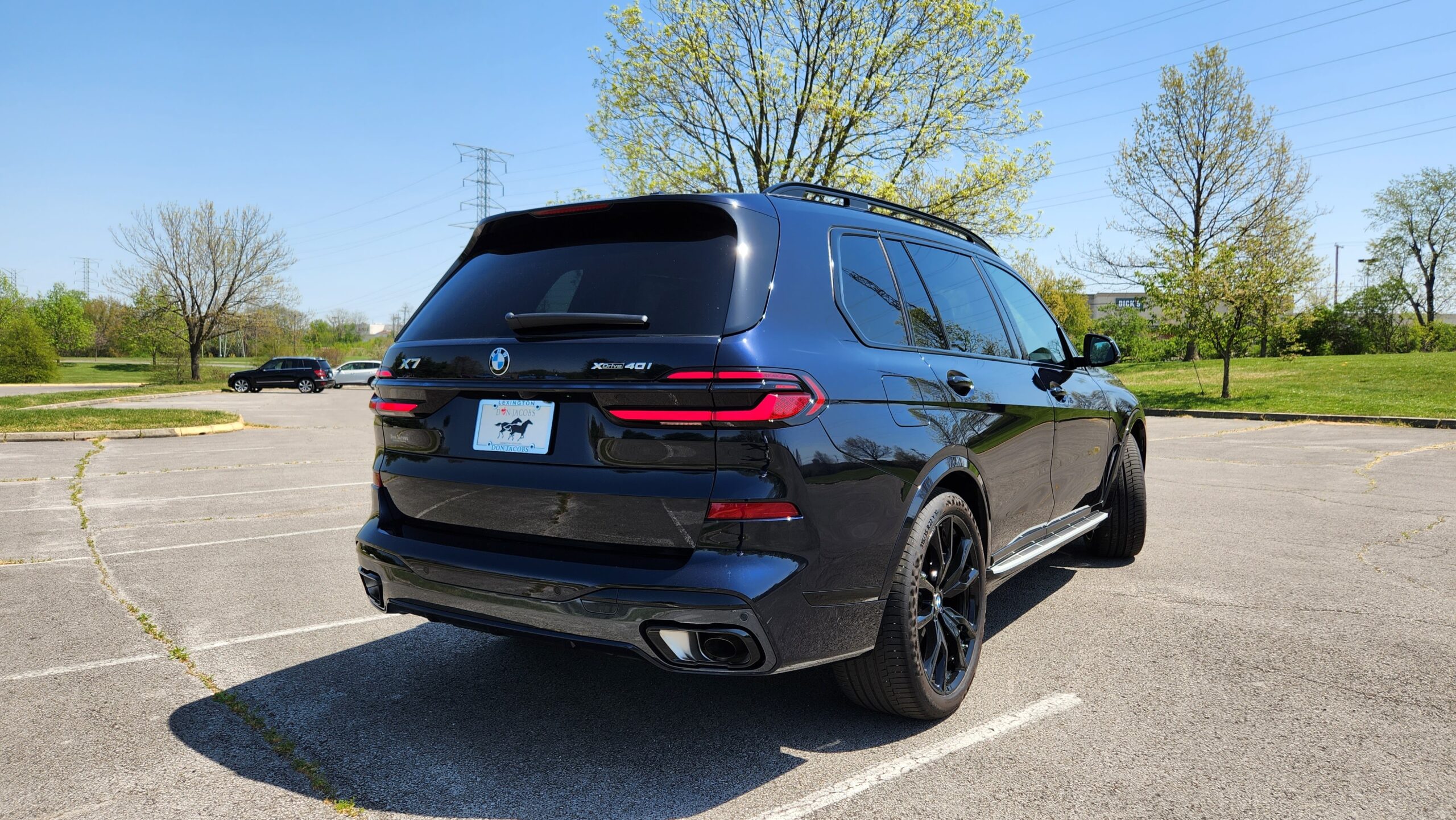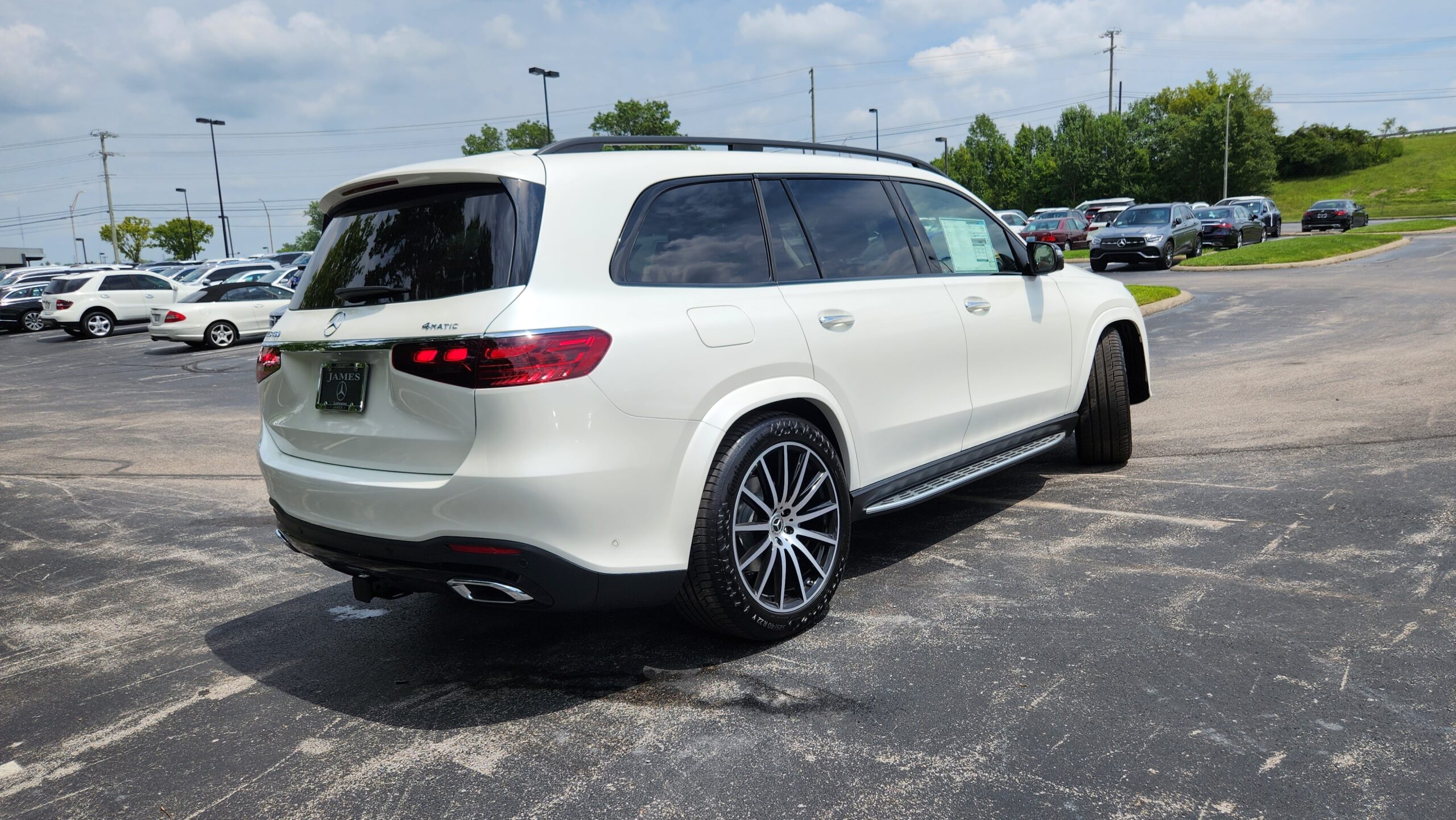 Rear Seats and Cargo
Now the point of buying an SUV this large is to have plenty of space and luxury for the whole fam, so let's check out the rear areas. First off, the numbers don't lie; as you can pretty clearly see the GLS does have a legroom advantage of about 11%. Headroom is very similar.
GLS: Legroom: 41.9-inches | Headroom: 40.2-inches
X7: Legroom: 37.6-inches | Headroom: 39.9-inches
Now for luxury features, both have a climate panel for the next two zones of temperature, heated rear seats and far more plugs than needed for the two people occupying the power-adjusting captain's chairs. There are also vents on both sides of the occupants. Only the BMW has power sunshades as equipped and only the Mercedes has wood trim and ambient lighting built into the seat backs.
Let's move on to the third rows. Now, of course, they're not going to coddle the occupants quite as much as the second rows, but they are still nice. Space is pretty good even for an adult to fit, with nearly equal legroom figures but the GLS having a 6% headroom advantage.
X7: Legroom: 33.3-inches | Headroom: 36.6-inches
GLS: Legroom: 34.6-inches | Headroom: 38.9-inches
There is a reason for that disadvantage though, and that's the fact that the X7 has a dedicated sunroof for the 3rd occupants instead.
Both models have a 5th zone of climate controls, vents, and USB ports. Only X7 has heated third row seats since GLS requires the 580 model to add them.
Heading around to the tailgates, both models have hands-free power ones, and once they open up, you'll find generous amounts of space. Interestingly, the GLS has a pretty large advantage behind the third row, they equal out behind the second rows, and with all the rear seats folded, it's the BMW that has the larger maximum.
X7: Behind 3rd row: 12.8 cu.ft / 48.6 cubic feet 3rd row folded / 90.4 cu.ft seats all seats folded MAX
GLS: Behind 3rd row: 17.4 cu.ft | 2nd row: 48.7 cu.ft | MAX: 84.7 cu.ft
The GLS has a spare tire which our BMW does not, and both their third and second rows power fold. 
Well now it's time to take this fight to the streets!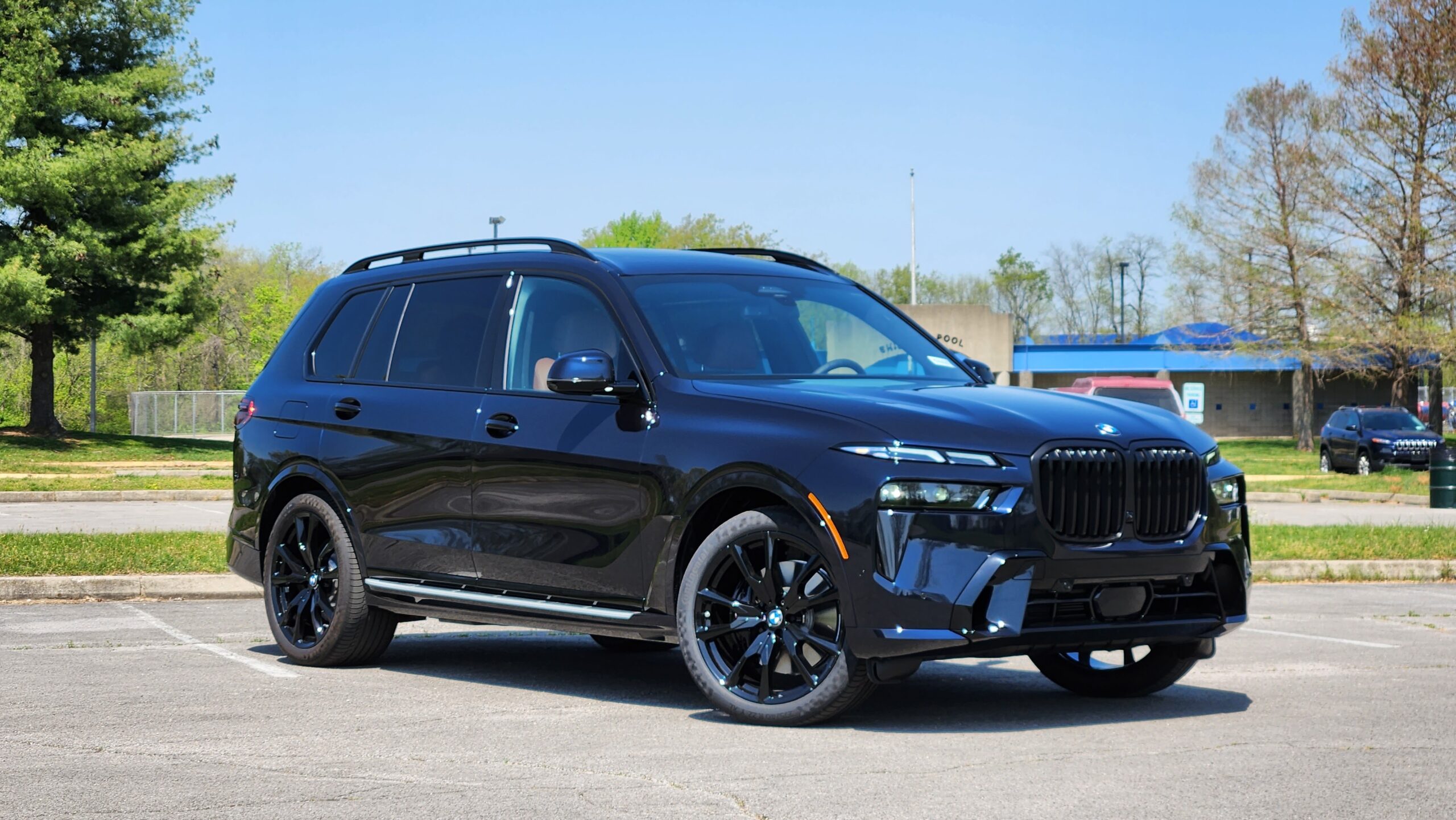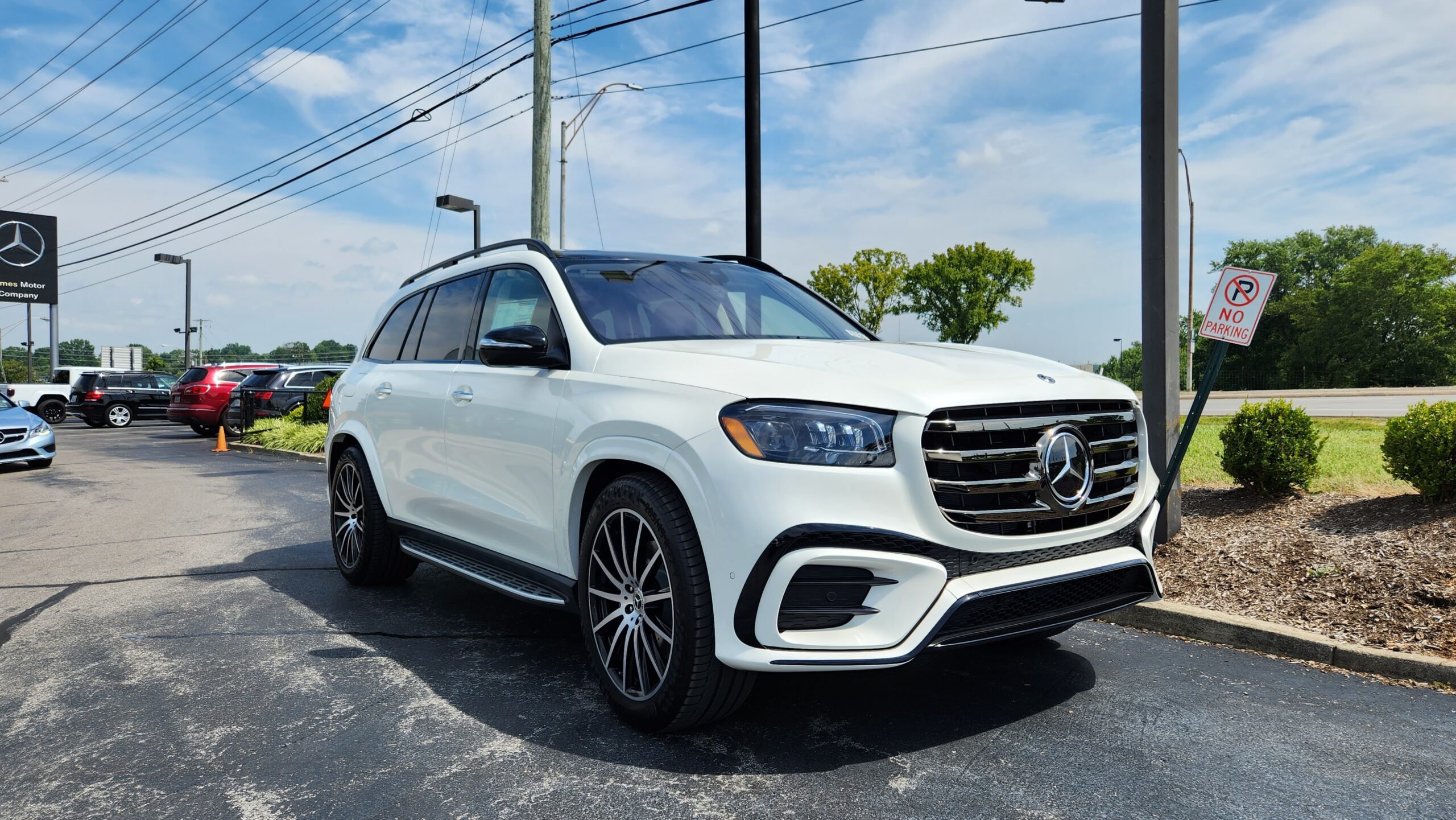 Powertrain
Under the hoods and out on the road, you get the sense that they copied each other's homework, since they have come to remarkably similar solutions. Both are using 3.0L Turbo Inline-6's, paired with 48v Mild Hybrid systems. Horsepower outputs are now IDENTICAL for 2024, and torque figures are within spitting distance of each other. The biggest takeaway is that both of them scoot, with sub-6 second 0-60's out of large luxury 3-rows.
GLS: 3.0L Turbo I-6 w/ Mild Hybrid: 375 hp | 369 lb.ft | 0-60: 5.8s
X7: 3.0L Turbo I-6 w/ Mild Hybrid: 375 hp | 383 lb.ft | 0-60: 5.6s
Despite surprising speed, both were designed with smooth refinement at their cores. The 8 and 9-speed automatics are some of the bests in the business, with imperceptible shifts or sportier performance when in the sport modes. Both come standard with AWD, so traction is never an issue.
Driving Impressions and fuel economy
Let's also talk about important aspect of ride quality. Both are riding on adaptive air suspensions and because of that, they feel like riding on a cloud. Rarely do either of them allow any road imperfection to reach the occupants, but even if they do, their structures feel rock solid. 
Now as far as other driving dynamics, both have a little German athleticism backed into them, which makes them feel smaller than they are and handle relatively well. 
I also want to mention the mild hybrid systems operation when it comes to advanced auto start/stop. These are two of the best systems on the market right now, but we'd still have to say that Mercedes EQ Boost is the slightly more seamless of the two.
Pinnacle-luxury vehicles also need to be as quiet as the rides are smooth, so let's talk about the sound level readings. Although both would be considered very quiet, going 55 MPH on a smooth local road, the X7 beats out the GLS by about 3 decibels, which makes it exceptionally quiet.
X7: 51.9 dB @ 55 MPH
GLS: 54.6 dB @ 55 MPH
Finally, as far as fuel economy, the updated more powerful engine in the Mercedes has increased its fuel economy to within 5% of the BMW's.
GLS: 19/24/21 MPG
X7: 21/25/22 MPG
Which German is the Victor?
So, there you have it; the objective winner is the BMW X7, but who is "your" winner? Well, the GLS should be your winner if you…
GLS: 
A stately cabin with more physical buttons (climate controls)
More 2nd row legroom. More third row headroom.
More conservative (but still imposing) exterior
And the X7 should be your winner if you value…
X7: 
Bolder, sportier exterior design
Slightly lower starting price
Larger screen
3rd row features
Thanks for joining us for another Car Confections Comparison, and be sure to watch the full comparison below for an in-depth dive on all the design details!