For many years, the Cadillac Escalade has always been the go-to for American Families who want a large, luxury, three-row SUV. As Cadillac begins to electrify their entire line-up, they did not want to leave the Escalade heritage behind. Therefore, the 2025 Cadillac Escalade IQ was born! Not only does this IQ take the Escalade to an entirely new powertrain, but it also takes the Escalade to a new level of luxury. This article will cover all the in-depth details that we currently know. Please watch the video linked at the bottom of this article for a full deep dive of the design!
 What's New for 2025?
New product from the ground up by Cadillac
Trims and Pricing
Extensive Pricing and Trim Information will be Released Later
The Escalade IQ will have Luxury and Sport grades, with a starting price of $130,000.
Evidently, the Escalade IQ is much more expensive than the standard gas version. However, Cadillac added plenty of extra goodies to justify such a price. At this price point, the IQ is not currently eligible for any tax credits.
Design and Features
The Escalade IQ takes design cues from both the gas powered Escalade and the Cadillac IQ products. Many of the lighting elements will be very "IQ-esque," while the Escalade will give the IQ its iconic boxy design. Please watch the video at the bottom of this article for a full in depth design review!
As for the features, we are not sure the full trim breakdown of all of the features, but here is a breakdown of what we do know will be on the 2025 Cadillac Escalade IQ:
Feature

Availability

Exterior

LED Headlights

Standard with Entry Animations

Ground Clearance

6.9-inches | Variable with Air Suspension

Wheels

24-inch alloys with varying designs | 35-inch tires

Roof Options

Black two-tone roof standard | New to the Escalade Line-up

Length

224.3-inches | Between Standard Gas and ESV Versions

LED Taillights

Standard with Animations

Towing

Up to 8,000lbs

Four Corner Air Suspension

Standard

Forward Emergency Braking

Standard on all Escalade IQ Models

Lane Keep Assist

Auto High Beams

Adaptive Cruise Control

Supercruise

Trial Version Standard

Interior

Smart Entry

Standard

Auto Opening Doors

Available

Soft Close Doors

Standard

Interior Materials

Leather Free Cabin on all Escalade IQ models

Legroom Figures

Legroom: 45.2-in | Headroom: 43.5-in

Wireless Charging

Dual Wireless Charger

Steering Wheel

Power Adjusting

360 Degree Camera

Standard with 3D view

Climate

Automatic Climate with dedicated 11-in screen for control

Heated and Ventilated Seats

Standard | Massage standard

Audio

40-Speaker AKG Audio System

Ambient Lighting

Available with multiple colors

Display

55-inch Curved Display that goes across the width of the cabin. Includes Gauge Cluster, Infotainment, and Passenger Display

Roof

Fixed Panoramic Glass Roof with no sunshade

Rear Amenities

Rear Executive Captain's Chairs

Available with Heating, Ventilation, and Massage

Dual Wireless Chargers

Standard with Rear Console

Dual Entertainment Screens

Available

Liftgate

Hands-free Power

Power Folding Seats

Standard

Legroom Figures

2nd Row: 41.3-inches of legroom | 39.9 -inches of headroom

3rd Row: 30.1 inches of legroom | 37.2 inches of headroom

Cargo Capacities

Behind 3rd Row: 23.7 cubic feet | Behind 2nd Row: 69.1 cubic feet | Max: 119.2 cubic feet

Frunk

12.2 cubic foot "e-Trunk"
For in depth details on the 2025 Escalade IQ, watch our full first look review linked at the bottom of this article.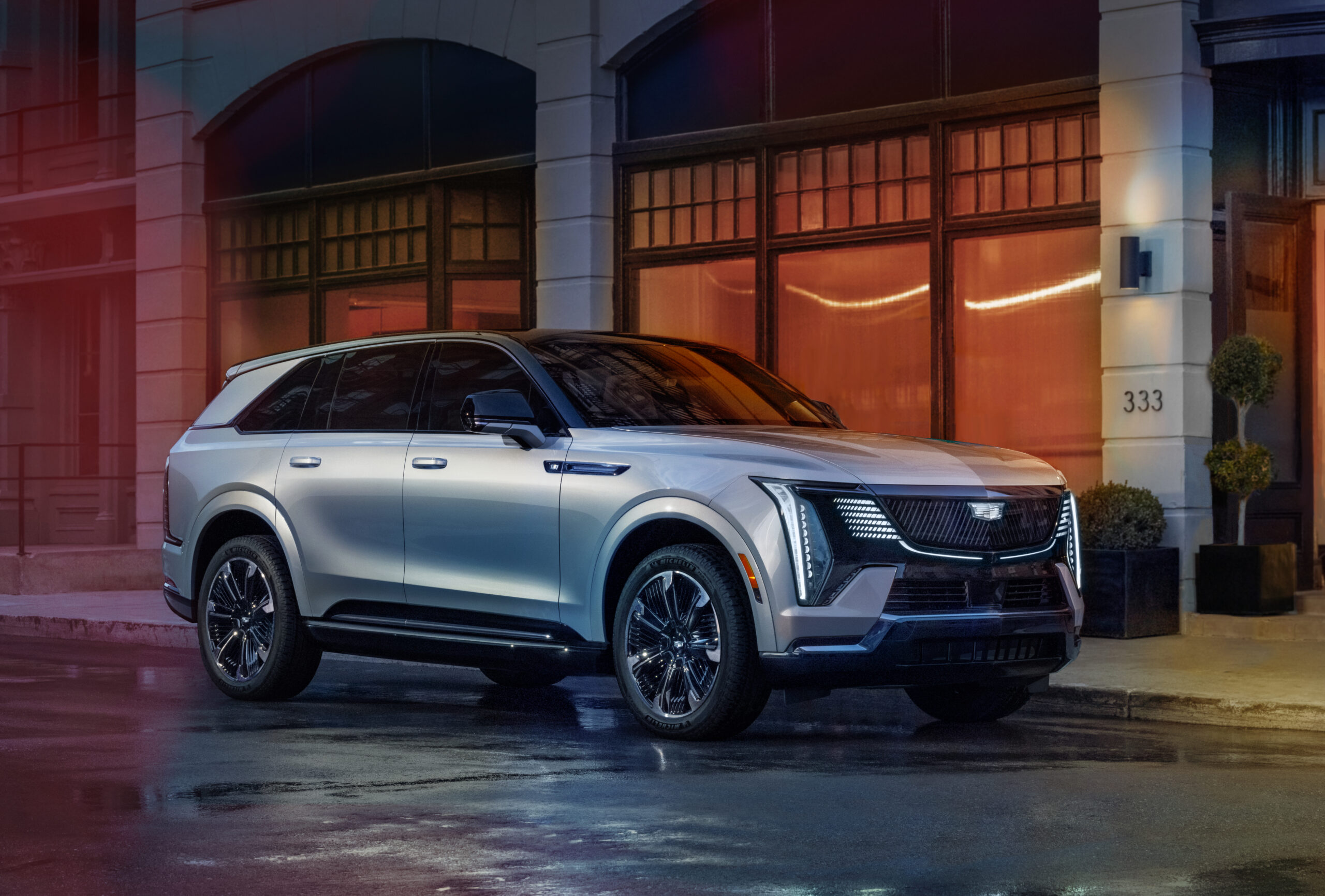 What's Under the Hood?
Currently, there is only one battery and motor setup, with two different power figures, depending on the mode:
24-Module Ultium Battery Pack
Over 200 kWh of usable capacity
Quad Motor AWD:

Normal Mode: 680 hp | 615 lb ft
Velocity Mode: 750 hp | 785 lb ft | 0-60: <5s

Range: Cadillac Estimates up to 450 miles
When it comes to charging, the specs are as follows:
AC Single: 8 miles of range per hour
AC Dual: 37 miles of ranger per hour
DC Fast: up to 100 miles of range in 10 mins
As for availability on the Escalade IQ, this model is expected to arrive during the summer of 2024! Hopefully production will keep this estimate accurate.
We hope you have found this overview of the 2025 Cadillac Escalade IQ helpful! For a more detailed first look of the IQ, please watch our video below! What do you think of the new Escalade IQ? Let us know in the comments!