As time marches on, so does the demise of many sedans on the market. But, the Nissan Altima is not one of them. While Nissan is pulling the plug on its big brother the Maxima, they are actually enhancing the Altima significantly with a mid-cycle refresh for 2023. So do the changes put it ahead of Camry, Accord and Sonata? Keep reading and find out!
What's New for 2023
Mid-cycle refresh with an updated design and new features
Slimmed down trim structure
Trim Structure
S -> SV -> SR -> SL -> SR VC-Turbo | Platinum discontinued
The most obvious changes to this refreshed Nissan Altima can be found by looking at the exterior of the vehicle. The Altima retains the same overall design, however; the grill has been made more aggressive and larger as compared to last year. The lower fascia has also seen some much-needed refinement. The newest Nissan badge also has made its way to the front grille. LED headlights will be standard on all Altima trims now, including a new design and no available fog lamps.
Heading to the side of the Altima, you will find each trim level with a different set of wheels with updated designs for 2023, ranging from 16-inch hubcaps to very sharp 19-inch alloys. Up to the mirrors, you will find blind-spot monitoring standard for 2023, with heating on the SL and above. The side retains a similar design from last year, measuring in at 192.9-inches. Chrome door handles and window trim will be standard on all but the SR trim. The rear of the car has not seen as many changes as the front. The taillights appear to be non-LED still, and exposed exhaust outlets are standard on the SR and SL, and optional on the SV.
The Altima will be equipped with Nissan's long-lasting 3-year, 36,000-mile basic warranty and a 5-year, 60,000-mile powertrain warranty. The Altima for 2023 will come standard with all of Nissan's basic safety systems, including:
Forward emergency braking w/ pedestrian detection
Rear auto braking
Auto high beams
Optional on the SV and Standard on the SR/SL will be:
ProPilot Assist w/ full-speed adaptive cruise control
Lane keeping assist
Next, we'll head to the interior, where Nissan has continued to throw in some more updates.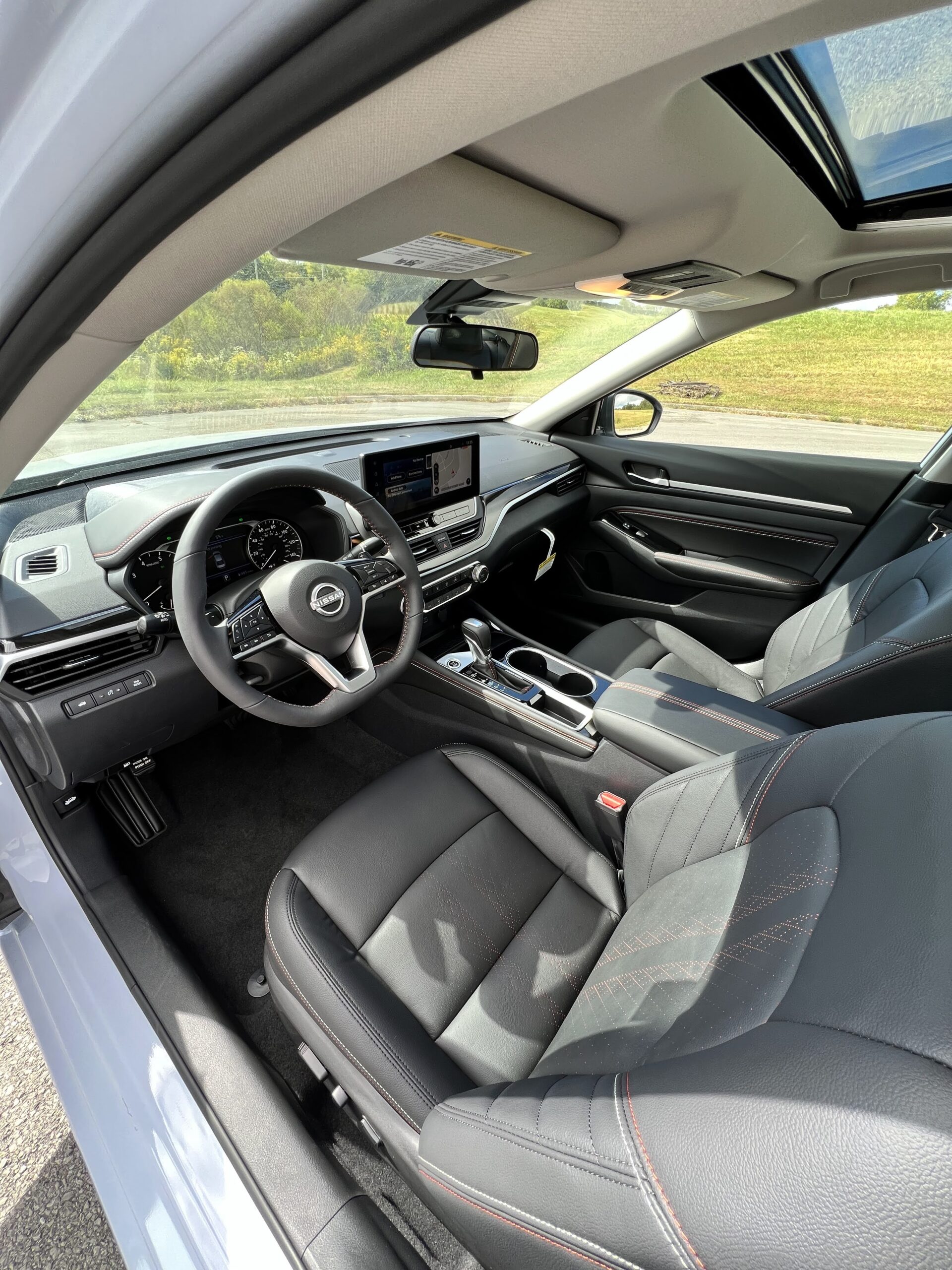 To get inside this refreshed 2023 Nissan Altima, smart entry and push button start will be standard on all trims. The interior materials are as follows:
S/SV: cloth | Charcoal or Gray
SR: cloth/leatherette trimmed | Charcoal w/ orange stitching
SL: leather | Charcoal or Gray
SR-VC: leather | Charcoal
 The seats will be manual adjusting for the S, 8-way power on the other trims, and standard lumbar on the SL. Memory is not available.
Specs: Legroom: 43.8-inches | Headroom: 39.2-inches
The 2023 Altima will have a seven-inch driver display in the gauge cluster on the SV and above, with no heads-up display available. Sitting in front of the gauges will be a leather wrapped steering wheel on all but the S and SV, and heated on the SL. The Altima will come with a standard shifter, and rain-sensing wipers will not be available.
Technology will be plentiful within the Nissan Altima's cabin, starting out with dual-zone auto climate and heated seats on the top two trims, with manual offered on the remaining trims. Most Altima trims should expect to have a six-speaker sound system, while the top two trims will have a 9-speaker Bose Premium Sound system. At the center of the Altima's cabin is a large 12.3-inch digital display with wireless Apple CarPlay and Android Auto on the SL and SR-VC trims, now the largest screen in its class. The remaining trims will be equipped with an 8-inch screen with Wired systems. A backup camera is standard available wireless charging and 360-Camera. A moonroof is standard on the top two trims and available on the SR and SV.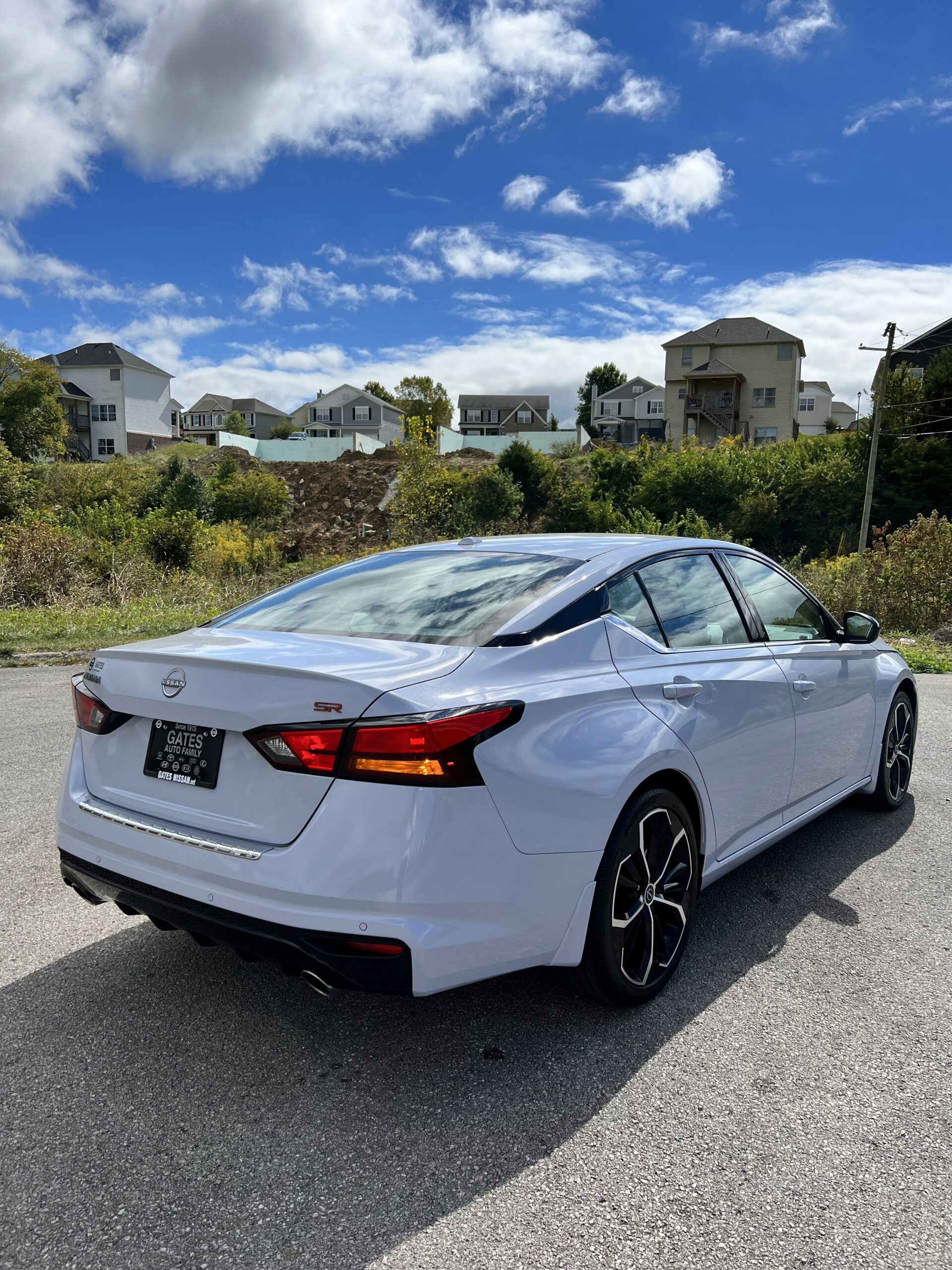 Rear Spaces
The rear seats will continue to capitalize on the Altima's design, with 35.2-inches of legroom and 36.9-inches of headroom. The seats will be standard 60/40 folding with outlets on all trims as well. Vents will be on the SL trim and above.  The cargo capacity in the trunk will be 15.4 cubic feet.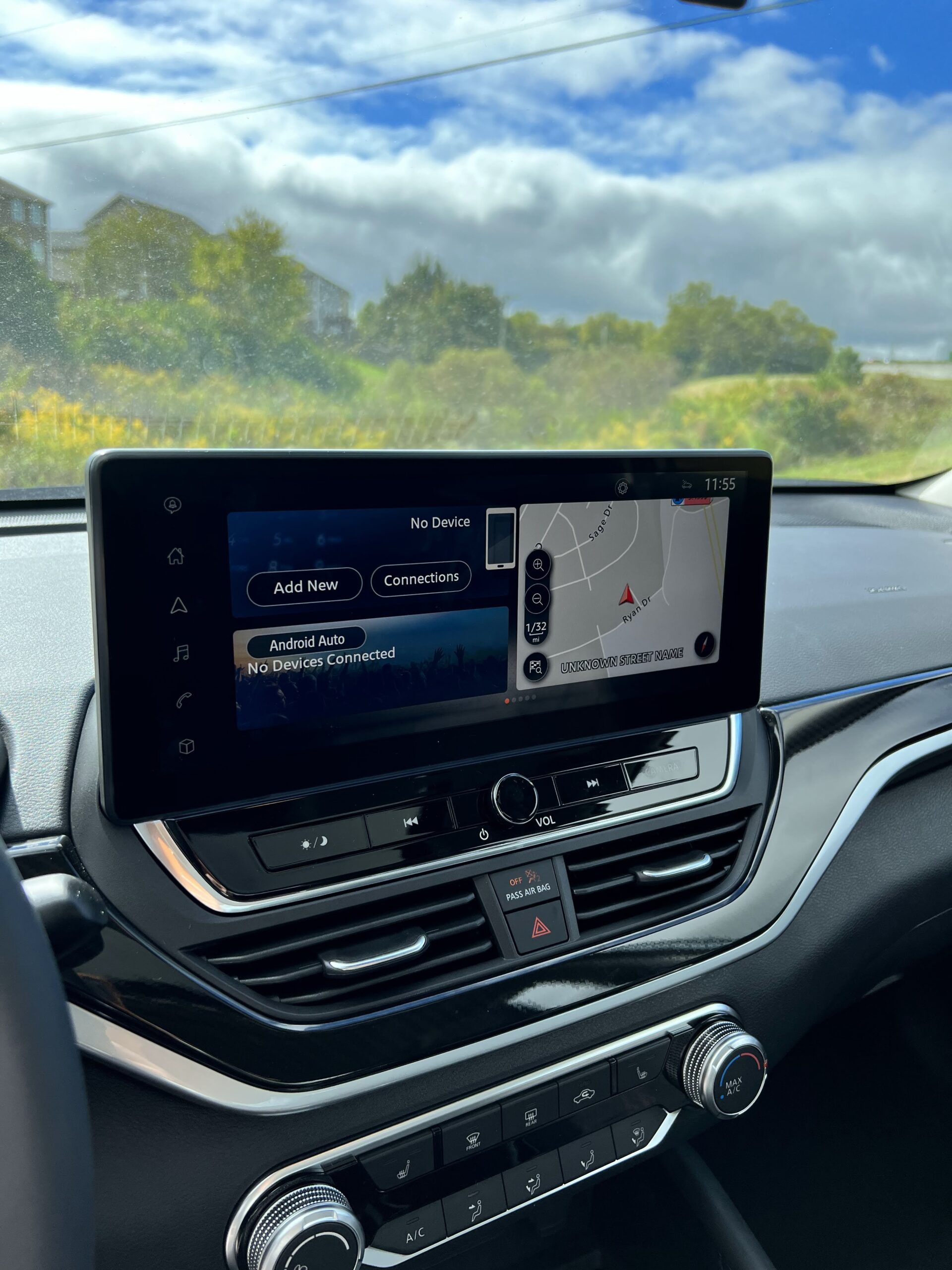 Powertrain & Driving Impressions
The Altima has two engine options for 2023:
2.5L I-4: 188 hp | 180 lb.ft
182 hp | 178 lb.ft on AWD models
Optional AWD offered on SV, SR and SL
2.0L VC (Variable Compression) Turbo: 248 hp | 273 lb.ft (SR-VC only)
FWD only
Varies compression from 8:1 to 14:1 to whatever is ideal for the way you are driving. Its highest ratio is 14:1, which is great for highway cruising and good fuel economy, while its lowest ratio of 8:1 is best for delivering power.
These engines will be paired with a CVT transmission. The Altima will consume fuel at 28/39/32 MPG for the 2.5 FWD, 26/36/30 MPG for 2.5 AWD (note that non-S trims will lose 1 MPG combined). The FWD SR-VC Turbo will have an MPG of 35/34/29.
Behind the wheel of the SR-VC turbo we tested, we were quite impressed with its sporty nature. For the price, we were pleasantly surprised with the results. To get an in-depth perspective on our full driving impressions and more, watch our full review down below!
Pricing
The Altima remains one of the more affordable choices in this segment for 2023. All prices are for FWD:
S: $25,290
SV: $26,090
SR: $27,490
SL: $31,990
SR VC-Turbo: $34,990
Overall, this refreshed Nissan Altima continues to impress when it comes to practicality and value, offering a lot of features bundled in a stylish package. The refresh continues to build upon an already attractive vehicle, and more standard features and a sportier design will be sure to give this car even more buyers than it already had before. Compared to the competition, the Nissan Altima sure seems like a winner to us!