Introduction
What's going on YouTube! It's time for a big battle: the all-new 2023 Honda CR-V vs. 2023 Toyota RAV4! For decades, there has been an intense battle going on between Toyota and Honda for the hearts of American families. For the longest time, Accord and Camry were the go-to choices for most people, but as tastes have shifted over the years, that intense battle has also shifted to RAV4 and CR-V instead. These are now both brands best-sellers and two of the very top-selling vehicles in the U.S, period. After spending time with them, its easy to see why they are so popular, BUT which of these two is the best option? To find out, we're pitting this all-new CR-V against the also-updated RAV4. Let's get into and see which model reigns supreme!
Pricing and Equipment
So, first off, to get things established, let's quickly talk about the trims and pricing of these two.
Starting with the all-new CR-V, we have the fully loaded model, which is now known as Sport Touring. This top model also comes standard with the hybrid powertrain, AWD and every single option available, meaning its all-in price rings in at $39,845.
CR-V (Sport Touring Hybrid AWD): $38,600 | Options: +$0 | Destination: $1,245 | Total: $39,845
Moving to the RAV4, we have the equivalent fully-loaded model, called Limited. Unlike the Honda, there are some extra features you can add to make your RAV4 extra decked out with features. But if you do choose those options, it will become one of the pricier options in the class, at $44,030 with destination.
RAV4 (Limited Hybrid AWD): $38,530 | Options: +$2,940 | Destination: $1,335 | Total: $44,030

We will revisit that price difference later on in the value section, but for now let's go ahead and jump right into the meat and potatoes of this comparison!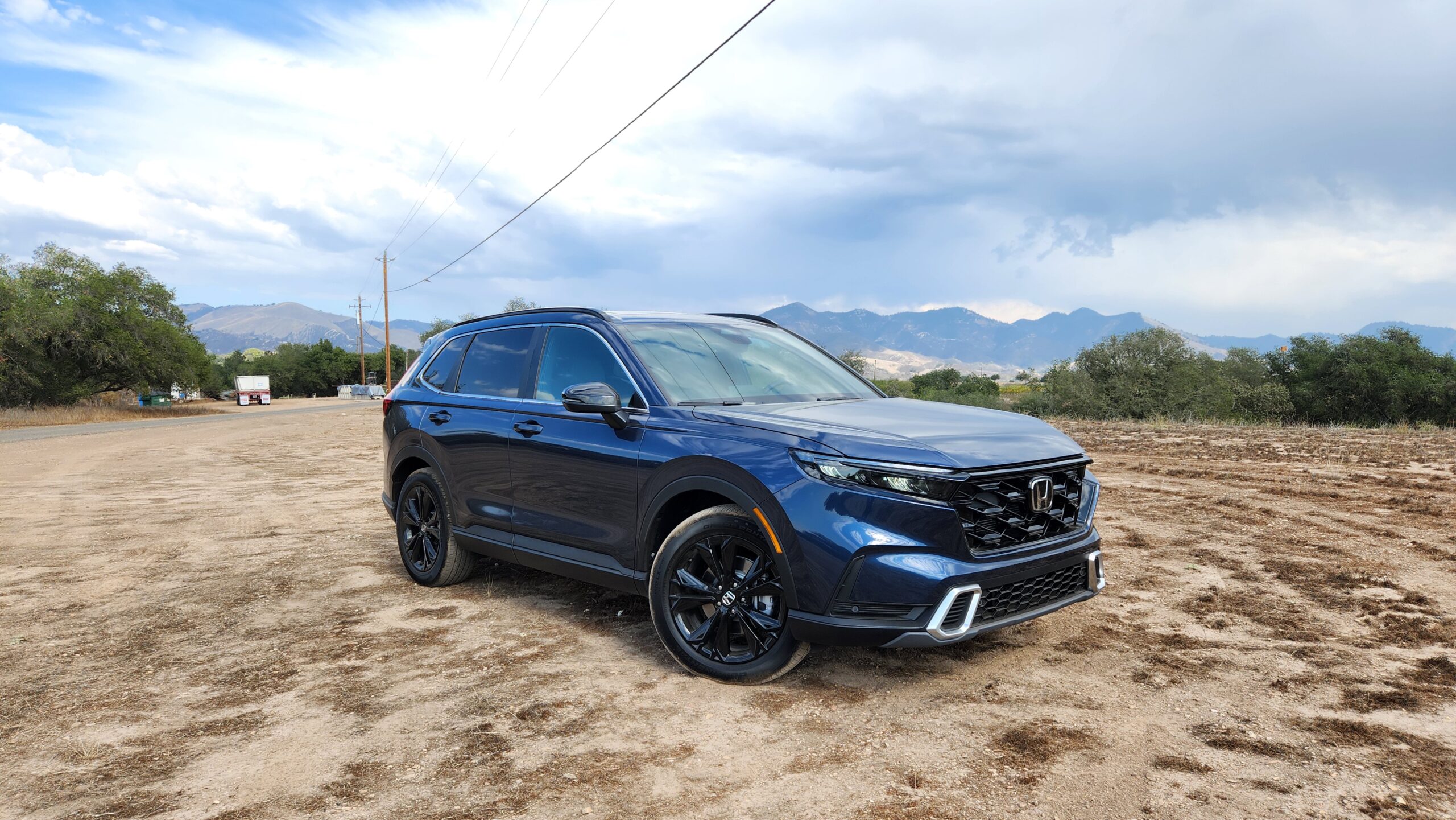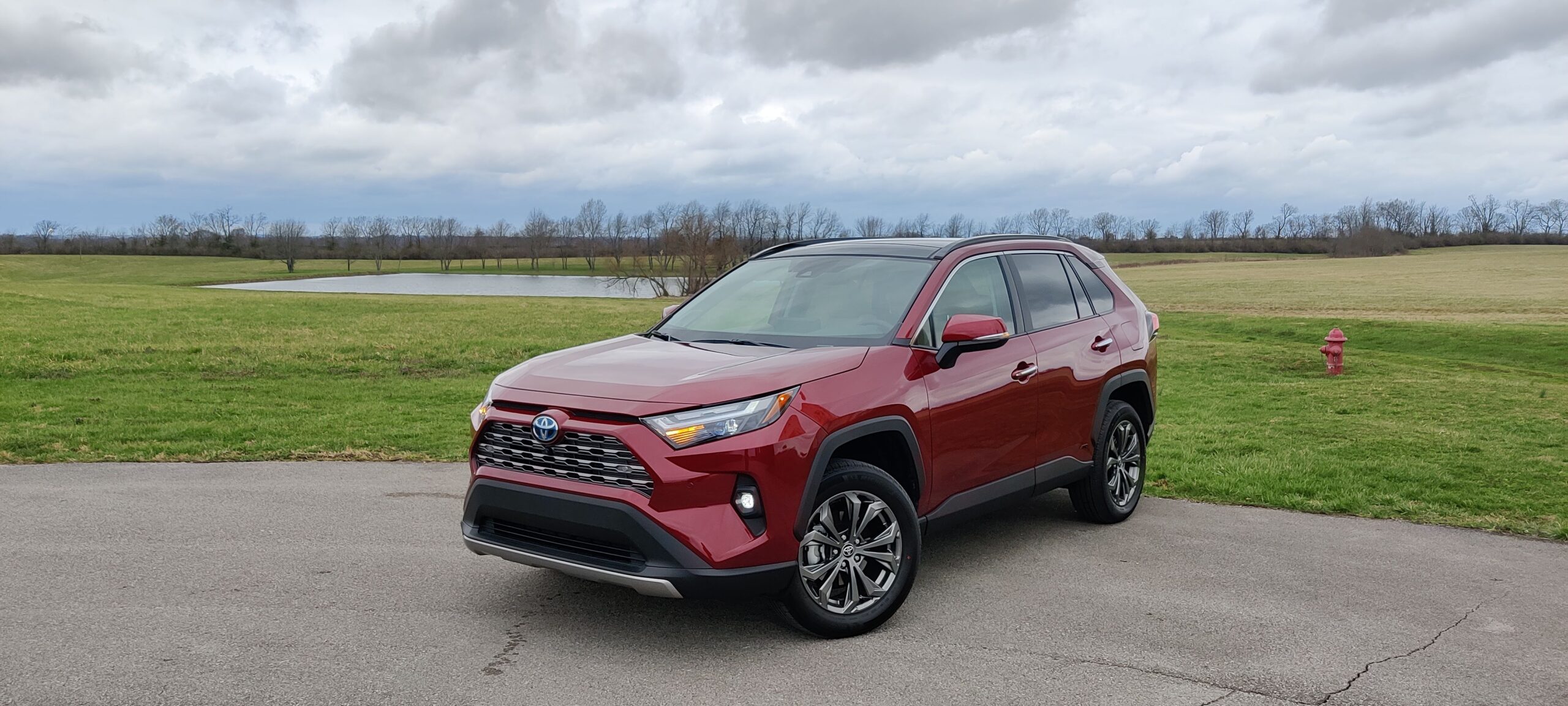 Exterior Design and Features
So taking a look at the exteriors, you can tell right off the bat that both are fairly aggressive looking but not in an offensive way. The RAV4 continues with mostly the same design that its had for the last few years, that borrows some rugged-looking elements from the 4Runner. The CR-V's design is, of course, totally new this year, and it looks substantially more aggressive than the previous generation.
The grille is a gloss-black mesh which extends into the headlights, which are fully-LED on all models. The RAV4 also has fully-LED headlights, but it has the advantage of having LED fog lamps.
Continuing to the sides, CR-V has grown from the last gen so that its now about 4-inches longer than the RAV4. It also has the more aggressive design vs. the RAV4's more rugged look, with substantial differences in the way each model does their body cladding and surfacing. The other noteworthy difference, is that the CR-V has one-inch larger wheels, at 19's instead of 18's.
Length: 184.8-inches (CR-V) | 180.9-inches (RAV4)
Heading out back, again those same themes repeat. Picking an overall design preference will be up to you, but as far as some of the features, both have rear spoilers, exposed wipers, and mostly LED taillight units. I do appreciate that even though both are hybrid's, they still include dual-tipped exhaust outlets.
For those of you interested in towing small trailers, the RAV4 can handle up to 1,750 lbs vs. 1,000 in the CR-V.
Now checking out some of the individual odd and end features, both of their mirrors have heating and blind spot monitoring, [p] and both models come standard with all of the available active safety features no matter what trim you choose. Those suites both include full-speed adaptive cruise control, lane keeping assist, forward emergency braking with pedestrian detection and auto high beam headlights.
And finally, let's talk about the warranties. Both enjoy 3yrs/36k mile basic and 5yr/60k mi powertrain warranties, and new for 2023, Honda is now including 2 years of complimentary maintenance to match what Toyota already has.
But you will spend far more time on the insides than gazing at the exteriors, so let's go ahead and check out the cabins before we take them out for a spin!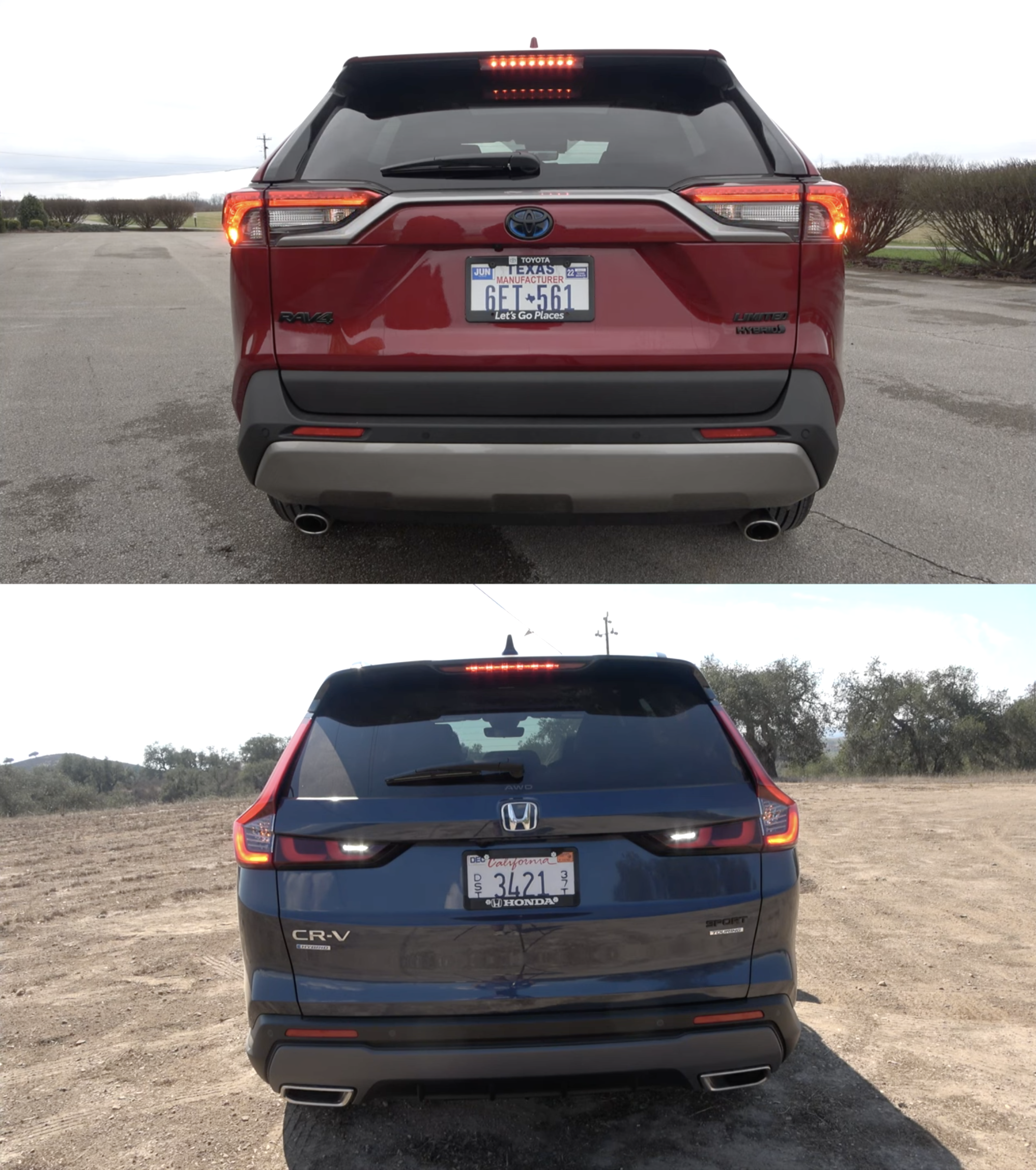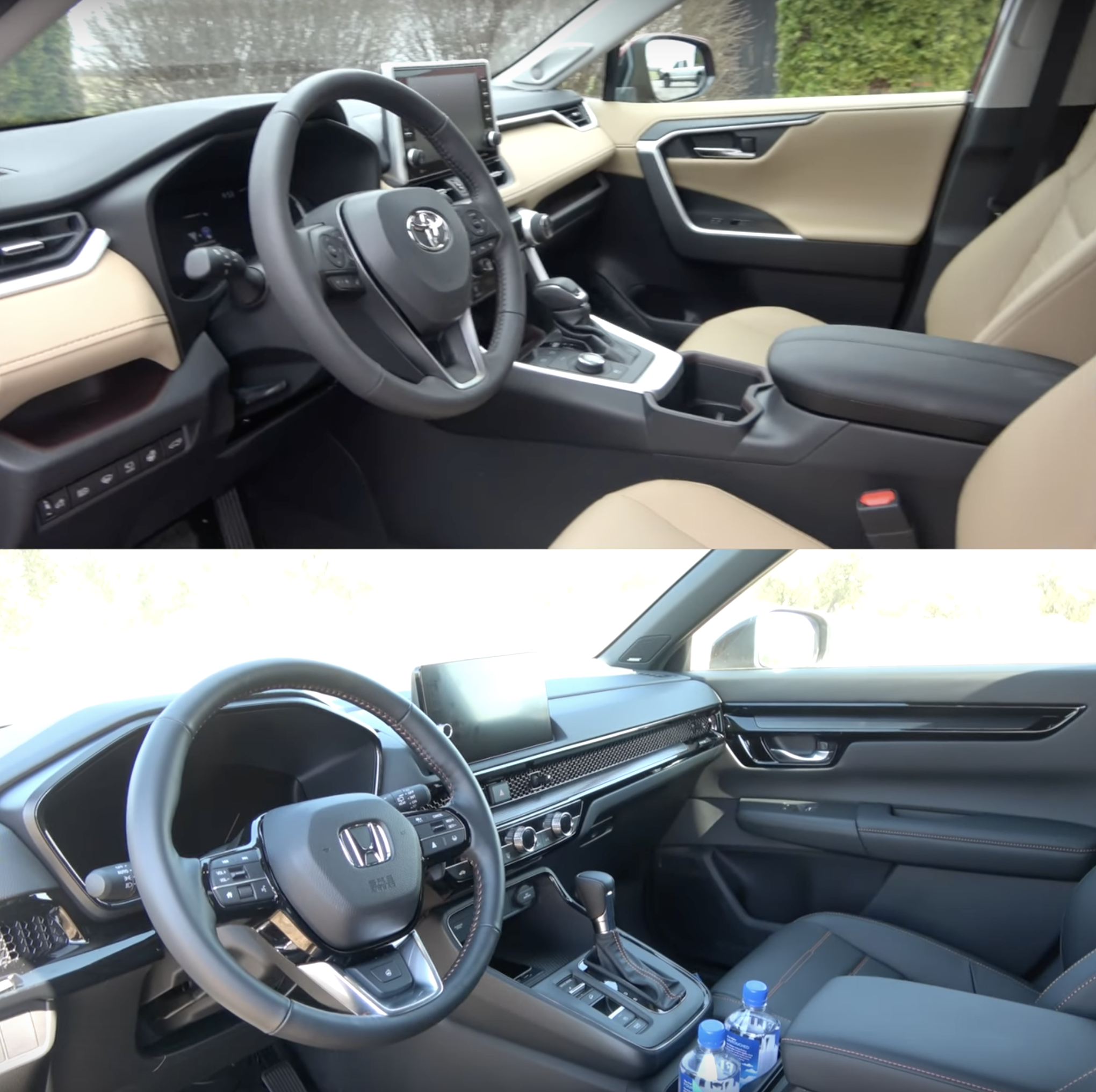 Interior Design and Features
So approaching both models, you will find smart entry systems, as expected. Just be aware that auto start/stop will require a Remote Services subscription after a trial period, for the RAV4. Now once you open up the doors, you'll find nice looking interiors with a few similar design characteristics, such as the placements of the screens.
Other than that, there are plenty of differences starting with the seating. The CR-V uses real leather vs. the Softex leatherette that the RAV4 has, but the Toyota has seat ventilation which is something Honda is not offering. Otherwise, both models have seat heating, 10-ways of power adjustment and two-person memory.
Once we actually climb inside the cabins, we can check out the broad category of material quality. In this case, it kinda feels like materials and quality should be split up because of their differing strengths. RAV4 wins on materials because it's using a lot of leatherette materials over the door trims and dashboard. But the Honda's plastics have a more solid and high-quality feel to them, which is something hard to convey on camera but definitely noticeable in person.

Once you fire the two crossovers up, you'll see a half digital and half analog gauge cluster on the Honda, but new for 2023 in the RAV4 is a 12.3-inch full digital cluster. Neither of them will offer head up displays and both of them have rain sensing wipers. Pulling back to the steering wheels, they are leather wrapped and heated.
But moving on to the important aspect of interior storage, Honda is known for their large and sometimes clever storage solutions. In the new CR-V, some of the clever elements from the previous gen are gone, but the size remains. Its center console is the largest in the class, and its front bin is also larger than the already-large RAV4's as well. But the RAV4 fights back with a storage shelf as well, so we are going to have to call this even.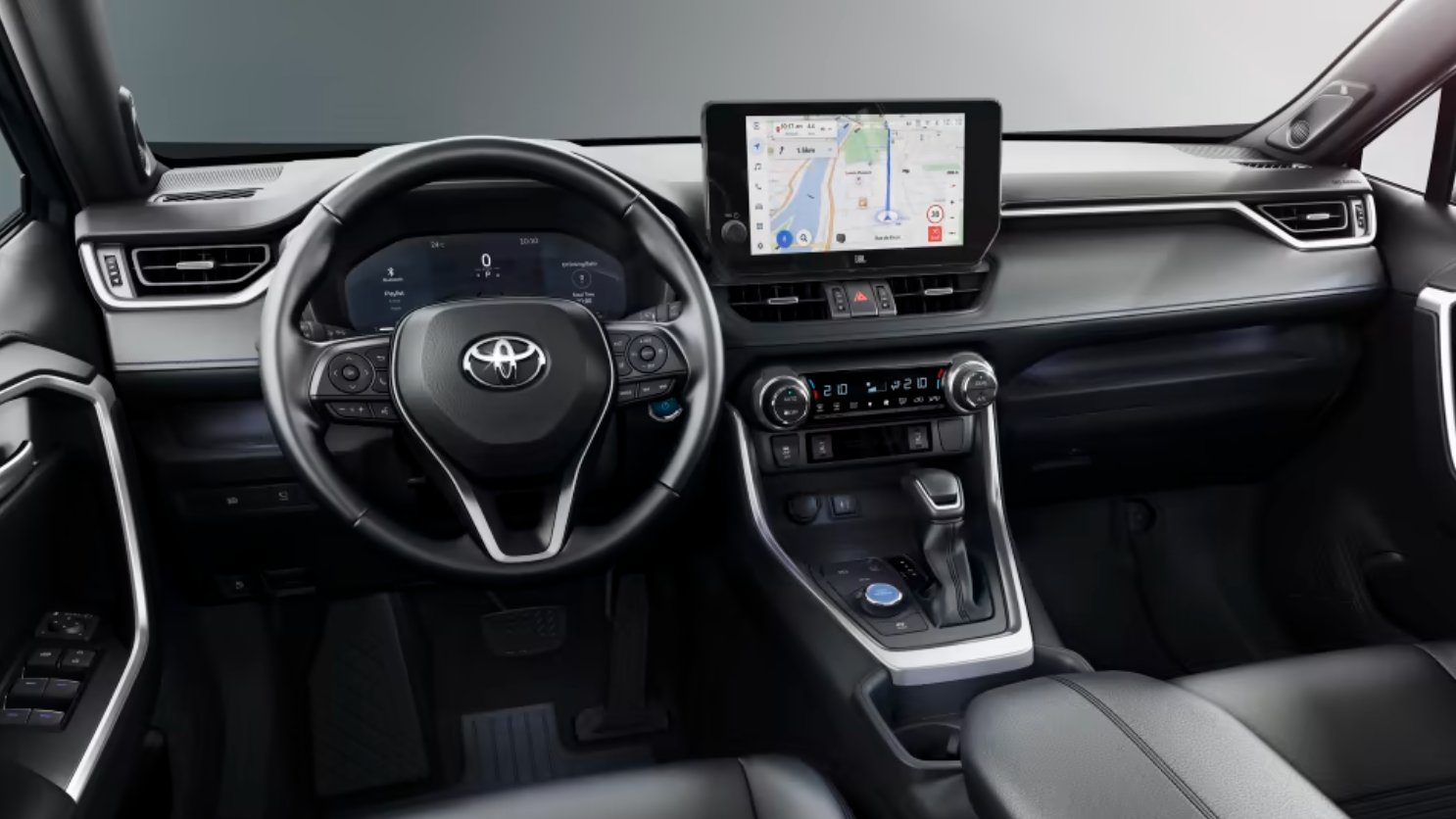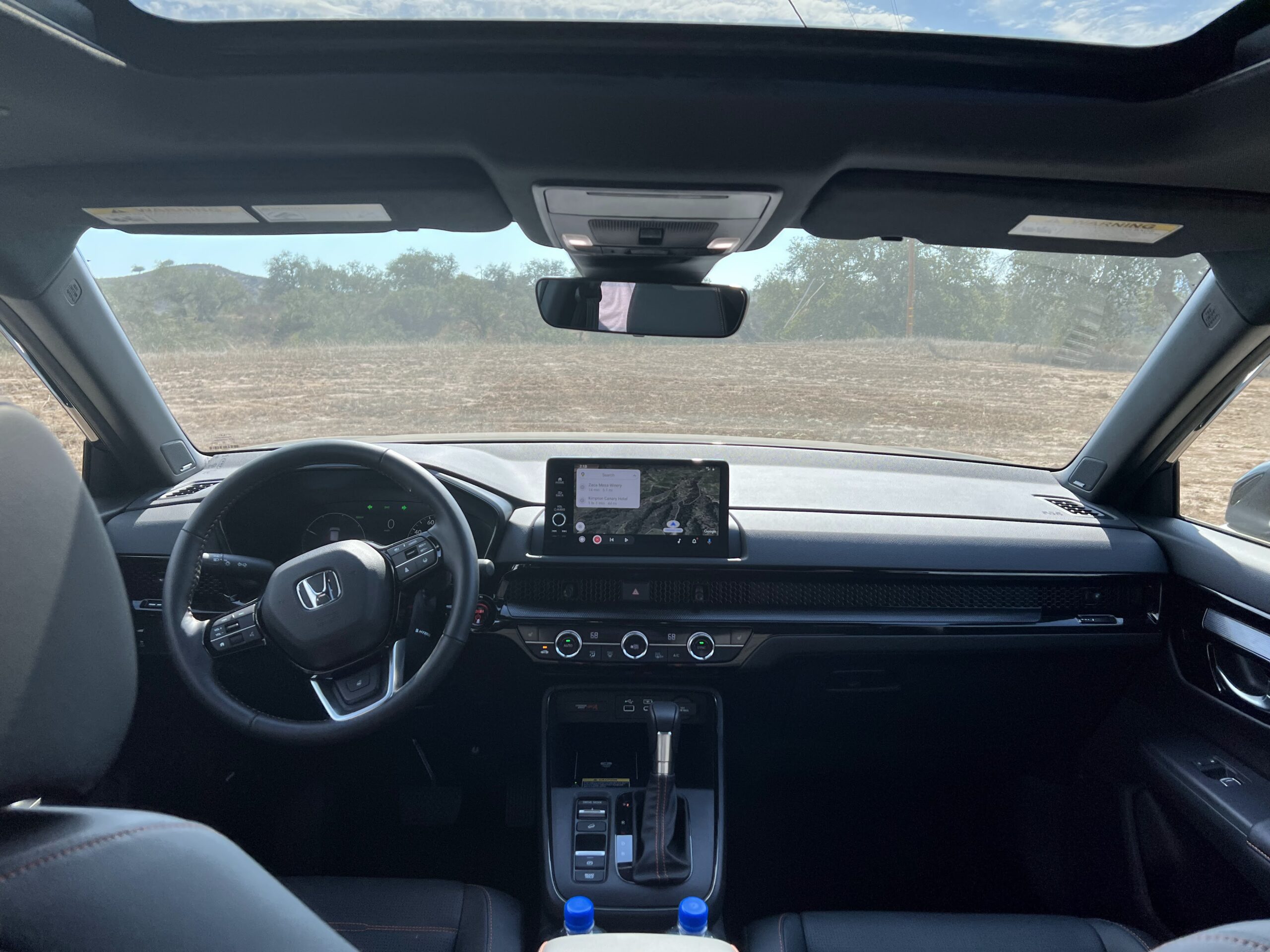 Taking a look at the shifters next, both are sticking with traditional ones, but once in reverse, you will see a difference with the rearview cameras. While neither have particularly good resolution, the RAV4 has an available 360-degree camera option which is something not currently offered on the CR-V.
Moving up to the middle of the dashboard, both have dual zone automatic climate controls with simple to use controls.
And before we talk about the displays, let's go ahead and sample the audio systems. While the speaker counts are almost the same, the CR-V's Bose system has the richer and more balanced sound quality.
RAV4: 11-speaker JBL Premium audio
CR-V: 12-speaker Bose CenterPoint audio
Alright, so back to those displays. Crucially, this is the 2nd of the two 2023 updates for the RAV4, since it has moved to 10.5-inch display instead of the previous 9-inch one and gained the newest Toyota Multimedia software. That means its display is now larger than the Honda's 9-inch one, though both of them have the new functionality of wireless Android Auto and Apple CarPlay, in addition to their built in navigation systems.
As we wrap up the front of the cabins, there are still several differences left. Both models have auto-dimming mirrors but only the Toyota has the built in HomeLink universal garage openers and the ability to turn into a rear camera mirror if visibility is obstructed by something.
Additionally, the new generation of CR-V has opted not to add a panoramic sunroof, which is something the RAV4 does make available on several trims.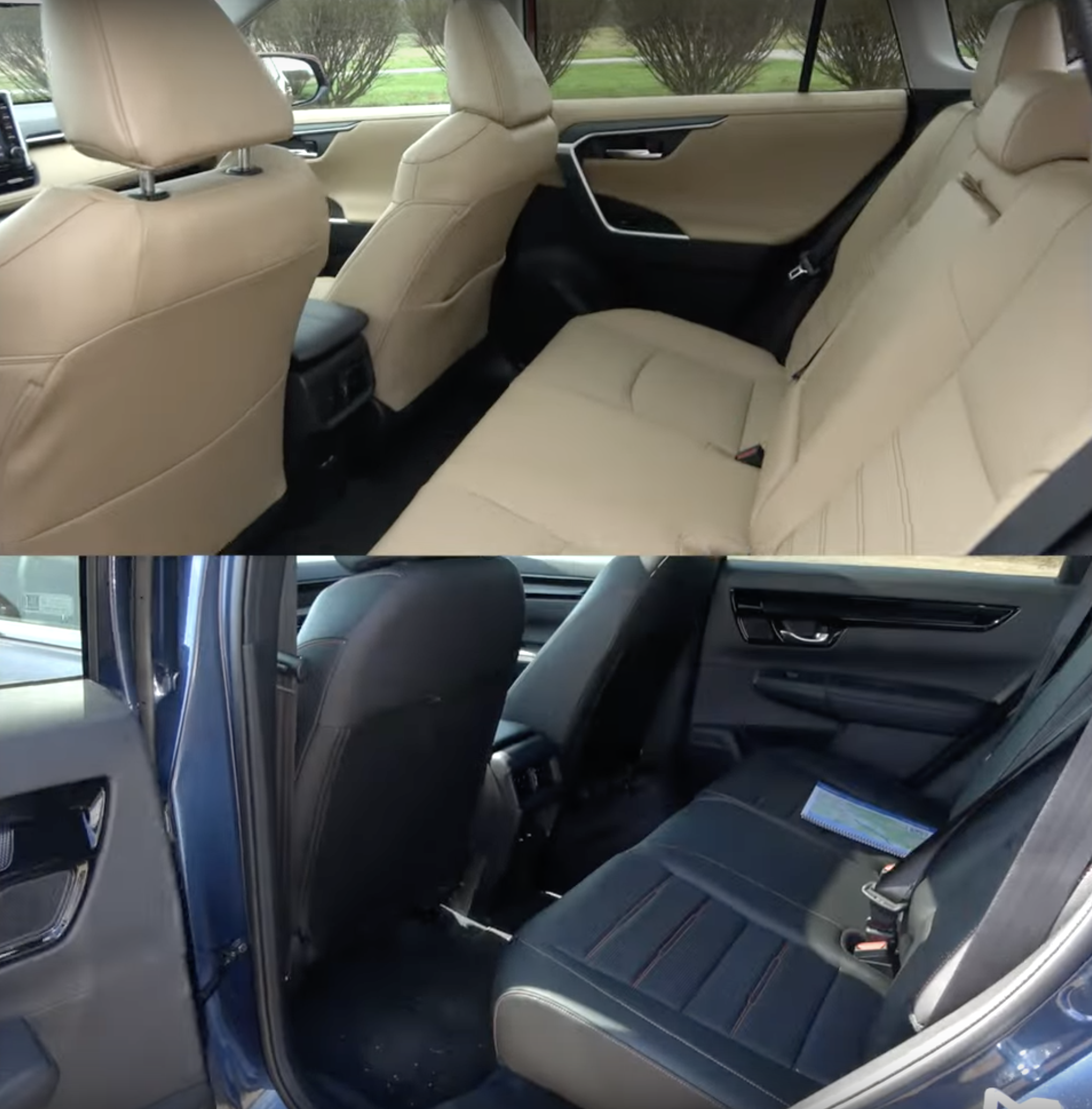 Rear Seats and Cargo
Now heading to the rear areas, things begin to heat up. If you know anything about the CR-V, it's probably that its very large on the inside, and this new generation continues that trend. While normal sized adults will be comfortable in both, legroom in the CR-V is absolutely cavernous and over 8% greater than the RAV4's.
CR-V: 41.0 inches of legroom | 38.2-inches of headroom
RAV4: 37.8 inches for legroom | 39.5-inches headroom
The other advantage when it comes to rear seat comfort is that the CR-V's seats recline further than the Toyota's and now have 8 levels you can choose from for max comfort.
As far as the features back here, both models have rear vents and 2 USB-C ports for charging devices, but only the RAV4 has heated rear seats.
Moving out back, the two crossovers have hands-free power tailgates on their upper end trims, and once they open up, the rear seat situation repeats. CR-V exceeds the already-very-spacious RAV4 by over 9% when it comes to maximum cargo capacity.
CR-V: Behind 2nd row: 39.3 cubic feet | Max: 76.5 cu.ft
RAV4: Behind 2nd row: 37.6 cubic feet | Max: 69.8 cu.ft
I will point out though, that due to different packaging of their Hybrid systems, Toyota was able to provide a spare tire which Honda could not fit in.
Alright, we're done with the interiors now, so now let's take them out for a drive and see which one delivers the best experience!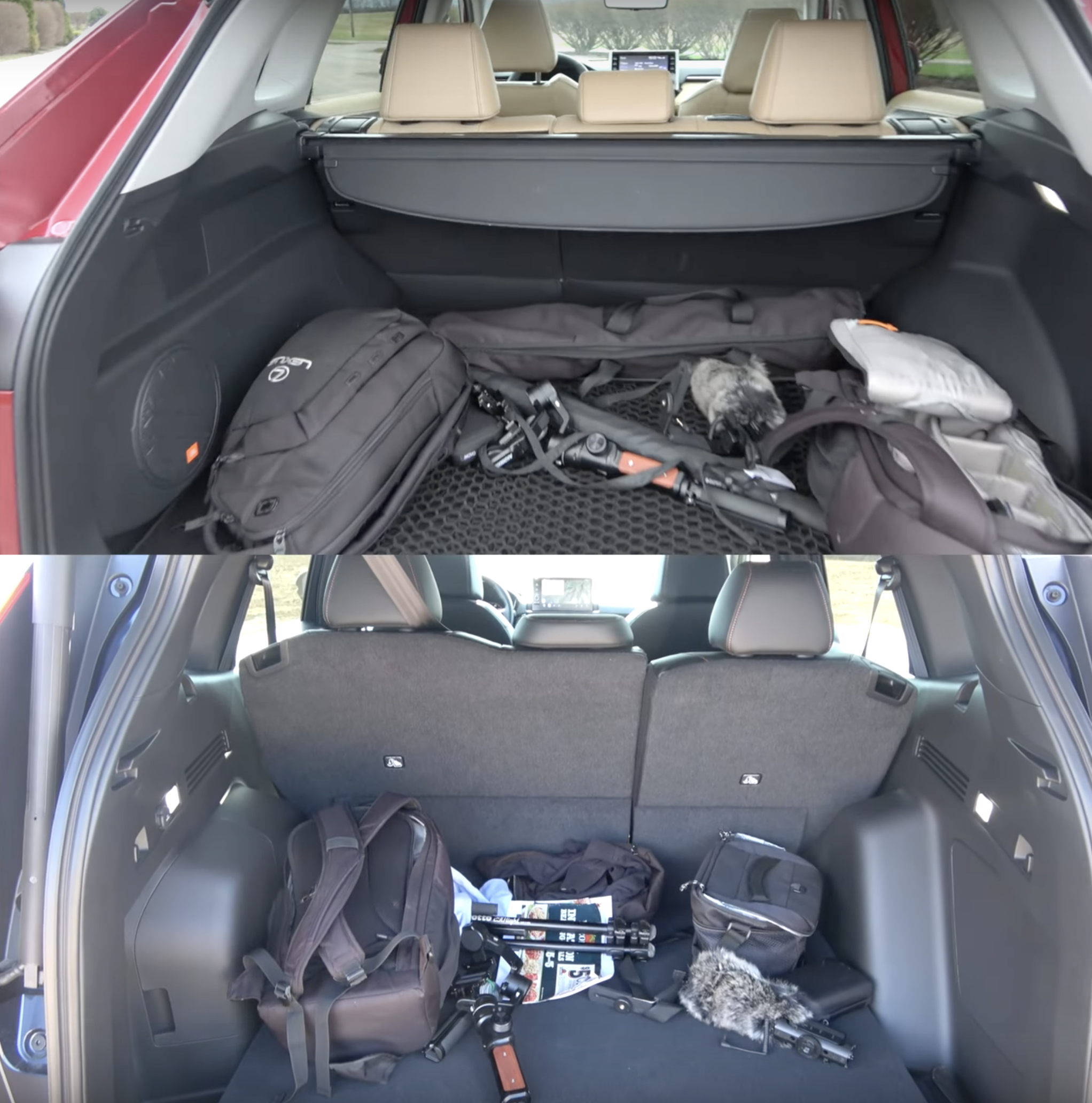 Test Drive & Fuel Economy

So heading out on the road with these two, we have both a number of similarities and differences. As I already mentioned, both models today are equipped with hybrid powertrains, which deliver more power and higher MPG's. The RAV4 system is made up of a 2.5L 4-Cylinder and the electric components for a total output on 219 hp. Honda's new hybrid system uses a smaller 2.0L 4-Cylinder instead, which combined with its electric componentry makes 204 total horsepower. As you might expect, the power advantage does help the RAV4 accelerate a bit faster than CR-V.
0-60 Times (MotorTrend Tested): RAV4 Hybrid: 7.3s | CR-V Hybrid: 7.6s
CR-V: 2.0L I-4 + Elec: 204 hp
RAV4: 2.5L I-4 + Elec: 219 hp
Now these hybrid systems are quite different from each other in terms of the engineering, which we won't get into for this consumer-focused comparison. For example, both models refer to their transmissions as eCVT's, even though neither of them are actually CVT's in the traditional sense. They call them that because they operate in a similar way if you've ever experienced a continuously variable transmission, though I will point out that the Honda has a shift simulation which helps it sound less drony than the Toyota.
Now speaking of sound, once the engines have quieted down after acceleration and you've made it up to highway speed, you're probably wondering how quiet they are. In our sound decibel readings, we found that they scored very close to each other. Keep in mind that they were both tested under conditions that were not ideal, extreme wind and a rougher California road, so I'd expect to normally see numbers a little lower than these.
CR-V: 61.2 dB @ 55 MPH
RAV4: 60.6 dB @ 55 MPH
Now as far as other driving characteristics, neither of them is designed to be sporty per-say, but they both handle reasonably well. The Honda in particular exhibits nice body control and steering that is fast, accurate and not too light.
They both also ride very nicely and absorb all but the largest road imperfections.
Toyota and Honda make two of the best hybrid systems on the market, and the transitions between electric and engine power are seamless and never felt, although they are sometimes heard.
But the ultimate test of a hybrid systems worth is what kind of fuel economy it achieves, and both far exceed their traditional gas counterparts. However, it's the RAV4 that continues to lead all other hybrids in the class, and the CR-V by 3 MPG combined.
CR-V: 40/34/37 MPG
RAV4: 41/38/40 MPG
Value
But now that we've gone through everything, let's return to the price difference and account for that. The RAV4, when fully-loaded, rang in $4,185 more expensive than the CR-V, so keep that in mind when making a decision!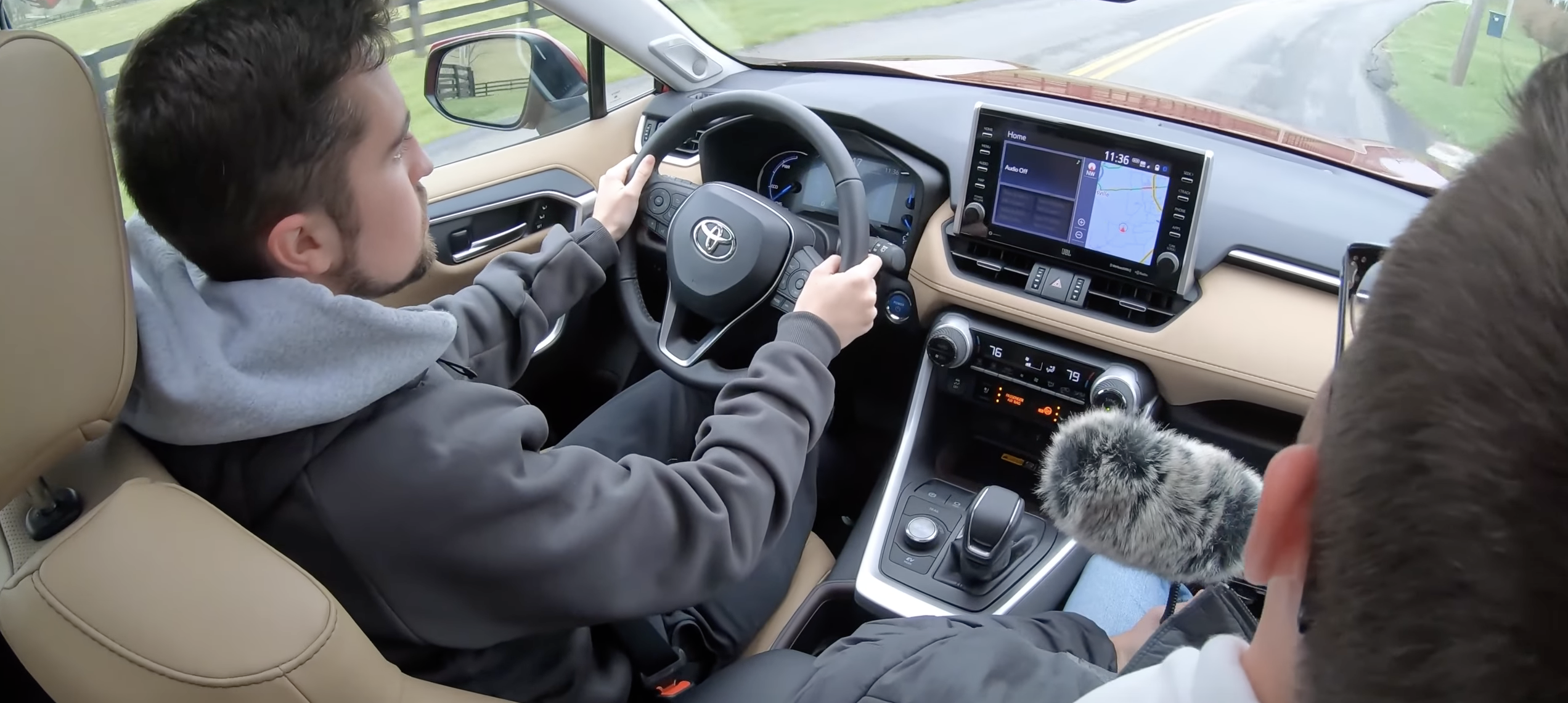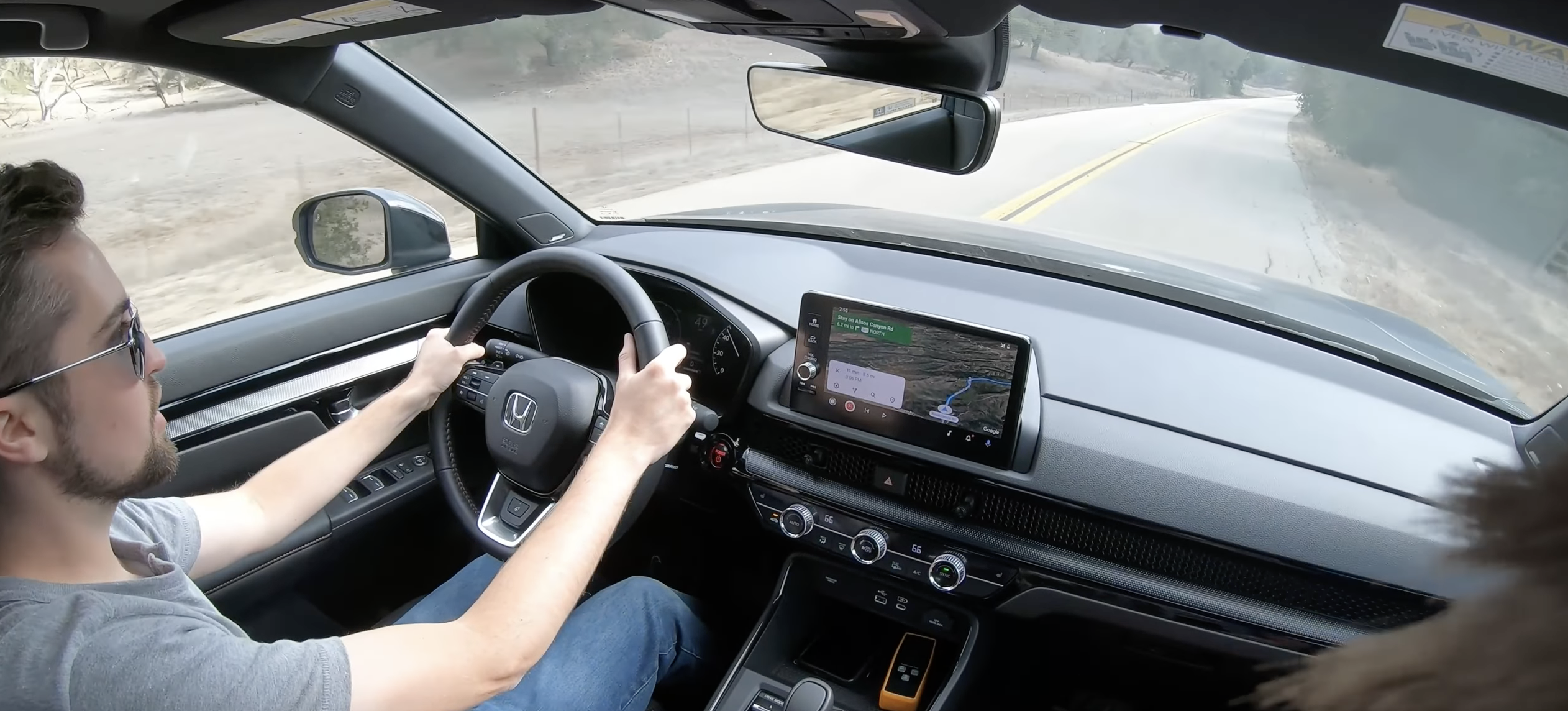 Wow, so that's it for this hard-fought comparison! After spending extensive time with both products, it's easy to see why Americans buy close to a half million of each of these annually, at least in normal times. But what do you guys think? Which one would you choose for yourself and your family? Let us know in the comments below!
Anyway guys, thanks for joining us for this Car Confections Comparison, and be sure to subscribe for more Comparisons and our signature Full Review videos. When you subscribe it makes it easier for us to get access to the latest vehicles on the market for you to see first. Also, give us a follow on Instagram and Tik-Tok as well, for shorter forms of automotive content. We'll see you next time as we sample the latest automotive delicacies!